Being a pet influencer is all about making your pet famous on social media. It, however, is easier said than done. Look at any social media platform and you will find hundreds of pets vying for the attention of brands and animal lovers. You will need to be better than everyone else if you want to find pet influencer opportunities.
Being a pet influencer can be a little tricky since your pet cannot post and you'll have to control everything. Many aspiring influencers get confused about what to post. In this How to Become a Pet Influencer guide, we'll answer all questions you may have about the topic including how to get your dog sponsored on Instagram.
Let's get started:
What is a Pet Influencer?
This question can be a little tricky to answer because there are two very different definitions here. A pet influencer could be an 'Insta famous pet' or a person who talks about pets. Yes, a pet influencer could be an actual animal or pet showing the world what they are capable of.
These animal profiles are managed by their 'humans' who post for them so they could become pet influencers and garner a following. However, merely talking about pets cannot make someone a pet influencer. The most important word here is 'influencer'.
You'll be considered an influencer only if you have an 'influence'. Someone who casually posts about their new dog isn't an influencer. You need to have a decent number of followers – and the ability to influence their decision – to be considered a pet influencer.
Why Be a Pet Influencer
Pets are adorable and everyone loves them. About 70% of American households own at least one pet. People love to talk about their pets, share their photos, and show the world how cute and smart their pets are. So, why not be a petfluencer while doing so?
Here are some of the main advantages of being a pet influencer:
It Can Help You Make Money
Pet influencers make a lot of money with some of the highest-paid pet influencers earning up to $5,000 per post. However, not everyone makes such a huge amount of money. Only top names such as Loki the Wolfdog and Manny The Frenchie currently earn this much and they both have over 1 million followers on Instagram. It could take you years to build such a large following. Check our How To Grow Your Instagram Followers guide for some great tips on building your profile.
Also, remember that brands consider a lot of things when deciding the 'worth' of a petfluencer. They will look at your engagement rate, number of followers, and public image when hiring you. The more followers you have, the more money you will make. Micro-influencers (with less than 10,000 followers) usually earn less than $100 per post. Influencers with around 50,000 followers earn about $200 per post and influencers with around 500K followers can earn more than $1,000 per post.
You will need about a million followers to demand $5,000 or more. Also, remember that brands cannot be fooled. They can identify fake followers and will only work with you if you have a good engagement rate. The average engagement rate is 2.2% and anything above 4.5% is considered good. Some of our petfluencers even have a double-digit engagement rate. You can push yours by following the tips shared later in this article.
Can Be a Great Stress Buster
Being a pet influencer can be a lot of fun. You'll get to network with other pet lovers, spend more time with your pet, and have a good time. If you're lucky, you may even get to travel with your pet and have new experiences.
The key lies in enjoying what you do and cherishing every moment. We know that spending time with a pet can be very good for one's physical and mental health, however, remember that you need to relax too. Don't put any pressure on yourself or your pet.
Don't fall into the number trap. Concentrate on having fun and putting your best foot forward. Worrying about your followers or engagement rate will put unnecessary pressure on you and rob you of all the fun.
A Good Way to Get Famous
Being a pet influencer can be an easy way to get fame. Influencers today are everywhere. They're attending award shows, giving interviews to magazines, and some are even appearing in music videos. Once you get big enough, you will attract the attention of the big guns and could be on your way to being a star.
Such big appearances will earn you more followers. We must, however, mention that your pet will be getting most of the attention but you'll be there with them throughout the journey.
Many pet influencers work with pet influencer agencies like Afluencer to find big opportunities. We have several major brands onboard that are looking for petfluencers.
Sign up today to get access to these and increase your chances of being a star.
You'll Get Products and Services for Free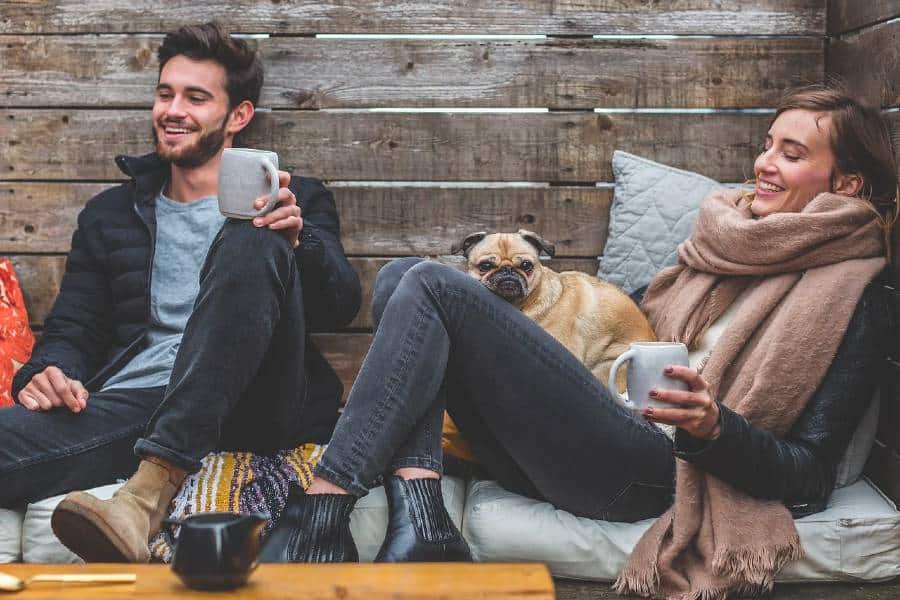 Pet influencers don't only get paid for advertising businesses and services but they also get discounts and freebies. You will get a lot of pet influencer opportunities if you attract enough followers. It's all about knowing how to get your dog sponsored on Instagram and looking for pet influencer opportunities in the right direction.
Some famous Instagram pets even get paid vacations, spa treatments, and food. It's important to know how to get your dog sponsored on Instagram so you can also get freebies. Start by finding a pet influencer agency that has a variety of brands on board so you can find relevant opportunities.
Afluencer makes it very easy to find pet influencer opportunities. Sign up for an account and look for relevant opportunities in the Collabs section. You can even go through hundreds of brands and find a suitable opportunity. You will find all information including applicable channels, number of followers, etc.
How to Become a Pet Influencer
Ready to become a pet influencer? Here's a complete guide that will help you join the list of pet influencers on Instagram.
Step #1 Get a Pet
The first step is to get a pet. You can move to the second step if you already have one, otherwise, check these how-to become a pet influencer tips:
Choose an Animal You Truly Want
Dogs and cats are some of the most popular choices but you can also opt for other animals including fish, ducks, and horses. The most important thing is to choose the pet that you truly want. Don't go for an animal just because they're more popular, pick an animal you would like to spend time with and know more about.
Other factors to consider include your local laws as some pets may not be allowed. Also, make sure you pick an animal that is suitable for your region. For example, huskies may not be suitable for very hot regions. Similarly, exotic birds are high maintenance.
You Can Have Multiple Pets
It might be a good idea to keep multiple pets as it will give you more content, however, go for this option (only) if you can afford to keep multiple animals. You will have to provide food, shelter, and care to all the animals that you keep. This can end up being taxing, so choose carefully. Also, some animals may not mingle with each other. For example, not all types of fish thrive together. Be careful when choosing different species so that you don't face any trouble.
Provide Good Care to Your Pet
It's not only about keeping pets, you must make sure to provide the right care to them. Most people who follow pet influencers pay special attention to the conditions animals live in. They will not appreciate it if the cages are dirty or if there's no free space for animals to move around.
Also, your photos will not look good if the cage is dirty or if your pet looks unhealthy. Choose to be a petfluencer if you think you can handle the pressure of dealing with a pet.
Step #2: Create a Social Media Profile
The next step is to create a social media profile so you can start showing the world what your pet is capable of.
Create an Impressive Instagram Pet Account Bio
Start by working on your Instagram pet account bio. The bio should clearly tell visitors what you have to offer. Here's a screenshot of That Pup Stanley's Instagram bio:

It is a short but very clever bio that tells visitors everything they need to know about Stanley. It gives the location, contact details, a link for more, and a small sentence that highlights the type of content they have to offer.
You should come up with a similar Instagram pet account bio. It should tell brands and potential followers exactly what to expect from you. You can even use hashtags in the bio, especially if you have a branded hashtag. Use the same trick to write the bio on other platforms.
You Can Choose to Have Your Individual Profile
You can create a single profile for your pet or two profiles, one for yourself and one for your friend. It might sound like a good idea to have multiple profiles but this step may backfire as more profiles mean more effort. You will have to be active on both profiles, which can be very time-consuming. However, having two profiles can prove to be very beneficial as well. More profiles mean more followers. Also, this will allow you to post a wider variety of content.
Talk about pets on the pet profile and other topics on your individual profile. This will allow you to leverage one profile and attract followers to another. However, make sure to clearly differentiate between the two profiles. For example, don't share your selfies on the animal profile and reserve them for your individual profile.
Find the Right Social Media Platform
The last step is to decide the platform that you wish to target. Most pet influencers are on Instagram but you can choose other platforms as well including YouTube, Facebook, and TikTok.
YouTube can be great if you enjoy making videos. It's now the second-largest search engine and can even help you make money through.
Facebook and Instagram can be excellent if you post photos and videos and want to connect with your followers. These platforms allow users to run ads and can be very reliable. Lastly, TikTok can be a perfect choice if you want to post fun and short videos. It has become one of the most popular social media platforms in the US and has more than a billion monthly active users globally.
You can choose one or multiple tools. Choose a platform that houses your target audience and is easy for you to use. Go for multiple sites only if you have the time and resources to manage them all. Our pet influencers use different social media marketing tools to get more done. You can also use these tools to manage multiple social media accounts.
Step #3: Post Interesting Content
Merely having an account will not be enough, you must put your best foot forward and post interesting content to grow your Instagram pet account. Here are some tips:
Post Both Photos and Videos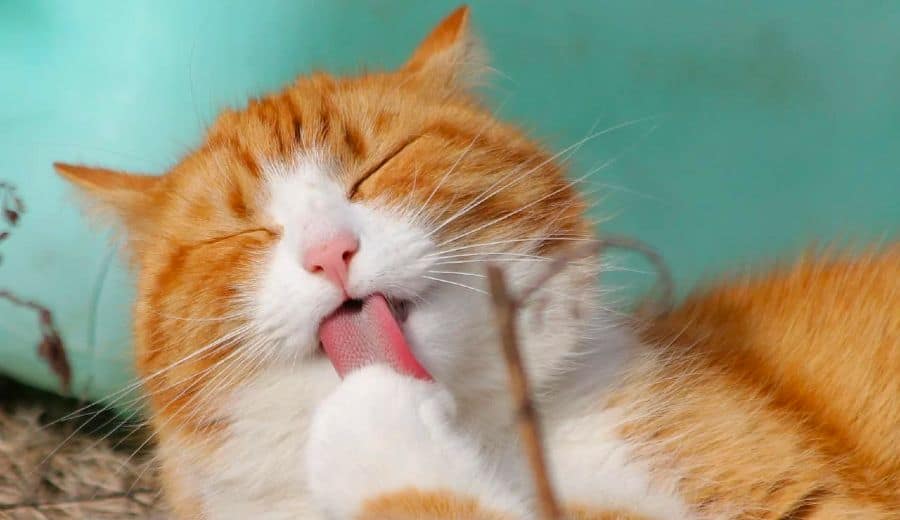 Social media allows users to post a variety of media including photos and videos. We suggest that you find a balance between the two as consumers love both. Here are the only few things to keep in mind:
Make sure all your content is relevant
Content should be engaging
Videos and photos should be of high quality
Be creative and come up with interesting content. You can add infographics, how-to videos, and reviews. Know what your followers want and plan accordingly. Your content must resonate with your followers and solve the problem that they're looking to solve.
Also, find a nice schedule and be active. You must post at least once a day. Posting multiple times is okay but don't spam your followers as it could cause them to unfollow you.
Go Live When You Can
Not many pet influencers use this trick despite the many benefits of going live. More than a million people watch Instagram live every day and about 80% of users prefer live videos over written blogs.
Use this opportunity to connect with your followers. Take their questions and show how you or your pet lives. Use this option when you have something important to tell. Instagram and other platforms allow users to even save live streams that can be viewed later.
The live stream feature can be a great way to get more people to watch special events such as your dog's birthday. You could also stream competitions or new happenings. Consider sticking to a schedule and going live on a specific day so that your followers can look forward to connecting with you.
Make Sure to Write Good Captions
Captions are as important as content so spend a good amount of time and think of clever captions. They can be funny, informative, or factual. It might be a good idea to think of a caption that pushes your followers to engage with your page and comment, like, or share your content. This can be done by asking questions or sharing an anecdote.
A great way to get more followers on pet Instagram is to add hashtags. You could use hashtags on other platforms as well including Twitter and Facebook. They'll increase your reach and help people find you. However, make sure to only use relevant hashtags and find the right number. Posts that contain 11 or more hashtags (on Insta) tend to get more views.
Here's an example of a good caption: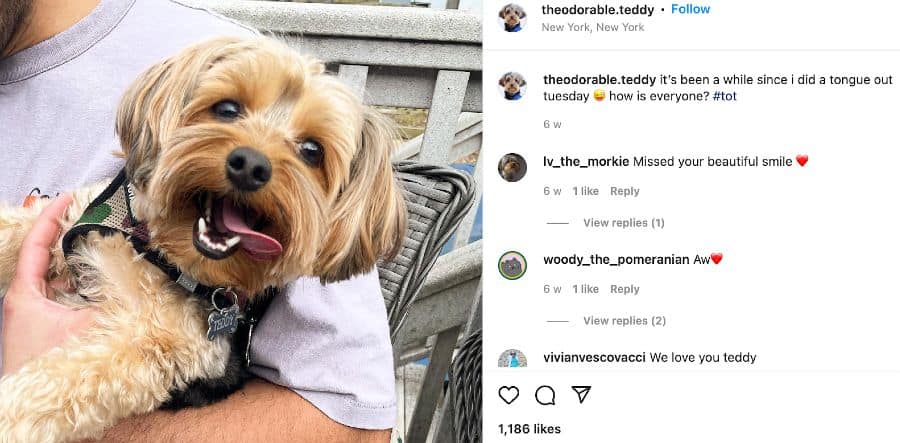 Our star influencer Meagan Mooney seems to have mastered the art of writing captions. The post above is crisp, cheeky, and relevant. It has a hashtag and a question, which keeps people engaged. You can also come up with similar captions.
Step #4: Find Pet Influencer Opportunities
Now that you have established yourself or your pet as an influencer, it is time to start looking for pet influencer opportunities. Here's how to get your dog sponsored on Instagram:
Work with a Pet Influencer Agency
This is the easiest way to get your dog sponsored on Instagram. A pet influencer agency can bridge the gap between influencers and brands and allow you to find pet influencer opportunities. Afluencer has been doing this for a while and can help you find excellent deals. We house thousands of brands looking for Instagram pet accounts to work with and cater to all kinds of influencers.
Sign up for an account to get access to our long list of available collaborations. You will be able to choose filters to find relevant pet influencer marketing opportunities.
We send regular newsletters with the newest opportunities and give influencers a chance to manage everything under a single platform. You will be able to look at the latest opportunities, talk to brands, negotiate a contract, and do more.
Sign up today to join our growing platform.
Create a Media Kit
You'll need an influencer media kit in order to approach brands and highlight the pros of working with you. Afluencer removes the need to create a media kit as your profile will serve as your kit and provide all the information a brand may need about a potential partner.
As seen above (Gabriela's profile), our profiles are made to serve as a media kit and highlight factors such as the number of followers, engagement rate, and age. You will even be able to paste your Instagram pet account bio or write a new one for your profile. However, it might still be a good idea to create a separate kit as you could send it to brands to share more about your business and how you work.
Get in Touch With Brands
Though not always suitable, approaching pet brands on your own could be good. This trick might not work with big brands as they usually look for pet influencers on Instagram on platforms like Afluencer but some small brands might be open to the idea of listening to what you have to say.
Search the web for pet brands and approach them with a pitch. You could write a small paragraph explaining what you bring to the table. Attaching your media kit could also be beneficial as it will tell them all they need to know about you or your pet.
Write short but hard-hitting pitches that highlight the benefit of working with you, especially choosing you over other pet influencers on Instagram. You can approach brands through social media or their official channel.
Step #5: Spread the Word
This step involves promoting your Instagram pet account so you can also be one of the highest-paid pet influencers. Competition on social media is tough and you'll have to work very hard to attract followers and grow your fanbase. Here's how you can do it:
Consider Advertising on the Internet
Not many influencers think of this option despite the many benefits of advertising online. You can advertise on almost every website including social media networks. For some platforms, ad budgets can be as low as $1, however, creating ads and selecting the right demographic can be very tricky. Work with a professional if you do not know how online advertising works so you can increase your ROI and win more followers.
It's best that you stick to the platform you're targeting. This means running ads on Instagram if you are trying to gain followers on Instagram and running ads on YouTube if it's your main social media platform. Also, keep a tight eye on the numbers and make changes to your campaign if it does not give your desired results.
Ads can offer instant results, it's all about creating the right one. Choose a smart message and a picture or video that is more likely to grab the attention of users.
Join Hands with an Instagram Pet Account
Look for other Instagram pet accounts and form a mutually beneficial partnership. This will allow you to leverage their following while offering the same benefits in return. Most influencers will be willing to offer these services for free but some might charge a fee.
Do your homework and find influencers who are more likely to work with you. It might be a good idea to work with influencers that are in your neighborhood so you can come up with creative content such as your pets interacting with each other. This, however, isn't a necessity.
Influencers that are already very popular are less likely to say yes to such an offer, hence we suggest that you look at budding pet influencers to partner with.
Use the Right Hashtags
We talked about the importance of hashtags earlier in this article but we can't emphasize this enough. Hashtags can be a difference-maker as they can double engagement and bring you more attention. The right number of hashtags depends on your platform. For Instagram, most experts suggest using 11 or more hashtags. It falls down to 3 on Facebook.
Only use relevant hashtags that work well with your content. Pet influencers use hashtags like #dogsoninstagram #cutedogs #cutecats etc. However, use these only if they go well with your content. For example, #cutedogs will not be very effective if you're posting about cats or fish.
In addition, work to build your own hashtag. You could work to make your dog a trend by pushing branded keywords and getting more people to use it when they post.
Step #6: Continue Putting Your Best Foot Forward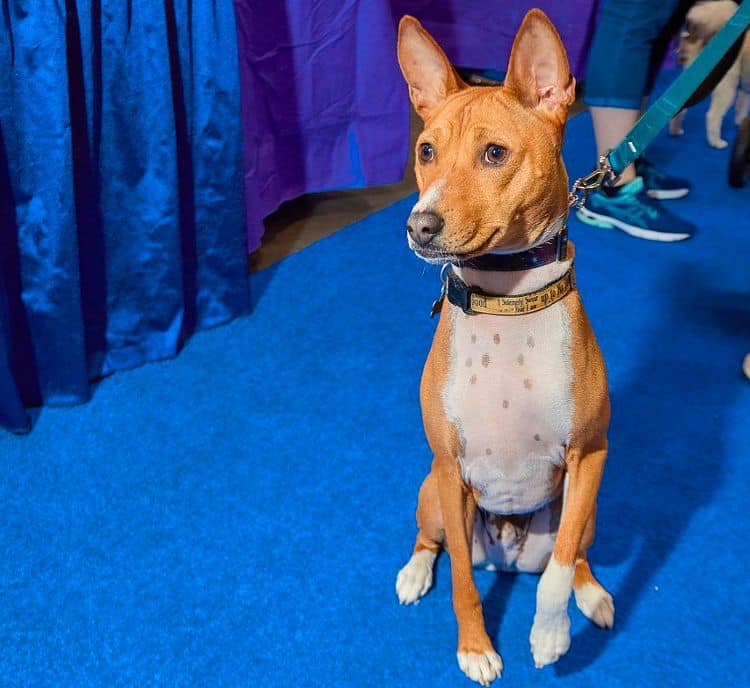 It can take a while to make a mark and get identified as a pet influencer. Competition is fierce and thousands of people are trying to compete for the same stop. You'll have to continue working hard if you wish to find pet influencer marketing opportunities. Here are some tips:
Be Active and Consistent
Consistency is key. You'll begin to lose followers if you stop being active. Post regularly even if you don't get your desired results. You'll have to wait for your moment. Keep posting till you hit the jackpot and get viral. Most influencers who go big don't find fame on the first day, they keep posting and get lucky when one of their posts goes viral.
Make goals and work hard to reach those goals. Also, don't let a lack of popularity impact you. You'll only get a handful of likes and followers in the beginning. Value what you have and continue to work so you can gain more followers.
It might be a good idea to create a schedule and stick to it. Also, you can use social media tools to automate posts so that the page remains active even when you're busy or away.
Engage with Your Followers
It doesn't matter how often you post, you will not generate much engagement if you don't engage with your fans. People who follow you do so because they like your content and they may have opinions or questions based on what you post. Not responding to them or failing to acknowledge their posts can result in a backlash that might cause you to lose followers.
Don't worry about having to reply to every comment. You can like what they post and answer where necessary. However, don't make the mistake of ignoring DMs as it is considered rude. We understand you may receive dozens of messages a day and not all might be worth your time. Learn to identify important messages and manage your inbox neatly.
A good way to engage is to hold Q&A sessions, post videos answering commonly asked questions, and host competitions. Giveaways and contests can increase engagement and help you win more followers.
Pay Attention to the Analytics
It doesn't matter which platform you use, you will get access to analytics that cover important pointers like your growth rate, engagement rate, average number of likes, etc. Consider using third-party tools if there's no built-in analytics section.
Analytics will help you understand what's working and what isn't. Use numbers to make changes to your strategy, however, remember that changes can take a while to show so give some time for things to settle before you make a move.
What Do Pet Influencers Do?
The main job of a pet influencer is to 'influence' people's decisions and help them. Pet influencers talk about a variety of pet-related things including how to train animals, how to feed animals, how to take care of pets, etc. Some may even provide breeding tips and help you find the right pet. They offer overviews, photos, reviews, and more.
In addition, you will also find some pet influencers who have become famous just by posting cute photos and videos of animals. The demand for such content is very high and consumers happily follow accounts that post likable animal photos.
Pet influencers are said to work very hard as they don't only have to concentrate on themselves but on other living beings as well (pets). Taking care of animals is a full-time job and it can often get very tiring. On the positive side, pet influencers work from home. However, some pros are now taking in-person bookings. They attend events (with their pets) and some even have to travel.
Brands often want pets to appear in their shoots and ads which could result in more travel. Such pet influencer opportunities can be very exciting and they often pay well but might not be suitable for everyone. Traveling with a pet can be difficult, but if you're serious about becoming a pet influencer then keep this option open. Some of the highest-paid pet influencers have traveled globally to attend pet shows and be a part of music videos.
You will also see some pet influencers cover topics not related to animals. They might talk about fashion, fitness, and more. If you are serious about being a pet influencer then we suggest that you don't talk about other things in your post. You can create a new profile to cover these topics. It is common for influencers to have multiple profiles.
What Do Brands Look for in Pet Influencers on Instagram?
Here are a few things brands consider when going through famous Instagram pets to choose from. They look at thousands of pet influencers on Instagram and pick the best. If you are serious about knowing how to become a pet influencer then it's important that you are aware of factors to keep in mind as they will help you not only get more followers on pet Instagram but also help get your dog sponsored on Instagram.
The Type of Content
Brands prefer pet influencers that are creative and good at posting interesting content. They pay attention to everything from how often you post, what you post, what types of captions you choose, etc. Some brands want to concentrate on video campaigns, some wish to post photos, and some want a mix. Your profile must meet their expectations for them to approach you with a pet sponsorship offer.
Your Pet
This is an obvious one. One brand cannot cater to all pets. They pay attention to factors such as breed, age, size, etc. A brand that sells dog food cannot work with a fish influencer. Similarly, a vet catering to older dogs would prefer a pet influencer with a senior dog as it will resonate better with potential clients.
Your Followers
Brands typically prefer accounts with large followers but some might be willing to compromise on this factor if you house the right audience. Brands work with accounts that can help them reach their target audience, hence demographics including the location and age of your followers can be of huge importance.
Engagement Level
The higher your engagement rate, the better it is for the brand. Anything under 2.5% is considered very poor in this niche. Anything around 4.5% is considered good and if you work hard you could even achieve a double-digit.
In addition, your overall image, cost, past record can also be considered by brands looking to work with pet influencers.
How to Become a Pet Influencer: Frequently Asked Questions
Do you still have questions about how to become a pet influencer? Here are some of the most frequently asked questions:
How do pet influencers make money?
Pet influencers make money in a variety of ways. Some charge for paid or sponsored posts earning anywhere between $25 and $1,000 per post depending on their popularity, engagement, location, and other such factors. In addition, they also get access to free products that they may have the option to sell.
Now, more and more influencers are earning through ads on social media platforms including YouTube and Facebook. Even TikTok and Instagram are now offering rewards for posters. You can make anywhere between $50 and $5,000 per month through ads – based on your popularity and location.
Lastly, pet influencers can make money by jumping on the bandwagon and working with a pet influencer agency that helps them find big opportunities such as a chance to get featured in a music video. It could earn you more than $5,000.
Who are the highest-paid pet influencers?
Pomeranian pup @jiffpom is the highest-paid pet influencer making more than $40,000 per post with nearly 10 million followers. The second influencer on the list is Nala Cat with more than 4.3 million followers. The cat earns nearly $20,000 per post and is working with brands like Hulu and Paw CBD. The third highest-earning pet influencer is Doug the Pug with nearly 4 million followers on Instagram and earning over $15,000 per post. The star has worked with names like Pizza Hut and Sabra.
Influencers on Afluencer appear to be doing quite well too with some making $5,000 per post.
How to become a pet influencer?
You can be a pet influencer by posting animal-related content on social media and working to reach more people. The job of a pet influencer is to educate people. They talk about pets including how to take care of them, what to feed them, etc.
Where can I find pet influencer opportunities?
The best way to find pet influencer opportunities is to sign up with a pet influencer agency like Afluencer. Being a member will give you access to hundreds of brands looking for Instagram pet influencers to work with. Our platform is secure and easy to use. You'll get all the information you need under one platform.
Can I be a full-time influencer?
It is possible to be a full-time pet influencer, however, this can be risky because influencer income is not guaranteed. You can choose to leave your career if you want to fully concentrate on being a pet influencer but take this drastic step only if you are sure things will work out. Also, consider having a backup plan.
How to get your dog sponsored on Instagram?
The best way to get your dog sponsored on Instagram is to work with a dog brand looking for influencers. Again, you'll need to look for pet influencer opportunities. Afluencer can help you find sponsorship opportunities from all kinds of brands including pet food companies, vets, and more. Work on your profile, write a creative bio, be active, and post compelling content so that brands find you attractive.
How can I promote my Instagram pet account?
The best way to promote your Instagram pet account is to post interesting content with creative captions and hashtags. If your content is good, it will automatically gain popularity and attract more people. In addition, you can invest in social media ads and work with other pet influencers to reach a wider audience. This will help you get more followers on Instagram and find pet influencer opportunities.