Ahhh. The world of the beauty content creator. Not all of us may be able to follow their detailed makeup tutorials, but we sure do enjoy watching them… blend honey, blend!
They are certainly skilled and should definitely be on your radar if you're looking for a Collab opportunity! Besides, you need a partner who can professionally highlight your product – not just wing it! More beauty puns coming up, but first, let's take a look at who is on this roundup.
Let's head to New York City where one beauty content creator has established one rule when it comes to her niche…
"There are no rules."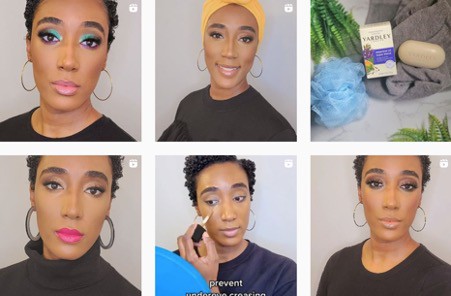 Born and raised in Brooklyn, now in the Bronx, still reppin' NYC, Desiree has creativity flowing through her veins. This proud black creator wears many creative hats – founder of an events planning company, an artist, a jewelry maker, and a beauty content creator.
Content
The first thing that stands out is Desiree's beat face! Her eyeshadow game is flawless! Next thing? Her personality. Click on any of her Instagram reels or Tiktok posts for a good dose of it… and some good laughs.
On @themotleygirl, her followers can also find some great hair and beauty tips, products, tutorials, and so much more for a well-rounded coverage of all things beauty.
Desiree also does a great job of not repeating Instagram content on TikTok and vice-versa. So, to not miss out on all the beauty content she has to offer, make sure you follow her on both!
Another hat Desiree wears well? Collab partner. She's partnered with skincare, hair, and makeup brands to name a few; and it doesn't look like she's slowing down anytime soon.
---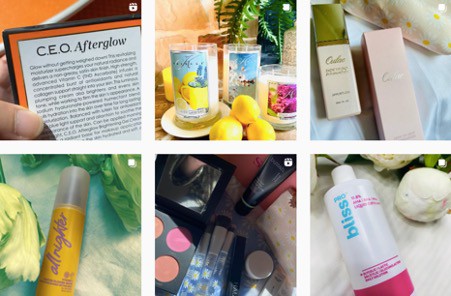 The Lone Star State – Texas – in the USA brings us Fouzia. This beauty content creator is on a mission to inspire her followers to fulfill their beauty goals. How does she achieve that? By providing high-quality reviews!
Content
Scrolling through Fouzia's Instagram page, it's clear to see that her content is all about beauty and lifestyle – no confusion here. You'll find skincare, makeup, and other beauty products, as well as some lifestyle products littered in there.
Her captions are detailed and super confident. It's clear to see that she knows what she's talking about. No wonder her follower count is sitting at 17.6k, and her engagement rate is at a whopping 9%. (check out these other creators with impressive engagement rates)
Aesthetically, this is one really good-looking feed. It's like being in a store… who doesn't want to go on a beauty shopping spree after looking at this! Beauty and lifestyle brands – here is a gold mine of a Collab opportunity waiting for you to grab hold of.
---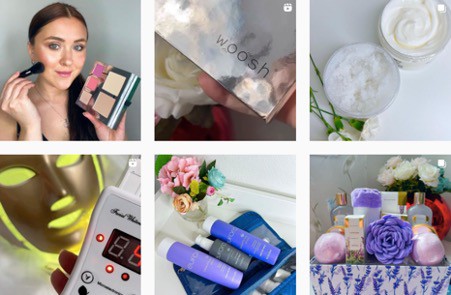 Tanya, representing Washington, USA, is a beauty content creator who is obsessed with cosmetics and helping others along their beauty and skincare journeys.
Content
Tanya's feed is like beauty heaven. Everything is wonderfully captured. She guides her followers so well – the captions give her followers all the details they need to make informed decisions about what they put on their skin.
From oils and butter to high-tech gadgets and everything in between, Tanya covers it all. Her over 19.7k followers can be confident that she's put in the work to bring them authentic reviews of products she's tried herself.
Her list of brands she's Collab'd with is super long – you'll find them featured on many of her posts on Instagram. She's clearly doing something right, and your brand could be next to benefit from this beauty content creator's approach to the industry. What are you waiting for? Get in touch with Tanya for a Collab you won't regret.
---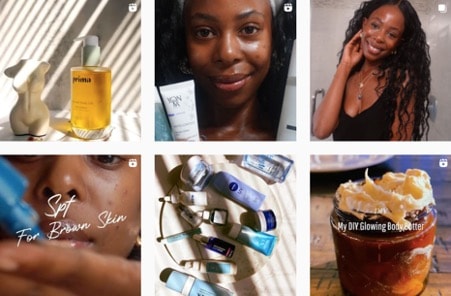 Looking for a beauty content creator to Collab with in sunny California, USA? Glowy-skinned Caroline may be the one for your brand. She's a skincare enthusiast eager to share the best tips and tricks for achieving a natural glow from within.
Content
We love that while Caroline gives beauty tips that everyone can benefit from, she also taps into the niches of dry skin and skincare for brown skin. We're all ears because straight away you can see that her skin is well taken of.
Caroline loves giving reviews on all kinds of skin care products – and we can tell! She loves a luxurious product and, as she says, feels like her whole aura is better when she's moisturized!
She's also really into DIYs. What can we say? This beauty content creator has her followers covered.
Another thing we love about Caroline? The way her personality shines through her content… it's absolutely infectious.
---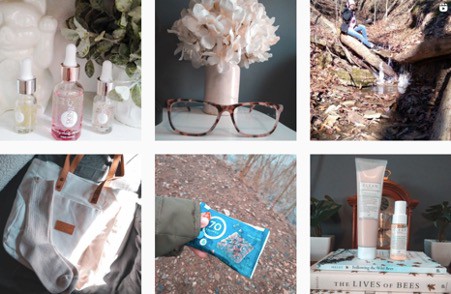 Meet Heather from Pennsylvania. This beauty enthusiast loves to create both lifestyle and beauty content, sharing, as she says, glimpses of her life through unfiltered squares. We like the sound of that – let's check said little squares out!
Content
If your brand is in need of a lifestyle and beauty content creator, look no further than Heather. Her feed offers a great blend of both in a way that isn't confusing.
She has featured so many beauty products, giving her followers more than enough detail in her captions. Heather has also partnered with brands in the beauty industry, as well as the health and fashion industries. Yup, Heather knows her way around a Collab.
We also love how authentic her content is. There is no BS here. We're getting a come-as-you-are vibe and we're loving it. Heather sure is living up to the whole "unfiltered squares" thing, and we are here for it.
---
Now, this is one beauty content creator and enthusiast who is gonna bring out all the good feelings in you. Say hi to Portia W. Not only does she create beautiful content but she's also an advocate for kindness and self-love.
Content
If your beauty brand is also a supporter of positivity, mental health, and self-care, you've found your match in Portia. We should all include words of encouragement during our skincare routines, right?
Portia's reviews are open and honest too, and her followers are feeling her positive vibe.
"Exactly! It costs nothing to be kind to everyone."
"Yes yes yes"
"Cool post this is wicked"
"Yes love this post"
And there's more where these comments came from.
Portia's follower count continues to grow, and her engagement rate is sitting at a solid 2.3%. This is one beauty content creator you are going to want in your skincare kit.
---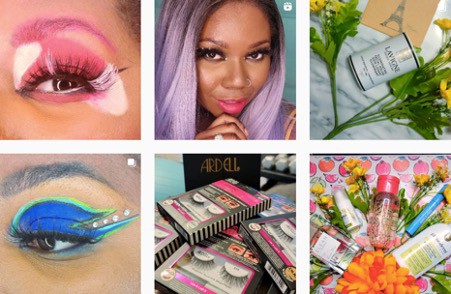 Let's head to Ontario, Canada to a beauty content creator who loves bold colors and has the personality to match.
Content
Josie is calling all of her followers to embrace color and all beauty brands to match her bright energy. Answer the call!
She is not afraid to be herself and inspires others to do the same. They say the eyes are the windows to the soul so it's good to make sure they're a work of art for someone to stare longingly into 🙂
Josie also loves sharing reviews on a variety of beauty products – from eyelashes to skincare products – rating them out of 5 stars. What will be your brand's score? 😉 Hit Josie up for a Collab and find out.
---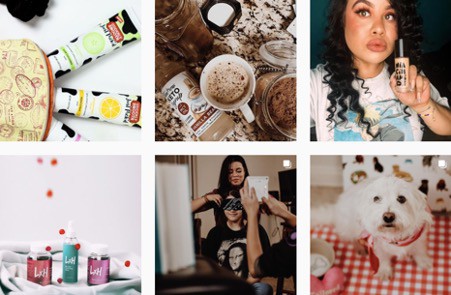 Angie is a beauty content creator, and photographer based in Texas, USA, who loves to share content on all things beauty, life, and mental.
Content
We enjoy looking at beauty content, but sometimes authentic beauty content is what catches the eye of most. That's what you will find here… nothing but realness.
Angie has been a full-time beauty content creator and photographer for over 3 years, letting all of us know that she's serious about her craft. She's taken the setting powder and applied it to her career, doing what she loves.
We love that Angie shares what makeup she's using and what shade it comes in so that her followers can also get in on that action. Angie is a beauty content creator looking out for her followers. No wonder her engagement rate is sitting comfortably at 5.9%.
So many Collab opportunities here. Angie Paola should be a top pick.
---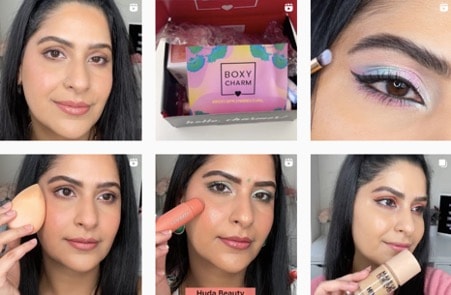 North Carolina is the home to this beauty content creator. Her love for all things beauty is evident from the get-go and her skill is also undeniable…
Content
Sometimes you come across a beauty page on Instagram that is so good, that you can't help but check out what they have to say.
Sometimes she's giving tutorials, other times she's giving reviews, skincare tutorials, tips, and tricks to achieve her flawlessly beat face. Whichever way, we're all ears. Her application looks effortless and full of confidence.
Sri delivers quality content every time. Considering a Collab? Don't worry. Your product will be in good hands.
---
Meet Anamika from Delhi, India. She's a makeup artist, and wife, and works part-time. Between all that she loves sharing beauty content…
Content
… and we love watching it! Anamika has taken a different approach to showcase her makeup looks – sharing funny reels of her lip-syncing to songs or lines in movies. Not only do we get to see her makeup artist skills, but her personality too! We love it when beauty content creators come alive through their talent.
Anamika is familiar with the world of Collabs, having secured a few already in her career. With the makeup artist skills and likable personality she clearly has, we have a feeling that a Collab with Anamika will only result in success.
Oh, and can we give a shoutout to her signature red lip? Yes, Anamika!
---
So, what's our take on this roundup of beauty content creators? They're badass! Not only are they skilled in the world of beauty but they are Collab connoisseurs, have magnetic personalities, wear many hats, and are set to soar higher. This is one bunch you don't want to miss out on.