Ahhh. The world of the beauty content creator. Not all of us may be able to follow their detailed makeup tutorials, but we sure do enjoy watching them… blend honey, blend!
They are certainly skilled and should be on your radar if you're looking for a Collab opportunity! Besides, you need a partner who can professionally highlight your product – not just wing it! More beauty puns coming up, but first, let's take a look at who is on this roundup.
Let's head to New York City where one beauty content creator has established one rule when it comes to her niche…
"There are no rules."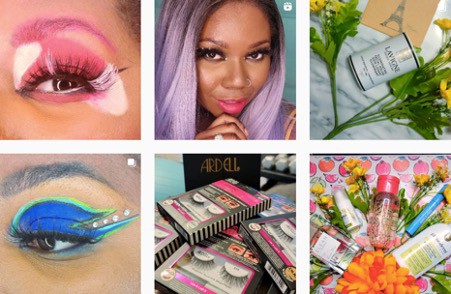 Let's head to Ontario, Canada to a beauty content creator who loves bold colors and has the personality to match.
Content
Josie is calling all of her followers to embrace color and all beauty brands to match her bright energy. Answer the call!
She is not afraid to be herself and inspires others to do the same. They say the eyes are the windows to the soul so it's good to make sure they're a work of art for someone to stare longingly into 🙂
Josie also loves sharing reviews on various beauty products – from eyelashes to skincare products – rating them out of 5 stars. What will be your brand's score? 😉 Hit Josie up for a Collab and find out.
---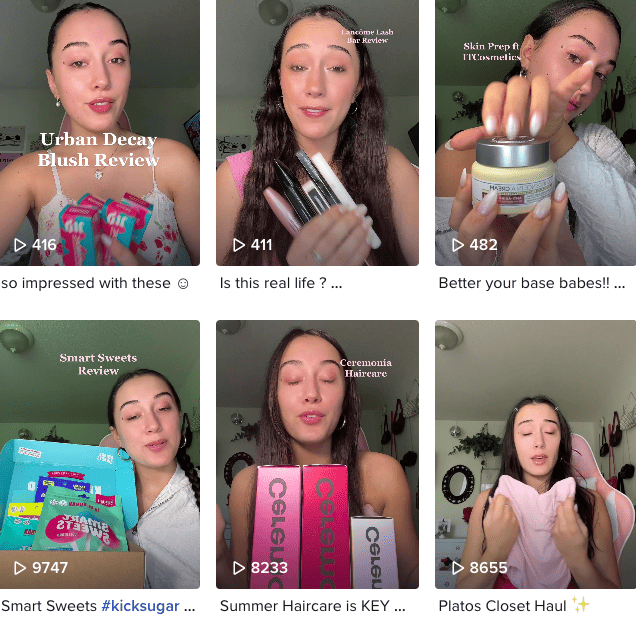 Meet Emma Marx. This beauty and fashion-obsessed dance teacher is a ball of energy whose positive vibe is contagious!
Content
Let's head over to Emma's main channel, her TikTok page. Here you will find her reviewing beauty products, recreating makeup looks, GRWMs (get ready with me's), showing us fashion and beauty hauls, freebies she's received (who doesn't love a freebie), some insight into her daily life, and so much more.
Her Instagram page (same handle) is a little more personal. Here you will find Emma in her element – showing off her beauty and fashion looks and just hanging out.
Phew! That's more content than we know what to do with. We love content creators who cover their niche and over-delivers on their followers' expectations.
The beauty content creator world is competitive, so for Emma to consistently achieve double-digit engagement rates means she's doing something right.
Collabs
While navigating Emma's content, you are sure to come across some of the Collabs she has secured so far. Her delivery is organic, that is, they don't feel like paid partnerships. They do, however, convince you that you need these products in your life! We're sold! Hit Emma up for a Collab, ASAP!
---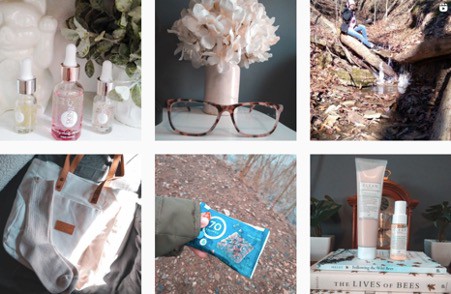 Meet Heather from Pennsylvania. This beauty enthusiast loves to create both lifestyle and beauty content, sharing, as she says, glimpses of her life through unfiltered squares. We like the sound of that – let's check said little squares out!
Content
If your brand needs a lifestyle and beauty content creator, look no further than Heather. Her feed offers a great blend of both in a way that isn't confusing.
She has featured so many beauty products, giving her followers more than enough detail in her captions. Heather has also partnered with brands in the beauty industry, as well as the health and fashion industries. Yup, Heather knows her way around a Collab.
We also love how authentic her content is. There is no BS here. We're getting a come-as-you-are vibe and we're loving it. Heather sure is living up to the whole "unfiltered squares" thing, and we are here for it.
---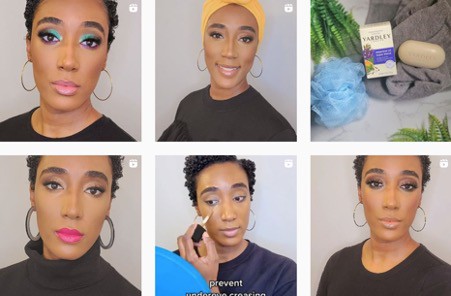 Born and raised in Brooklyn, now in the Bronx, still reppin' NYC, Desiree has creativity flowing through her veins. This proud black creator wears many creative hats – founder of an events planning company, an artist, a jewelry maker, and a beauty content creator.
Content
The first thing that stands out is Desiree's beat face! Her eyeshadow game is flawless! Next thing? Her personality. Click on any of her Instagram reels or Tiktok posts for a good dose of it… and some good laughs.
On @themotleygirl, her followers can also find some great hair and beauty tips, products, tutorials, and so much more for a well-rounded coverage of all things beauty.
Desiree also does a great job of not repeating Instagram content on TikTok and vice-versa. So, to not miss out on all the beauty content she has to offer, make sure you follow her on both!
Another hat Desiree wears well? Collab partner. She's partnered with skincare, hair, and makeup brands to name a few; and it doesn't look like she's slowing down anytime soon.
---

The Great State that is Texas brings us Elizabeth. This lifestyle and beauty content creator loves sharing honest and authentic product recommendations, which is great because we love reading them 🙂
Content
If you need a go-to for all things beauty, follow @bethsanantonetx – she's got all the advice. For her, beauty starts on the inside, so she's got tips for eating well that will in turn make your skin look amazing. Makeup is just the icing on the cake!
We love her reviews. They are DETAILED. Elizabeth tells all after trying these products herself so you can be rest assured that you are getting real feedback. If it's good, she will let you know. If it's bad, she will let you know.
Elizabeth has quite a portfolio of reviewed products – even for her lifestyle content. Talk about being consistent!
We may be biased, but Elizabeth is a must-have as a Collab partner. She does right by her followers and the brands she teams up with. It's a win-win!
---
OH HEY! LET'S KEEP IN TOUCH
Never be the last to know about new partnership opportunities, campaign tips, and pro marketing insights.
Now, this is one beauty content creator and enthusiast who is gonna bring out all the good feelings in you. Say hi to Portia W. Not only does she create beautiful content but she's also an advocate for kindness and self-love.
Content
If your beauty brand is also a supporter of positivity, mental health, and self-care, you've found your match in Portia. We should all include words of encouragement during our skincare routines, right?
Portia's reviews are open and honest too, and her followers are feeling her positive vibe.
"Exactly! It costs nothing to be kind to everyone."
"Yes yes yes"
"Cool post this is wicked"
"Yes love this post"
And there's more where these comments came from.
Portia's follower count continues to grow, and her engagement rate is sitting at a solid 2.3%. This is one beauty content creator you are going to want in your skincare kit.
---

Yuliia is reppin' New York City with her "bright, colorful, minimalist, stand-out, urban, millennial-style" beauty content.
Content
True to her word, this beauty content creator's Instagram page is all that and more. The colors, the creativity… all splendid to behold.
Not only do we have a huge collection and a wide variety of products she's reviewed, but Yuliia also gives us detailed captions (so appreciated when it comes to beauty content), images with a creative spin, and Reels showcasing how she does what she does. Her followers can also look forward to brand details, discount codes, and beauty advice.
Yuliia also lets us into her daily life, getting more of a look into that shining personality of hers we love so much.
What do her followers have to say?
Obsessed with your skincare routine… your skin is gorgeous.
I could watch these textures forever!! I need that glow primer in my life.
Love that this is beginner safe!
Collabs
All those discount codes did not just grow on trees! This beauty content creator has partnered with brands and continues to give us amazing content to look forward to. She has not lost her shine, in fact, this star of a content creator just keeps shining brighter!
---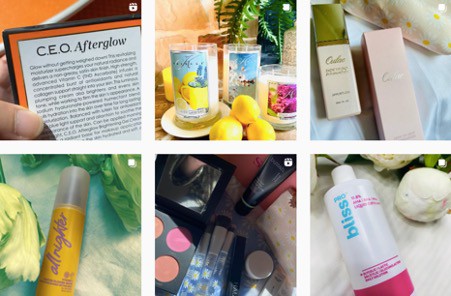 The Lone Star State – Texas – in the USA brings us Fouzia. This beauty content creator is on a mission to inspire her followers to fulfill their beauty goals. How does she achieve that? By providing high-quality reviews!
Content
Scrolling through Fouzia's Instagram page, it's clear that her content is all about beauty and lifestyle – no confusion here. You'll find skincare, makeup, other beauty products, and some lifestyle products littered there.
Her captions are detailed and super confident. It's clear to see that she knows what she's talking about. No wonder her follower count is sitting at 17.6k, and her engagement rate is at a whopping 9%. (check out these other creators with impressive engagement rates)
Aesthetically, this is one really good-looking feed. It's like being in a store… who doesn't want to go on a beauty shopping spree after looking at this! Beauty and lifestyle brands – here is a gold mine of a Collab opportunity waiting for you to grab hold of.
---

We are back in Texas to meet beauty content creator, Sahar. Her approach to beauty? Simplicity. Honesty when it comes to reviews, and aesthetically pleasing images and Reels.
Content
First of all, this is one pretty Instagram page. Secondly, her reviews are super detailed. We gotta say, when it comes to beauty content we appreciate detailed captions. Also, at the end of these long captions, oftentimes there is a discount code for her followers. Talk about encouragement to go out and buy the products she reviews! Can we also mention how pretty her products are?
Sahar Fatima is also a foodie and dabbles in food content (check out these marketing ideas) – it looks extremely appetizing.
Collabs
Sahar has secured Collabs with brands in beauty, food, and lifestyle. Your brand could be next. We do not doubt that Sahar's content can help skyrocket your brand to new levels. Invite Sahar for a Collab today… otherwise, you might just miss out.
---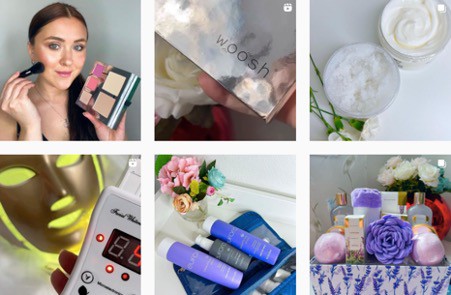 Tanya, representing Washington, USA, is a beauty content creator who is obsessed with cosmetics and helping others along their beauty and skincare journeys.
Content
Tanya's feed is like beauty heaven. Everything is wonderfully captured. She guides her followers so well – the captions give her followers all the details they need to make informed decisions about what they put on their skin.
From oils and butter to high-tech gadgets and everything in between, Tanya covers it all. Her over 19.7k followers can be confident that she's put in the work to bring them authentic reviews of products she's tried herself.
Her list of brands she's Collab'd with is super long – you'll find them featured on many of her posts on Instagram. She's doing something right, and your brand could be next to benefit from this beauty content creator's approach to the industry. What are you waiting for? Get in touch with Tanya for a Collab you won't regret.
---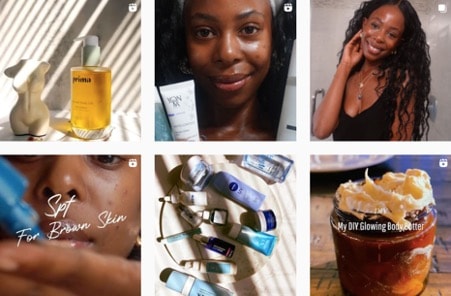 Looking for a beauty content creator to Collab with in sunny California, USA? Glowy-skinned Caroline may be the one for your brand. She's a skincare enthusiast eager to share the best tips and tricks for achieving a natural glow from within.
Content
We love that while Caroline gives beauty tips that everyone can benefit from, she also taps into the niches of dry skin and skincare for brown skin. We're all ears because straight away you can see that her skin is well taken of.
Caroline loves giving reviews on all kinds of skin care products – and we can tell! She loves a luxurious product and, as she says, feels like her whole aura is better when she's moisturized!
She's also really into DIYs. What can we say? This beauty content creator has her followers covered.
Another thing we love about Caroline? The way her personality shines through her content… it's infectious.
---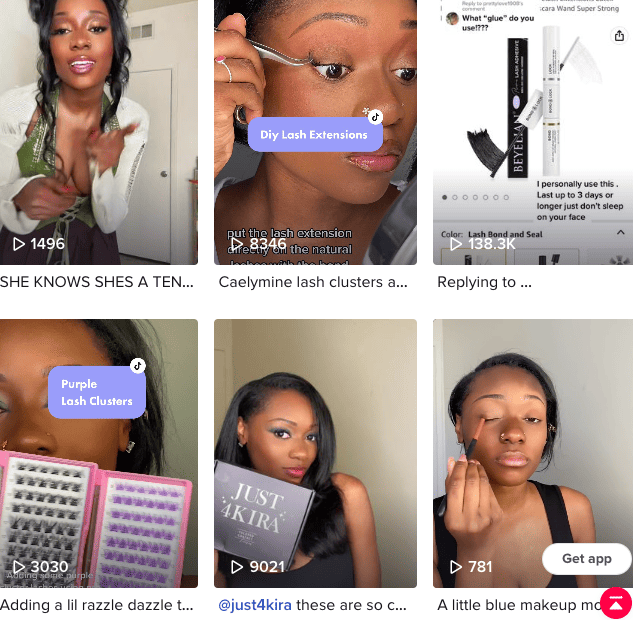 Next, we are headed to Arizona where Chelsea Wells is serving all kinds of looks in both the fashion and beauty genres.
Content
Chelsea is another beauty content creator reaching double-digit engagement rates. Why? Because her content is attention-grabbing. We're talking photoshoot makeup and everyday makeup. There are lash hacks and hair tips, makeup tutorials, hair tutorials, fashion finds, and so much more.
You can find Chelsea on both TikTok (@caseniasinai) and Instagram (@saintsinai). This beauty content creator is passionate about beauty, and her followers love her content.
I might try this coz it looks so good.
Girl I need to know what you did to get them pearly whites!
OMG this is the perfect tutorial! I haven't been able to perfect pinning my bun but this definitely helps!
Love it!!! Looks so natural.
Collabs
The people have spoken. Chelsea's content is lit… be sure to invite her for a Collab!
---
Meet Anamika from Delhi, India. She's a makeup artist, and wife, and works part-time. Between all that she loves sharing beauty content…
Content
… and we love watching it! Anamika has taken a different approach to showcasing her makeup looks – sharing funny reels of her lip-syncing to songs or lines in movies. Not only do we get to see her makeup artist skills, but her personality too! We love it when beauty content creators come alive through their talent.
Anamika is familiar with the world of Collabs, having secured a few already in her career. With the makeup artist's skills and likable personality she has, we have a feeling that a Collab with Anamika will only result in success.
Oh, and can we give a shoutout to her signature red lip? Yes, Anamika!
---

Next, we are headed to Germany where beauty content creator and blogger, Pakize Kapan currently calls home.
Content
We can't help but feel positive vibes from Pakize's Instagram posts as soon as we scroll through.
Pakize is another of our featured beauty content creators with a wide range of products to showcase. We're talking lip balms, firming creams, serums, moisturizers, cleansers, body oils, shampoos, conditioners, elixirs, the blood of our enemies (kidding!) and so much more. The list does go on and on…
Looking for something other than beauty? Pakize also features some travel and lifestyle content. This diversion from her usual niche does not stick out like a sore thumb. It blends in perfectly and allows her followers to learn about her other passions.
Collabs
There is no way that such great content would not attract brands looking for Collab partners. That's right, Pakize has secured partnerships with brands not only in beauty but in the lifestyle niche. She has a way with words and her imagery and video content are simple yet effective. We get the feeling that this beauty blogger's star will continue to shine. Hit the Invite to Collab button!
---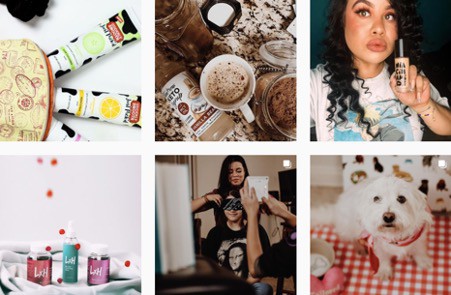 Angie is a beauty content creator, and photographer based in Texas, USA, who loves to share content on all things beauty, life, and mental.
Content
We enjoy looking at beauty content, but sometimes authentic beauty content is what catches the eye of most. That's what you will find here… nothing but realness.
Angie has been a full-time beauty content creator and photographer for over 3 years, letting all of us know that she's serious about her craft. She's taken the setting powder and applied it to her career, doing what she loves.
We love that Angie shares what makeup she's using and what shade it comes in so that her followers can also get in on that action. Angie is a beauty content creator looking out for her followers. No wonder her engagement rate is sitting comfortably at 5.9%.
So many Collab opportunities here. Angie Paola should be a top pick.
---

Meet makeup artist and full-time beauty content creator, Amina. If you are looking for a Collab partner who puts their heart and soul into their niche, Amina is the one for you.
Content
Amina's beauty content is mesmerizing. Her focus point is the eyes and you can't help but be captivated by her artistic skills. Her blending is flawless, and accessory application (such as rhinestones) is perfection. She even has glitter mascara y'all! Not to be cliche, but once you see Amina's eye area transformation, it will have you believing that whole eyes are the window to the soul thing. We kid you not.
She has the steady hands of a surgeon and the skills of Picasso. All that combines makes for some glued-to-the-screen content. We just can't get enough!
Amina also does us the honor of giving us product details so we know what she used and can go and get it for ourselves. Her results are so good, we know we will be out looking for those exact products… even if we DO NOT have her steady hands lol!
---

Meet Melody Merle. She's a mom and beauty content creator with a passion for gaming. Who says we should only have one passion?
Content
You know, beauty content may just be one of our favorites. Look at these pictures! Stunning! Beauty products give the perfect excuse to take beautiful pictures LOL. Melody's Instagram page is giving us life y'all. She has chosen a certain aesthetic, and it works.
She loves all things Japan | Korea… in fact, that's it! Her Instagram feed is giving Japan & Korean vibes – way to subtly include what you love into your content, Melody!
This beauty content creator also has her bases covered, featuring all kinds of beauty products from sunscreen to cleansing oils, lip masks, nail polishes, shower gels, and everything in between. No matter the potion, Melody has likely reviewed it. What can we say? She certainly is thorough.
Some content creators come your way and might not spark a fire. Not Melody. She is one of those that will have you thinking, we must have her on our team! And guess what? She's open to Collabs right now! Don't be the brand that experiences major FOMO because you didn't reach out to Melody… take action!
---

Meet Holland native, Jane Tayman. This curly-haired beauty content creator is also a successful model and social media marketer. Talk about talent! We do not doubt that her content creation is just as good as her other skills… let's see, shall we?
Content
Jane delivers Reels on Reels on Reels! For those of us who love video content, Jane is one beauty content creator we are ready to hit the Follow button for. For all you curly-haired onlookers, Jane has the best tutorials (accompanied with detailed captions), a lot of GRWMs, as well as some awesome skincare secrets. Hey, great hair and great skin go together like white on rice.
Collabs
Jane features Collabs with brands in the haircare industry, but there is still plenty of opportunity here for other beauty brands (such as makeup or skincare brands) to get their time in Jane's spotlight! You know what to do… invite Jane for a Collab today.
---

Hopping onto this list with a total of over 1.5 million followers across Facebook, Instagram, TikTok, Twitter, and YouTube, is Shima Katouzian. This beauty content creator is a storyteller and founder of her brand, @bodomakeup.
Content
Who doesn't love a good story? We may not speak her language but we can tell by her tone and body language that she's got juicy stories LOL! Her captions are in Persian, but now and again her Reels have an English translation.
Her makeup looks are to die for – not overdone, but simply an accessory to an already natural beauty. If that's your vibe, you've come to the right place.
If you are a brand looking to target Persian speakers, you absolutely MUST reach out to Shima for a Collab. Not only is her follower count off the charts but her engagement rate is currently 10.4% – a rare sighting in beauty content creators with so many followers.
---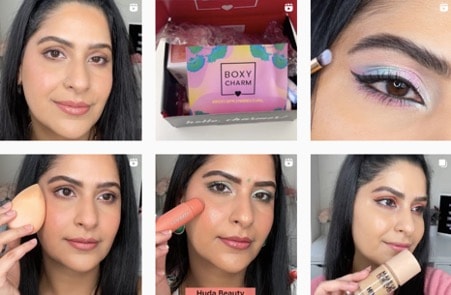 North Carolina is the home to this beauty content creator. Her love for all things beauty is evident from the get-go and her skill is also undeniable…
Content
Sometimes you come across a beauty page on Instagram that is so good, that you can't help but check out what they have to say.
Sometimes she's giving tutorials, other times she's giving reviews, skincare tutorials, tips, and tricks to achieve her flawlessly beat face. Whichever way, we're all ears. Her application looks effortless and full of confidence.
Sri delivers quality content every time. Considering a Collab? Don't worry. Your product will be in good hands.
---
So, what's our take on this roundup of beauty content creators? They're badass! Not only are they skilled in the world of beauty but they are Collab connoisseurs, have magnetic personalities, wear many hats, and are set to soar higher. This is one bunch you don't want to miss out on.