We spend up to 20 percent of our total spending on travel. Once considered a luxury, traveling has now become a necessity as it helps people rejuvenate, build relationships, and feel happier.
Over 1.4 billion people travel on a regular basis and most are willing to spend thousands to make their experiences memorable. This makes the travel industry one of the biggest industries in the world.
If you are a travel influencer, then you have reasons to rejoice as there are many travel influencer programs. In this article, we'll be reviewing the best travel influencer program out there, Booking.com.
What is Booking.com
Booking.com is one of the largest travel fare aggregator sites that also doubles as a travel metasearch engine allowing users to make hotel reservations.
Originally designed to book properties, Booking.com now also offers car rentals, flights, and tour bookings. It is among the 100 most popular sites in the world and is used in over 180 countries.
What is the Booking.com Influencer Program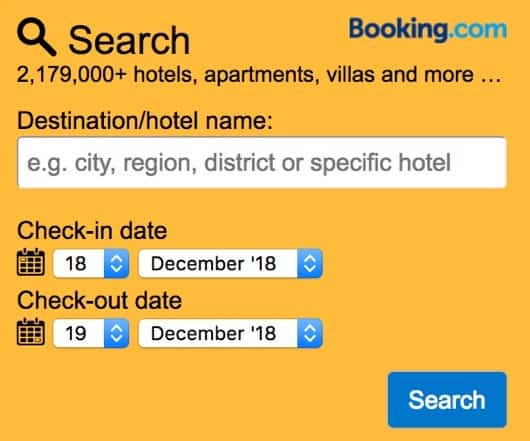 The Booking.com influencer program is suitable for all travel sites as it allows you to earn a commission for each booking through your site.
Booking.com currently only works with individuals or businesses with a website. But the company has recently started a special Travel Agent Influencer Program for offline agents as well. You can go here to discuss the process with the team. In most cases, they will ask you to prove you own a business.
They do not care much for the niche or number of visitors. However, the eligibility criteria may differ if you sign up through a third-party platform.
How to Join the Booking.com Influencer Program?
You can join the Booking.com influencer program by going to the official site or working with one of the partner affiliate networks like Awin and CJ.
This is very important because terms and conditions may differ based on the portal. In most cases, working directly with the website may be the better option, but in some cases, it may be more beneficial to work with a third-party portal. This is especially true if you are already used to a specific portal.
Go here to join the platform for free. This is the easiest way to join the program. Third-party sites can be a little stringent.
How Much Commission Does Booking.com Pay?

You will only get paid if the visitor completes the booking, i.e: pays. Hence, it may often take months for the commission to appear in your account as Booking.com will wait until the visitor has completed a booking, i.e: has stayed at the hotel.
This is important because some visitors book hotels in advance and do not pay until they reach the destination. Plus, some offers allow cancelation, hence Booking.com will wait until a stay is completed.
The Booking.com influencer program promises up to 40 percent commission; however, the starting commission is 25 percent. It will increase as you grow with the company.
Since Booking.com does not own the properties it offers through the platform, the commission it advertises includes Booking.com's share as well.
Let's say your visitor books a hotel for $100 a night and completes the stay. Booking.com will keep 25% of the amount, i.e: $25, and will pay your share, which will be about 15%, out of this $25. Hence, your commission in terms of dollars will be about $3.75.
If you work with a third-party portal, you will get a fixed commission of 4 percent and some performance incentives.
This may not sound much but if you look at the stats, you will be making a lot of money.
Most decent hotels in destinations like Dubai, London, and New York average $250 per night. Plus, most visitors will stay for 2-3 days. Even if you score one visitor per day, you will still be making about $35 per day.
Earning Your Money
Booking.com has a minimum threshold of $100. You will be able to withdraw your funds through PayPal or wire transfer once you hit the $100 mark.
The cookie period is 30 days. However, since some users search for properties over 2 months in advance, we wish the cookie period was a little longer.
Tip: Booking.com pays $50 for each property you refer to.
Booking.com Influencer Program Pros and Cons
Like any other travel influencer program, the Booking.com influencer marketing program also has pros and cons.
Pros:
Over 2.5 million properties all around the world
Suitable for all kinds of travelers
Available for people all around the world
Excellent customer support
You can advertise properties in a variety of ways
Available in multiple languages
Visitors do not have to pay a booking fee
Cons:
The payment structure can be complicated to understand
The commission can take months to appear in your account
Offers a limited number of payout methods
How Can I Advertise Booking.com Properties?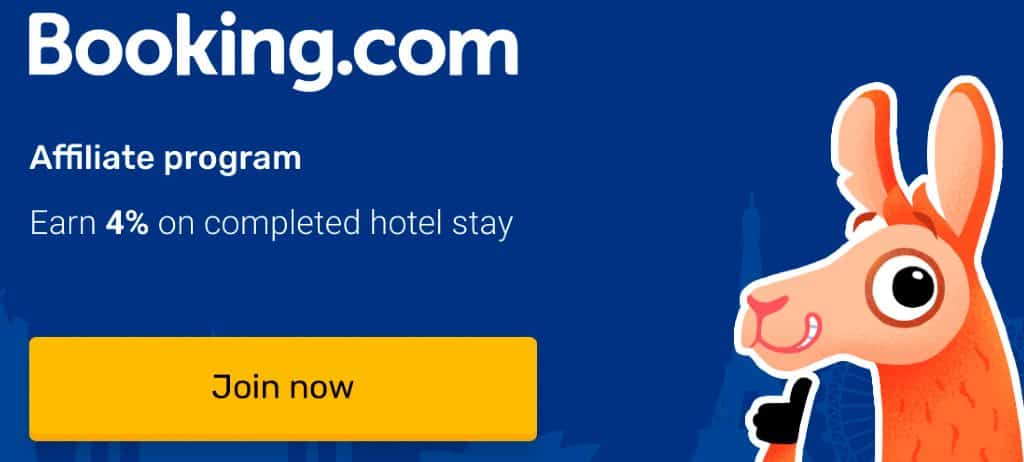 Booking.com allows you to post banner ads, deep links, text links, and search boxes.
We really liked the interface as it is quite easy to use. You will see multiple options in the 'Products' tab given at the top of the page.
It is quite easy to create widgets and banners. However, make sure to include tracking codes, also known as labels, to help you identify how the links are performing.
The system allows you to change currency and language and place ads on your required landing page. We suggest that you experiment with all types of ads to find what works for you. Also, consider checking the Inspiration Search Box and Deals Finder features out.
A very good thing about Booking.com is that it allows you to be creative with how you present the ads so try different things.
If you love to travel then consider staying at a Booking.com place and making cool vlogs to attract more users. It can be a good way to get people interested in staying at a property.
Booking.Com Influencer Program: How to Track and Improve Performance

The best way to improve performance is to use the right ads. We suggest that you study your audience and include ads that you find they'd be interested in. For example, it may be a good idea to include British properties if you have a lot of Indian visitors since about a million Indians visit the UK every year.
Also, be aware of the demographics and your visitor's spending habits. If they can afford luxury villas, then include those. If they can't, then stick to more affordable options.
You can track what's working and what isn't by checking Booking.com's interface. It may not be the most advanced interface but it is still quite effective and will give you insights into page views, bookings, and clicks.
It shows details in a graphical format that'll make it easier to read results. Plus, you can sort information by year, month, week, or day.
The Performance section will also highlight canceled reservations in pink. You will only get paid for reservations that appear green. For easy access, you may even download the data as a CSV or Excel file. This makes the Booking.com influencer program a good option for new travel influencers.
Conclusion
Booking.com's influencer program is quite good, especially since its brand is such a trusted name in the world of hotel reservations. The company offers excellent customer support for both affiliates and users.
If you have a travel-based site then it may be a good idea to give Booking.com Influencer Marketing Program a try. It's free to join and works pretty well.