The line between influencer and affiliate marketing is slowly disappearing. Brands want more business and they're willing to try new things. While influencers offer great results, affiliates aren't any less impressive. When you put them together, they can provide results that are unmatched.
The affiliate marketing industry is worth $12 billion, whereas the influencer marketing industry hit $16.4 billion mark in 2022. If you combine the two, you get a very large market that gives you access to more people. However, businesses still struggle to approach influencers for affiliate marketing.
In this article, we'll tell you how to approach influencers for affiliate marketing and give a boost to your business.
First, Understand The Difference Between Affiliate Marketing and Influencer Marketing
As a brand, it is important that you understand the difference between affiliate and influencer marketing. Influencer marketing involves Collaborating with influencers, i.e.: people with an influence, to sell more. Influencers typically charge for their services, however, some might be willing to sign long-term contracts but most require pay-per-post plans. Moreover, small brands may be able to sign a deal without having to pay – in exchange for free products.
Influencers have no real stake in the business. They merely plug it and then followers choose to buy or sell the product. On the other hand, affiliate marketing gives users a real stake in the business. There are no monthly or fixed payments and affiliates earn commissions. This encourages them to talk more about a product because the more they'll sell, the more they'll earn.
They usually get a link or code that they have to promote. Whenever someone buys a product through their link or code, they earn a commission. There is usually a cookie window and commission payments are received after 30 to 90 days of purchases.
Why Brands Should Consider a Mixture of Influencer and Affiliate Marketing
From the perspective of a brand, a mix can always be a better option. Influencer marketing is successful but it doesn't offer guaranteed results. A large number of influencers have fake followers and not all enjoy a good reputation. It can get tricky for brands to find a suitable influencer.
At Afluencer, we make it easier for brands to search through thousands of influencers and compare factors such as engagement rate and reach. This can be a great way to find the right influencer for the job. However, a combination of influencers and affiliates can still be better. It can allow brands to get a higher ROI.
With affiliate marketing, you will only have to pay when a sale is made. Brands can choose how much commission to pay. It largely depends on the niche and can be between 5 percent and 30 percent. If you look at big brands like Fiverr and HubSpot, you will find that they work with both influencers and affiliates.
Brands should ideally look for influencers willing to work as affiliates. Look around for people with a good reach and have them sign up as affiliates. This might sound like an easy job but brands often struggle because influencers do not always enjoy working as affiliates. They're interested in guaranteed income. However, if you know how to make the right pitch and look in the right corner, you'll find suitable influencers looking for affiliate marketing opportunities.
How to Approach Influencers for Affiliate Marketing: A Seven-Step Guide
Here's how to approach influencers for affiliate marketing. It isn't as simple as finding an influencer and sending a "we want to work with you" message. Most influencers do not take such messages seriously. It's important to plan like a pro and take affiliate marketing seriously.
#1 Study the Market
Creating an affiliate program can be a lengthy process that involves several technical elements. Start by studying the market and understanding what your competitors are doing. Affiliate marketing involves asking people to sell on your behalf. An affiliate program will work well only if there's more demand for your product.
It is best that you concentrate on products that sell well. However, there's no harm in including products that are not so popular in the program as the success of your campaign could boost sales of all items.
Learn what others are doing in your niche and how popular they are. A Google search may be enough to get answers to your questions. Search using these keywords:
"Competition name" affiliate program
"Competition name" affiliate marketing
"Competition name" affiliate
This will tell you if they have an active affiliate marketing program or not. Check their offers and the techniques they're using to attract affiliates. Remember that you'd be in direct competition with them and you must have a competitive offer.
Furthermore, check social media using similar keywords. This will tell you more about who they work with and what kind of response they receive. It will be hard to know the ROI but you'll be able to gauge the popularity of their program through social media. Plus, you can even check reviews online to know what experts think of the program.
For example, we have reviewed Airbnb's affiliate marketing program which mentions its pros and cons. Such posts can help brands figure out what not to do when creating an affiliate program or approaching influencers for affiliate marketing.
#2 Think of a Commission Rate
The next step is to take care of the numbers. Decide how you wish to reward affiliates. Most companies offer a fixed commission based on a percentage of each sale. However, you can also offer a flat-rate commission. The latter works well for companies that have a single product or when all products cost the same.
Affiliate commissions largely depend on the niche and can be as high as 30 percent with some companies even offering more. In most cases, the more expensive or rare a product, the higher the commission. Whereas, companies that offer day-to-day items usually have a low rate. Still, you must offer a competitive rate so that affiliates have a reason to choose you over someone else.
Amazon has an affiliate program that can help you understand how to set up commissions.
Here's an example of their commission rates based on product categories: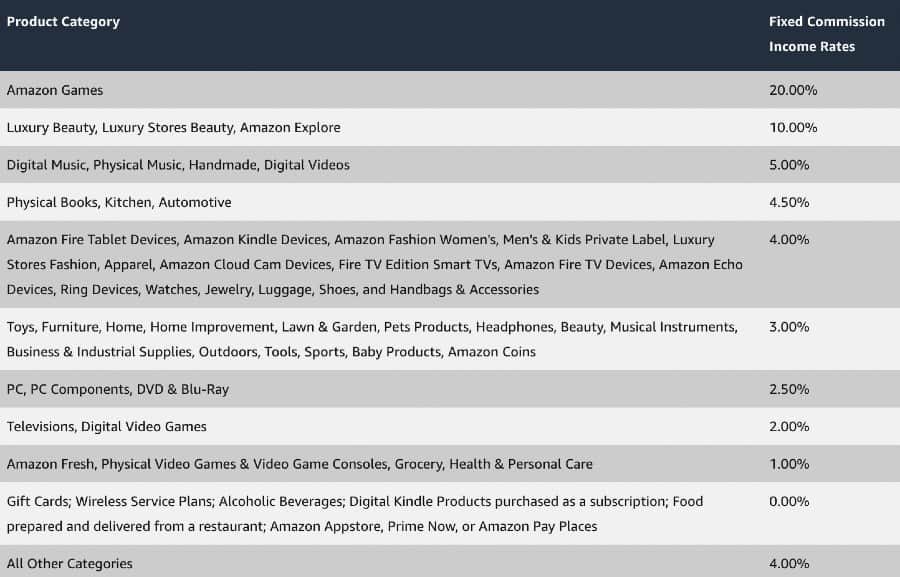 Consider choosing a rate that's not lower than what you see above for your specific category. However, make sure to carefully calculate your net profit after commission. This is important because rates are a lot higher than what Amazon offers.
Here are the average commissions that affiliates can earn according to Shopify: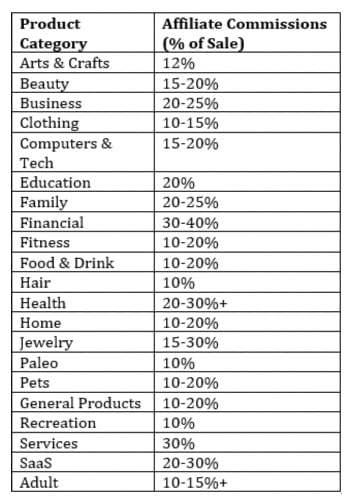 Remember that most affiliates and influencers look at this factor when comparing programs so make sure to spend some time at this stage. You will always have the option to raise or lower your rate at a later stage.
Also, you can consider paying a fixed amount of money. For example $5 on every sale. Again, calculate your profit and then decide how much you can afford to pay when approaching influencers for affiliate marketing. Do not commit to a rate that eats heavily into your profit.
#3 Create an Affiliate Program
The next step is to design an affiliate program. You'll have to decide how influencers will join your program. This can be done by using an affiliate marketing tool or creating your own. Platforms like Clickbank, Rakuten Marketing, and CJ Affiliate Network are very popular. However, they all come with specific requirements and perks.
Explore the above, along with other options, and find the one that works best for you. Here are a few things to consider when creating an affiliate program:
Costs – most of these platforms are not free and you will have to pay a fee in order to use the platform. Moreover, some may have premium versions that come with additional features and cost more.
Accepted Products – Not all platforms will approve all kinds of products as some cater to specific niches. Also, there might be a cap on the number of products a business can add, so pay attention to this feature.
Location – Some platforms cater to specific regions and do not work with international affiliates. This can be troublesome for brands that approach influencers for affiliate marketing from all around the world. Also, some are only suitable for physical products and do not cater to digital goods.
Ease and Payment – The platform should be easy to use and offer integrated payment options so that you can easily manage payments. PayPal is one of the most popular options. Moreover, there should be no limitations, processing caps, or approvals. Furthermore, consider choosing a platform that makes it easier to report taxes.
Reporting and Analytics – Join a program that allows you to keep an eye on the numbers. It should provide regular reports including the number of products sold. This will help you identify popular influencers and reward them accordingly.
You will have to apply for an account, submit product details, and wait for it to be approved. The process can usually take a few days and you may also have to submit identification documents including proof of business ownership.
Once approved, you will be able to add products, advertise your affiliate program, and invite influencers to be a part of it.
#4 Join a Platform Like Afluencer
Once your program gets set up, it's time to start looking for influencers. Websites like Clickbank and Rakuten Marketing will not help you find influencers. They are typically only used to set up affiliate accounts and most brands then choose to advertise their affiliate marketing program through the official website or social media handles, however, that may not be the best option if you are looking for influencers.
Afluencer is a marketplace that bridges the gap between influencers and brands. Companies can sign up for an account and search for influencers by interests, followers, channels, and other filter options. Moreover, Afluencer gives brands the opportunity to stand in front of over 13k influencers and content creators already actively engaging through the platform. Brands also get the opportunity to be featured in email blasts that are read by Afluencer members.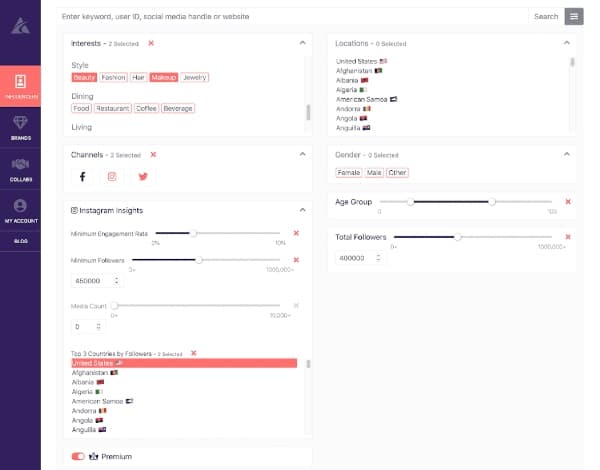 We have a global reach and our influencers cater to more than 50 niches including beauty, fitness, finance, travel, and some less popular niches such as gambling and cannabis. The app is designed to be a one-stop solution for brands looking to approach influencers for affiliate marketing. You can exchange direct messages and explore new opportunities in the chatroom. Plus, brands get the option to post a Collab.
This feature has proven to be our USP. It helps attract interested and relevant influencers. The steps involve describing a project including eligibility requirements. We'll post it in the Collabs section and may also include it in our newsletter. Influencers who see it will have the option to contact the brand if they find the opportunity interesting.
Working with a platform like Afluencer can help save time. You can quickly attract top talent and find influencers who are interested in working as affiliates.
#5 Find Suitable Influencers
Before starting the process, it is important that you decide who you wish to work with. You should ideally look for influencers in your niche. For example, if you sell clothes then you should work with a fashion influencer. Also, there may be sub-niches. For instance, some influencers target new mothers, some target seniors, and some target men.
You should pick an influencer who allows you to reach your target audience in terms of demographics such as age and gender. Afluencer makes the job easier as we provide this information by allowing brands to easily compare influencers. Moreover, we also highlight the geographical location or reach and engagement rate.
However, most brands do not pay attention to the number of followers when it comes to affiliate marketing. Since brands don't typically pay per post, they don't have to worry about the reach. They typically look to get as many affiliates as possible, which is why most have a simple eligibility criterion.
Even the niche is not typically a concern for businesses when picking suitable affiliates to work with. However, it might be a good idea to have some sort of clarity.
Here are a few factors you may want to consider when you choose an affiliate:
Geographical location.
Gender of the affiliate's audiences.
Niche of affiliate's content.
This will help you to select the right influencers.
#6 Post Your Ad or Contact Influencers
Now that you have clear eligibility requirements, it is time to spread the word. As explained above, working with Afluencer makes it easy to find suitable influencers. You can post a Collab and influencers will get in touch with you. However, that's not the only way to find or approach influencers for affiliate marketing.
Some brands choose to approach influencers for affiliate marketing directly or through social media. The process is taxing and lengthy but it can prove to be beneficial, especially if you want to work with an influencer who isn't present on an influencer marketing platform.
Write a professional message that clearly explains what you have to offer and why you wish to work with a specific influencer. Approach them via social media platforms or contact the agency they work with. You will typically find this information on their social media handle or official website.
In addition to this, you can even talk about the opportunity on your social media profile or website. Influencers interested in the opportunity will contact you.
#7 Finalize the Deal
You will not have to worry about finalizing the deal if it's a basic affiliate marketing campaign. Influencers will land on the page, sign up, and you will have the option to approve or decline requests. Once you approve a request, they will begin to advertise your products. The revenue will be calculated and paid in a timely manner without any manual input. You will, however, need to negotiate if you also offer a mix of influencer and affiliate marketing.
Again, they will earn commission through the platform but you may have to negotiate a per-post rate. It can be anywhere from $5 per post to $50,000 per post depending on the popularity of the influencer. Influencer payments will have to be routed through a third-party platform as your affiliate program may not be able to handle it. Websites like Clickbank are only designed for affiliate marketing and not influencer marketing.
You can use Afluencer for all influencer marketing tasks including negotiating the price and managing payments.
What if Influencers Do Not Accept the Offer
This is a very common problem brands have to face, especially when they approach influencers for affiliate marketing. Here are some of the main reasons why influencers decline offers:
They Do Not Understand Affiliate Marketing
Not everyone understands affiliate marketing or how it works. Some even believe it's a scam or pyramid scheme. You may have to educate influencers and tell them that you're legit.
A great way to avoid this issue is to hire influencers through a reliable platform like Afluencer. We have been in the business for years and are constantly working to educate people who work with us. We share resources including articles covering affiliate marketing.
Most of our influencers are already working as affiliates and have a good understanding of how the industry works.
They Do Not Want to Work as Affiliate Marketers
Influencers do not always enjoy the idea of working as affiliate marketers. Most people choose to be influencers because they like the ability to influence people and make money without having to work a typical job. The word 'marketer' in affiliate marketing often gives the idea that one will have to market the product, which may sound less interesting to some influencers.
Again, it comes down to educating people and explaining how beneficial affiliate marketing can be. The process of learning how to approach influencers for affiliate marketing involves explaining how you treat your affiliates and how it will benefit them. The key lies in pitching in a neat manner and highlighting the benefits of working with you.
It might be a good idea to not use the word affiliate and to stick to the word influencer. The main difference lies in how influencers get paid. Explain it in the payment section and you will not have much to worry about.
The Offer Isn't Exciting Enough
Influencers want to earn money and they will not accept an offer that doesn't sound financially exciting. Affiliates only earn commissions, but influencers are used to other kinds of rewards as well including free products and fixed payments.
To make your offer more exciting, consider including these when approaching influencers to join as affiliates:
Discount codes for influencers to offer their followers.
Free products to test and review.
An opportunity to get featured on your platform.
A fixed pay per post.
Monthly retainer to be your ambassador.
Of course, it will not make sense to always make such offers. Think about how valuable a potential Collab can be. Calculate your expected ROI and then make an offer.
They Don't Like the Product
It is common for influencers to reject an offer if they do not like or believe in a product. This can happen when a product is new to the market, doesn't have a positive image, or falls into a different niche. Moreover, influencers may also decline an offer if the offer does not come with a free product.
They do not always like the idea of having to spend money on a product to be able to test it. Hence, consider sending free samples. Moreover, another good way to convince influencers to plug a product is to show reviews, overview videos, and offer free samples. Influencers are more likely to push a product they believe in.
How to Approach Influencers for Affiliate Marketing: Conclusion
Approaching influencers for affiliate marketing can get a little tricky. The key lies in highlighting the benefits of your brand and product and offering a competitive rate. You can increase your chances of reaching a deal by offering more rewards such as free goodies and a fixed rate.
Remember that the process can take a while as influencers are not always quick to respond and some may require more information. A platform like Afluencer can make the process hassle-free as it keeps all communications under a single tab and allows brands to highlight relevant information through their profiles.
Register for an account today to get started. Alternatively, you can explore the directory of influencers to learn more about the kind of talent we offer.