YouTube. Where content creators can delve deeper into topics, give detailed info on products, share life updates, or give long-winded (kinda like this sentence) explanations in tutorials or reviews. It is the celebration of long-form content. The pioneer video-sharing platform. The OG.
Although other social media platforms have come onto the scene, YouTube remains the top destination for streaming video content. Let's take a look at why that is.
YouTube Stats
So, you wanna become a YouTube influencer aka YouTuber? That's a good move. While some people (haterade sippers) might say that YouTube's time is over, the stats prove that this statement couldn't be further away from the truth.
Over 2 billion monthly users
That's right. Logged-in monthly users. This is topped only by the most popular social network – Facebook (another OG in the social media game) with approximately 2.89 billion monthly active users.
17 minutes 31 seconds
This is the average amount of time users spend on YouTube daily. This adds up to a daily total of 1 billion hours of YouTube videos watched.
Prime time domination
In an average week, on mobile devices alone, YouTube dominates prime time; reaching more adults (aged 18 and over) than any cable network does. Talk about keeping the people entertained!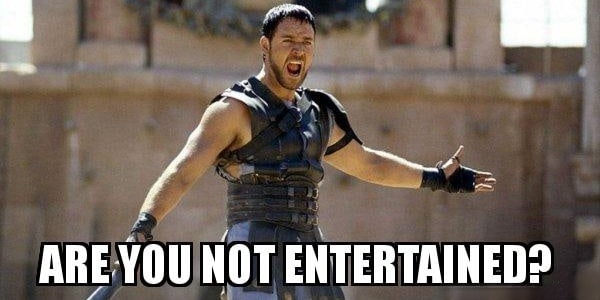 There's room for many niches
Want to create content for children? In the United States, 80% of parents with kids aged 11 and under say their kids watch YouTube. And 50% of these parents say it happens on a daily basis.
Is gaming your thing? 100 billion hours of gaming content were consumed globally in 2020.
There are 51 million YouTube channels out there as of 2022. Users can find content on literally anything, meaning you as a YouTuber have plenty of opportunities to make it.
Mastering the YouTube Algorithm
Part of the journey to becoming a YouTube influencer is figuring out the YouTube algorithm. If you nail it, you'll be able to grow your subscriber base, get more views, and grow your personal brand.
Why is the YouTube algorithm such an important factor? Well, according to research by Pew Research Centre, 81% of adults in the USA say that they watch recommended videos – which show up thanks to the algorithm.
Since YouTube's launch, the algorithm has changed a couple of times. Currently, its focus is on providing a better user experience including content moderation (think dangerous, harmful, violative, or misleading content).
Simply put, the algorithm…
Chooses videos for the YouTube homepage.
Ranks results for any search.
Determines suggested videos for viewers to watch next.
How do you make the algorithm work for you? More on that coming up a little later… in the meantime, let's get to the good stuff.
6 Steps to Becoming a YouTube Influencer
1. Determine Your Niche
Ask yourself in which industry or category would you like to focus your videos. And then zero in on something specific within that category. For example, if interior design is your chosen category, perhaps focus your content on a minimalist design style, or only design baby nurseries or office spaces. Ideally, your chosen niche should be something you enjoy and have knowledge about.
Focussing on something specific not only makes you look like an expert but also sets you apart from the crowd, lowers the competition you'll have to face to feature on viewers' suggested videos, and helps make your path to becoming a YouTuber a little easier. Hey, we're trying to get you on the fastest, no-bull path to success.
2. Content Ideas, Schedule, and Consistency
Here's a tip. When it comes to YouTube, really study your niche in order to come up with great content ideas. Follow relevant hashtags, popular videos, and trending hashtags. Keeping an eye on the competition is also an idea. What type of content are they creating? Can you create content on something similar yet make it different and your own?
Creating long-form video content requires a bit more detail, so you might want to create a content calendar to cover a month of content, for example. This will help ensure you don't hit a creative block – which many a creator run into (aka What am I going to talk about?) A content calendar may also help your content flow.
When first starting out on your journey to become a YouTube influencer, you're likely a one-man band. Make sure your content schedule is manageable. While posting videos every day may be ideal, it might be difficult to follow through (that editing though…). Anyone who has edited a video before will know. #ifyouknowyouknow
Posting consistently is definitely a good idea. Begin with posting once or twice a week – Tuesdays and Fridays, for example – until you get the hang of things and can increase your output. Staying consistent lets your subscribers know they can count on you for videos on certain days of the week. Bonus points for you for being reliable.
3. Use the Right Equipment
As the devices we use to watch YouTube videos become more sophisticated, the video quality YouTubers produce must also improve. By all means, begin with what you have available. Depending on your resources you should probably invest in some good lighting, a good DSLR camera, and a good microphone. Audio quality can have a significant impact on your video quality, so this is an important step.
You're also going to need some good editing software. As well as a computer with decent specs and speed. There are quite a few out there so do your research to find the best one for you.
4. Harness the Power of the Video Description
When uploading your videos, you'll notice you will have a chance to put in some descriptive text concerning what your video is about. As a YouTuber, herein lies an extremely underrated weapon… and it concerns THE ALGORITHM. (queue horror music… DUN DUN DUUUUN)
In order for the algorithm to clearly understand the intention of your video, you need to carefully consider coming up with an SEO-focused video description. This way, when a user searches for a keyword, the algorithm selects, ranks, and recommends videos with the exact (and even similar) keyword in the search results. Be intentional with this step.
So, you'll need to do some thorough keyword research here and then try to find a way to fit it into the video description as naturally as possible. We know, we know. Sometimes trying to fit a very specific keyword into what you want to say can be difficult, but do your best.
Check out this description from one of our top YouTube influencers, Cindy Batchelor. She's chosen keywords such as "hair care products" "hair growth" "hair thickening" and "hair growth vitamins". It really can be that simple. There is no need to try and reinvent the week here.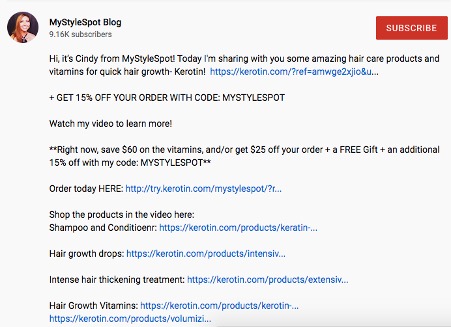 5. Evaluate Your Profile
So, you've published a couple of videos – well done! Now is a good time to check on how your video content is doing. Thankfully, YouTube influencers have access to YouTube Analytics where they can find out stats on how their channel is doing such as what type of videos the audience engaged with the most.
From the stats, you can then decide how to move forward. For example:
Can I make more videos like the ones that have more engagement?
How can I improve my audio and video quality?
6. Working with Brands
Did you know you don't have to wait until you have 10,000+ subscribers before you can start monetizing your YouTube channel? Yup! You can start from as little as 1,000. With such a following you would qualify as a nano influencer.
Brands love nano influencers:
They typically charge lower rates than their counterparts with more subscribers.
Their smaller following usually means that they have higher engagement rates. Nano influencers are generally more in touch with their subscribers who deem them genuine. From the brand's perspective, this results in a higher ROI for them.
"But where and how can little old me find brands to work with?"
We'll tell you…
With us! Afluencer connects influencers with brands – even influencers with a small subscriber base – and vice versa. Here you'll find brands offering influencer programs. All you need to do is set up a strong Afluencer profile. With all the resources and top-notch customer service at Afluencer, you'll have all the help you need to become a YouTube influencer. We also make sure to put all your info in one place so that brands can spot you in an instant.
Soon you'll be applying for and being invited to Collab with the brand partner of your dreams… and that means… KACHING! Earning an income from your dream job as a YouTube influencer.
Afluencer's Top YouTube Influencers
Let's get some tips on how to be a Youtube influencer from a few creators who are doing well for themselves.
Hailing from the USA, Jazmine's channel is all about body positivity and using her own experiences to motivate others. She keeps things real. Creating relatable content is a great way to become a successful YouTube influencer.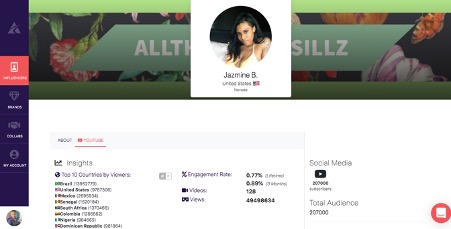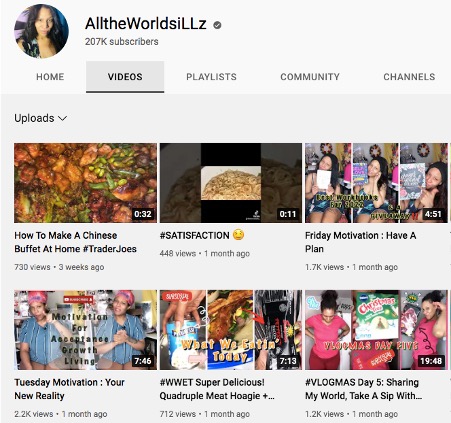 Based in Mexico, Julia has a whopping 283k YouTube subscribers. She's another YouTuber who posts relatable content while being herself and inspiring others. Here you'll find clothing hauls, GRWMs, and so much more. It's all about personality.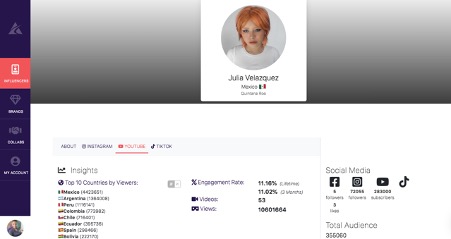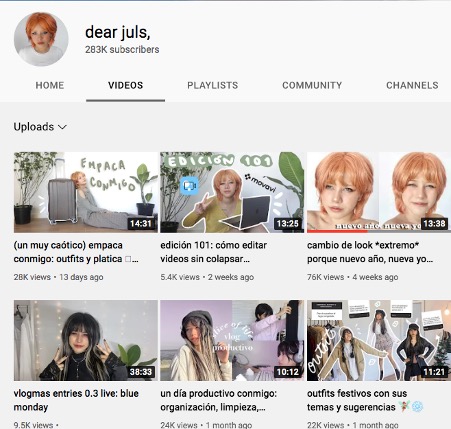 Kerry's YouTube channel is all about fashion – with a focus on swimwear and lingerie. Fashion is a very broad category and Kerry has made sure to narrow it down and find her niche. Which we believe all 120k subscribers love.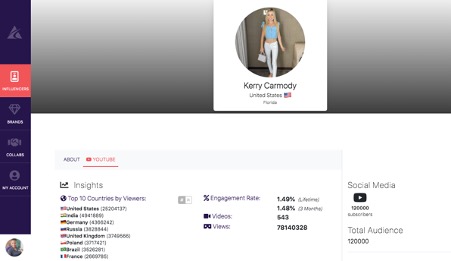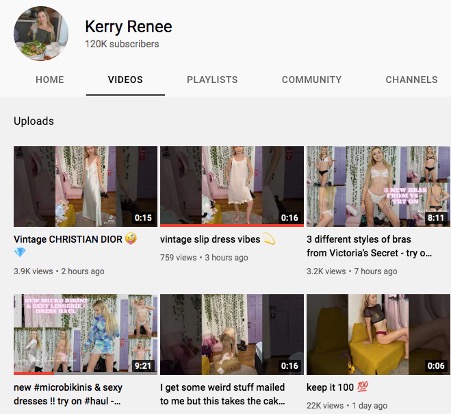 To become a YouTube influencer, you need to consistently put in the work. With Afluencer on your side, your goal to have a successful career will be a whole lot easier to achieve. We're also constantly updating and improving the Afluencer experience so that you have all you need to score Collabs with brands you actually want to work with.
Where to begin?
Well, here – setting up your Afluencer profile. It's super easy! So now let's go get your YouTuber career to unchartered heights!