Expert children's health. Full of flavor. Bubbly breakfasts. A healthy sweet tooth. A balanced lifestyle. And soothing holistic wellness.
Maybe this is all you need. All you need on your social media feed. And also all you need to inspire you to live a healthier lifestyle.
So we've found 7 super inspiring Instagram health influencers that are powering it up in this post for you:
Hannah Dawn Prakash @une_atomic_blonde
Dr. Dina Kulik @drdinakulik
Niki @rebelrecipes
Phoebe @pheebsfoods
Erin Christ @bodybybreakfast
Angie @healthfulradiance
Remy Morimoto Park @veggiekins
Let's take a look at how these health influencers are inspiring their Instagram followers.
But first…
If any of these health influencers inspire you with their creative content, and you find yourself wanting to have them promote your brand, then make sure you SIGN UP WITH AFLUENCER. You will have access to our newly launched influencer marketing app, where you'll be able to find influencers and manage your collabs.
Now let's find you the best fitting health professional to represent your brand!

Based in Las Vegas, Hannah Dawn Prakash is a health and wellness influencer who shares her pretty plant-based lifestyle and inspires luxurious cruelty-free living on Instagram and her blog.
Content
Serving her followers with contemporary health, lifestyle, food, and style content, Hannah is all about consciously and responsibly living better.
On Instagram, she shares snaps of her favorite supplements, meal replacements, wellness lifestyle, and of course comforting treats like a batch of pumpkin spice cinnamon rolls. Just what the healthy sweet tooth on Instagram is searching for. Plus some tea making videos—because tea is for the sound soul.
"Mixing with coconut milk sounds delicious! Thank you so much for sharing."—is just how her followers appreciate her.
It's wellness all-round even in Hannah's home—there's nothing that some scented candles and room fragrances can't fix. Especially with an uplifting caption like "just a tray of joy".
With a healthy lifestyle, athleisure is definitely Hannah's style. And of course, she's dropping those #crueltyfree and #sustainablefashion hashtags.
Blog
Hannah's Une Atomic Blonde blog is packed with value. From her "Cozy Fall Aesthetic Guide", "Gaia Herbs: Microbiome Cleanse—Final Thoughts", to her fun "Happy National Coffee Day" post.
Collabs
Through her product-rich Amazon storefront, Hannah drives most of her promotional Instagram posts.
---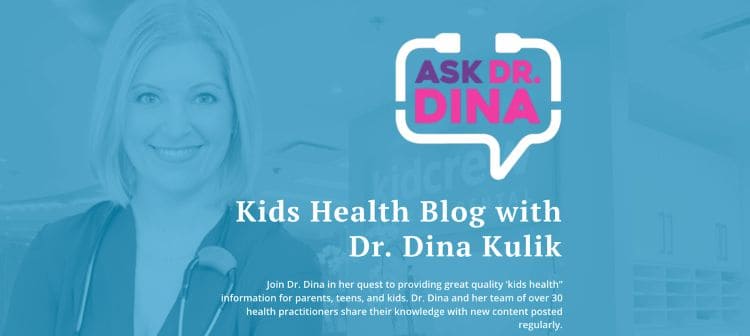 If there's any credible source that parents need to follow for family health, it's Dr. Dina Kulik.
Dr. Dina is a must-follow actually – the doctor that every parent needs on their social media feed.
Based in Canada, Dr. Dina is a kids health doctor that is passionate about sharing no-nonsense advice.  She's a pediatrician, a children's emergency doctor, and she's also the founder of Kidcrew – a premier pediatrics medical clinic.
Through her professional experience, she shares a wealth of knowledge on family health with her followers.
Dr. Dina's Social Media Influence on Instagram
On her Instagram influencer account, Dr. Dina addresses hot family health topics like "how does a test for COVID-19 work" and "feeling stretched thin" through video and informative captions.
"I've been wanting to know this", a follower comments. And you bet that you feel the same as you learn from her posts.
Her social media presence feels like invaluable support to parents.
Dr. Dina's Kids Health Blog
And for followers that wish to learn more, her blog is a valuable resource.  Dr. Dina posts on all things baby, kids, teens, parents, and health.  From fitness, play, speech, learning, social development, family life, nutrition, recipes, first aid, and so much more.
Dr. Dina's blog should definitely be on every parent's bookmark list.
Dr. Dina's Kids Health Advice YouTube Videos
And she doesn't stop there.  On her growing YouTube channel, Dr. Dina educates parents even more.  With her warm personality, she addresses topics like "newborn rashes", "safe grocery shopping in the COVID-19 pandemic", and "how to deal with infant gas" in her videos.
Did I mention that she's also a mom of four? Yeah, Dr. Dina is truly a gem that parents can find trusted support in.
With a profile as credible as hers and with the influence that she has, Dr. Dina is a hard-to-come-by influencer that health brands have an opportunity to collaborate with.
Dr. Dina is an ideal influencer match for skincare, clothing, diapers, sleep products, and safety products collabs.
---
Niki – Rebel Recipes | Instagram Health Influencer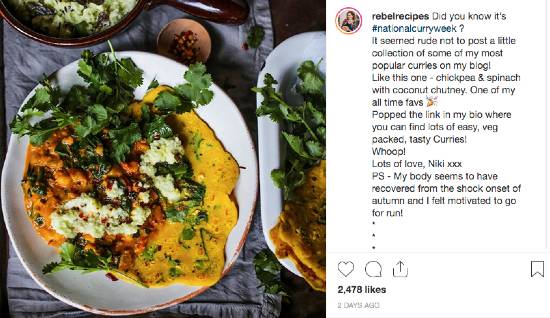 Full-of-flavor organic food recipe pro, Niki – Rebel Recipes.
Based in the U.K, you'll find Niki making plant-based organic food – which is nothing short of taste bud inspiring.
She's a food consultant. Award-winning food blogger. Recipe developer, food stylist, food content creator, health coach… and she's also the author of her latest cookbook "Rebel Recipes".
Content
Healthy recipes to last you a lifetime.
Chickpea & spinach with coconut chutney curry, smokey cauliflower & lentil stew, sweet potato harissa soup, and aubergine & lentil lasagne – organic plant-based food never looked this yummy.
Her Instagram account is the perfect place to hang out if you're on a mission to find influencers to inspire a healthy diet.
And when she's not sharing pics of her recipes on Instagram, she's writing about them on her lovely blog.
Collaborations
Niki's brilliant healthy food content creation skills have seen her collaborate with top brands such as Hollard & Barrett and Organic UK, just to name a few.
Creating recipes with health products and producing those must-watch quick recipe vids is pretty much how her collabs roll.
What is especially notable about Niki's Instagram paid brand partnership posts is that they look as organic as her organic posts. That's a pretty commendable influencer skill.
She'll also do workshops and events with her partners – making her a brilliant all-rounder choice should you be looking to work with health influencers on Instagram.
---
Pheebs Foods | Instagram Influencer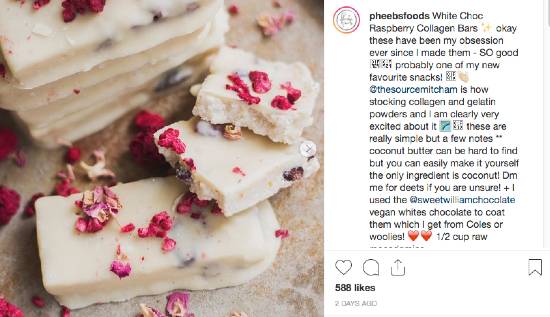 Pheebs Foods: food-loving nutritionist with a sweet tooth, Phoebe.
We all need healthy food inspiration. Someone that will motivate us to eat well with exciting recipes would certainly be a bonus. But you know what's even better? When Phoebe, a nutritionist based in Australia, lets her sweet tooth get the best of her and she creates the healthiest treats of your dreams.
Content
Phoebe's Instagram feed is a beautiful representation of balance. What's life without balance? And what's balance without treats?
So between her vibrant meal recipe posts, she delights her followers with mouthwatering treats too.
Vegan cinnamon protein donuts. White chocolate raspberry collagen bars. Vital shortbread brownies. Healthy pancakes. And of course, they're all made with simple ingredients that are good for you.
Beautifully presented on her Instagram profile and then transformed into a blog post on her website.
But there's a little more zest to her recipes, though – where the nutritionist in her comes to life. Like her Sleepy Gummies for "some magnesium before bed". You've got to love those extra little insights that she shares.
So it's no surprise that her influential health-related content has caught the attention of platforms like Buzzfeed.
Collaborations
Phoebe has created 5 juice pack flavors with Drakes Supermarket. Well deserving of being in the ranks of inspiring health influencers on Instagram. Wouldn't you agree?
---
Erin Christ | Health Influencer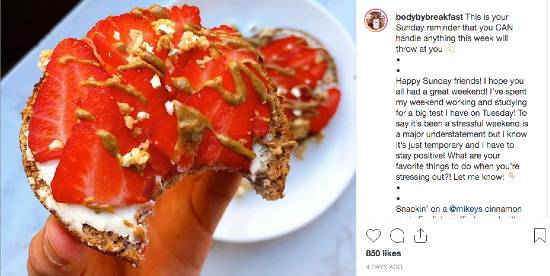 Bubbly breakfast-lovin' health enthusiast, Erin Christ.
Based in Las Vegas, Erin is a dietitian in the making.
Just one look at this health influencer's Instagram feed and you'll surely be convinced that all you need is breakfast.
Content
Oats, berries, avocados, eggs, waffles, pancakes, and salad bowls. Even her pancake mug cake for breakfast.
Her posts are so energetic, colorful and her portion sizes are generous enough to make you feel satisfied.
Each breakfast post is paired with a lively caption and a little blog-type story about what's going on in her life. Enough to get her followers buzzing in the comments.
Breakfast inspo. Life inspo. What more could your mornings need?
Collaborations
Some of her brand partnerships include a wellness subscription box, FabFitFun.
You'll also see her promoting EveryPlate meal kits – which she does so naturally.
---
Angie | Instagram Influencer on Healthful Radiance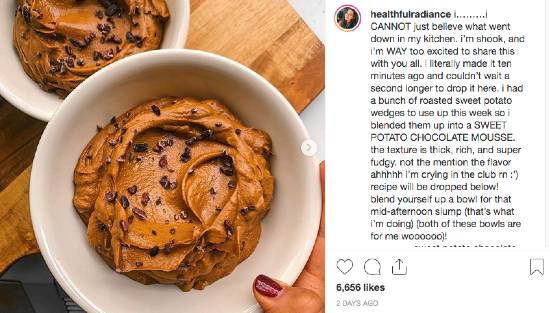 Happy New York-based and balanced Angie (@healthfulradiance).
She's all about living a balanced lifestyle – nourishing both your body and your soul.
Content
It doesn't take long before one of her influential Instagram posts pull at your heartstrings.
Angie's personal story about her battle with an eating and fitness disorder really does leave you inspired by her message on good health, happiness, and balance. Thus, you'll never consume her posts the same way after hearing her story.
She loves creating her own recipes and her excitement is electrifying. Like how her sweet potato chocolate mousse got her followers drooling all over the show with inspired commenters lighting up.
Her healthy food pics are not only soul-filling but reading her captions makes you feel like you're reading a personal message from a close friend. She's such a natural at connecting with her followers on Instagram.
"Long lost sweet tooth is in town and I'm not mad about it" – Angie.
Her captions are thoughtful but energetic enough to excite you.
It's no surprise that she takes her writing seriously – evident by her beautifully maintained blog.
Collaborations
Her recent partnership has been with Imperfect Foods, a health brand that works with top Instagram influencers to promote their grocery box service.
---
Remy Morimoto Park | Health Influencer on Instagram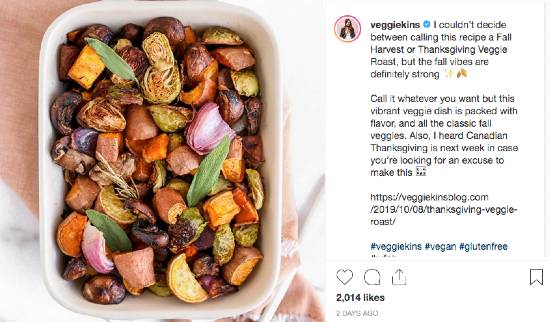 Soothing holistic vegan nutritionist, Remy Morimoto Park.
Remy is your NYC girl that inspires all things wellness. From her well-presented vegan meals, yoga routines and sustainable living to her inspiring balanced lifestyle.
Her Instagram followers can't help but be positively influenced to live healthily.
Content
Dusty pink with sprinkles of greens on a feed never looked this soothing. Remy is thoughtful and her content is nothing short of immaculate.
Whether she's sharing recipes, at a cafe, or traveling – she gives her followers a good dose of wellness.
At times, she opens up about her history with eating disorders and addiction recovery. And so exposing a deep level of realness that her followers connect to.
Remy is all about sharing value.  Her 85k subscriber Youtube channel is where she shares her vegan lifestyle as well as other areas of her life as well.  Remy's top video to date is "eating only black food for 24hrs" that hit over 1.6 million views.
With an excellently presented blog and well-managed shoppable Kit profile, Remy is an all-star content creator.
Remy is a young Instagram charm and a creative influencer in health and wellness, deserving to stand alongside other top influencers.
Collaborations
Some of Remy's latest brand partnerships include Mega Food.
---