Puppies, kitties, turtles, and bunnies, Oh my! Pets bring such joy to our lives! Showcasing this very joy, Pet Influencers are taking over the scene.
Since the pandemic hit in 2020, a puppy boom has even occurred. As a result, more specifically "dog influencers" are taking over, and with everyone having more time on their phones stuck at home during these confusing times, it only makes sense that we would turn to some light-hearted content.
Where better to find light-hearted, pure content than by looking into the lives of the always adorable innocent furry friends?
Below, is a list of 2023's top pet influencers who are an absolute must-follow and deserve a reach out to Collab!
Top Pet Influencers and Their Cuddly Superstars
Now let's huddle together for a load of cuteness!

Meet rescue kitty, Liam. His social media handle may be Liam the everyday cat, but you will quickly discover that he may not be your everyday cat. Liam is, in fact, a cat actor and a pet influencer.
Content
First off, we gotta acknowledge that this is one STUNNING cat. Especially when he's wearing one of his kitty outfits – his favorite being a tie. Yes, a tie. But hey, he's not just a pretty face, this cat has skills! Firstly, he can do tricks. We're talking "sit," "high-five," "handshake," and more. Tell us when last you saw a cat learning tricks. We'll wait.
This tabby cat also loves the great outdoors – going on adventures and camping. Gotta say, Liam looks like he is living his best life. We're low-key jealous LOL!
We love Liam's vibe. Even if you're not really a cat lover, Liam will gain your interest and keep you wondering what he will do next. He really is a natural at being a pet influencer.
Collabs
Being the smart cat that he is, Liam knows that Collabs are where it's at. He has already secured a few, which you will see littered (pun intended) across his posts. Why wouldn't you want to work with a cat who has a knack for keeping followers intrigued? We can't think of a reason either. Contact this pet influencer to partner up and get your brand in the spotlight.
---

Introducing us to her West Highland White Terrier (Westie if you prefer), is Hanna. The Westie in question? Wilson. He's a happy chap whose personality shines through effortlessly… and all 31k+ of his growing fanbase soak it up.
Content
Gotta say, we're soaking it up too. Wilson has a million-dollar smile sure to brighten up any dull day. Even when he's just chilling, lazing around in the sun with his shades on, #issavibe. He definitely loves being in the backyard. You can look forward to him chasing his oversized ball, running around, lazing around, and just generally living his best doggo life.
If you're considering what type of dog to get, here is a quick warning. You will want a Westie in your life after scrolling through this pet influencer's content.
Collabs
If you are a brand in the pet care industry, there is no reason why you wouldn't want to work with Wilson the Westie… he's got such charisma and is such a natural in front of the camera. It's a win-win for everyone!
---

New Jersey, USA. Home to the prince: His royal highness, Teddy the Prince, a super cute poodle puppy. Alongside him, you will also find Amber, his poodle puppy bestie. Together, they make adorable content, tugging at our heartstrings.
Content
Regal cuteness. That's what you get when you put these two poodle puppies together. We're talking matching outfits (including Easter hoodies), hilarious Insta Reels, and puppies just being, well… puppies!
Their mom, Natalia, has done (and continues to do) a great job with her choice of content. Her captions are witty and rib-tickling, keeping us fully entertained. Teddy does a great job as a pet influencer and so does Amber. Together, there is no heart they can't win!
Collabs
If you, like us, are thinking, "These two pet influencers are so cute, they must have scored several Collab deals," you would be right. No need to look too far to find out just how many – they're showing off their achievement of 200+ brand deals in their Instagram bio. Clearly, Teddy and Amber are pros at what they do. This is one pet influencer duo you need to partner up with!
---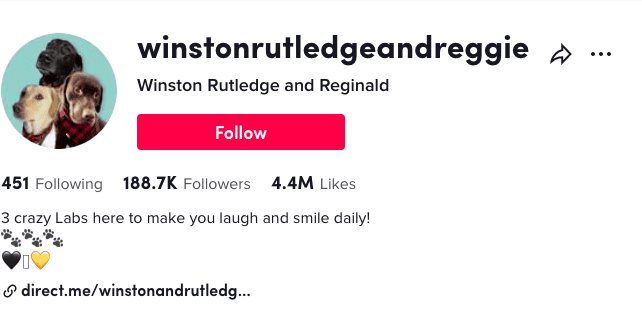 Pet lovers, you are not going to want to miss out on this special treat. Next up we've got not one, not two, but THREE dogs in one feature. What can we say? We aim to please. Say hi to:
Winston – Mr. Fancy Pants
Rutledge – Phone-stealing Goof
Reggie – Resident Silly Billy
Content
Together, these three labrador retrievers make one entertaining trio of pet influencers. Additionally, you can find the three of them on three social media platforms – TikTok, Instagram, and Facebook. Hey – more dogs, more coverage needed!
Why does their follower and fan count keep rising? Must be those dazzling smiles. Or perhaps it's the hilarious captions. Maybe the funny memes, the cute outfits, or their bright personalities?
To be honest, it's probably all of the above. People just can't get enough of them!
I can't with him and his spins, so cute.
Picture pawfect (heart emoji) love that bandana.
This is just a great video!!!
Collabs
It's not often that you come across a trio of pet influencers. Get these 3 on your team and you won't have any regrets. A Collab with Winston, Rutledge, and Reggie awaits!
---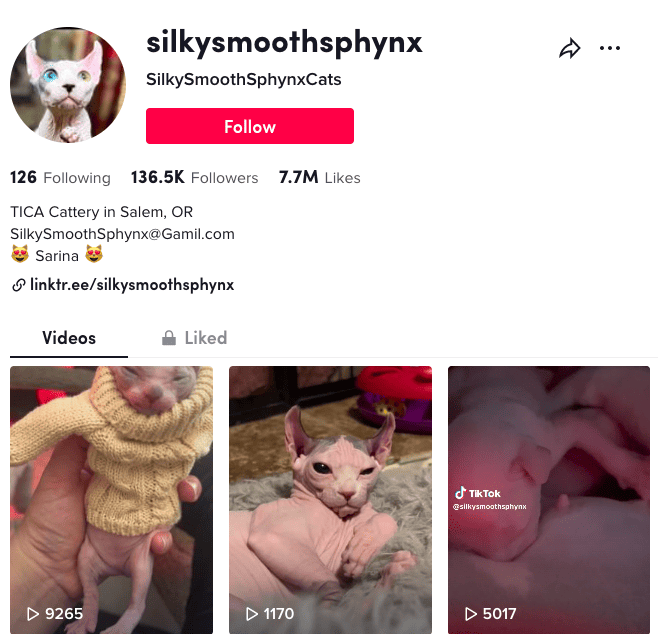 Meet the self-proclaimed crazy cat lady (and loving it), Sarina Allen. She owns a cattery in Salem, Oregon where she raises Sphynx and Elf cat breeds.
Content
If you want to know all about these two cat breeds, what better place to turn to than a cattery? Sarina lets us in on their daily lives – what they're eating, what they play with, and any other updates concerning these felines.
Here you will also find fantastic cat memes, kittens in sweaters, tips to help your cats live their best (nine) lives, and so much more. There is more than enough cat content here to draw you in for hours. It's all good… this TikTok page is warm and lighthearted. Who doesn't want that on their feed?
Collabs
The crazy cat lady, Sarina, also happens to be crazy about her Collab game. If you are a brand targeting cat owners, establishing a Collab with Sarina is a no-brainer.
---
WANT TO BE FRIENDS?
Join our email list and stay in touch with all things Afluencer.

Jennifer, from Ohio, is a multi-award-winning blogger and contributes to cuddly content alongside other social media pet influencers. She uses her creativity and love of dogs to connect with pet owners around the world. Jennifer has an extraordinary amount of knowledge on Newfoundland Dogs, and loves to share her wealth of information! She is a former veterinary technician of over 10 years, and she has 15 years of experience owning Newfoundlands (AKA Newfies).
CONTENT
Jennifer's feed is a representation of the friendship between Odin and Finn, which is a perfect example of the saying "opposites attract". Odin is a giant Newfoundland Dog, while Finn is an absolutely adorable tiny Corgi. Odin may be massive, but he is a total sweetheart. Finn has tiny legs, but he can still keep up with Odin.
They are complementary companions, and it is hard to keep your eyes off them. The friendship they hold for each other is even bigger than their difference in size. These two are truly unlike any other pairing you have seen. One of a kind duo absolutely worth keeping up with and giving a follow.
BLOG
Jennifer's blog is packed full of information! Specifically, she discusses how Newfoundlands are a commonly misunderstood breed. She delves into how to properly care for Newfoundlands and how to bring one into your home. She features DIY treat recipes, content about overall dog health, an Amazon shop, and more dog-related information. Her blog was featured on "Best Photo on a Blog in 2012," and was also mentioned on "VetStreet" and featured on "SheKnows.com".
PINTEREST
Jennifer also brings value through her Pinterest page, where she accumulates over 770k monthly views! She has a board called "Tips and Advice On Dog Care" with over 600 pins on it! She also has a board called "Favorite Dog Treat Recipes" with over 300 pins to look through and get inspired by.
These are just a couple of the 73 boards that Jennifer has on her Pinterest. Jennifer does a great job finding all of the best information and compiling it all together in one easy-to-access place. She only brings the best quality of information, which she compiles with care, to all her platforms.
FACEBOOK
Jennifer has a Facebook page with over 7,000 followers! Make sure to follow her Facebook page to have another way to keep Odin and Finn in your daily sphere.
TIKTOK
Jennifer also has a TikTok you want to make sure to check out for Odin, which of course features his very best friend and brother Finn the Corgi!
COLLABS
Some of the brands that these pet influencers have collaborated with are Everence, Purina, Spot Shot, iHerb, Duo Gear, Eukanuba, and Pet Releaf.
---

From New York, USA, That Pup Stanley is all about living his best #dogsofinstagram life in the country.
Yup, this handsome French Bulldog will leave you with lots of FOMO because cute outfits and fun adventures are how he rolls.
Content
Goofy, quirky, playful, serious, sweet, and "just posing for the camera" are all the sides to this lovable social media canine personality.
Did I mention how the camera just loves him? Well, Stanley is quite the natural—posing like a pro and showing the furry Instagram universe what a star he is.
Through funny stories about everyday life and adventures, Stanley's personality will capture your heart—one caption at a time.
"Can I go play in the rain?! I swear I won't roll on the carpet when I come back in! Promise!!!"
And if there's a hot dog product on the block, you'll hear all about it from Stanley.

"Obsessed with my new harness and leash set".
Brilliant content, a quirky personality, and a pretty lovable French Bulldog are all a dog lover needs to see on their social media feed—don't you think?
Collabs
All things dogs, That Pup Stanley is the perfect micro-influencer match for pet brands and pet-friendly destinations.
---

Nina Cole has worked in the pet care industry for over 23 years. She is the owner of Nina's Nannies for Pets, which is an award-winning pet-sitting service. Ellie is the name of her adorable pup, and Nina found Ellie at a time when she needed a pup in her life the most. Their Instagram page documents the fated pairing between the two.
CONTENT
Ellie is Nina's love and her little diva that she happily spoils with the best lifestyle and products. Together, they explore pet-friendly restaurants and coffee shops, go on walks, and stay at the best hotels. Their Instagram story is an absolutely heartwarming experience to follow. Their feed is aesthetic, and the theme is a cohesive peach and coral color, truly emphasizing how much of a princess Ellie is!
Ellie was born to be a star, so it makes sense that we love to keep up with her daily life. Seeing Ellie's cute fluffy face could brighten anyone's day, so it makes perfect sense why Nina fell instantly in love with Ellie! Their page definitely is worthy of a follow to keep up with the adorable pairing.
BLOG
Nina hosts a blog where she shares information from her expertise in pet care. "Keeping Your Dog Cool in Summer" and "Games To Play with Your Dog During Lockdown" are an example of a couple of the many insightful articles you can find! As she has over 23 years of experience in this field she certainly has quality wisdom to share on all things pet care!
COLLABS
Some of Nina and Ellie's collaborations have been with brands that love working with pet influencers such as Kong, JWPETS, Tabcat, Pets Paradise, Furbo, and Dorwest Herbs.
---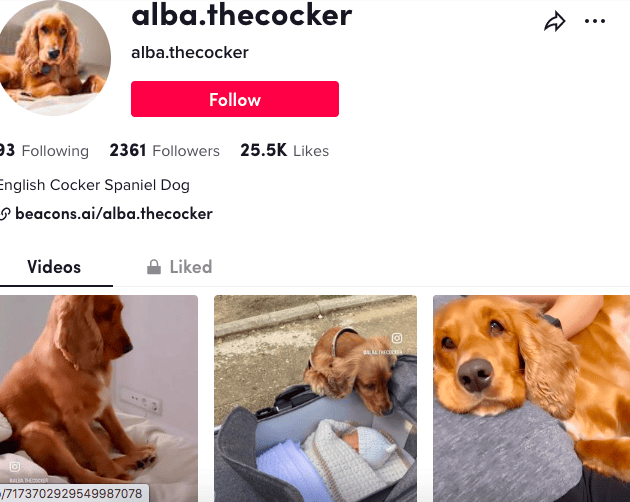 If one of your favorite dog breeds is an English cocker spaniel, allow us to introduce you to Alba. Sweet. Gentle. Sociable. These qualities, and the many other awesome ones she has, make her an amazing little pup!
Content
You can find Alba on TikTok being all kinds of cute, doing what dogs do. Sometimes she's playing fetch, sometimes she's lounging around the house… in fact, she does a lot of lounging around the house! Currently, she's getting to know her human baby sister and is the ultimate gentle and protective big doggo sister anyone could ask for.
This pet influencer also loves playing with other dogs… running to greet them with evident enthusiasm and joy. If you are looking for heartwarming pet content, you gotta follow @alba.thecocker you certainly won't regret it.
Collabs
She's super cute, gentle-natured, and is a natural at producing social media content… Sounds like the dream partner for brands looking to Collab fun-loving pet influencers.
---

Since we are in New York, we might as well stay here and get to know rescue pup turned fashionista, Minnie Penny.
Content
Boy are we glad we stayed in New York to meet Miss Minnie Penny! Who knew a dog could have so many outfits?! This pet influencer's wardrobe is probably better than many of us humans LOL. It's giving Carrie Bradshaw meet British Royalty vibes. The result? One super cute dog.
We gotta say, Minnie's human mom, Gaby, does a great job of constantly delivering awesome content on this unique niche in the pet influencer world. Her followers never tire of seeing Minnie's latest outfits, and Gaby's captions are super fun and entertaining. Her goal is to spread some joy in her community and it's safe to say she does that.
Collabs
This adorable dog has quite a few Collabs secured already. Who can resist such a cute face?! Your customers definitely won't be able to. Secure a brand with Minnie today!
---

Nika and Kira are two beautiful huskies from Wisconsin. They have the most memorable ocean eyes and a natural model stature. Both huskies love embarking on adventures and posing for the camera while out and about. They are just so naturally photogenic! You can tell that Nika and Kira are inseparable. They look almost identical, but you can distinguish them by the little dot of fur on Nika's forehead dot and by the mask around Kira's eye.
CONTENT
They roam all around, always up to something new! Sometimes you will find them posing in meadows of flowers, playing with rainbow paint to celebrate pride, or even exploring mountains and lakes. Even when just sprawled out on the couch they still are ready for their picture-perfect closeup! These two were just made for the spotlight, and the camera absolutely loves them.
You can find the behind-the-scenes of many of their best shots! It is truly interesting to see what went into the perfect image on their feed and to know the story behind it all. Of course, Nika and Kira are complete perfection and must be easy models, but there is no doubt their photographer has massive amounts of talent as well.
The bond between these two is moving; getting to see them on your feed daily and following the fun that they are getting into is definitely worth giving their page a follow!
COLLABS
Nika and Kara love to work with brands as well, and here are a few brands these pet influencers have previously collaborated with:
Stella & Chewy, Petsafe, Red Nose Day, Restropet, and Area for Home.
---

Rosalyn Acero is located in Newport Beach California; she's a dog lover and owner. She currently shares her adventures with Koru Bear on her Instagram page GoldenWoofs. Rosalyn also has a huge passion for creating dog recipes.
Koru Bear stands for New Life of Bear. Koru is a spiral shape that symbolizes new life growth strength and peace. GoldenWoofs started with the irreplaceable Sugar, and her Angel Sugar is her Golden Love watching from above.
Sugar is still loved by many, and is still very much a part of the Golden Woofs team! GoldenWoofs is a great pet influencers page full of heart and warmth that deserves a follow.
CONTENT
GoldenWoofs is life through Koru Bears' lens on Instagram. Get a peek inside his silly and insightful thoughts. As Koru Bear's caption says, "Happiness Blooms from Within", which is one of the truths of life Koru Bear promotes.
In every photo, Koru Bear has this huge grin that's infectious! You can just tell he's a precious dog from the photos alone.
Check out Koru Bear chilling in a hammock and wearing sunglasses, absolutely loving life! You can also read about how to hang up a hammock for your dog in Rosalyn's blog if you want to recreate this level of joy for your own pup at home.
BLOG
Rosalyn's blog includes a handful of articles such as, "Can Dogs Eat Ice Cream?" and "How to Hang a Hammock for Your Dog". Other sections on the blog include Dog Health, Tips, Pet Travel, and even a section on Cats! She also loves to make pet recipes, and she has an entire section dedicated to all of the various pet recipes she has created over the years.
YOUTUBE
Be sure to also check out GoldenWoofs YouTube channel to find even more adorable Golden Retriever content! The videos on her YouTube channel are a joy to watch, and you will definitely find happiness watching the Golden Retrievers videos.
FACEBOOK
The GoldenWoofs Facebook page has 14k likes! Join the family on their Facebook page if you love Golden Retrievers, or you just want to see Koru Bears' adorable smile more to brighten your day.
---

We are back in New York, this time to meet the fun-sized Frenchie, Marbella… or Marbles as everyone likes to call her. Self-proclaimed part-time diva and full-time potato, Marbles definitely lives according to her own rules.
Content
If this is what being a diva doggo is all about, we wouldn't mind trading places for a day or two. Marbles definitely enjoys the luxury life in New York City! From getting her portrait done to going for walks dressed in the latest in dog fashion to treating herself to pawdicures, and so much more, Marbles is always down for some… let's call it self-care lol. We know some of us could take a page from Marble's book…
Collabs
Why Collab with Marbella? Just look at her! She's already going for job interviews at Tiffany's – this girl is a big deal! Don't miss out on an opportunity to have this pet influencer on your team.
---

In New York, USA, you will find 2 adorable shiba inu dogs named Uni and Nori. Uni (the brown one) is shy and loves his bone. Nori, although sweet in nature, loves stealing Uni's bone! Sounds like these 2 pets were meant for each other lol.
Content
We love how the stars of this show are the pets and not their human parents. Very rarely do we see Randa and her partner on @shiba.uni.nori and even if they do appear, they are not giving main character energy, which is great! No offense, but we're here for Uni and Nori.
Collabs
These pet influencers work hard for their dollar! They're on top of their Brand Collab game, partnering with brands in the pet industry (and looking super cute at the same time). Randa also owns a dog lifestyle brand – for which Uni and Nori model (naturally). We love everything about this pair of pets. Randa, thank you for introducing us to your adorable dogs!
---

Next, we are headed to Texas to meet Taylor, her dog Holly, and her cat Milkshake. What started off as something fun for her and Holly to do together quickly grew into something bigger… and now Collabs are what they're after.
Content
If you're trying to escape super cute pets doing super cute things, you've come to the wrong place! This rescue pup and her kitty sister are sure to be new faves on your Instagram feed.
Some of our favorite pictures include:
Milkshake wearing bunny ears – when last did you see a cat in bunny ears and a carrot bandana?
Holly's dazzling smile – seriously, we have never seen a dog smile so much, it's infectious!
Holly and Milkshake's love for snacks – because seriously, who doesn't love a good snack?!
Collabs
Taylor has an awesome thing going on with her pet companions. Looks like brands in the pet industry have noticed that too as this team has secured quite a few Collabs already. This is pet influencer gold right here.
---

Sarah has compiled a very harmonious and mystical feed featuring high-quality and artistic photos of lovable cat influencers from all around the world. Her pet influencer on Instagram, Catyo_so is an amazing collection of cats in all their glory and worth checking out and giving her aesthetic content a follow.
CONTENT
On Catyo_so the page has one of the best collections of cat photos that all fit together seamlessly. The highlighted story posts feature adorable wallpapers for cat lovers available for screenshots! Another one of the story highlights contains images of some silly cat comics to laugh at.
Catyo_so is a light-hearted page that is enjoyable and distracts from the mundane parts of life. If you want to see high-quality photos of kittens basking in the sun, enjoying nature, indulging in their infamous cat naps, and many other elegantly captured moments, then check out their page!
Every photo amplifies the special essence of these little creatures that we all love and adore so much.
YOUTUBE
For additional content curated by Sarah, be sure to check out her YouTube channel where you will find cats being their silly authentic adorable selves. Her YouTube captures moments that are too cute to miss!
COLLABS
The most recent brand that Catyo_so has collaborated with is Shareasale.
---

We can't talk about pet influencers without mentioning CityTurtles. An Instagram that follows Squishy and Honey, and the life adventures they embark on. It features these two adventurous tiny turtles living in New York City. Their main hobby includes making people smile, and they are absolutely alluring on camera. These little turtles live a lifestyle full of experiences.
CONTENT
CityTurtles provides an interesting lens, telling their story through the perspective of two tiny turtles living their life in the Big Apple. Whether it is their beach adventures on Coney Island enjoying a good book and fruit along the shore, or skating on the hot summer streets, you never know what these daring two will be up to next. There is never a dull moment with this adorable team.
The life of Squishy and Honey is gold, but so is the caliber of photography displayed on their feed. Every photo is captured at the perfect moment with an artistic eye behind the lens letting the playful spirits of Squishy and Honey shine through. Every shot pieced together on their feed is like one big cohesive scrapbook documenting all their very best moments into a piece of art.
It is definitely not every day you see the life of city turtles, so make sure to give them a follow!
FACEBOOK
CityTurtles has 800+ likes accumulated on its Facebook page. Make sure to head on over and give them a like and check out the adorable videos featured on their page as well!
COLLABS
CityTurtles are such inspiring pet influencers that they have attracted Collabs from brands like Petco, Chewy, and Popyourpup.
---
Marc-André Runcie-Unger – @Katzenworldblog – Top Feline Influencers

Marc-André has a perfectly curated feed of the most adorable cats shared by pet influencers from all corners of the internet. So, if you have a cute cat make sure to contact him, and get your furry baby featured on his feed! Katzenworld provides a vast amount of value and content on all things feline! His work is definitely one of the most informative cats on Instagram and blogs I have ever come across.
CONTENT
On their Instagram feed, you can expect some pretty cool recurring weekly columns, including "Tummy Rub Tuesday," which is exactly what it sounds like! Cats sprawled out on their back waiting for the beloved belly rub! There is also "Friday Art Cat," where artists who love cats truly shine with their lovely pieces in a variety of art mediums all centered around their portrayal of the majestic creature. Additionally, there is Purrsday Poetry (which happens to be one of my favorite columns), and as both a poetry lover and cat lover I could not have asked for anything better! I am genuinely looking forward to "Purrsdays" for this!
Katzenworldblog is packed full of great information for all cat owners and cat lovers alike. A few examples of blog posts on their Instagram feed are "Introducing New Pets to Children," "How to Take Care of a Pet with Pet Dementia," and "The Cat That Walked into History".
There is an abundance of informational posts, including how to best care for your cat, awareness-raising articles about lesser-known subjects, current and historical stories about our feline friends, and even more valuable content related to your cat and cats in general. This is all paired with the cutest kitty faces no one could resist.
Katzenworld truly goes above and beyond, as they consistently provide daily interesting and valuable content. Spend some time scrolling through their Instagram, and you will be sure to learn something new all while seeing images of fabulous felines from around the globe.
BLOG
Their Blog, in the same vein as their Instagram, definitely conveys the strong energy and effort put into their posts! Naturally, they have won numerous awards, including: "Top 30 Pet Blogs", "Top 25 Cat Blogs", and "Top 10 UK Cat Blogs" (just to name a few).
You can find many interesting articles, like: "You can Stroke Me, but Not There," and "Infographic: 17 Reasons to Own a Black Cat". These are just a couple of their blogs displayed on their front page. You can find a forum, a shop, and a community of active users who add input within the comments of the articles!
There is also info posted on where to find cat cafes all around the world, and where to find other types of cat events. You can find content from their Instagram series, organized neatly for their readers who want to locate a specific post. You can find links to all of their socials on their blog.
PINTEREST
Katzenworld's Pinterest currently has 588.2k Monthly visits! You will discover very interesting boards, such as "Cat Health" and "Cats with Cat Books," and additional cat content for you to enjoy beyond what they provide on their Instagram and Blog.
YOUTUBE
KatzenworldBlog also has a YouTube channel, which provides content such as cats enjoying eating grass and cats playing together with toys. Make sure to give their YouTube a watch, as you can never have too much cat content!
TWITTER
Katenzworld has over 36.1K Followers on Twitter. Their fanbase is loyal and eager to see their content on every platform.
SHOP
Katzenworld is clearly knowledgeable about cats, so they know all the best products for your fur babies to enjoy!
---
Beth – @alan_and_olive – Hopping Around with These Fluffy Pet Influencers

Last but not least for our awesome picks of pet influencers is Beth's Instagram, Alan_and_Olive. She is located in the UK and her page is named after her two adorable bunnies Alan and Olive and documents their lives. The two bunnies may be small, but they have personalities that radiate very strongly from their content.
CONTENT
Alan and Olive are too adorable for words to describe. Their feed includes them enjoying daily life together, lounging around, posing for their close-up, and pictures of the two mischievously standing up with curiosity and one ear propped.
Beth provides us with the cutest photos of her bunnies, but she also provides great captions alongside the photos! A personal favorite from one of the photos is, "If you shouldn't eat at night why is there a light in the fridge?"
Almost all of their photos include some sort of thought-provoking quotes. Some are tidbits of wisdom and others are playful questions like the one above. Another great quote that rings true from their feed is "Love yourself first and everything falls into line".
Beth also includes some tips for those looking into getting bunnies and a few other FAQs displayed on her story highlights! Bunnies and quotes; are the true necessities in life! Make sure to add these adorable babies into your daily sphere and give them a follow!
Any brands reading this who might be reaching this, make sure to reach out to Beth to work with Alan and Olive!