We don't usually look at religion when we select an influencer; however, Muslim influencers are getting popular and some have millions of followers. It's wise to pay attention to them and enjoy the benefits they offer.
To help you pick the right one, we have covered some of the best Muslim influencers:
Does Religion Matter in Influencer Marketing?
This is a controversial and sensitive question. If you think about it, religion should not matter in influencer marketing; however, reports suggest that consumers pay attention to this factor, which makes religion an important consideration.
Consumers are more likely to trust and engage with influencers who share their religious beliefs. Science has proven that religious individuals are trusted more than people with no religious affiliations. The general consensus is the same around the world.
People believe that religious leaders play an important role in communities. They often have good recommendations and only want the best for others. Thus, recommendations coming from religious individuals are usually valued higher than recommendations that do not come from people who enjoy a pious image. This phenomenon is quite understandable since the world of influencer marketing is full of scams and fake reviews.
Consumers know that influencers post fake praises just to help sell products and earn commissions. They, however, trust influencers who promote religion. Their endorsements often carry more weight and be more effective in reaching a specific audience. But, religion isn't the most important factor in influencer marketing and it is usually not the first thing brands look at when looking for an influencer.
The key to successful influencer marketing is finding an influencer who is authentic, trustworthy, and knowledgeable about the product or service they are promoting, regardless of their religious affiliation.
Also, not all influencers openly talk about religion or discuss it. This is because religion is a sensitive topic, and influencers are often mindful of their audience's beliefs and values when promoting products or services. Also, they don't always want to be seen in a specific light and some are very careful about what they promote.
For example, an influencer who promotes a product that is considered haram (forbidden) under Islamic law may lose the trust and respect of their Muslim followers. Similarly, an influencer who promotes a product that is considered offensive or insensitive to any particular religion may face backlash and damage their reputation.
Why Do Brands Need a Muslim Influencer?
Here's why more and more brands are looking for Muslim influencers:
Diverse Audience
With an estimated 1.8 billion Muslims worldwide, the Muslim community is a significant and diverse market. Partnering with a Muslim influencer can help brands reach this growing audience and tap into their unique needs and preferences.
Muslim audiences are all over the world and not just in Muslim-majority countries. For example, according to 2017 figures, there were over 3.45 million Muslims in the United States, making up about 1.1 percent of the total population. The situation is similar in several other countries, including the UK where Muslims make up nearly 7 percent of the total population.
Authenticity and Trust
Muslim consumers are more likely to trust and engage with brands that understand and cater to their values and beliefs. Thus, working with a Muslim influencer can help brands build credibility and authenticity with this audience.
Cultural Relevance
A Muslim influencer can help brands navigate the complexities of Islamic culture and ensure that their messaging and marketing efforts are culturally relevant and appropriate. This can include everything from avoiding offensive imagery or language to creating content that resonates with Muslim values and traditions.
This is very important for brands looking to enter a new market. Many international brands such as Nike and Burger King have struggled in Muslim countries due to a lack of exposure and choosing the wrong ambassadors.
Competitive Advantage
With more brands looking to tap into the Muslim market, partnering with a Muslim influencer can give your brand a competitive advantage. By working with an influencer who understands the needs and preferences of the Muslim community, you can differentiate your brand and stand out in a crowded marketplace.
Top Muslim Influencers on Afluencer
Let's have a look at our top Muslim influencers. We have picked names from around the world, including Muslim-majority countries like Morocco, Bahrain, and Pakistan, to countries where Muslims are a minority, such as the US, the UK, and India.

Here's another Muslim influencer from Pakistan who appears to be doing it right. Sonam has over 19.6K Instagram followers and a decent engagement rate of about 5 percent. A mother of 3, the star identifies as a blogger and talks about a variety of topics, including food, skincare, and shopping. However, she doesn't seem to be a fan of selfies and you will not find her photos on her page.
The star mainly posts pictures of products and her gorgeous kids and enjoys writing long and detailed captions. We feel this is one of the reasons why she enjoys a very high engagement rate of nearly 6 percent.
Mainly popular in Pakistan, she seems to have moved abroad and appears to be interested in partnering with foreign brands. We must mention that her influence is rapidly growing in countries like the US and the UK and she has partnered with the likes of Maelys Cosmetics, Jurlique, and InflataNation West Brom.
---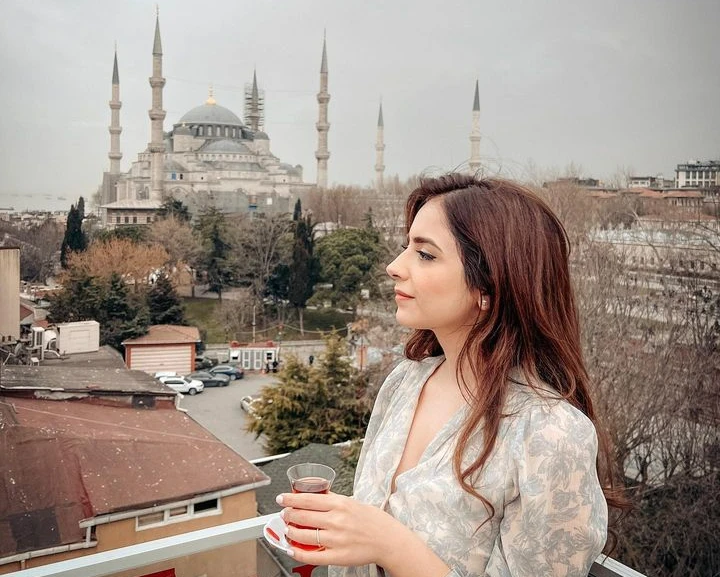 Aliyah defines herself as a "foodie girl who loves to travel and explore different places". She enjoys stopping "every now and then to take pictures to inspire her followers to travel & eat delicious food".
A look at your profile and you will find that she has been around the world. You'll find interesting photos of beautiful destinations, gorgeous outfits, delicious meals, and Aliyah having fun.
A true example of a modern Muslim, Aliyah enjoys wearing whatever she enjoys and sharing her experiences with the world. This, we believe, makes her unique and a great choice for brands looking for a Muslim influencer.
---

Last on the list is Misbah Qaisar, a Pakistani star with followers from around the world, including India, the US, and Brazil. Misbah seems to be taking her influencer career very seriously and isn't just on Instagram but on other platforms as well, including YouTube, TikTok, and Facebook with a combined following of nearly 62K.
She has a good engagement rate of 5 percent on Instagram, which is where most of her followers are. She mainly offers honest reviews and talks about a variety of products such as jewelry, household items, skincare goods, etc.
A YouTuber as well, Misbah keeps her audience busy with never-ending content and new product discoveries.
---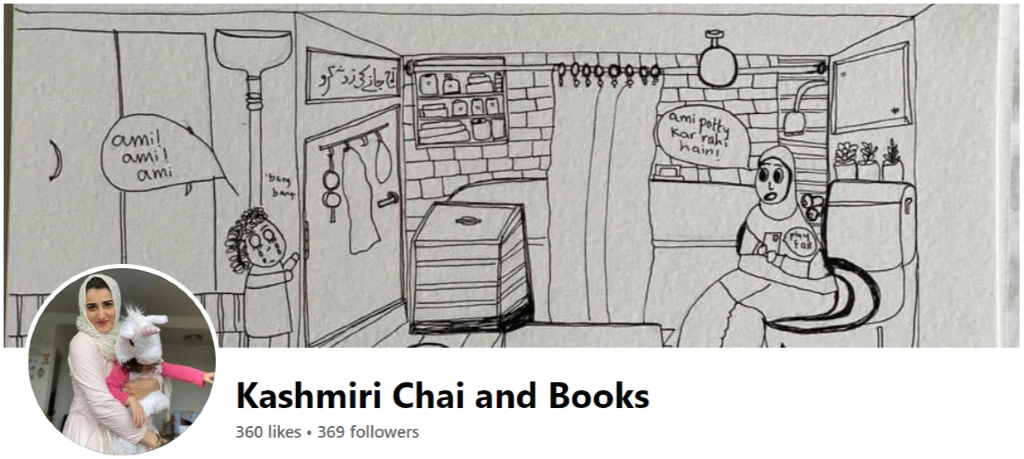 Maryan enjoys more than 28.6K Instagram followers and a good engagement rate of 6 percent. Most of her followers are from Pakistan; however, she also enjoys fame in the US, India, and the UK. This Pakistani-American influencer is an illustrator helping businesses make an impression with her skills.
There are shades of Islam in her work – you will see illustrations of holy places, women wearing hijabs, and more. Working with her can be beneficial. She can come up with unique illustrations that represent your brand. Her work is not only colorful but also has gone viral on several occasions.
---

Neelam is a makeup and beauty influencer with nearly 5 million TikTok followers who appear to be highly engaged with the diva who goes by the name BeautyHacks777 on the platform. In addition, she has a presence on TikTok where she has amassed over 2K subscribers.
Mainly popular in the US, her videos are also enjoyed by users in the UK, India, and Canada. You will mainly find hacks and reviews on her page. The star seems to be a fan of natural ingredients and often posts videos covering the benefits of different oils and natural herbs.
We feel she can be a great pick for brands looking for a Muslim influencer due to her huge reach in English-speaking countries. She is mainly followed by people from Muslim countries and can turn out to be a great partner for brands that wish to target this section of the audience.
---

Mainly popular in Malaysia, AkuPeduli has more than 153K YouTube subscribers and over 117K TikTok fans. AkuPeduli's videos are in Bahasa Melayu, the main language spoken in Malaysia. And the majority of AkuPeduli's followers are based in Malaysia, which would make for the perfect Collab for Brands targeting the Malaysian market.
The country is Muslim-dominated, including expats from Muslim countries like Pakistan and Egypt. So another Collab opportunity for brands looking to promote Muslim wear or other Islamic-related products.
AkuPeduli has mastered the art of creating viral videos with some of the content having managed over a million views. AkuPeduli is unique. The content is brimming with positive energy and always demonstrates good things to the audience. In fact, a lot of the content revolves around Islam and what it teaches.
---

Altaf H is a Muslim influencer who is unique because his channel doesn't belong to him. He's a social media manager who manages a variety of YouTube pages, in a variety of niches such as the fitness category. His main channel has over 15K subscribers, mainly from the US. However, he is popular in other countries as well, including Mexico, India, Brazil, and many European countries.
You will find Muslim-oriented posts on his channel, including how to stay fit during Ramadan and the importance of following a halal diet. We feel he can be a great pick for brands looking to reach an international audience. He's willing to promote products and services in a variety of ways and is known for being easy to work with.
---

We were quite impressed with Fouzia Naz's profile. The diva has over 45K Instagram fans and a decent engagement rate of 5 percent. Her versatility appears to be her biggest strength as the star isn't focused on a single niche. You will find everything from parenting to food to beauty to lifestyle and wellness.
She is a seasoned digital creator and influencer currently living in Texas. She shares her knowledge and passion for skincare, beauty, and lifestyle through detailed product reviews and timely recommendations. As the face behind @fouziathebliss, Fouzia balances her brand, motherhood, and her role as a beauty and lifestyle expert with ease, showcasing how simplicity can lead to happiness.
---

Kabeer Tareen is a YouTube and Muslim influencer teaching the world to make money through technology.
He has more than 267K YouTube subscribers and the coveted blue tick that shows his prowess and fame. He is very active on the platform, regularly uploading content and responding to comments. The star typically talks about social media, online earning, MetaVerse, and blockchain. However, there is no religion or Islam-related content. Still, we think he can be a good pick for brands in this niche as most of his followers are from countries with large Muslim populations such as Indonesia and India.
He can be a good pick to do videos such as Is Bitcoin Halal, and Can Muslims Invest in FX, so hit that Collab button now!
---

With over 55K Instagram fans, Zaha is a volcano of talent. But, that's not all she has to offer. She even has an impressive engagement rate – as high as 9 percent – and an international following from the US, India, the UK, Canada, and even Malaysia.
A former banker, she is now a full-time blogger "finding balance in life through cooking & organizing. Easy daily recipes and lunch plates, with a touch of lifestyle inspiration".
She has worked with a variety of brands and mainly focuses on Indian food. We feel she can be a good pick for companies looking for a Muslim influencer as she offers halal meals and is a pro at taking food photos.
---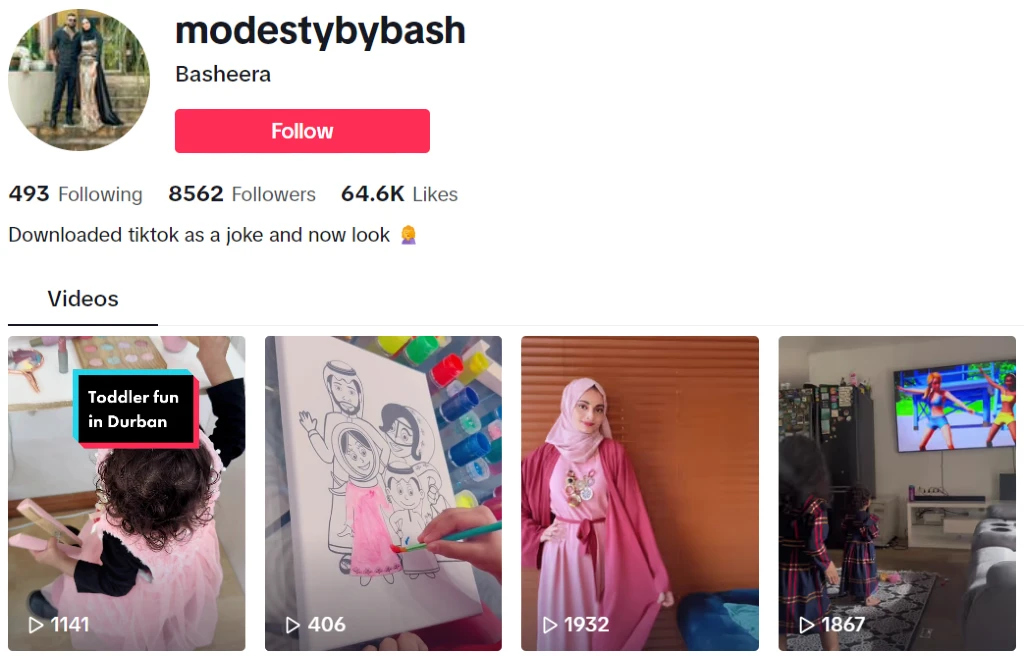 Basheera is a pharmacist and mom with a love for fashion, beauty, and travel. Popular in South Africa, she has more than 51k Instagram fans and over 8.5K TikTok followers.
She describes herself as a 'content creator who's discovering mommahood'. The diva talks about a variety of things on her page, including food, fashion, beauty, and travel. Furthermore, she also shares parenting tips and often talks about the importance of wearing modest outfits.
We think she's highly versatile and a perfect fit for brands looking for a Muslim influencer popular in South Africa. Only 1.36% of the total population in the country is Muslim; however, they stand at over half a million.
---

Sahar is a digital creator specializing in beauty, lifestyle, parenting, fashion, and traveling. The Texan beauty tries to keep her 40K Instagram family entertained through her interesting posts that contain creative captions and cool hashtags.
She has mastered the art of giving a unique touch to her posts and is known for honest product reviews. You will find some very creative posts on her page. Unlike some other influencers out there, she doesn't seem to be a fan of selfies and usually posts about the products they use, and her loving children.
The diva has an engagement rate of about 5 percent and a global following. She's open to working with all kinds of brands and can be a good pick for companies looking for Muslim influencers.
---

Mainly popular in his home country, Pakistan, Shoaib is a Muslim influencer who targets youth and has over 17.6K Instagram followers. He is an SEO analyst and also works as a model in his free time.
You will find casual photos on his page, including him traveling, enjoying delicious meals, and just posing in front of a camera. Furthermore, he helps people increase their social media reach and can be a good pick for local brands that want to promote products on a local or national level.
The star has partnered with a number of local brands and is open to more Collabs.
---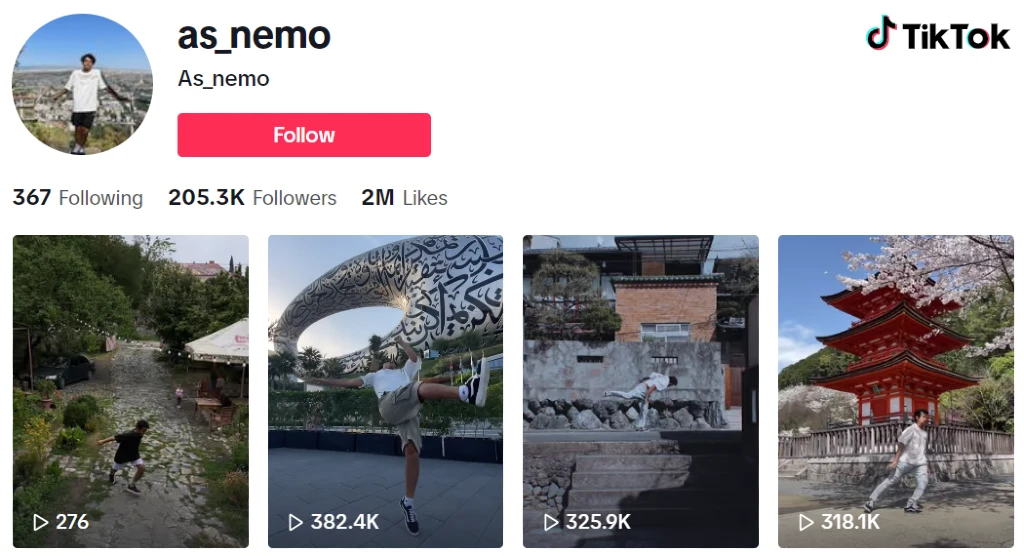 Nemo Ahmed has become a popular name in no time. This young and upcoming influencer has over 200K TikTok fans and more than 2.3K YouTube subscribers. Moreover, he focuses on Instagram as well where he has a decent engagement rate and over 22K followers.
A professional parkour athlete, Nemo started as a football player and enjoys taking part in all kinds of sports. He calls himself a traveler and is currently living his best life in Dubai. You will find him taking part in a variety of sports, including surfing and parkour.
His videos resonate with people who enjoy adventure and many even look up to him. Sign up with Afluencer today to get in touch with Nemo and several other Muslim influencers.
---

Younes Ezzentri is a travel photographer with more than 22K Instagram followers. He likes to showcase his talent to the world and takes pictures of everything from wildlife to nature to people. This unique talent makes him a great choice for brands looking for an influencer as he can highlight your products or services through his photography skills.
However, he specializes in adventure and landscape photography and enjoys being lost in nature. This Moroccan star lives in Casablanca and is always on the move. Reach out to Younes and several other Muslim influencers ready to help your brand reach the next milestone.
---
Let's Keep In Touch!
We'll always hit you up first whenever we come across new tips and tricks. And you'll never miss out on awesome Collab opportunities again.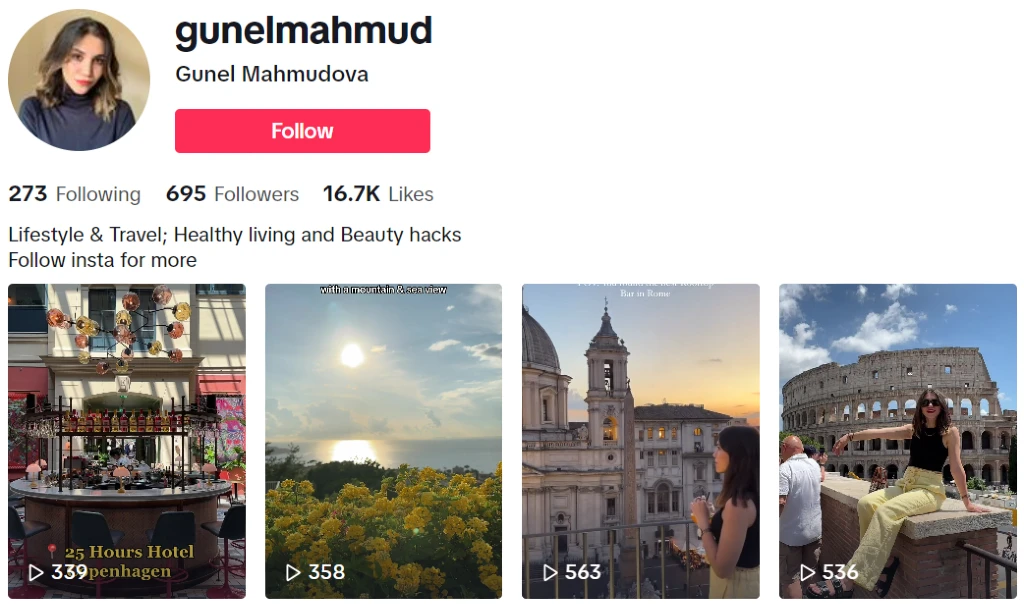 This beauty from Azerbaijan has 26K Instagram fans and a growing presence on other platforms like TikTok and Twitter. She has a background in marketing and a passion for building content that helps others grow.
She mainly talks about fashion and beauty and is also an avid traveler. The diva enjoys going live on social media and connecting with her followers who are highly engaged and interested in what she has to offer.
You will find pictures of the star exploring different cities and rocking a variety of outfits. She has partnered with a number of brands and is open to collaborating with both big and small names.
---

Shima is a popular influencer with over 1.5 million followers on the internet. She is available on almost all major social media platforms, including Instagram where she has more than 1.2 million followers. But, what really impressed us is her engagement rate which is above 11.2 percent. This shows that her followers have a genuine interest in what she posts.
The diva is equally popular on YouTube with 100K subscribers and millions of views. Moreover, she is now building followers on other platforms and is about to hit the 10K mark on Twitter and has close to 30K fans on TikTok.
She is a global icon with fans from around the world, including the US, Turkey, Canada, the UK, and Australia. She mainly talks about fashion and beauty and unlike some other Muslim influencers on this list, she is very liberal and isn't afraid of trying new things.
With more and more Muslims opening up to the idea of trying different styles and fashion and following influencers like Shima, we feel she can be a good pick for brands looking to build a connection with a Muslim influencer.
---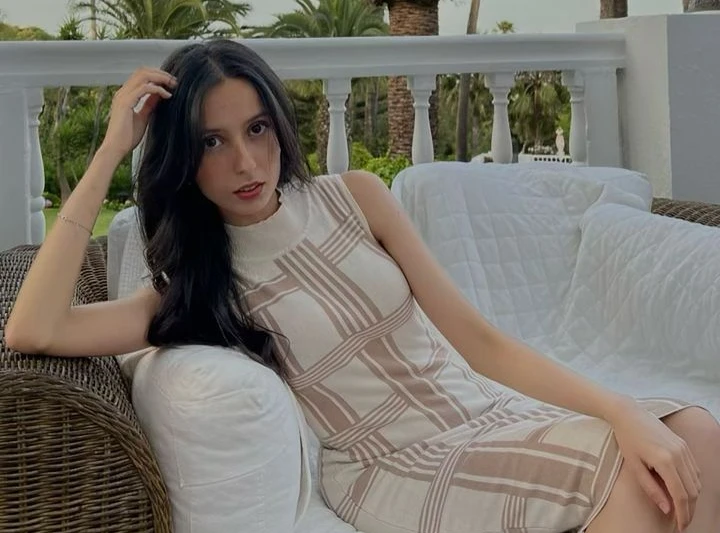 Based out of Tétouan, Morocco, Fatima is a Muslim influencer with a special focus on Instagram. This microinfluencer has nearly 3K Instagram fans but that's not what we included her for. The star hits the ball out of the park with an engagement rate of 56 percent. We haven't come across any other influencer with such a high engagement rate.
The level of interest in her posts is very high and she built an international following with followers from Morocco, The US, The UK, and Canada. The diva knows how to pose in front of a camera and excels in the fashion niche.
She enjoys wearing all kinds of clothes and has worked with a number of companies. We feel she can be a good pick for local brands looking for a stunning face.
---

Hickma is a 19-year-old fashion influencer with a mission to empower Hijabi Muslims to embrace their style while maintaining modesty. She believes that street fashion can be modest and still make a statement. As a Muslim herself, Hickma understands the challenges of finding stylish and modest clothing, but she's passionate about helping her followers discover their confidence and express themselves through fashion. However, we must add that she isn't always in a hijab and likes to try different things.
The stunner has been fascinated by fashion since she was a child, and she believes that it's a powerful tool for self-expression, especially for introverts and Muslims like her. By promoting modest fashion, Hickma hopes to inspire others to embrace their unique style and feel confident in their own skin.
If you're looking for a fashion influencer who shares your values and is passionate about promoting modest fashion, then Hickma is the right choice. She's committed to creating a more diverse and inclusive fashion industry, one outfit at a time.
---

Open to PR and collaboration, Umber is a makeup artist with more than 23.4K Instagram fans and a decent engagement rate. Based out of the US, the star seems to have a global audience from countries like the US, The UK, India, and Pakistan.
She mainly works with fashion and beauty brands and has partnered with the likes of Medature, Neuraderm, and Thayers. The diva is considered authentic as she enjoys the coveted blue tick and is considered an authority in the field.
We think she can be a good pick for brands looking for Muslim influencers due to her push for modest living.
---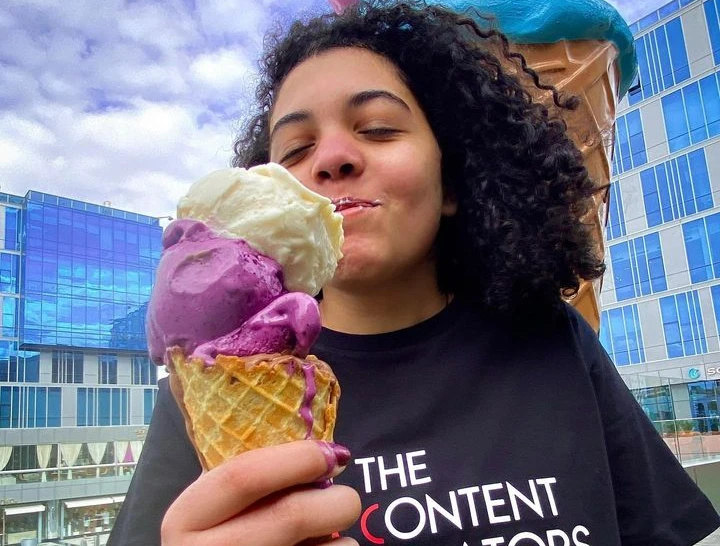 Beautiful and talented, Mariam Ashraf is a fast-growing social media influencer with 7.6K Instagram fans and a decent engagement rate of 4 percent.
Take a look at your profile and you will understand how cool she is. A fan of colors, she enjoys roaming around in vibrant outfits and posting fun content. You will find everything on her page, from pictures of delicious foods to stories of her travels.
The diva is mainly popular in Egypt and enjoys trying new things. She originally started as a food reviewer and is now concentrating on other things as well. We think she can be a good pick for brands looking for someone with a colorful personality.
---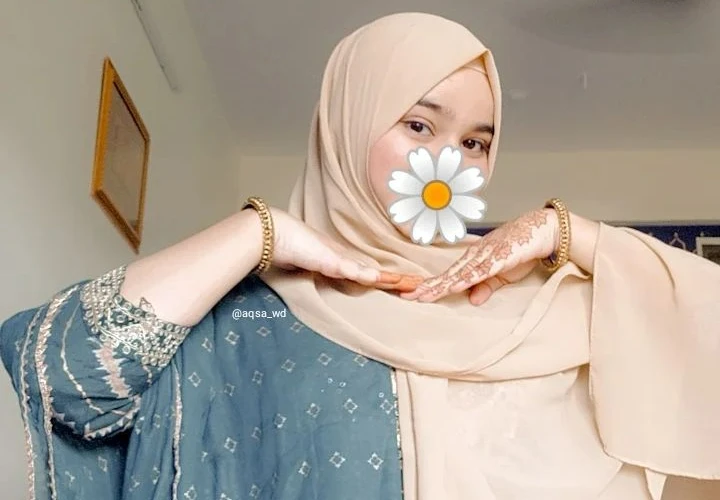 Aqsa Duduke is a student and blogger with more than 21K Instagram fans and a decent engagement rate. Take a look at her profile and you will find very unique content, including selfies that do not show her face. The star seems to be an avid Muslim and likes to wear hijab or use emojis to cover her face.
She's a perfect example of a Muslim woman who is finding success while following her religion. A student of medicine, Aqsa runs the page 'Girl with Modesty' and is also concentrating on YouTube where she posts tutorials and reviews.
Furthermore, she often talks about religion and the importance of being a good Muslim. We think her devotion and unique content make her one of the best Muslim influencers.
---

Ghassane Hihlal is a Moroccan influencer who identifies as a freelancer and YouTuber and specializes in producing fun content. You will find vlogs covering his life, reaction videos, and prank videos on his YouTube channel, called Ghassane TV, where he has more than 1.38K subscribers. However, we must mention that his videos are in Arabic, which is the language most commonly spoken in his country.
In addition, he is on Instagram and Facebook, and TikTok. But, he seems to be most focused on Instagram out of these where he is about to hit 20K followers.
Hihlal is a microinfluencer and while he doesn't have a huge number of subscribers, they appear to be highly engaged with the star enjoying an engagement rate of 13 percent on YouTube.
---

Loved by over 100K on Instagram, Noorain is a powerhouse of talent with a thunderous engagement rate of 10 percent. This makes her one of the best Muslim influencers out there as very few are able to enjoy such a response on social media. Mainly popular in India, she also has followers from countries like the US, The UK, and Canada.
She is a food blogger and mainly concentrates on Indian foods. The star has moved to the UK and seems to be a pro at making reels that look tempting.
We feel she can be a good pick for brands looking for a food influencer who promotes halal meals.
---

Kai Darul is a passionate and driven individual who has made a name for herself in the world of blogging. A qualified accountant, she founded Hijabi Mag in 2015 to spread awareness about modest living and the lifestyle of a Muslim woman in the Christian-dominated Philippines. Through her blog, Kai promotes dialogues and understanding between different cultures and religions.
This makes her a great pick for brands looking for a Muslim influencer who has an understanding of living in a non-muslim majority country. The diva has over 12K Instagram fans and thousands of loyal web visitors.
Kai's blogging journey began in 2007 when she started using a Friendster blog. She later moved to Blogspot in 2008, but it wasn't until she was a sophomore in college that she took blogging seriously. She won a domain name, Lilpink.info, and a hosting package from Cei's mini blog giveaway, which motivated her to continue blogging.
Kai's blog has received numerous recognitions, including being named a pioneer blog by a Muslimah for Muslimahs in the Philippines.
---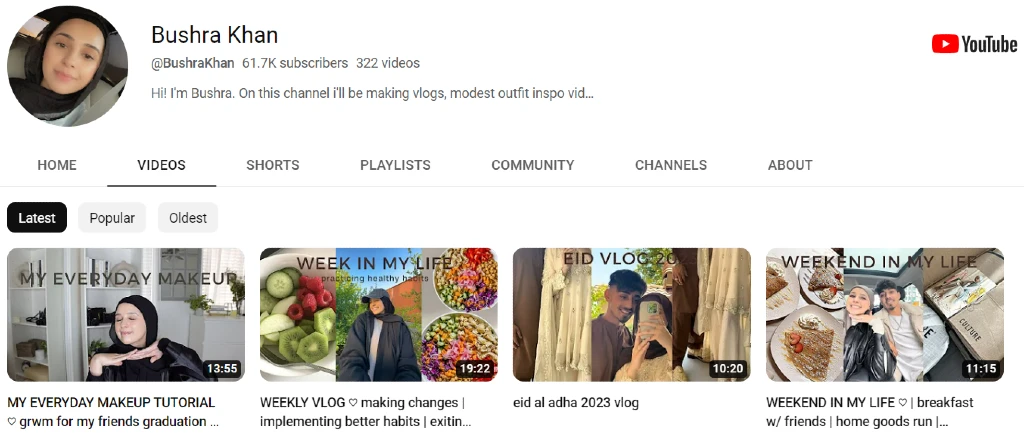 Bushra has a huge following of over 60K on YouTube and an impressive engagement rate of over 7 percent. Very active on the platform, she posts everything from daily routines to fun vlogs to makeup videos. A supporter of modest fashion, we feel Bushra can be a great pick for brands that cater to people interested in modest clothing.
Mainly popular in India, she also has followers from the US, the US, Pakistan, Canada, and Germany. She is very active on social media and is open to working with a variety of brands, including beauty companies, fashion houses, and more.
---

Those looking for a talented Muslim influencer can get in touch with Samad, best known for making animated rap battles between famous people. His content is as cool as it sounds. His videos feature famous individuals such as politicians, sportspersons, and entrepreneurs.
He has over 50K subscribers who appear to be highly engaged. Some of his videos have even gone viral managing thousands of views. However, he is mainly popular in the subcontinent and can be a great pick for brands that cater to these countries.
You can even get him to create unique animation for your brands. The man seems to be good at what he does and active on other platforms too.
---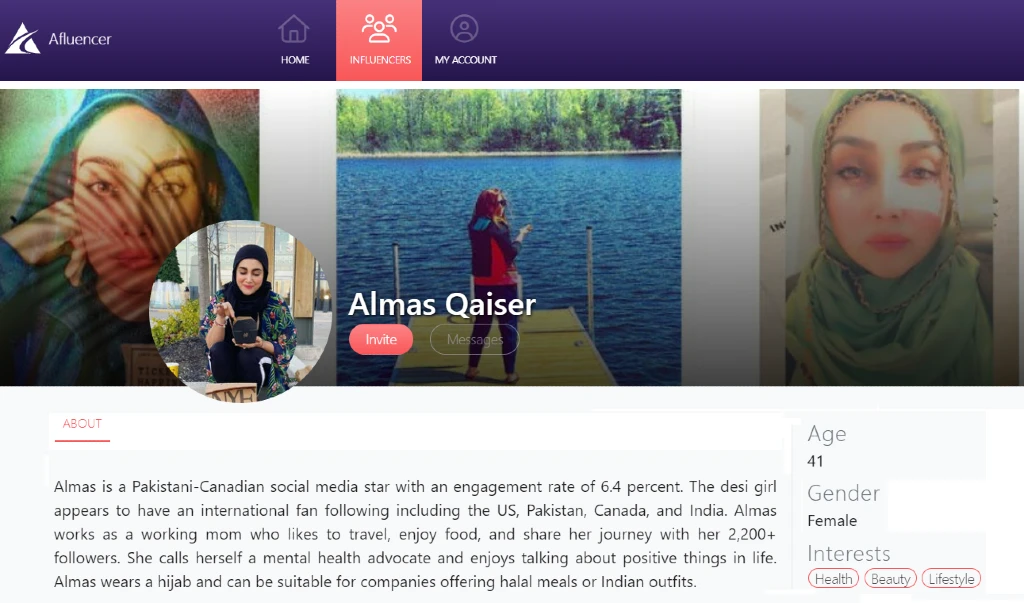 Almas is a Pakistani-Canadian social media star who impresses in several departments. She has a very high engagement rate of 6.2 percent, which makes her one of the best Muslim influencers to work with.
The diva is very active on social media and has about 2K Instagram fans. Moreover, she has an international fan following with most of her followers based in the US, Pakistan, Canada, and India. Furthermore, we feel she can be a great pick for brands keen on promoting hijabs as the diva is always wearing one and regularly talks about hijab-related topics.
She works as a working mom and enjoys traveling, trying new foods, and sharing her journey with her growing fan base. As a mental health advocate, she aims to spread awareness and promote well-being. Almas is open to collaborations with brands that align with her interests and values, such as modest fashion, halal cuisine, and lifestyle products.
---

Mariem's profile is as cool as her name. She defines herself as a "fashion, lifestyle, and interior design enthusiast" and enjoys talking about affordable fashion ideas. Mainly popular in Bahrain, a Muslim-majority country, she also has followers from Morocco and Saudi Arabia.
More popularly known as Mimi Wildane, she enjoys more than 2.3K TikTok followers and nearly 500 Instagram fans. Mariem is a micro-influencer, but she seems prepared to go big with an outstanding engagement rate of around 11 percent on Instagram.
Her curls, cool fashion sense, and colorful profile are some of the main reasons why brands appear to be interested in her. So what are you waiting for? Invite Mariem to Collab today!
---
When to Use Muslim Influencers
Here's how brands can best use Muslim influencers:
Travel Companies to Promote Islamic Trips
Muslims take trips to Islamic sites in Iran, Iraq, and Saudi Arabia. Travel companies can make plans targeting Muslim travelers as they are usually heavy spenders and can help boost your revenue. Working with Muslim travel influencers can be a great way to tap into this market.
Hajj, one of the largest gatherings of Muslims in the world, attracts millions of people from around the world. The Hajj tourism market is growing at a CAGR of 7% and is expected to cross the US$ 350.0 billion mark by 2032. Working with Muslim influencers can be a great way to benefit from this opportunity.
Food Companies to Sell Halal Products
With the Muslim population growing, the demand for halal food is also on the rise. The industry reached US$ 2,221.3 billion in 2022 and is expected to reach the US$ 4,177.3 billion mark by 2028, recording a CAGR of 10.8%.
Working with food influencers can be a great way to reach people interested in halal food and boost your profits. Moreover, brands can also benefit from the holy month of Ramadan when Muslims tend to spend more, especially on food items.
Benefit from Islamic Festivals
Just like Christians spend wholeheartedly around Christmas, Muslims spend lavishly around Eid, a special occasion where it is customary to give gifts, buy new clothes, and have fun. Such festivals can be a great opportunity for brands to cash in.
Everything from clothes to toys to sweets sells like hotcakes during the season. Working with a Muslim influencer who understands these festivals and is followed by the right people can be a great way to push your brand.
Modest Clothing for Muslims
Clothing items such as hijabs and burkhas are heavily in demand. In fact, according to the 2022 State of the Global Islamic Economy Report, spending on modest fashion saw an increase of 5.7% in 2021, and the industry is rapidly growing. Surprisingly, North America is the largest market with a CAGR of 5.70%.
If you sell modest clothing and you aren't working with Muslim influencers then you might be losing out on a very good opportunity. Sign up with Afluencer today to get access to top Muslim influencers who promote modest clothing.
Book Publishers to Attract Muslim Readers
Muslims are avid readers and almost every household has a few religious books, including The Quran, which has sold more than 800 million copies. In addition, Muslims enjoy reading Islamic literature, history, and books that teach children good manners.
Publishing houses can partner with new mothers and Muslim influencers to push these products and boost their revenue.