In this round of our trip around the world to find the Perfect Collabs for you, we're headed to India!
Inspiring. Imaginative. Insightful. These Indian Influencers are undoubtedly what your brand needs. Look out for a whole lotta muscle, charm, beauty, motorcycles, fabulous fashion, and so much more. They're just being themselves, Collabing along the way.
To find the perfect Indian Influencers to recruit for your Brand's campaign, read on…

Welcome to the world of Shruti Gond… where she creates beauty, fashion, and lifestyle content. This fun-loving 21-year-old describes herself as "awkward," and appears super confident in herself… we already love her.
Content
This Indian influencer's Instagram page, @shru7ii, is her digital diary. Here you will find everything from beauty and fashion (including some modeling) to dance challenges, inspiration to find self-confidence, and a celebration of culture, to name a few. No matter what she's posting, though, she does it the Shruti way, and with a sparkle in her eye.
Collabs
There is no doubt that Shruti's content resonates with people around her age. In fact, many of her followers fall in the 18 to 24-year-old age bracket. She has worked her way to a following of over 10k and a solid engagement rate of 4%. If you are a brand targeting this age group of young Indians, Shruti is one of the influencers you will want to Collab with.
---

Anuradha is a 22-year-old Indian influencer with a love for fashion, beauty, and fitness. She's also, and I quote, "always hungry at 3 am." Giiirrlll… same.
Content
If you are going to mix 3 niches – fashion, beauty, and fitness is like a match made in heaven with each one complementing the other.
Looking at Anuradha's Instagram page, we find a cohesive mashup of all these niches. Her fashion choices are amazing – from traditional wear to cozy casual, and even flirty formal, Anuradha rocks them all.
When it comes to her fitness content, even her gym 'fits are top-tier. You will be motivated to work out once you see her cute gym wear. She even features Collabs with brands in the fitness industry!
Her beauty content also includes skincare, so you know ya girl is taking care of herself, inside and out. See, we told you that fashion, beauty, and fitness were excellent combos.
---

Aravind is an Indian influencer dedicated to giving men the information they need to help them be the best version of themselves.
Content
Aravind's Instagram handle may be @masculinemensfashion. Still, whether it's men's fashion, men's fitness, skincare, how to cope with the realities of life, haircare, or relationships, Aravind gives you the tips you never knew you needed. Consider this men's information central!
Aravind also makes sure to debunk some men-related (women could use some of this info too) myths by throwing in some Myth vs Fact tidbits. For example, did you know that the myth of having to 'break in' athletic shoes is totally untrue? Yeah, your shoes should feel comfortable from the first run or workout. If you have to break them in, you need to pick a different shoe. #mindblown
Collabs
When it comes to Collabbing with Indian influencers whose content targets men in the 18 to 34 age range, Aravind should be your next go-to. Did we mention that his content is spread across Instagram and YouTube? Double the opportunity to reach your ideal audience.
---

Meet Indian fashion and beauty influencer, Bhavna. Her focus is on content and Collabs, and she's killing it.
Content
First stop – beauty content. From hair care to skincare, makeup, and all things (beauty) in between, Bhavna has got you covered. This Indian influencer dishes out detailed product info and gives her honest review on the products featured.
Next – fashion. Did we mention that Bhavna is also a fashion model? Yup, this 28-year-old is multi-talented. Her looks also cover a wide range of styles – from traditional to athletic, casual, and even action-hero! Yes, you read that right.
Whether she's showing us beauty or fashion content, Bhavna sure has a lot to share, and all of her over 400k followers are eating it all up.
Collabs
Remember when we said Bhavna is serious about her content and Collabs? Well, this is where it all comes together. Bhavna already has partnerships with multiple brands and continues to do so. Want to be next in line?
---

Representing the state of Punjab, fashion model Ankita Bisht brings fun and exciting energy to the world of fashion – it's clear to see that this is where her passion lies.
Content
Cute outfits, stunning traditional wear, dashing denim, and a whole lot more #outfitoftheday #ootd to inspire a new wardrobe. That – and more – is what you will find in Ankita's content.
As a model, Ankita's versatility shines through. Sometimes she all smiles and dressed all girl-next-door. Other times she's formal and serious… and sometimes she's rocking her best cover of Vogue look. Work it, Ankita!
Overall, we love how Ankita blends all these looks together to create an Instagram page her followers clearly love: her engagement currently sits at 6.4%! In the competitive world of fashion influencers, that's one huge accomplishment.
Collabs
If you're looking for versatile fashion influencers who have significant influences, particularly in the Indian market, Ankita should not be ignored. Invite her for a Collab today!
---

If you are a lover of dance, Bollywood dance in particular, then you will want to meet Shailja. She's a fantastic dancer, choreographer, and artist based in Haryana, India.
Content
Be prepared to do a lot of smiling. There is just something about Bollywood dances that brings about all the good feelings. Pure joy. That is what you'll find here on Shailja's Instagram page… and talent, of course.
Oftentimes, she dances alongside the TV to some of her favorite movies and songs. How relatable is that?! Come on, don't act as if you haven't done that before… #youknowyouhave
Can we also give special mention to her flawless wardrobe changes? Each dance has a dedicated outfit, perfectly matching the one on TV.
Collabs
If you're looking for an Indian dance influencer who knows how to bring joy to an audience as well as get them talking, Shailja is a must-have. Her engagement rate remains high as her following grows, proving that she has what it takes.
---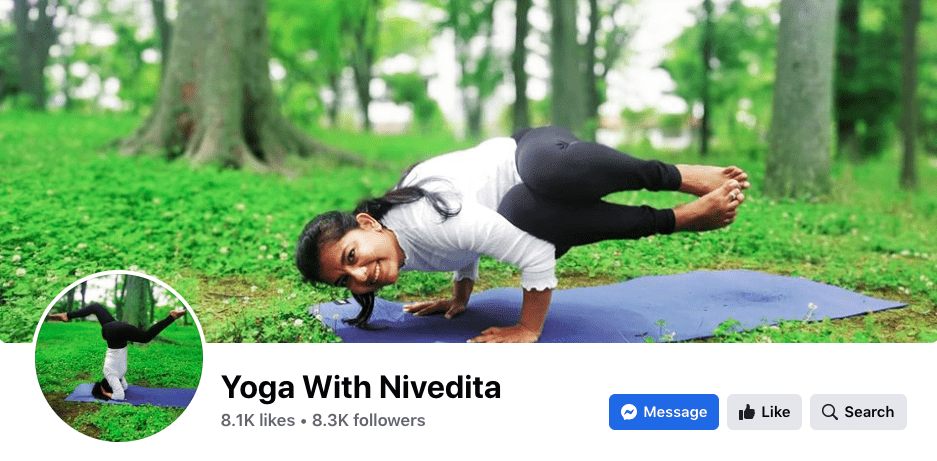 Meet fitness and yoga Indian influencer, Nivedita. She loves to travel and is currently based in Japan, living her best life.
Content
If it's yoga you want, head on over to Nivedita's Facebook page, Yoga with Nivedita, as well as her YouTube page which is under the same handle. On these two platforms, she shares yoga poses and yoga routines that will help in different areas of your life – from general weight loss to getting rid of belly fat, yoga for knee pain, yoga for back pain, yoga for strength, balance, and so much more. What's great is that she posts a lot of yoga routines for beginners as well, so you are sure to find something for you no matter what level you are on.
Over on her Instagram page, you will find less yoga and discover the many other sides to Nivedita, including her love for travel, art, healthy food, and more.
Collabs
We love how Nivedita shares her various passions. Her followers love her too… her engagement rate currently sits at an astronomical 14.2%! As a brand, you won't want to miss out on a Collab with Nivedita.
---

Surabhi is an Indian influencer on a mission to help people on their self-care journey. Her passion has led her to find success as an influencer, with over 11k followers.
Content
Surabhi has a knack for giving us wholesome content we just can't get enough of. No wonder her influence keeps growing. We've got dance moves, family moments, makeup shopping, skincare routines, unboxings, mom life, shopping hauls, baby care, detailed captions, and oh so much more.
We aren't the only ones who love Surabhi's content… take a look at what her followers have to say:
Your content is amazing.
Wow, such a lovely post… keep posting.
You look absolutely stunning… You make it so easy for me… Detailed description.
Trusted brand, will try.
Lovely makeup dear. Keep it up.
Wow, amazing offers… thanks for sharing.
This is very useful. Will check it out.
Collabs
Another thing you'll find in this Indian influencer's content is Collabs. A whole lot of them. It's clear to see that her followers love them. So if you're looking for lifestyle and beauty Indian influencers who have the knack for holding their follower's attention, hit Surabhi up for a Collab.
---

Harika Nandi is a Saudi Arabia-based Indian influencer whose skills and passions lie in cooking, eating, and exploring.
Content
In need of lunchbox ideas (all the moms in the back just shouted YES)? If so, @harikanandi on Instagram is where you need to be! Harika has us all covered. No baloney sandwiches here, no ma'am. It's only the home-cooked wholesomeness that makes you want to take a nap after stuffing your guts. #iykyk

While 90% of her content is about cooking, she does also tag us along when she goes on her travel adventures. Sometimes she's exploring parts of Saudi Arabia, other times she's back home in India, and sometimes she's road-trippin' to Bahrain.
What do you get when you mix food content, travel content, and Harika's unique perspective? An engaging Instagram page.
Collabs
With content that continues to gain more followers and an engagement rate that proves that people love it, Harika should be in your team of Indian influencers you invite to Collab.
---

A menswear enthusiast representing Chandigarh, India, our next influencer, Amrit enjoys sharing his passion for fashion with all 54.1k of his Instagram followers. With a number of Collabs under his belt, that follower count is sure to grow.
Content
From plaid shirts to golf shirts, printed tees to cultural wear, Amrit always looks crisp – and with very little effort it seems. His beard/mustache game is hard to beat – groomed to perfection. His many Collabs feature brands from various industries such as skin care, tech, health, and many others. Amrit presents a perfect Collab opportunity for anything geared toward men. With his engagement rate sitting at 5.4%, his followers are sure to want to try any products he promotes. Take a look at some of the comments in his posts:
"Such a cool one"
"This is so amazing"
"Will surely check it out"
"Looks like an amazing product"
---

Ritu is an Indian influencer who is into beauty, health, and fitness. She has over 29k followers on Instagram and an awesome engagement rate of 3.9%.
Content
If flawless, glowing, youthful, radiant skin is #lifegoals for you, you need to follow Ritu. If your product can provide these benefits, you need to Invite Ritu to Collab. This health and beauty influencer must have found the fountain of youth or something because her skin is perfection! Her content, thankfully, is full of tips, tricks, and products to help her followers achieve the same.
She also posts some fashion inspo – the perfect combo for great-looking skin.
Her Collab achievements include brands from the skincare, hair, health, and fitness industries.
Did we mention she's also an actor?
Alexa, play Flawless by Beyonce.
---

Meet multifaceted lifestyle blogger, Arpit. He is also a lover of food, travel, and tech. Thankfully he also enjoys sharing his passions with all 200k (and counting…) of his followers.
Content
Be prepared for some #couplegoals as Arpit shares super cute videos of him and his partner. Sometimes it's date night, other times it's them traveling together somewhere. Arpit says, "For the two of us, home isn't a place. It's a person. And we are finally home." #hearteyeemoji
Arpit also features content on tech, fashion, travel, and anything lifestyle-related. This Indian influencer's passion shines through so much, you can't help but want to listen to what he has to say.
Collabs
Since Arpit does everything so well, you can be sure that his Collab game is super strong. Scrolling through his Instagram will reveal many a Collab – each one detailed and excellently executed. Here, passion meets talent to create really great content. Why wouldn't your brand want to be a part of that?
---

Shruthi's love for beauty and fashion and ability to share has seen her following grow to over 12.8k on Instagram alone.
Content
"Zeal to convert my dreams into reality." And guess what, Shruthi's Insta feed looks like a dream brought to life. We can't help but feel happy when we look at it. Her photos are amazing (shoutout to whoever her photographer is) and you can feel her positivity through her captions as well. This Indian influencer is one to follow if your feed is in need of some happy vibes.
She's also got some life hacks, sharing content such as "Habits that Changed Me".
If you're a brand geared towards positivity, feel-good vibes, and just all-around happiness, Shruthi is a sure fit for you.
---

An internationally-certified makeup expert, Aditi is a beauty blogger and Engineering MBA graduate. Her Instagram following currently sits at 28.3k.
Content
We love a good makeup tutorial. What we love more, though, are some useful tips – which Aditi is great at providing. Whether you need remedies for dark eye circles, are clueless about applying false lashes, over-applied your blush, or struggle to maintain dry skin, Aditi has us covered on all this and more. She also posts other informative content such as various Did-You-Knows and the benefits of using contour and highlights, for example. Whether she's rocking the natural look or full-on glam, there's something for everyone on Aditi's feed.
Aditi has the ability to connect with different demographics within the world of beauty. So if you've been searching for Indian influencers with talent and experience like Aditi, your collab slot has just been filled!
---

If the follower count is anything to go by, Mudit has made it! This Indian influencer based in Madhya Pradesh has a whopping 337k+ Instagram followers, with whom he shares his love for health, fitness, fashion, motorcycles, and travel.
Content
Muscles, motorcycles, and motivation. That's what you'll find throughout Mudit's feed. Throw in some adrenaline-inducing activities like skydiving (as if motorcycles aren't enough) and it's clear to see that this guy is living his best life. Thankfully, we're not getting any show-off vibes here. Rather, we feel inspired to go out and do the same. Not that you'll find me jumping out of a plane anytime soon, but you get the point. He's got an amazing engagement rate of 7.2% so his followers must feel all the inspo he's sending out.
To quote him, "Life has no limitations except the ones you make". So, don't limit the success of your brand; go on and Start a Collab with Mudit.
And if you're looking to form a team of Indian Influencers, then carry on exploring the others on our list.
---

An Indian influencer whose forte is menswear, Pratik is pratikally killin' it. We're sure all 29.5k+ of his followers would agree.
Content
Laid-back cool. Those are the vibes we're getting from this male fashion influencer. He's clearly just doing his thing and we love that authenticity. He also creates content around travel and lifestyle. He's sure to give his review on any hotels he stays at or tech that makes his life easier. Hands up if you could use some of that!
This is another content creator who has many Successful Collabs under his belt. Since he posts content from different categories, his partnerships are just as varied. On his feed, you'll find Collabs with brands in tech, food & beverage (including keto and gluten-free), and health to name a few.
So if you're looking for Indian influencers with experience creating a variety of content, then Pratik is your man!
---
Based in Gujarat, this fashion influencer is great at creating content around this genre, as well as skincare and lifestyle. She's got a following of over 17k across Instagram and Facebook and a fantastic engagement rate of 7.5%.
Content
When it comes to fashion content, some people like details while others prefer to focus on the images for inspo. If you're the latter, Drashti's content is for you. It's like flipping through a fashion magazine – and she looks amazing in every picture. She also throws in a few good hair-tossing slow-mo vids to really set that model vibe. Have to say, we're diggin' it.
Drashti is also the owner of @thriftxdrashti – a thrift store featuring all kinds of cute outfits.
Fashion brands looking for influencers to help target the Indian market should definitely secure a partnership with the rising star.
---

Introducing Vaishnavi, an Indian YouTuber who specializes in reaction videos. Across Facebook and Twitter, she's got over 24.5k followers. If you think that's a lot, wait 'til you see her YouTube subscriber count. It sits at over 340k.
Content
The great thing about reaction videos is that there's always fresh content and that's probably why Vaishnavi is winning. Her focus is on beauty, product reviews, websites & apps, and clothing haul.
Her Instagram posts are more personal, just Vaishnavi being herself – singing along to songs and going about her life. But if you're here for the reaction videos, her YouTube channel, Vaishnavi Combine, is where it's at. It is very much India-related. Her subscribers can watch her reacting to Indian series, or Indian Idols episodes, and much more. Clearly, Vaishnavi has found her forte in this type of content and we look forward to seeing her grow even more!
---

This Indian influencer is all about sharing her love for beauty, health, and fashion. With her engagement rate sitting at a whopping 6% and her ever-rising Instagram following currently at the 11.7k mark, we get the sense that Ankita is here to stay.
Content
This is another influencer who mixes English with her local language and this is great for the region. Ankita shares fashion posts with super cute girl-next-door outfits and cultural attire. She also shares some of her favorite health and skin care products – from moisturizers to oils and supplements.
Naturally, her Collabs are with brands in the same industries, but she has also partnered with brands in tech.
Ankita definitely has a good thing going here and is one to keep an eye out for.
---

While his Instagram handle makes him sound like the hot guy who's gonna whisk you away on an amazing vacation (we'll go willingly btw), Amandeep is a video creator who is also into fashion.
Content
Whether he's in classic jeans and a white tee, cultural attire, Hawaiian shirts, or muscle tees, Amandeep's fashion choices always look good. He loves good accessories too and has partnered with the minimalistic and elegant watch creator/brand Daniel Wellington. He's also partnered with other brands in men's fashion.
He does a great job of creating a mix of content in English and Hindi – and even if you don't understand one or the other, his videos are fun to watch.
Amandeep has great fashion choices for all the guys out there. Although, we have a feeling the ladies will love @voyagebae too… #justsayin
---
Why these Indian influencers? Well, we love their effortless authenticity. Mix in the fact that they're Collab pros and you've got a winning formula! The only thing missing is your brand's invite to Collab…
What are you waiting for? India awaits! Now go and drop each of our creative Indian influencers a Collab invite.
Don't know how to post a Collab?
Check out this guide: GET STARTED: How to Post a Collab on Afluencer