A YouTube creator dips a straw in milk, holds it in, then inserts the contraption into the middle of an Oreo cookie. The result? A milky countertop. It was a failure. The contraption was supposed to double the size of the cookie's center cream. Yet the video "Trying Dumb Life Hacks" has over 30 million views on SSSniperWolf's YouTube channel.
SSsniperWolf is one of many creators responsible for some $8 billion in sponsored product sales. How do "failures" like these lead to ecommerce success?
Welcome to the upside-down world of the creator economy.
Increasingly, this economy is where brands approach individuals, not the other way around. Want engagement with modern ecommerce shoppers? Then you may have to go through creators and influencers first.
This article will get more specific than the creator economy, however. There is a new trend emerging amongst digital creators: owning your own brand. This shift has the potential to change the landscape of this economy. More and more, creators are turning to Shopify as their medium of choice. Here's why that will matter.
What is the creator economy?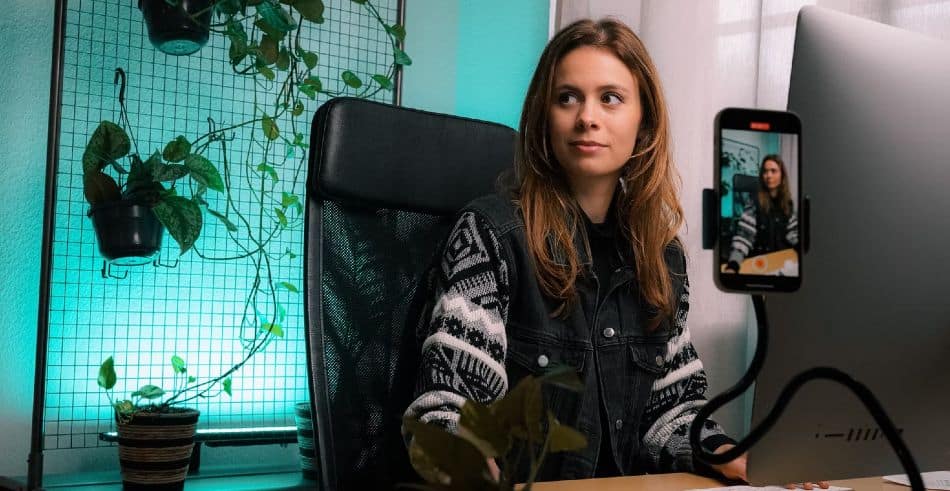 The creator economy refers to the businesses built by influencers, community-builders, and content creators. If you're in ecommerce and you have an Internet following, you're a creator.
The creator economy usually refers to creators' own communities and brands. But it also refers to the products they move on behalf of larger brands.
The term is older than its popularity suggests. According to The Atlantic, the creator economy was originally a YouTube invention. Back in 2011, people used it as an alternative to phrases like "YouTube star".
Since then, it's become an estimated $100 billion industry. (For reference, the entire grocery industry in the U.S. is only about seven times that number).
Why "creator economy" over a phrase like "YouTube star"? A lot of people have earned a living on platforms like YouTube. Why not just call these people stars of their respective platforms?
Simple: creators are everywhere.
After all, the creator economy now hosts about 425,000 full-time equivalent jobs. Of the estimated 50 million creators worldwide, four million already do it full-time.
But there's a reason YouTube star as a catch-all phrase is out of fashion. The creator economy has no central hub. Instead, it centers around a plethora of platforms
Creator economy platforms:
YouTube: The video-hosting site is resident to billions of users. About one billion hours of videos play on YouTube every day. The sheer numbers make it ideal for creators of any type to find an audience, from home cooks with vegan risotto recipes to makeup tutorials.
Patreon: Home to micro-influencers who build their own communities, Patreon lets mini-celebs exchange Patreon-exclusive content in exchange for subscription fees. Like most platforms, Patreon takes a bit of a cut. In exchange, it provides the digital infrastructure to make hosting a community easy.
Twitch: This video-streaming-and-chatting platform is a favorite for everyone from gaming influencers to "just chatting" creators. Users can buy subscriptions to individual channels, trade "bits," and more.
Social media: You've heard of Meta, TikTok, Twitter, and Instagram. They're all favorite platforms among influencers and are increasingly shopper-friendly. Oftentimes, creators will use social media as a top-of-funnel strategy to bring in subscriptions to paid channels, like Patreon.
Podcasts and blogging: The spoken and written word haven't gone anywhere. Blogger influencers, for example, still earn a stellar following—even if the tradition of blogger-as-celebrity might seem outdated in the era of live streaming.
What is the Shopify creator economy?
Where is the room for Shopify in all this? Shopify fulfills a critical role that can make all the difference to creators: ownership.
How? Simple. With Shopify, you can sell your own products.
After all, creators have seen the campaign numbers. They know how many products they sell. That success naturally leads to another question: what if I sold those products instead?
Enter Shopify, an eCommerce-store-in-a-box. In short, it makes it easier for creators to start their own brands. This is good news for creators, who sometimes rely on brand deals to bring in cash. Yes, creators can make money from ad revenue or community subscriptions.
But check the stats, and you'll see brands dominating the cash flow. There isn't even a close second when it comes to where creators get their money.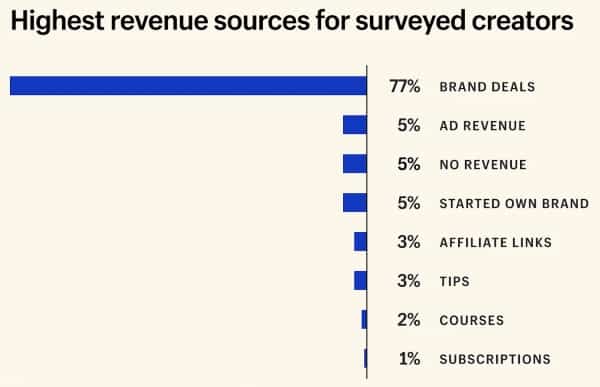 The leap from "creator economy" to "Shopify creator economy" isn't exactly a secret, either. Lots of celebrities are already using Shopify. LMFAO's Party Rock Clothing, for example, or Kylie Jenner's Kylie Cosmetics.
But just like the creator economy itself, this platform isn't limited to mega-influencers.
Take the example of Fragrance One. The story: brothers Jeremy and Kamil Blanc built a perfume review following on YouTube. Their reviews became so popular they eventually found themselves with millions of subscribers.
But rather than continue posting content on YouTube and accepting sponsored details with perfume brands, they had another idea. They'd sell their own perfume. It's now an eight-figure fragrance company—and better yet, they don't have to share the profits of their sales with anybody.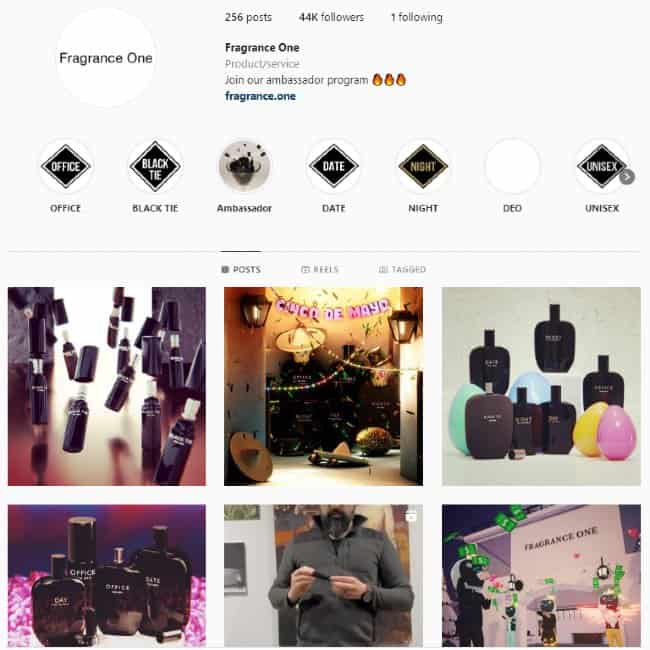 Building the Shopify creator economy
This isn't to say that every creator has to follow the path of Fragrance One. Launching on YouTube, building an audience, and founding a brand? It's easier said than done.
But the speed at which Fragrance One launched should make you pause. How is it possible?
The Shopify creator economy is how. Shopify's ecommerce platform is more robust every year.
Just this year, for example, Shopify partnered with YouTube to introduce YouTube Shopping on Shopify. This integrates a Shopify store with YouTube in a few ways:
Using YouTube Live to tag and pin products during a live stream. This also offers picture-in-picture playback, letting customers continue to watch the live stream while checking out. The entire buying process can go through without having to hit pause.
On-demand videos: Shopify merchants and creators can create a curated product list and present them as a "shelf" during their videos.
The "store tab" feature can add to the creator's channel on YouTube to make it easy to browse through a selection of products on offer.
In essence, the platforms are blurring the lines between creators and sellers. For a creator's audience, it's never been more seamless to transition from viewer to buyer.
🢂 Learn How to Leverage Influencers in Your Live Shopping Efforts
Integrating Shopify with TikTok
Another example of this increased integration is what creators can do with TikTok and Shopify. Last year, Shopify became the first shopping platform to offer organic product discovery and shopping tabs to TikTok users.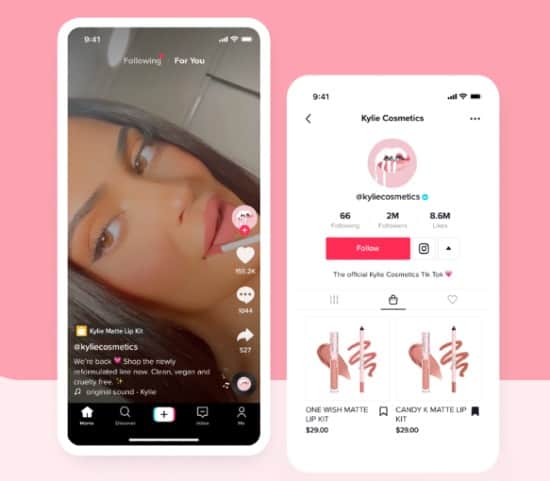 TikTok tasked Shopify with building shopping tabs for TikTok. This put the shops next to essential tabs like TikTok's "For You" feeds.
It's also easier than ever to integrate shoppable buttons within TikTok posts, sending interested customers straight to a specific product on a Shopify store. And since that integration with Shopify already works, that means just-as-easy integrations with Instagram and Meta. All of this digital infrastructure adds up to one thing. For creators, it's never been easier to become a seller.
Shopify creator economy trends to watch
It's easier than ever for creators to own their own shops. By extension, it's easier than ever for creators to own their own brands.
But what are creators doing within the Shopify creator economy to stand out, capture their customers, and build up their presence online?
Here are some of the most popular Shopify creator economy trends to watch:
The rise of micro-influencers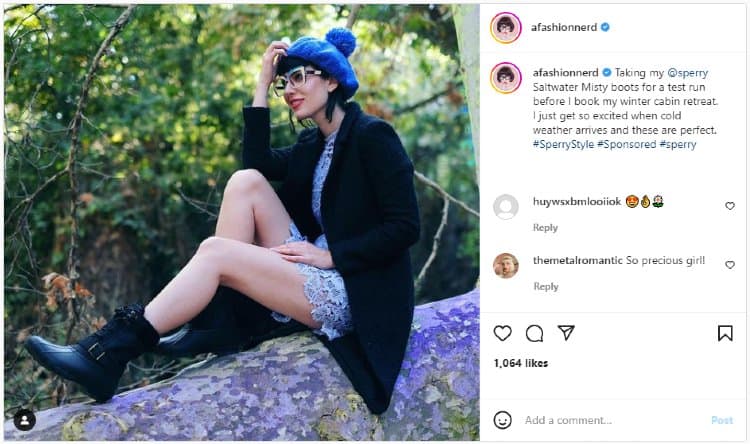 When Sperry was gearing up to launch a wet weather campaign—a seasonal offering—they didn't look for a mega-influencer. Instead, they wanted something short-lived, yet high-engagement.
They turned to micro-influencers—and got themselves nominated for a Shorty Award in the process.
The target wasn't too big. Sperry wasn't looking to sell to every person on Earth who needs to buy wet-weather shoes. Instead, Sperry focused on "fashion-savvy female style enthusiasts."
Yet even by limiting the time and demographics of its campaign, Sperry achieved success: 4.7 million impressions for the campaign and 66% more clickthroughs from Instagram.
Or take a recent micro-influencer success story, when Coca-Cola worked with 300 micro-influencers and achieved a campaign engagement rate of 7.5%.
Why focus on micro-influencers when mega-influencers have more reach? It's certainly not that Coca-Cola didn't have the budget to hire celebrities. They did, after all, opt for 300 micro-influencers instead.
What brands seek is that engagement rate. Generally speaking, the smaller the influencer's audience, the more passionate they're going to be about engaging: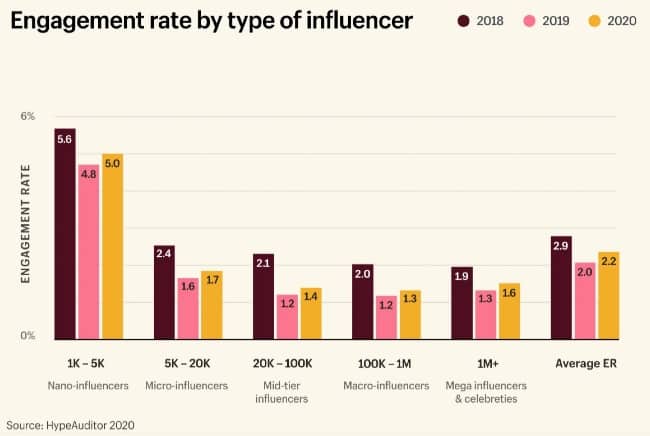 Nano-influencers drive the most engagement, with the caveat that their audiences can be as little as a twentieth the size of a micro-influencer. But of those influencers with tens of thousands of followers, micro-influencers drive the highest engagement—1.7% in 2020.
Of those with larger audiences, only mega-influencers and celebrities came close.
And for brands like Sperry who wanted only a seasonal, limited, budget-friendly boost to the bottom line, mega-influencers were out of the question.
"With the rise of TikTok and authenticity being valued more than ever, the people who create a genuine connection with an engaged audience will come out on top," said Julia Bobak, Content Creator at Home Grounds.
For brands with limited budgets, micro-influencers offer the best mix of budget-friendly with high engagement rates.
Ecommerce platforms investing in the creator economy
For ecommerce platforms like Shopify, you might figure that the best opportunity to grow is to engage big-time brands with huge audiences. More buyers, more growth, more revenue.
But that's not exactly who they're targeting.
Instead, Shopify is trying to reach both brands and creators. Consider Shopify's recent acquisition of Dovetale. Dovetale is a platform to help brands engage with creators, potentially bringing both parties to Shopify.
(You're reading this piece on Afluencer.com, a platform with 13,000+ opt-in micro-influencers and creators. Connect with them via the Afluencer App for Shopify.)
In short, Shopify is adding features that make it more creator-friendly. Take Linkpop, a shoppable Linktree alternative for creators who want to create a single link for their entire online presence.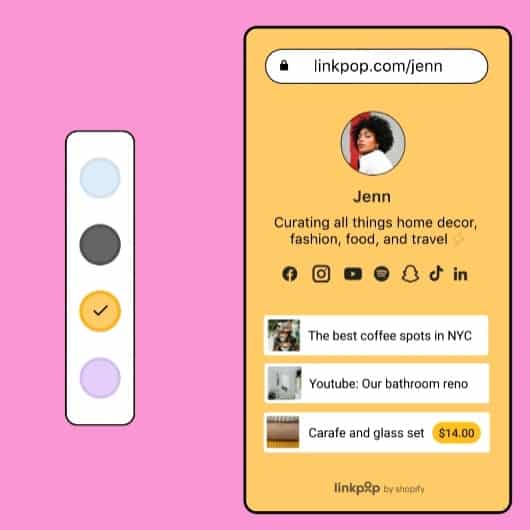 Linkpop easily syncs with platforms like TikTok and Instagram to create shoppable links to a Shopify checkout page. Additionally, creators can sign up for the Shopify starter plan to make their Linkpop shoppable.
The impact of Generation Z
A big shift happened in 1996 and 1997—one you may not remember. It was when new babies stopped being millennials and started belonging to a new demographic: Generation Z.
The distinction may seem small at first. But if millennials were the first generation weaned on the web, Generation Z was the first to grow up with smartphones and social media.
That means a completely different way of looking at the world of ecommerce—which, to Gen Z, might as well be another word for "commerce." Just under 30% of Gen Z kids grew up wanting to be YouTube stars rather than astronauts.
This is less of a trend than a series of trends. Here are a few of the Gen Z preferences that will likely shape the Shopify creator economy:
Gen Z Prefers Platforms
And, as Forbes notes, Gen Z has some very different ideas for running a business.
"The way Gen Z creators today are building these businesses is fundamentally different," Jennifer Neundorfer, co-founder of January Ventures, told Forbes.
"These fundamental changes make much of the traditional small and medium-sized business (SMB) software solutions obsolete. In the year ahead, I believe we'll see the rise of new tooling native to the Gen Z creators."
Gen Z's are more accustomed to platforms like Shopify, Etsy, or even Roblox—a game development engine—making it easier to build an online presence. In other words, Gen Z expects software solutions like those they can find in Shopify's creator economy. They want more speed to market, and they want it now.
Gen Z Prefers Video
When Patreon ran a survey of its creators, what they found wasn't surprising. Gen Z likes video, and that's reflected in where creators are shifting their focus: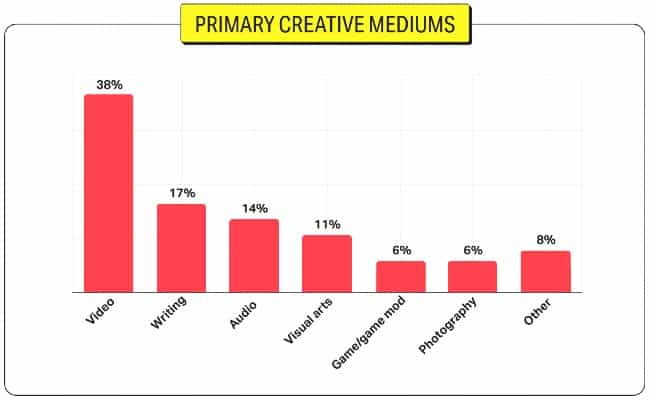 It's not just the love of video that defines Gen Z's new habits, either. Over half of Gen Z doesn't watch any traditional ad-supported TV, for example. And as Patreon found, those creators who primarily publish videos said they found 50% of their audience from YouTube alone.
Some third-party apps on Shopify like Vimotia have already jumped on this trend, turning videos shoppable.
What does this mean for the Shopify creator economy? Especially given Gen Z's love of single-platform solutions to complicated tech integrations?
More apps like VideoWise unite TikTok, Instagram, and Shopify into a single function.
More power to brands who want to bring creators back
If creators can own their own brands in the Shopify creator economy, it adds competition. The best creators are incentivized to build their own shops. That's good news for everyone… except maybe the brands.
How can brands win back creators when creators are planting their flags on Shopify?
Like creators, brands can turn to platforms for help. For example, TikTok has made it possible for brands to use organic, "creator"-like content in their advertising campaigns.
Consider TikTok's Spark Ads, which use native ads so brands can incorporate organic TikTok content from creators. Creators, in turn, have the power to authorize the use of their organic posts.
This gives creators a new way to monetize their organic content beyond making their posts shoppable or adding a link to Linkpop.
In some cases, Spark Ads can work directly with creators on limited, one-time campaigns that benefit both brands and creators.
One digital bank did exactly that with creator @TashInvests—TashInvests supplied the content, the digital bank supplied the funding, and the native ad saw 1.5 million impressions on TikTok.
While Spark Ads is ostensibly a tool for brands, it works for both brands and creators, elevating the visibility of each.
Creators boost their profiles thanks to the massive impressions possible through these campaigns. Brands get the engagement of working with a creator with an established audience.
In short…
Platforms like Shopify (through its purchase of Dovetale) and TikTok (through its Spark Ads) bring creators and brands even closer.
But some of the best matches come through platforms like Afluencer. On Afluencer, creators build profiles and brands seek out the best matches on creator voice and social media following.
And recent additions like the Shopify subscriptions and features help ensure that this arrangement works smoothly in the Shopify creator economy.
"It's a really great app", said Courtney Williamson of Abilife. "There are so many apps and agencies out there that are total rip-offs ($24,000 a month…no way!) But this app brings high-quality influencers who are friendly, professional, and care deeply about their work and image. I would highly recommend this app".
Navigating the Shopify creator economy
Power is shifting to creators. But it doesn't have to mean brands get left out in the lurch.
Given the shifting demographics of Generation Z entering the fold and the rising power of influencer marketing, more and more online shopping will come not through traditional mass media advertising, but through the recommendations of creators people trust.
Brands will need to watch the trends—like the emerging Shopify creator economy—to ensure that they can find influencers who are happy to engage their following. Doing so will require making full use of the available platforms.
For creators, these platforms can mean more control, more ownership, and the ability to be pickier when choosing which brands to work with.
To get started, install the Afluencer app for Shopify here—and find the platform where more and more creators and brands are meeting.