Convenience is the new currency in today's digital-first era. Customers expect to get what they want when they want while having a seamless and engaging shopping experience. Here's where live shopping comes into the picture.
The COVID-fueled rise of online shopping has forced brands to think outside the box and offer additional, more engaging channels. While live shopping has been around for decades, the latest advancements in technology and the penetration of social media propelled its growth, making it an important tool in every marketer's toolbox.
Now, brands are grappling with the question: How can we cater to customers' needs and make the most of live shopping? Enter influencer marketing. In this article, we'll look at the benefits and best practices of live shopping. And also share a step-by-step guide to help you leverage influencers in your efforts.
What is Live Shopping?
Live shopping (live selling and livestreaming commerce) uses video content on digital and social platforms to promote or sell products and services in real-time. Brands use live shopping to interact with their customers and present products in a dynamic, contextual format. In some cases, they partner with influencers who run the livestreams and try to boost sales thanks to their popularity and existing audiences who trust their reputations.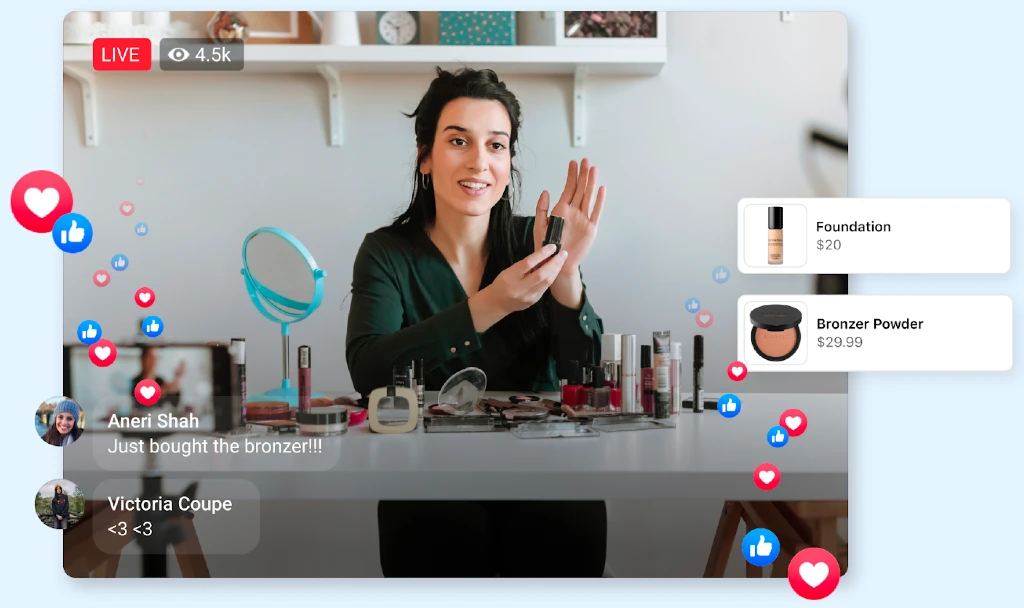 The roots of this concept date back to the '80s and home shopping channels on TV. Today, this format has shifted to a digital context, allowing more interactive communications thanks to new platforms and social media. As a result, users can engage with the seller and almost instantly purchase any offer, greatly facilitating a more straightforward buying process.
The Rise of Live Shopping
Live shopping is (and has been) extremely popular in China for many years now. According to eMarketer's forecast, live shopping will account for 19.2% of retail ecommerce sales in China this year. Total sales will rise from $562.62 billion in 2023 to $843.93 billion in 2025.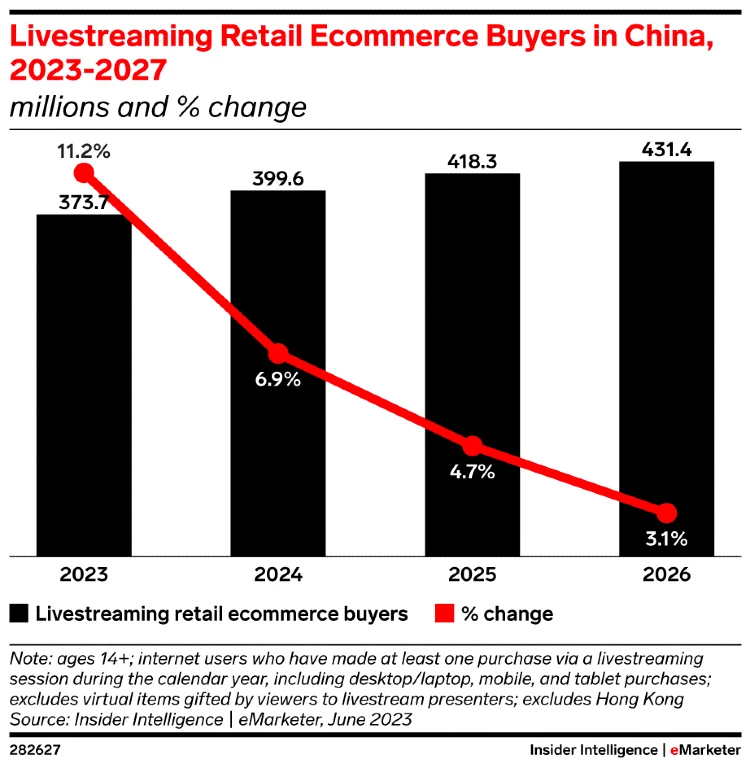 Outside of China, there's no doubt the pandemic accelerated the growth of live shopping. Data from McKinsey shows the pandemic prompted a surge of new consumer activities, with an astonishing 75% of US consumers trying a new shopping behavior in response to economic pressures.
The COVID-related shutdowns and quarantines were strong catalysts for pushing innovation around new ways of shopping. And once people experienced the convenience of live shopping, there was no going back. In fact, the US livestream commerce market is estimated to hit $25 billion by 2023, according to Coresight Research.
When looking at the various categories where live shopping has found a foothold, the verticals where brands have found success seem to vary based on geographic location. However, one category that stands out as successful within the live shopping context across different countries is clothing. According to McKinsey, clothing was the most popular live shopping category in Europe, the United States, and Latin America.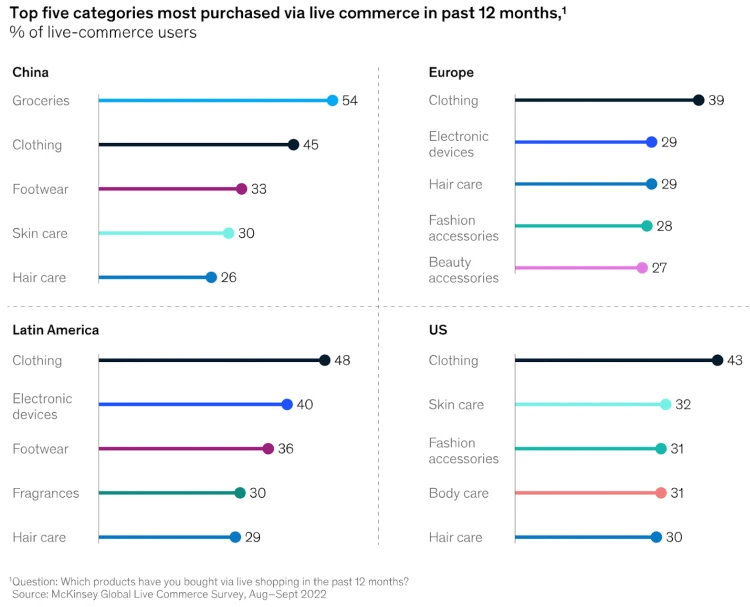 Why brands are investing in live shopping
The next question is: What makes brands invest in live shopping?
Looking at results from Statista, more than half (52%) of global businesses using live shopping said they looked to improve the shopping experience and generate customer engagement and feedback (aside from the most obvious use case: to generate revenue.)
Other reasons for investing in live shopping include:
following the latest digital trends (47%)
customer acquisition (41%)
collaboration with influencers(41%)
co-branding with suppliers and brands (36%)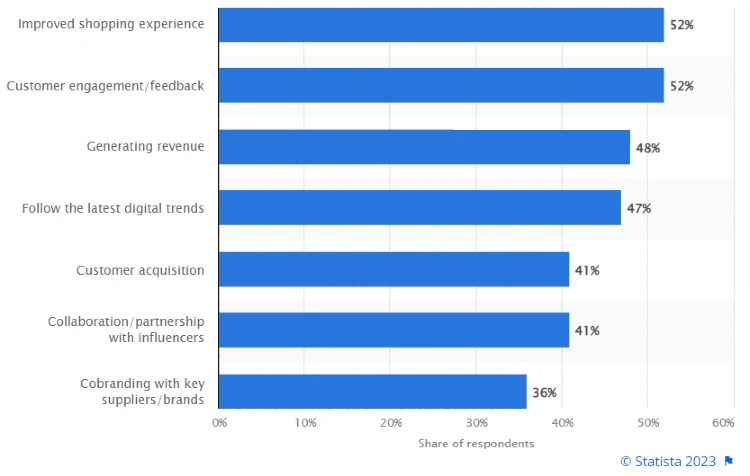 Publicis is one agency testing live shopping with its clients. In an article from Modern Retail, Allysun Lundy, the VP head of retail media strategy at Publicis Commerce, said:
"Consumers are going to log in and watch [a livestream], versus going to… spend a lot of time on Amazon or Walmart and not have it feel so sales-y that it really drives that conversion."
Translation: Brands are looking into live shopping as a more engaging, human-first way to sell to shoppers, in a format that's more frictionless, more user-friendly, and overall, more fun.
The profile of buyers interested in live shopping
Consumers who are interested in live shopping have a few things in common. These commonalities are important for brands looking to capture a specific demographic of shoppers, as this avenue for driving revenue is still new and largely underutilized. There's a real opportunity for brands to get ahead of the curve with this emerging medium for sales.
Based on demographic data, McKinsey explored a few patterns and behaviors and found the average age of live shoppers globally averaged between 33 and 36 years old. Shoppers aged 25 to 34 made up the largest share of frequent live shopping users. This means brands looking to connect with Gen Z and Millennials should seriously consider live shopping to drive sales.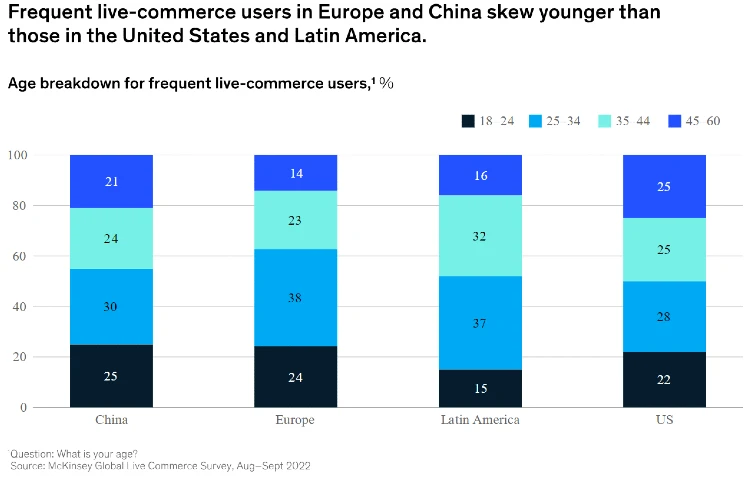 Men and women are nearly equal participants in live shopping, with only slight variations on that theme. Looking at the income ranges of average participants, most in the US and Europe had incomes between $25,000 and $50,000. For brands that have this segment of the population as target consumers, live shopping presents a new way to connect with and inspire shoppers (men and women!) who want a more engaging shopping experience.
7 Benefits of Live Shopping for Brands
Marketers are in a race to keep up with channel-hopping customers. Brands are constantly struggling to stay in step and engage them across all platforms. Competition for consumer attention has become more intense in recent years. Consumer attention spans are at an all-time low.
The good news? Live shopping is an engaging way to meet shoppers where they are in real-time and brings key benefits for brands looking to introduce new shopping touchpoints.
A few of them:
1. Raise brand awareness
The first step to convincing customers to buy from you is getting brand awareness. Live shopping has the power to reach a broad audience and help brands get bigger exposure.
2. Offer exclusive discounts
There's no way around it—customers love discounts. According to Statista, one of the main benefits of livestream shopping was the possibility to access exclusive deals.
3. Help customers make informed decisions
The format of live shopping makes it easy to answer customers' questions and boost their confidence. Statista shows that 31% of respondents said this purchasing channel enabled them to shop smarter and make more informed buying decisions.
4. Create a personal relationship with your customers
With customer acquisition costs on the rise, brands are looking for ways to create long-term relationships with customers. Here's where live shopping can help. The two-way communication creates a sense of personal relationship, which leads to getting loyal customers.
5. Lower your return rates
Another big headache for brands is product returns. According to Coresight data, live shoppers are 40% less likely to return an item than other online shoppers.
6. Broadcast to more channels
Brands are always looking for new touchpoints. Nearly six in 10 companies use owned platforms for live streaming to broadcast to more channels and extend their reach, shows Coresight data.
7. Boost your conversion rates
Increasing conversions is one of the top priorities for ecommerce brands. With live shopping, conversion rates are as high as 40%, according to Mary Ghahremani, CEO of live video e-commerce platform provider Bambuser.
Want to Stay On Top of Influencer Marketing Trends?
Sign up for the Afluencer newsletter and get the latest marketing tips, potential Influencer partnerships, and so much more delivered to your inbox twice a month.
5 Live Shopping Best Practices
Most of the brands that are still on the fence about using live shopping think it's too complicated to start. Quite the contrary: introducing live shopping doesn't need to feel daunting. You just need to go through the common steps and best practices and just start. After that, you'll be able to learn from experience and improve for the next live shopping event. Here are five best practices to keep in mind:
1. Choose a platform
First things first: When choosing a platform, think about your goals. If you want to reach a bigger audience, social media might be a wise choice. As it offers an opportunity to co-market live shopping events with partners while leveraging your existing owned audience. If you're looking for more control and customization over the live shopping experience, you may want to opt into a different avenue outside of platforms like TikTok and Instagram. Here's some more context to help you figure out what makes sense for your needs.
Social media
Businesses just tipping their toes into live shopping can start small on social media to test the waters. The options are vast.
For example, TikTok has extended its ecommerce capabilities by introducing a feature that lets brands easily incorporate products from their TikTok Shopping experience into a live session. YouTube has partnered with Shopify, allowing merchants to import products from their catalog. Pinterest has also jumped on the bandwagon, introducing Pinterest TV—a curated series of live, original, and shoppable episodes.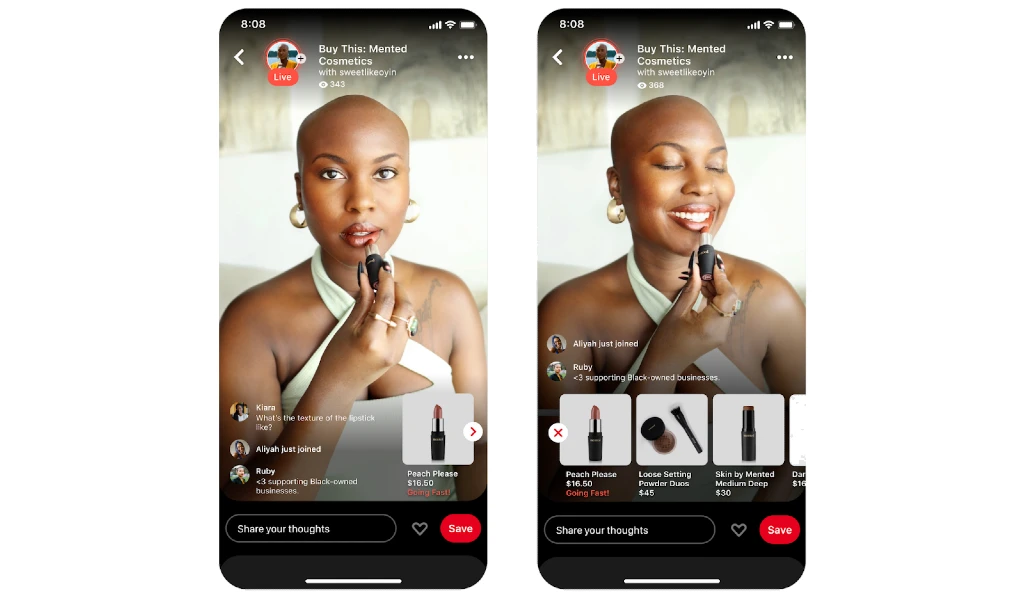 Third-party platforms
Brands can also rely on third-party platforms to promote their products with live shopping. These options allow for a more customized experience with advanced features that go beyond what social media platforms offer. Startups like Popshop Live, Buywith, and TalkShopLive, for example, have gained consumer and investor interest in recent years, leading to the expansion of their offerings.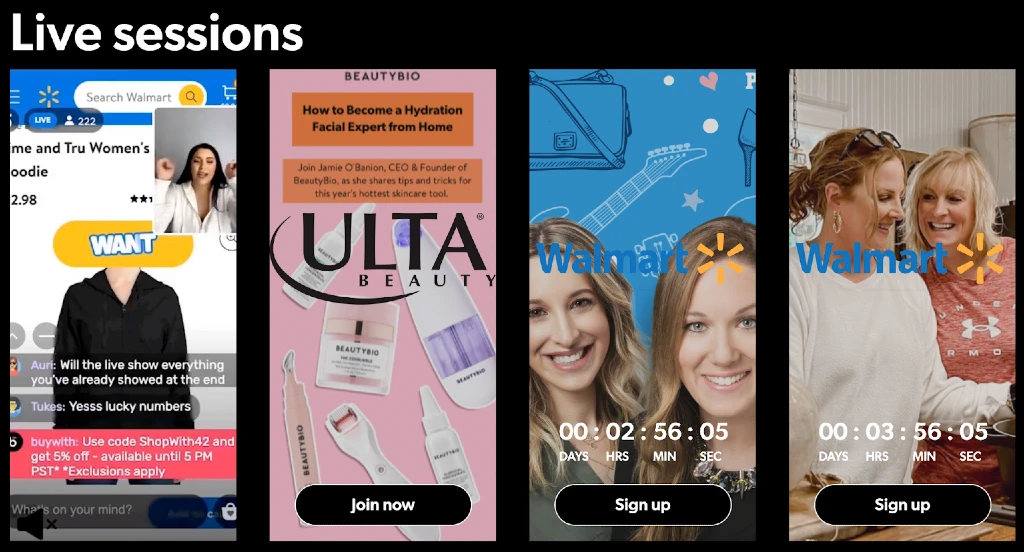 One of the most popular platforms, however, is Amazon Live. Brands selling on Amazon can use live shopping to promote their products and reach more customers with live events where products are showcased in great detail (in a style similar to what we see on a shopping channel like QVC or HSN). Below the live stream, there's a carousel with the products promoted in the live stream. This allows customers to buy the products they see in use during the live product demo.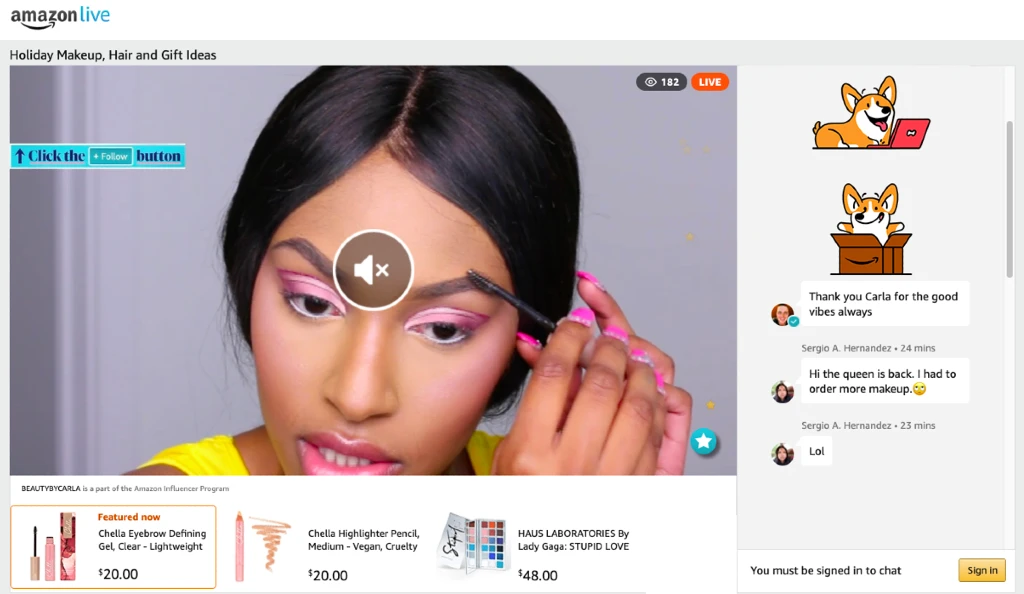 An owned live shopping platform
Brands that want to embrace the power of live shopping fully (and have the resources to do so) may choose to create their own versions of a live shopping experience. When companies run live shows on their own websites and apps, they gain access to extensive customer data and comprehensive insights into consumer behavior.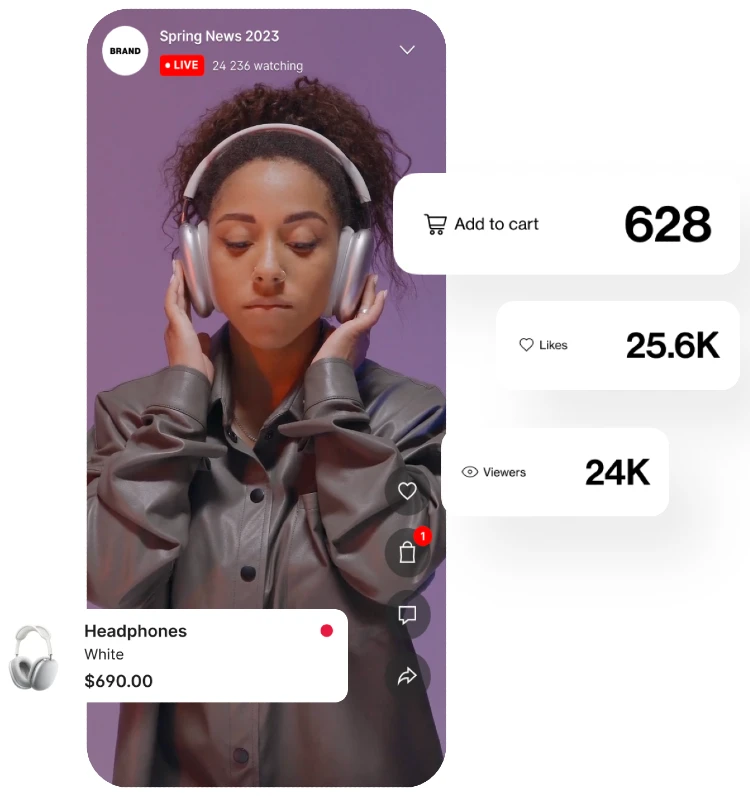 Using this data, they can better understand consumer needs and optimize live shopping experiences, along with the overall customer journey. As a result, brands can drive innovation in their products and marketing strategies. Some of the tools and platforms that allow you to create your own live shopping experience include Bambuser, Livescale, Emplifi, and others.
2. Create a content theme
Once you decide on the platform, it's time to think about the type of content you want to present. Here are some ideas to get your creative gears turning:
Exclusive deals and promotions: Offer live shopping participants exclusive discounts and perks they can't earn through any other medium.
How-to/demos: Show your products in action so buyers see the benefits, features, and outcomes in a dynamic, visual context.
Question-and-answer sessions: Provide expert insights into how buyers can get the most out of your products and troubleshoot any questions that may be keeping an interested buyer from following through on the purchase.
Unveiling of new products: Introduce and make a splash around new product announcements with live events that help build excitement around launch dates.
3. Engage with your audience
What makes live shopping so effective is its ability to foster two-way communication between a brand and its buyers. During live shopping events, address attendees by name, interact with real-time chat and attendee feedback, and allow participants to ask questions. Customers love being heard and appreciated. Live shopping is an opportunity to engage with your audience in an authentic way.
4. Decide on the best timing
Half the battle of hosting successful events is choosing the optimal time. According to McKinsey, the timing of live shows is the most significant barrier to growth in Europe (cited by 29%), the United States (32% of respondents), and Latin America (44%).
If you are unsure of the best timing for your audience, experiment with different days and times to go live. There's no one-size-fits-all answer to this question, so you'll need to do some trial and error.
5. Partner with influencers
Influencers are ideally situated to be part of live shopping campaigns. They are used to talking live on their social media. And thanks to their experience with live streams, they can create a pleasant and authentic experience for your customers.
On top of that, customers trust product recommendations from influencers. So including them in your live shopping events won't create a sense of aggressive selling but rather a 'favorites' video from an influencer they follow. To find an ideal partner, check out options on a platform like Afluencer where you can sort influencers by location, area of focus, age, and more.
Influencer Marketing and Live Shopping — a Match Made in Heaven
Influencers are ideal partners for brands looking to engage in live shopping efforts for many reasons, including their established influence, ability to leverage storytelling, their eye for content creation, and their level of comfort being on-camera.
But that's not all. More advantages of combining influencer marketing and live shopping include:
Niche audiences – If you are working in a specific niche and you are having a hard time reaching your audience, live shopping combined with influencer marketing might be the perfect fit for you. The influencer marketing space is constantly evolving. As reported by Influencer Marketing Hub, brands prefer working with smaller-scale influencers — 39% of brands chose nano-influencers as their most likely partners, followed by 30% opting for micro-influencers. This allows brands to target a niche audience while getting all the benefits that influencer marketing brings.
Trust – Influencers have gained the trust and credibility of their followers, which makes their recommendations highly influential. Partnering with the right influencers can improve your brand's reputation and credibility. On top of all the benefits of working with influencers, brands also get to leverage the relationship influencers have with their audience. Instead of starting from scratch or relying on your audience only, working with influencers will put your brand in front of a new audience.
Creativity – When you rely on your team to organize and host a live shopping event, you do all the heavy lifting. Partnering with influencers means you can focus on the technical stuff and let influencers take over the creative part. It's a win-win.
How to Leverage Influencers in Your Live Shopping Streams: a Step-by-Step Guide
Live shopping is set to disrupt e-commerce. Brands that know how to use it will have a massive first-mover advantage. Whether you are just starting out or you want to improve your live shopping efforts, here is a step-by-step guide on how to leverage influencers in your live shopping streams:
Find the right influencers
If you've ever tried reaching out to influencers, you know how hard it is to find the ones that fit your business. The good news is that you can use influencer management software to scale influencer marketing efforts.
Tools like Afluencer help you find the right creators, manage your budget effectively, track your campaign's performance, analyze results, and optimize your influencer marketing strategy. This way, you can achieve your goals while building lasting relationships with influencers.
Send products to influencers
If you want an authentic impression of your products instead of a scripted narrative, you should send out the products to the influencers prior to the live shopping event so that they can have a chance to test them out beforehand. This will ensure that the influencers have enough time to try your products. And then use the live event to highlight the advantages compared to similar products.
Organize a giveaway ahead of the livestream
Another best practice to generate excitement and anticipation for your upcoming live shopping event is collaborating with an influencer to organize a giveaway. By leveraging the social reach and credibility of the influencers you partner with, you can effectively engage your audience and generate buzz around the event, ultimately leading to increased attendance and engagement.
Share an event-exclusive discount code
Boost sales during a live shopping stream by providing influencers with an exclusive, influencer-specific discount code that's only usable during the live event. This can incentivize the influencer's followers to take swift action and make a purchase so they don't miss out on the limited-time offer. To top it off, you'll be able to easily flag sales that came in as a result of the live shopping stream to measure the effectiveness of the engagement.
Allow influencers to get creative
When working with influencers, communicate the core product features and benefits you want them to share and talk about. However, granting them creative freedom to showcase the product in their distinctive style is crucial. By finding a balance between guidance and artistic license, you can ensure that your product is presented in the best light possible while still enabling the influencer to add their personal touch.
Repurpose content to maximize the effect
To make the most of live shopping, it's important to repurpose content even after the live event has ended. You can achieve this by using video cuts to promote content on various social media channels. Influencers can also share the video content on their platforms. Additionally, you can create time-limited offers that customers can use after the live stream. Remember, live shopping should be an ongoing effort to maximize its impact.
Use the Power of Influencer Marketing for Your Next Live Shopping Stream
Live shopping is on a quest to become mainstream. The drastic shift to online shopping has cemented new customers' habits and expectations. But the pandemic only accelerated the inevitable.
The digital-first era, fueled by advanced technologies, will further speed up the adoption of new shopping formats. Live shopping is no exception. It boils down to this:
Live shopping allows brands to offer an interactive and immediate shopping experience that traditional marketing cannot match.
The best part? You can elevate your live shopping by combining it with influencer marketing.
Ready to start? Install the Afluencer app for Shopify here.