If you've truly got it in you to be a social media influencer, the internet is ready for you.
You can achieve new age influence on any platform – whatever your age.
Start now and you could become a hot buzzing online personality on Instagram, YouTube, or Facebook – anytime you want to. And even if you're 66, you can most certainly be a TikTok sensation.
These 23 amazing social media influencers over 50 are creating brilliant content around the things they love. They're also reaching large audiences, and proving to the world that anyone can find success on the web.
Some of these influencers started before social media even became a term, but others started just a few years ago and sprouted.
From building communities to creating expert content, these outstanding social media influencers over 50 come with a wealth of experience – something we could all learn from.
After all, gray is the new black – right?
If you're an influencer over 50 and would love to be featured in this post, register here on Afluencer for potential inclusion in the next edition of this article.
And if you're under 50, this post is coming to you too, to inspire you to become just like the other social media influencers you've always dreamed of becoming.
Here's a look at 23 social media influencers over 50 you should follow:
Instagram Followers:  109k; Engagement Rate:  5.07%
Facebook Followers:  111k
YouTube Subscribers:  1.29k
Fantastic 51 years young, Haley Fox is a lively lifestyle blogger out of Las Vegas.
She's a mom, cook, wedding, and event planner, and she's also an interior designer.  Haley's kids also happen to be bloggers too, making them all one big family of committed content creators.
Speaking of content, Haley is quite a seasoned creator with 8 years of experience in the game.  She publishes pics, videos, and blog posts on all things around her personal lifestyle and family activities.
Haley's been giving her skin some TLC lately, with her latest posts around her personal skincare routine.  With love and interest, her followers are buzzing with comments that she pleasantly responds to – popping her engagement rate to an awesome 5%.
Over on her YouTube channel, her most popular video was "Bose arrives with new Alexa-powered smart speaker and soundbars".
Her content doesn't stop there.  The Hangin' with Haley blog is loaded with catchy posts like "someone asked me if CBD gets you high" and "what is Retinol and should I use it" – among many.
Some of Haley's many collabs include Bonanza Home Decor, Lancer Skincare, Thomas Bread, Kroger's, and Target.
With a quick-witted personality and a spontaneous spirit, Haley's lifestyle influence is irresistible and a must-follow for all parents that share similar interests.
---
Instagram Followers:  3,260; Engagement Rate:  2.07%
If ever wanderlust leads you to Venice, then you've got to connect with Monica Cesarato – especially if food, wine, cake, and chocolate make your taste buds dance.
50+ Monica is a well-experienced (since 2008) food and travel influencer that will take you on a tasty adventure in Venice, Veneto, and all of Italy.
From things to do, places to visit, events to attend to travel information and current news – Monica is like your "Aunt from Italy" that you can connect with to fulfill all your travel interests around this destination.
On the Monica Cesarato blog, you'll get info on the yummy cake and chocolate tours, palatable wine and food tastings, as well as current affairs such as the coronavirus in the region.
From her blog posts like "Cocaeta: The Best Crêpes in Venice" to her YouTube videos "Cook in Venice Learn to Cook Like an Italian Mama", she a must-follow for all the foodies with Italy at heart.
Because she's a ray of great energy, she's currently cooking and whipping up new recipes in the midst of all the lockdowns – certainly keeping her followers uplifted.
For all her recipes and lessons, visit her other website COOK in Venice.
---
Instagram Followers:  11.5k; Engagement Rate:  0.13%
Need some sophisticated Italian living inspo?  Polished urban Italian-inspired lifestyle doesn't get any more striking than with Vivi.
She's 50 years old and she's been creating content since 2015 – with the growing number of social media followers as she has, Vivi has certainly developed influence of interest to many.
Vivi is a lifestyle blogger with Italy at heart.  From news, beauty, fashion, travel, home, and health, she charms her followers with her clean and sophisticated aesthetic.
Over on her well-presented blog, she publishes content from "dreaming of the return to normal… with floral-style bags", "closed schools, what to do at home", to "face serum, what is it for and which one to choose".
Vivi is thoughtfully creative and delivers quality content to her Italian followers – an opportunity for brands that are looking to reach her niche audience.
For information about her collaborations, click here.
---
Instagram Followers:  10.2k
YouTube Subscribers:  2k
Pinterest Followers:  23.5k
Facebook Followers:  4.2k
Twitter Followers:  15.8k
If you're a parent, then you probably understand the everyday distresses caused by ordinary things like cooking.
Keeping it easy while making everyone happy doesn't always work out in your favor.  So, you need a backup.
Sara LaFountain is the family foodie and lifestyle influencer that will back you up.  Being a mom of five, I think we can safely say that Sara has earned enough experience badges to help the rest of us out.  Oh, and she also happens to run a school lunch program – double heart-eyes and gold stars.
From her Udon noodle stir fry that'll be on your table in 15 minutes, movie night and snacks, to family-tested favorites – Sara's Cook with Five Kids website and social media profiles will be your frequent go-to for family food inspo.
Her content doesn't end there, though.  She also inspires her followers with family travel and car reviews with families in mind.  From the perfect East Coast vacation spot for much-needed sunshine and relaxation to videos like Ford Fusion Hybrid Interior Features on her growing YouTube channel.
Sara shares "the good, the bad, and the crazy" from her big family – like it's the usual order of the day.
---
Instagram Followers:  26.4k; Engagement Rate:  3.01%
Facebook Followers:  39k
Twitter Followers:  90.9k
Pinterest Followers:  5.7k
TikTok Followers:  4.4k
After a quick glance at Zippy Sandler's social media summary above, I'm pretty sure she's the coolest 66-year old travel and lifestyle influencer you could hang out with.
And that's why we just had to feature her in our guide to social media influencers over 50.
She's all about inspiring people to live life to the fullest.  Since 2008, she's been creating content and building her influence around the #ChampaignLiving life.
On Zippy's Champaign Living website, she indulges in it all:  from news, home, food, travel, to gift guides.  She'll even surprise you with her "gin joint" section.  I'm a fan already.
Let her charming personality entertain you with fascinating posts such as "6 of the most luxurious cigar lounges in the world", "5 great ways to style up your man", "get a taste of France in California", "what to do if you have a week in San Fransisco" and more.
All this plus she's also rocking the universe of TikTok with her epic videos like how she "can take your man" if she wants to.  Her content is showstopping for generations across the board.
Please do yourself a favor right now, go check her out on TikTok and let her delightful energy entertain you away.
Zippy is #lifegoals, no matter how young or old you are.
A fun fact about her is that she's had unusual jobs like being a magician's assistant, clown, and an artist model.  Zippy just won't stop fascinating you.
---
Twitter Followers:  17.3k
Instagram Followers:  1k
Facebook Followers:  1.6k
With over 20 years as an influencer in his industry, Barry Moltz is a small business expert that helps owners reach their full potential.
He creates content around marketing, sales, leadership, management, finances, and more.
On the Barry Moltz blog, he drops valuable business posts like "all your annoying business logistics problems solved" as well as current topics such as "small business coronavirus checklist".
Barry Moltz has featured on CNBS and MSNBC, discussing business topics like "The Comeback Mindset" and "Getting Unstuck" – just to highlight a few.
His business influence is rooted in his 12-year old radio show where he shares useful knowledge like "how to guarantee success by becoming an expert" and more.
With a buzzing Twitter page, Barry Moltz has naturally built credibility around his small business influence.
A fun fact about Barry is that he has a second-degree black belt in Karate.  Whoa, this influencer absolutely means business.
---
Instagram Followers:  59k; Engagement Rate:  0.3%
Facebook Followers:  34k
YouTube Subscribers:  1.1k
From Australia, our next mention of social media influencers over 50 is the amazing Lee Holmes. A healthy lifestyle influencer that couldn't look any more amazing for her age.  Her health-conscious living must have something to do with it – whatever it is, I'm diving into her social media to find out.
Lee is a nutritionist, wholefood chef, yoga teacher, and she's also the director of Supercharged Food.  She's quite the health-powered package, isn't she?
On her Supercharged Food website and social media, she shares all about healthy living.  From food, products, gut health to wellness travel destinations.
Lee is passionate about creating great-tasting recipes that are simple, fun, and easy on the pocket.
Get her smoothie bowl recipe, learn how to create a kitchen garden, and get simple tablescape ideas for your home – all on her blog.
Over on her YouTube channel, she shares videos like "What on Earth is Diatomaceous Earth?", "Raw Lemon and Lime Cheesecake" and more.
---
Facebook Followers:  162k
Twitter Followers:  56.9k
Instagram Followers:  5.2k
Pinterest Followers:  27k
Green fingers, anyone?  Well, I'm feeling ambitious especially after a few doses of Robin Horton through her Urban Gardens blog.
Robin is an over 50 home and garden influencer with a passion, especially for garden tourism – with design and wanderlust at heart.
She's been storytelling and creating content since 2009.  You'll find her inspiring posts on the Urban Gardens blog such as "Horticulture Therapy Cultivates Healing and Hope for Seniors", "Last Minute Cool Garden and Nature Gifts for Kids", as well as climate change topics like "How to Make Compost from Recycled Materials" to motivate you to garden responsibly.
Some of her brand collaborations include Tourism Victoria as well as Trivago Magazine.
Robin has many fascinating life adventures, from stepping off a cliff in Utah to walking across the border from Israel to Jordan.  She's definitely someone you'd want to have a cuppa tea or coffee with and listen in on all her stories.
Urban Gardens has a particularly high influence on Facebook, so this may be an ideal collab opportunity for brands looking to tap into this specific platform.
---
Facebook Followers:  9.7k
Pinterest Followers:  10.8k
Twitter Followers:  4.4k
Instagram Followers:  2.3k; Engagement Rate:  4.38%
The only thing better than following a makeup influencer is following a 50-year old that loves drugstore cosmetics.
Aging gracefully and inspiring us all to do the same, Audrey Stefanik is a makeup and skincare influencer with women over 40 at heart.
I must say, though, I'm not over 40 but yet I've fallen in love with Audrey's content.  From her vibrant pics and videos on Instagram where she shares content like bright lip colors for the spring season to awesome posts on her Cremes Come True blog like "how to apply foundation over 40", "fast makeup favorites", "the best drugstore primers for color correction", and more.
Seriously, who doesn't love drugstore makeup dupes?  Face, eyes, lips, cheeks, hair, and skincare – Audrey Stefanik will guide and inspire you through great quality budget-friendly cosmetics.
As credible as she appears, it's no surprise some of Audrey's brand collabs include names like Wet 'N Wild, Wander Beauty, Meaningful Beauty, Crepe Erase, and more.
---
Facebook Followers:  54.2k
Instagram Followers:  14.9k; Engagement Rate:  1.03%
Not every influencer can draw you in with such strong attention, but Marc Ryan certainly does.
He's a licensed acupuncturist and herbalist that has dedicated his life to helping people recover from Hashimoto's Disease through his practice of functional medicine.  Both he and his daughter are affected by the disease, so his dedication to creating content around this topic couldn't be any more authentic and motivating.
He is 57 years old with 18 years of experience in Chinese Medicine.  Marc is also a Hay House author of "How to Heal Hashimoto's" and "The Hashimoto's Healing Diet".
Marc's followers will be gipped by his deeply thoughtful posts under catchy themes like "Today's Hasimoment".  He'll inspire you with moving messages like "make sure you spend some part of the day outside (away from other people).  This is a remarkable opportunity to cue into your own natural rhythm".
Some of his brand collaborations include Four Sigmatic, Pique Tea, Earth Medicine Hemp, and more.
You can find out more about Marc Ryan and what he does on his Hashimotos Healing website.
---
Facebook Followers:  298k
Instagram Followers:  8k; Engagement Rate:  1.25%
Twitter Followers:  3.9k
Passionate vegan enthusiast, Nancy Montuori adds to our amazing list of social media influencers over 50 with a very interesting background story.
From her life-long love for music, working at the Warner Bros Records for 23 years, her career took a turn after watching "Forks Over Knives".  It was at this point she became strongly devoted to living and inspiring others to live a healthy life through plant-based nutrition.
And the rest, they say, is history.
With her Easy 5 Ingredient Vegan Cookbook plus all of her fulfilling online recipes, the vegan lifestyle couldn't get any more appealing.
Nancy powers the content of her Ordinary Vegan recipe blog, podcast, and social media profiles including her massive 305k follower Facebook page.
From vegan spinach pancakes, the vegan sweet potato burger, slow simmering collard greens to a soulful Asian-inspired chickpea noodle vegetable soup.  Comfort food for days.
Her collabs include various vegan brands, from skincare to food.
For more about Nancy Montuori and her recipes, visit the Ordinary Vegan website.
---
Facebook Followers:  49k
Twitter Followers:  100.2k
Instagram Followers:  20.1k; Engagement Rate:  1.1%
Lori Shemek, PhD CNC, is a health, weight loss, and nutrition expert.  She's also a keynote speaker and happens to be Huffington Post's Top Health Expert.
She's a pretty big deal.
Once you dive into her content, you'll understand why she's the influential expert that she is.
Lori educates her followers about the health benefits of sprinkling mustard powder on broccoli. You'll learn how dark roast coffee causes a 23% reduction in DNA damage in white blood cells. Also how traditional bread produces compounds that trigger receptors in the brain, the same triggered by drugs – and so much more original fascinating health content.
Over on her blog, she shares posts on recipes, inflammation, weight loss, diet, optimal health, anti-aging, fitness, and emotional balance.
Lori Shemek is a must-follow for every health enthusiast, and brands looking to collaborate with her will benefit from her industry authority.
---
Instagram Followers:  209k; Engagement Rate:  2.47%
In just three years, 51-year old Tamara Salvetti has built a 160k follower influence around her passion for farmhouse decor.
Warm living rooms, cozy porches, natural decor textures, rustic furniture, simplistic living, and a whole lot of love and humor – all inspired by Tamara.
If you have a twinkle in your heart for the farmhouse lifestyle, Tamara Salvetti is the influencer to connect with for all things DIY and home decorating.
"What a beautiful piece!  Love this hutch idea and how you decorate it so perfectly!" – is how she inspires her followers.
Some of Tamara's brand collaborations include Vista Print, Safavieh, Adam's & Co, and more.
Let Tamara Salvetti charm you away with farmhouse living, and go follow her on Instagram here.
---
Instagram Followers:  6.4k; Engagement Rate:  1.06%
Cameron Weston is my hero.
Why?  Because his baked treats may look ugly, but they taste amazing.  And I think that represents most of us baking enthusiasts, don't you think?  Not everyone's baked creations turn into those glossy masterpieces we see in magazines and fancy Instagram posts.
So, I love Cameron with all my baking-loving heart.
He started the Ugly Desserts blog in 2018 with a particular interest in small bite-sized treats, cakes, pies, and bread.
He once started collecting recipes during his annual holiday tree-trimming party – and let's just say that the party became a hit, with his last party serving 27 deserts.  Twenty-seven.
From salted caramel and chocolate shortbread bars, shamrock shake pie, hot chocolate cookies to Bailey's Irish Mocha layered brownies – Cameron's recipe posts, in all their "ugliness", are mouthwatering.  You can almost smell and taste them.
For more on Cameron Weston and his Ugly Desserts, go follow him on Instagram here.
---
Instagram Followers:  4.5k; Engagement Rate:  0.14%
What happens when a boomer blogs with a millennial mind?  Well, Antionette Blake happens, that's what.
58-year old Antionette is a lifestyle, education, training, and podcasting enthusiast that is passionate about teaching others how to leave their legacy through a blog or a podcast.  She's also a professional speaker.
From topics like "podcasting your purpose" on her blog to videos like "basic blogging tips for beginners" and "power of podcasting" on her growing YouTube channel – Antionette has an obvious talent for inspiring her generation to take the leap and become creators through modern digital tools.
Her Delblogger blog is packed with knowledge and resources to help her followers along their journey.
---
Instagram Followers:  411
Jackie proves that even over 50, it's never too late to turn your life around and become one of those admired social media influencers.
Having lived most of her life with an office job, it was at 53 years that she had the life-inspiring moment to start The Social Media Virgin.
From sunny North East, Jackie is a travel lover, foodie, and cocktail taster.
All it takes is a glance at The Social Media Virgin blog to be drawn into her exciting world.
It's posts like "top tips on how to spend a weekend in Warsaw Poland", "how to stay at Wynn for free", "9 amazing places you must visit in Bali", "best 5 crazy money-saving tips for Las Vegas", and so much more.
From travel guides and tips to food and drink reviews – Jackie will keep you entertained, informed, and inspired, post after post.
---
Instagram Followers:  145k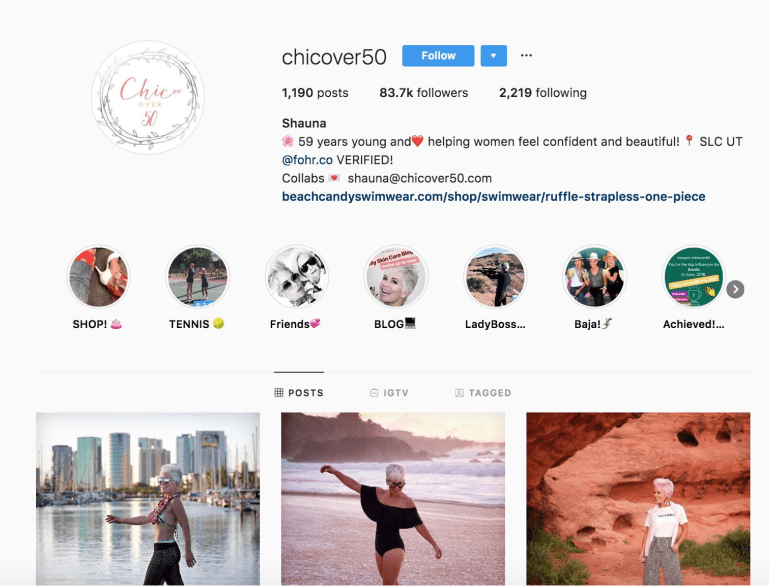 With over 145K followers, Shauna is one of the most popular names in the industry today. Out to, "help women feel confident and beautiful". This diva started her journey back in 2015.
She's also popular for her Chic Over 50 blog that has a good number of visitors. While she appears to be most engaged on Instagram, you will find her on other platforms as well including Facebook (13K+ followers) and Pinterest (345+K monthly views).
She posts everything from her modeling shots to casual clicks. You will notice a lot of bright colors in her photos. Plus, her "live stories", posted regularly, are also quite popular.
---
Instagram Followers:  64.3k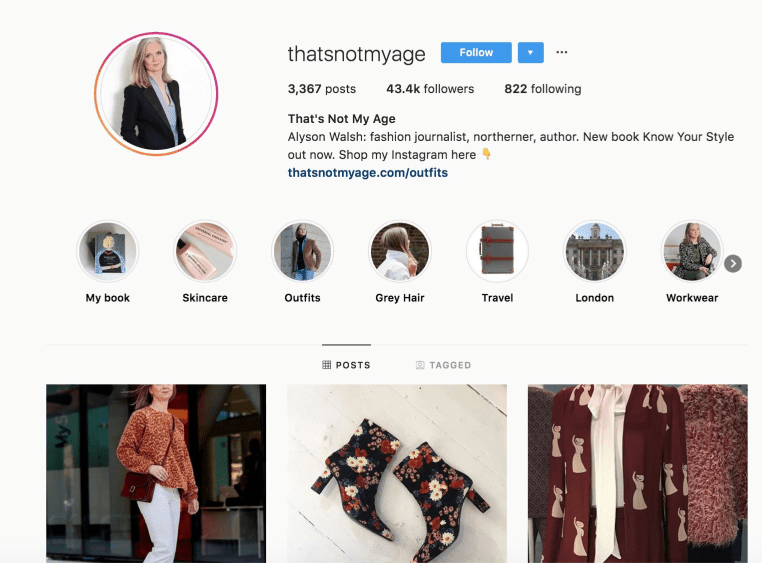 Alyson Walsh is an influencer who may appear like a social media model but this 50+ woman excels in other fields as well. She's a published author with two books under her credit namely Style Forever and Know Your Style.
She's said to be a critic as she has been the editor of a known fashion magazine and currently edits That's Not My Age, a lifestyle and fashion blog that mainly targets women.
Walsh currently enjoys 42K+ followers but the interesting bit is that her posts are not only for women her age but for all age groups.
She is doing quite well and even owns a store.
---
Twitter Followers:  34.1k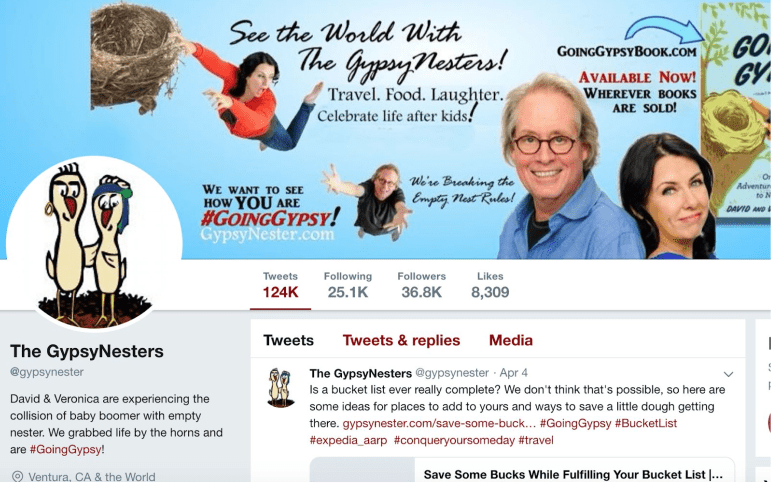 If you are planning on traveling with your partner after you retire then take a leaf out of David and Veronica James' book. They appeared on the map in 2008 when they decided to travel and reach a wide audience after not having much to do in life.
They do not have Instagram accounts yet but they enjoy a huge number of followers on Twitter – over 34K.
You will find a lot of interesting stuff on their website including travel tips and some exciting videos. Plus, the website can be a good option if you are looking for coupons.
---
YouTube Subscribers:  1.06M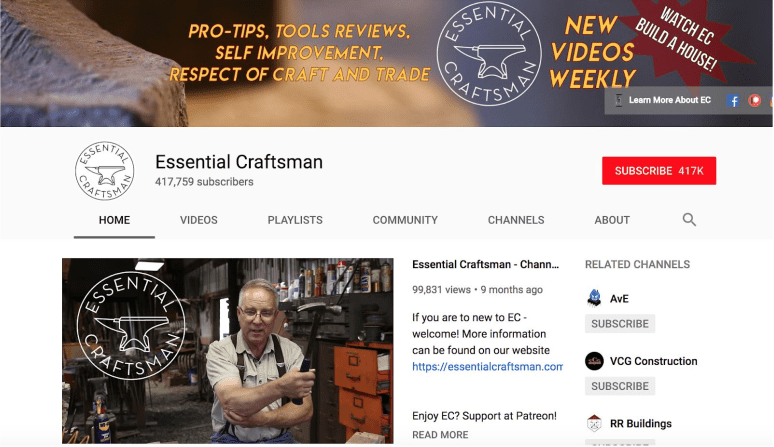 Wadsworth proves that YouTube can be good no matter how old you are. His channel, Essential Craftsman, is quite a success with over 1 million subscribers.
The page can be a good place if you want to learn about construction and other trades. Wadsworth shares his expertise and opinions on a variety of topics including history, tools, etc.
He is one of the few people who decided to unearth the potential of the internet instead of hanging the boots. He's spreading knowledge on the web while making a good amount of money.
He has over 40 years of industry experience that puts him in a great position. His channel has over 134 million views. Plus, he's present on other platforms as well.
---
Facebook Followers:  39k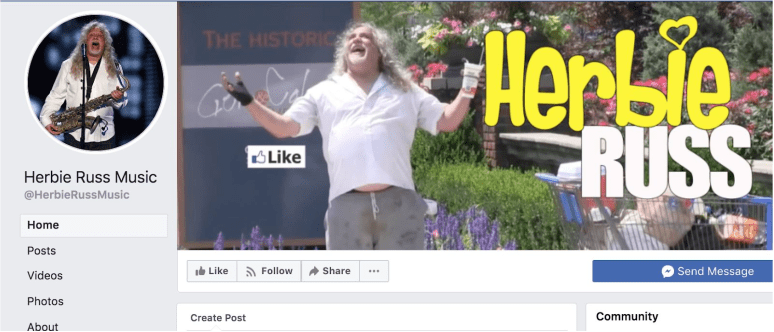 Russ is another YouTube genius with over 51,000,000 YouTube views. He's mainly on Facebook with about 39K followers but his videos often go viral and can be found on different platforms, uploaded by his fans and followers.
Russ is a musician but his videos mainly talk about positivist and the importance of charity and helping the poor.
You'll be surprised to see some of his videos as they're very generic and not made using the best editing software or camera, yet they receive a huge number of views mainly due to the power of content.
He connects with his audience as he speaks their language. He also has his own website where you can find more information about him and also watch his videos.
---
Facebook Followers:  472k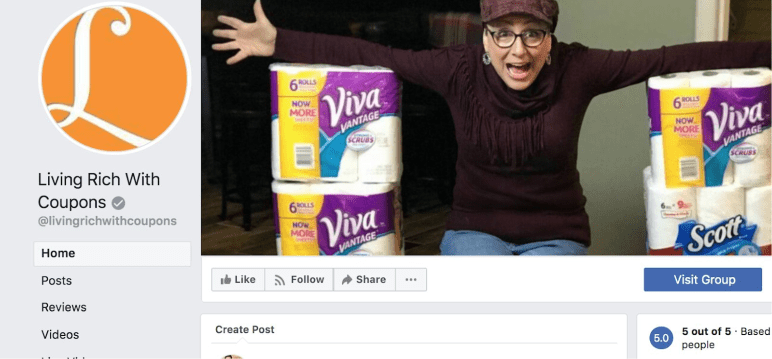 Livesey's story is truly motivational. She talks about living a tough life especially after her husband lost his job. This made her find ways to save money and she turned to coupons.
The first year, she saved $11,000 and decided to share her secrets with the world through her blog. It quickly gained steam, and now she has over 470k Facebook followers.
Her blog is now a full-fledged business as she has a team of over 12 that work together to keep it growing.
---
Instagram Followers:  1M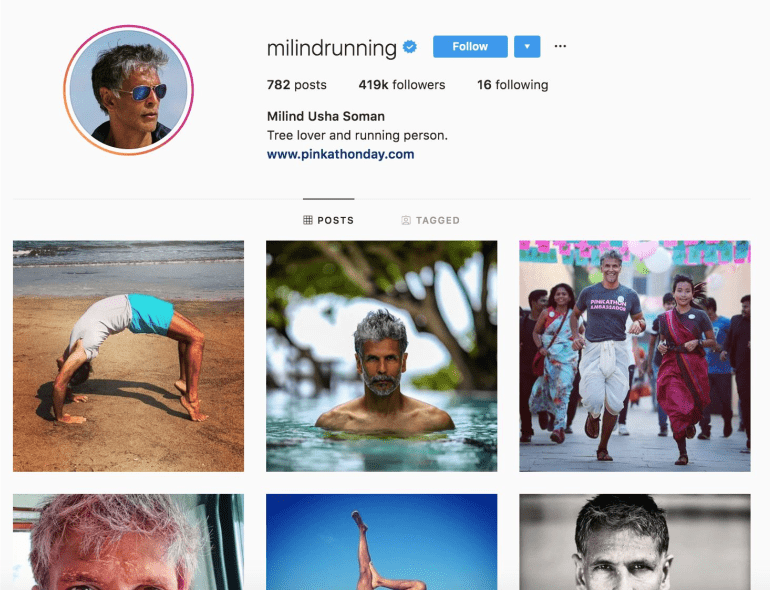 Soman may not be the most popular name out there but he's very well known in India for his good looks and fitness mantra.
He was a top model in his prime but still continues to influence people with his social media posts.
This 50+ marathon runner has over 1M Instagram followers and his own site which he uses to motivate people to live a healthy lifestyle.
---
Do These Over 50 Social Media Influencers Inspire You To Become One?
These over 50-year-old men and women prove that it's never too late to try the web and become big social media influencers. They're buzzing online from Instagram to Facebook to Twitter to YouTube.
So, if you have an idea then start. The internet is waiting for you.