Social media engagement rate is a very important metric and one of the few things a brand would like to know before they decide on an influencer. Unfortunately, both businesses and influencers struggle to improve or even maintain a good engagement rate.
In this ultimate guide, we'll provide tips on how to improve engagement rates on social media. Let's start:
Understanding Engagement Rate
The engagement rate defines how engaged your audience is. It's a metric that tracks how actively involved are your followers with your content. There are a variety of factors that decide the engagement rate.
Here's how it works on every platform:
Blog or website: Average page views, shares, bounce rate, form conversions, scroll depth, and average time spent on a page.
Facebook: Comments, shares, reactions, and clicks.
LinkedIn: Interactions, impressions, clicks, and followers acquired.
Instagram: Comments and likes.
YouTube: Likes and comments.
Twitter: Likes, retweets, and comments.
Pinterest: Pins, likes, and comments.
Email campaigns: Click-through rates and open rates.
Influencers mainly work on social media engagement as their main aim is to gain more followers and win big contracts.
Why Does Engagement Rate Matter?
Let's talk about the importance of increasing your engagement rate. It will not be wrong to state that it's the most important metric – more important than your follower count. This is why you should focus more on your engagement rate than your number of followers.
A high engagement rate shows two things:
Your followers are real.
Your followers care about what you post.
Brands know that not all followers are real and they have found ways to identify influencers who have fake followers. A low engagement rate indicates the presence of fake followers. This is why it's important that you work to improve your engagement rate.
Plus, a high engagement rate shows that your followers are interested in what you post. This means they're more likely to take your desired action, which is what brands want. The more engaged people are, the more likely they are to use products or services that you advertise.
What is a Good Engagement Rate?
This can be a very difficult question to answer because the average engagement rate changes from platform to platform and depends on several factors including the niche.
Here's a small breakdown to help you understand:
Anything under 1% is considered poor
Anything between 1% and 3% is considered good
A number between 3% and 5% is considered high
Anything above 5% is considered excellent
Again, this is generic and the number largely depends on your niche and platform.
A great way to compare where you stand is to check our app. We source real data from Instagram and present it in the form of a chart that shows the engagement rates of not just individual influencers but also the average user engagement rate.
Sample Engagement Rate from the Afluencer App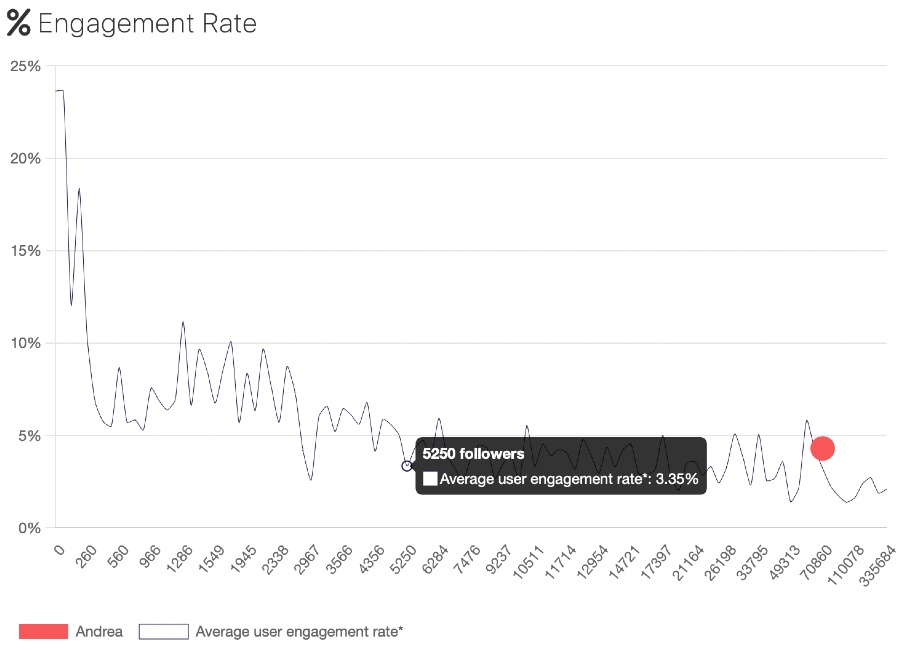 The above is a screenshot from Andrea, one of our top influencers with an engagement rate of 4.3%. This page shows she's at the top for influencers with a similar number of followers. This chart is regularly updated and shows a true picture of an influencer's reach. Registering an account with Afluencer will allow you to easily know your engagement rate and even compare it with a broader audience.
At Afluencer, we cater to all platforms, however, most brands pay attention to Instagram engagement rate and expect it to be around 3%. On the other hand, they don't pay much attention to Facebook as Facebook's algorithm only shows content to about 16% of followers, which is why the engagement rate on the platform is usually under 2%.
Similarly, Twitter is known to have a low engagement rate. It is typically under 1% for each tweet. On the other hand, you are expected to have a decent score on YouTube as the platform has an average engagement rate of 1.7% with some top influencers scoring a double-digit rate and earning more views than the number of followers they have.
TikTok is an exception with an average engagement rate of 18%. It has an excellent reach and has proven to be one of the largest social media platforms in the US with a strong global presence. This is one of the major reasons why so many new influencers are turning to TikTok.
Engagement Rate Based on Follower Count
In addition, the engagement rate also differs based on the number of followers. Here's a breakdown:
Influencers with 10K or fewer followers have an average rate of 4%.
Influencers with followers between 10K and 100K have an engagement rate of 2%.
The engagement rate is 1.6% for mid-range influencers – between 100K and 500K followers.
The rate is 1.3% for macro-influencers with 500K to 1 million followers.
The rate is as low as 0.8% for influencers with more than 1 million followers.
Social media engagement usually decreases as you gain followers as seen in the screenshot below: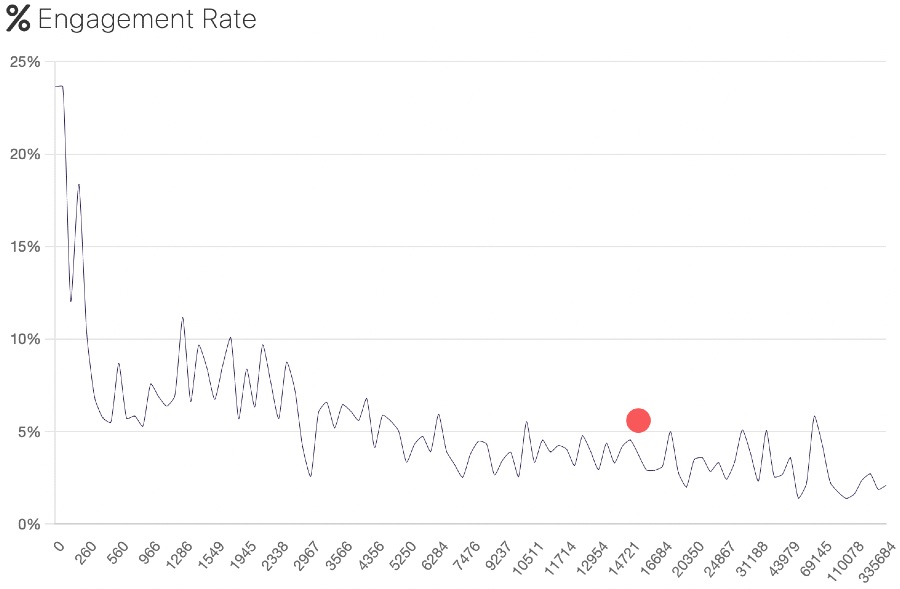 The screenshot is from Mike Lockhart's profile who is one of the most popular influencers with an engagement rate of 5.6, which – as the chart shows – is higher than the average. Charts like these make it easier to comprehend how good or bad your engagement rate is.
Influencers begin to lose engagement as they grow because the algorithm only allows users to reach a specific number of people. Still, there are ways to improve engagement rates.
How to Improve Engagement Rate on Instagram
Both brands and influencers love Instagram and it's the go-to platform for companies looking for a partner. The social media app is known for being user-friendly and offers some brilliant ways to improve engagement.
Here are a few tricks worth trying:
#1 Go Live
Instagram Live is the safest and most reliable way to increase engagement. About 70% of all posts on the platform go unseen. A great way to ensure you get heard is to go live since the platform usually sends notifications when someone goes live and your name will also be on the top when you're live, thus bringing you more attention.
The demand for live content on Instagram is very high and more than 100m people watch live streams on the platform. In fact, about 80% of Instagram users prefer live streams over blog posts. The key, however, lies in managing your live streaming.
Know what to talk about and find the best time to go live. Ideally, you should go live when your followers are available. You can find the right time by looking at stats and paying attention to user activity.
You can use this opportunity to interact with your followers, form a connection with them, and encourage them to engage more. Live streams can also be used to promote special events such as a new collaboration, your birthday, or a giveaway.
Another great option is to make your followers a part of your sessions. Instagram now allows users to join live streams, you can hold a session where you take calls from followers and have them join you live. This could encourage more followers to join your sessions and get engaged as being a part of your live session could make them feel important and wanted.
#2 Use Stickers in Stories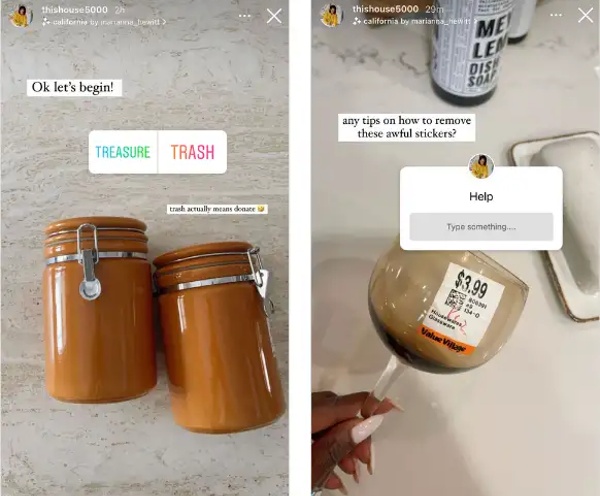 Instagram stickers can be used to encourage users to get engaged. You can use a variety of stickers when posting stories. Every click on a sticker is considered engagement, however, some stickers are more beneficial.
Choose stickers that get people involved and push them to 'talk' or 'share their opinion'. The question sticker is the most popular option. It gives followers a chance to ask questions and have direct conversations with the poster. You can give your followers a chance to ask questions related to anything from your professional career to your personal life.
Instagram will give you the option to answer questions through your story or DM. This simple trick can double your engagement but make sure to be smart. You might end up with a lot of questions – more than you can handle – and some can be very personal or crass.
Handle all questions with professionalism and make sure to respond to as many queries as you can. Your followers shouldn't feel ignored, or they will end up unfollowing you. A great way to save time is to combine multiple questions and answer them in a single post, especially if they're related. Also, consider posting video responses instead of written answers.
It might be a good idea to tag the person you're responding to when answering questions but anonymous posts can also be beneficial. In addition, you can also create polls and add your location to your story.
#3 Host a Giveaway
We all love free stuff and your followers aren't any different. Giveaways can boost engagement by more than 300% but you need to plan everything neatly. Know the right time to run a campaign and consider campaigns that run between 25 and 60 days.
Make giveaways easy. You shouldn't push your followers to work too hard as it could deter them. Also, avoid asking for personal information. Keep participation forms short and consider enabling the auto-fill option as it could improve conversion by over 180%.
A giveaway could offer anything from a discount code to a free product. The average price of a contest prize is $369 but you don't have to foot the bill. Brands are willing to sponsor giveaways. Find a Collab through Afluencer and plan your next giveaway.
The best way to generate engagement through competitions or giveaways is to use the follow/share/tag format where you encourage followers to spread the word to be eligible for the prize.
Be clear about the terms and conditions and make sure to promote the giveaway as much as you can. Also, your followers shouldn't feel cheated. Keep everything transparent and use a reliable method to find a winner. It might be a good idea to go live when announcing or selecting your winner as it could help boost engagement even more.
#4 Use Hashtags
Technically speaking, hashtags aren't designed to improve engagement. They're meant to increase reach but the two things are interlinked. The more people you reach, the more will be your engagement. This is why it is important that you make hashtags a part of your Instagram marketing strategy to push your Instagram engagement rate.
According to reports, posts with 30 hashtags perform the best. This is also the maximum number of hashtags you can use on Instagram in a single post. They can be in the caption or comments section. Moreover, you can also post hashtags on your stories.
You don't, however, have to keep adding hashtags if you can't find relevant hashtags to include. Hashtags are beneficial but they will only work if you use relevant hashtags. They should tap into communities that resonate with your posts.
Third-party tools can help you find relevant hashtags to include in your posts. See how each tag performs and choose accordingly. You can also work to create branded hashtags and encourage users to include those in their posts. Doing so can improve engagement as branded hashtags will bring you more eyeballs and get more people to take interest in your posts. The best way to promote branded hashtags is to link them to competitions.
#5 Try Instagram Collabs and Reels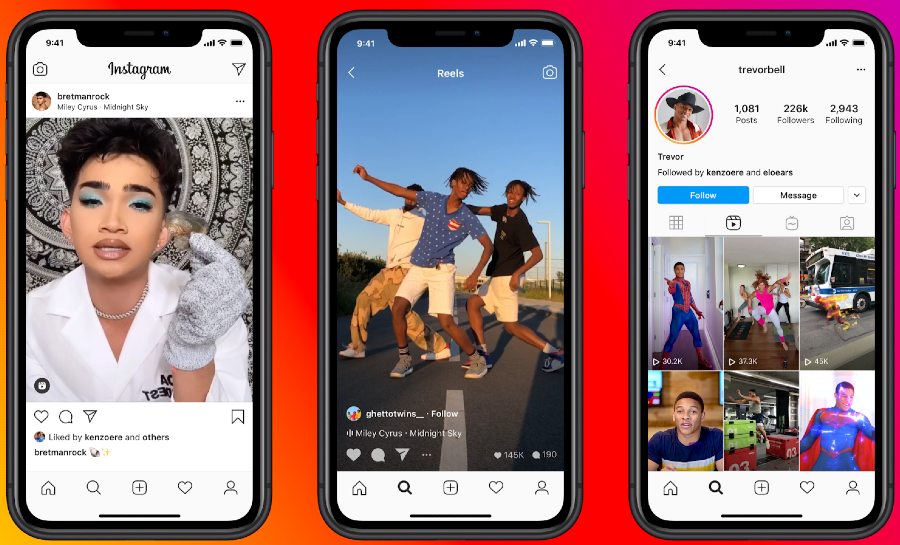 Instagram Collabs is a new feature that has proven to be very beneficial, especially Reels which have already won millions of users. With this feature, you will be able to join hands with other influencers and collaborate on a Reel or Feed post. The content that you create will be available for a larger audience to see. Posts will appear not only on your profile but the other user's profile as well, thus helping you both. This will allow you to not only share views but also comments and likes.
The key lies in being creative and working with a suitable partner. Reels, introduced in 2020, can be very beneficial but you have to be creative as videos can have a maximum run time of only 90 seconds. This feature is giving tough competition to TikTok and is already said to be more popular in India than TikTok. The feature has helped Instagram grow by over 4% in Brazil as well and the demand for Reels is very high in the US too.
You do not have to collaborate with others to create Instagram Reels. You can create solo reels as well. They are more popular in the entertainment niche but you can try Reels even if you fall into another category.
How to Calculate IG Engagement Rate
Now that you know how to improve the engagement rate on Instagram, let's talk about ways to measure Instagram engagement. The process can be a little complicated as it involves numbers and formulas.
Most people calculate Instagram engagement by followers.
It can be done by using this formula:
Engagement = (Likes + Comments) / Followers x 100
This is one of the easiest methods as information needed to calculate Instagram engagement rate using this technique is public and easily accessible. However, this might not always be suitable because not all of your followers will be very active and some may miss out on your posts. This is why some experts suggest calculating Instagram engagement by impressions.
Here's the formula to use:
Engagement = (Likes + Comments + Saves) / Impressions x 100
You will need to find impressions to be able to use this formula. Go to your profile, choose Insights, and select 'Post' to find impressions and engagement. You will be able to use this technique only if you have a business account.
Those who find it too complicated can always use free online tools to calculate the engagement rate. Since it's a very important factor, the engagement rate is also displayed on Afluencer profiles.

We highlight important data including engagement rate, media count, average likes, and average comments. The engagement rate displayed above is 'lifetime', however, we suggest that you at our special engagement rate curve to know exactly how an influencer performs when compared to other users:
The chart uses a dot to display where an influencer stands on the curve. You can use it to know if they have a good or poor score.
How to Improve Engagement Rate on Facebook
Facebook is still a very big name with over 2.9 billion monthly active users. Competition on the platform is huge and influencers are trying to outdo each other to improve Facebook engagement and get a larger share of the pie.
Here's how to improve your engagement rate on Facebook and what you can do to get more people to take interest in your posts.
#1 Prioritize Replies and Comments
Unlike Instagram, where people use the Explore feature to find new accounts, Facebook relies more on comments and shares to spread the word. Also, most people use Facebook to connect with brands and share their grievances. It's not the go-to place to find influencers but since a growing number of influencers now have online stores, it's important that you work to improve engagement on Facebook.
The platform even offers a review section where users can share their opinions on a brand. Even big names such as Huda Kattan have a review section and a Facebook store.

Unfortunately, influencers and brands do not seem to be taking Facebook very seriously. Users have to wait for 28hrs to receive a response on Facebook, whereas 85% of users expect to receive a reply in less than six hours.
If you want to improve engagement then you must be quick. Don't just wait for DMs but pay attention to comments as well. Respond to queries and comments. Facebook allows users to react to posts, you can use this feature to let people know you've noticed their comments. You don't always have to respond with a message. However, make sure to be quick to respond to DMs as Facebook shows how responsive you are. Anything under 24hrs is considered acceptable. A low response rate could impact your engagement.
#2 Know When to Post
You must post according to your followers. Pay attention to the numbers and find the best time to make a post so that you can get more engagement. Based on the average global audience, the best time to post on Facebook is Mondays through Fridays at 3 am. However, this doesn't apply to everyone as the right time depends on a variety of factors including your target location.
It is best that you pay attention to analytics and see when you are most likely to generate engagement. The key lies in posting when your audience is more likely to be active. If you don't post at the right hours, your post will probably get ignored and receive little to no engagement.
The concept is self-explanatory. Your post will not get much response if you post at midnight when very few of your followers are active. It will get buried on the timeline when your followers wake up in the morning to check the latest posts. Use a Facebook scheduling tool to ensure your posts reach your audience at the right time.
#3 Leverage Relevant Events
Make sure to leverage the latest events and happenings. People turn to social media to look for the latest news, discounts, events, and more. Talking about hot happenings will ensure you get good engagement. However, you need to be very careful about the events you talk about.
They should be relevant and something your audience would care for. It might be a good idea to find events related to your niche and talk about them. You could also create your own event on Facebook such as virtual meet and greet sessions and get more people on board.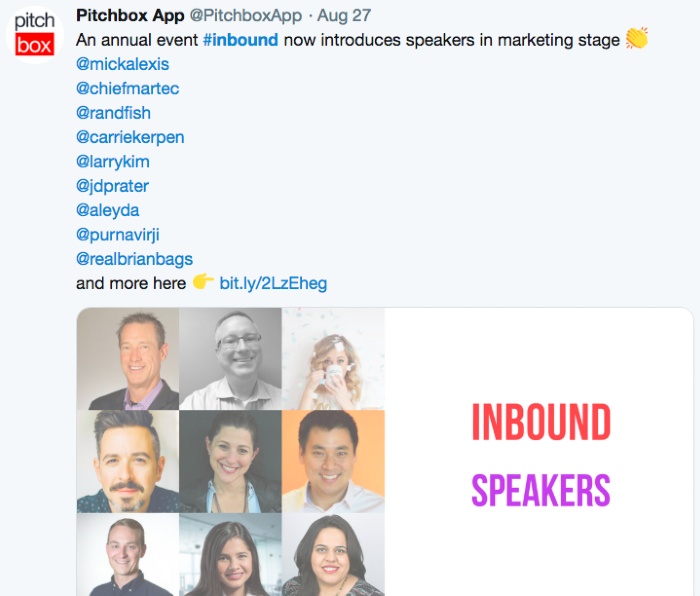 Events work very well on Facebook. You can create a real or virtual event and send invites to your followers. This is a great way to reach all your followers since not everyone will be able to see your posts organically. Facebook will allow your followers to invite more people, thus increasing your reach and engagement. Moreover, it will also send regular reminders so that attendees don't miss out on the event.
Start by whetting your followers' appetite and understanding what they want. You can increase engagement by asking them questions related to the event. For example, if it's a live session then ask your followers what they'd like you to talk about. This will push them to comment and boost your engagement.
#4 Post Both Videos and Photos
Post a mix of content on your page and don't stick to a single type. Since Facebook is very generous, you can even write long blog posts and add relevant images.
Posts with visuals generate 2.3x more engagement than posts without visuals. But, don't just post visuals—make sure to make it more interesting by adding a small caption. Anything under 100 words is okay but, if you want to talk more, then you can post long stories or blogs as well.
Videos appear to be quite popular on the platform. Since they play automatically, they can boost your engagement rate and bring you more viewership. We suggest that you post exclusive content on your Facebook page if you want it to go viral. Posting the same thing on all your social media pages can backfire.
#5 Add a CTA
The importance of a Call to Action (CTA) cannot be overstated. It tells people what to do and can help boost your Facebook engagement rate. When it comes to engagement, a CTA can be as simple as a question. Ask your followers what they think about your post, the outfit you're wearing, or the topic you're discussing.
You can even ask a generic question such as a tip on how to lose weight, weather conditions in their city, and their favorite drink. Keep the language simple and ensure your CTA works well with your target audience.
How to Calculate FB Engagement Rate
Facebook defines engagement as "The number of times that people engaged with your posts through reactions, comments, shares, and clicks."
Just like Instagram, most people choose to calculate FB engagement rate through followers and fans. Use this formula to find your answer:
(total engagement / followers ) x 100 = Engagement Rate
For example, if you posted a new photo to your 10,000 fans and it received 100 comments, 200 likes, and 100 shares, then your engagement rate will be calculated through this method:
Total engagement = 100+200+100 = 400
Engagement Rate = 400/10,000 x 100% = 4%
How to Improve Engagement Rate on TikTok
Next is TikTok, the world's fastest-growing social media platform with over 1 billion active users. They say it is easy to increase TikTok engagement but you still need to put your best foot forward to ensure you do well on this highly competitive platform. TikTok is a great platform as it has proven to have highly active and engaged users. Brands love it, hence it doesn't come as a surprise that influencers are working to grow on the platform.
Here's how to improve the engagement rate on TikTok:
#1 Use the Q/A Feature
TikTok introduced the Q&A feature in March 2021. It works just like the Instagram QA feature and allows creators to add a question-and-answer section to their profiles. You can activate this feature by going to your bio. It's available for all users and there's no limit on the number of followers.
Since users want to know more about influencers, this feature can prove to be very beneficial. Followers can submit questions through a submission box and they will appear on the creator's profile. Followers also get the option to add comments under these questions, which can help boost engagement more.
As an influencer, you will have the option to take or decline questions. We suggest that you reply to them with a video since TikTok users are looking for video content. Try to take as many questions as you can. Do not make your fans feel ignored.
Here's how to activate the TikTok Q&A feature:
Open your TikTok profile and click the three dots that appear on the top of your screen.
Choose Creator Tools.
Select Q&A.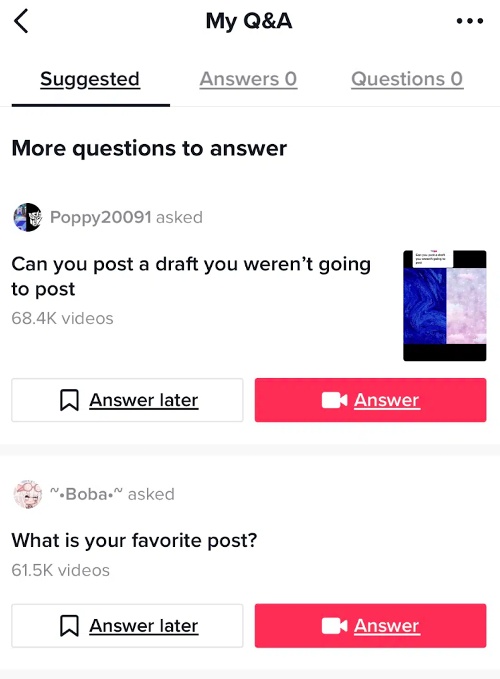 You will now be able to answer your own questions or answer questions posted by others.
#2 Use Stitch and Duet Feature
Here's another TikTok feature that can prove to be very beneficial for influencers looking to improve TikTok engagement. These are two different features that many call TikTok's USP. They are both easy to use and can help you increase loyalty, engagement, and fan following on the platform.
With Stitch, you will be able to add someone else's content (video) to your content. This might sound crazy but Stitch is designed to allow people to be more creative and use existing content to make something unique. You can use someone's entire video or in part to create your own video.
You can trim existing videos down to your required length and then add fresh content to create something new. The best way to use this feature to improve engagement is to post something that others would like to use. You can create a chain by asking questions so that your followers can answer and start a conversation.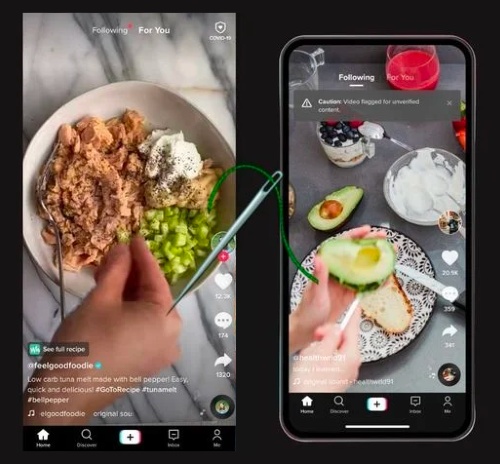 On the other hand, the Duet feature allows users to add unique content to another user's content. and brings the best of two influencers to create something compelling.
This feature is mainly used to create entertaining content such as singing and dancing videos. Unlike the Stitch feature, the Duet feature involves two videos playing side by side. You will be able to see both at the same time.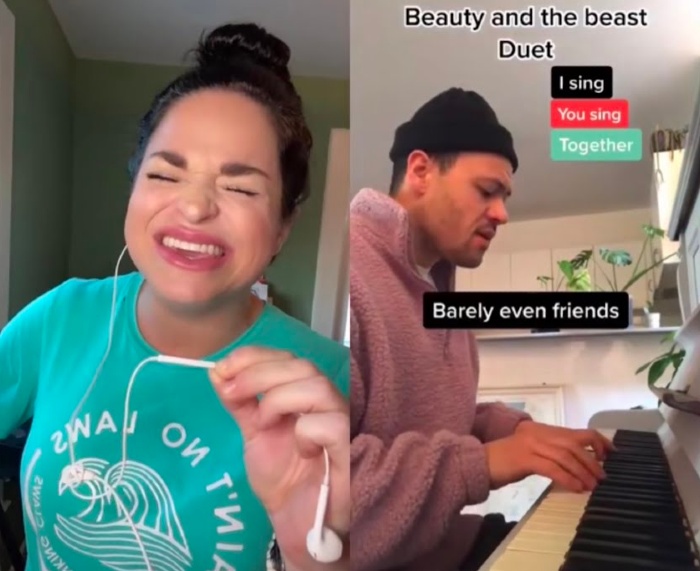 It allows users to connect with influencers. You can create a video lip-syncing to popular dialogues and your followers can join you to complete the duet video. You can even make a video highlighting your talent and have your influencers show yours.
These are great for imitation videos, reaction videos, and skits. Come up with something nice to create a Duet chain. It happens when multiple users create a Duet together. The more users join a video, the more popular it gets. Search for #DuetChain on TikTok to see the latest chains on the platform.
#3 Create and Promote Challenges
Hashtags are popular on TikTok and can be used to increase engagement. Come up with a hashtag challenge and get more people to jump on the bandwagon. Here's how to promote hashtag challenges on the platform:
Take part in challenges available on TikTok.
Create your own challenge and come up with interesting hashtags.
Engaging with other users is a great way to improve your engagement. Start by looking for interesting challenges and find challenges that go well with your niche. At the same time, create your own challenge that syncs well with your followers. Your aim should be to create innovative content that encourages people to take part in your challenges.
TikTok is made to entertain people, so come up with something that's funny and entertaining.
#4 Look at the 'For You' Page
If Instagram has Explore, TikTok has For You. It's the main feed on the platform and is meant to highlight the latest and trending videos on TikTok. Most people only use it to find fresh videos without realizing how it can be used to increase engagement rates on TikTok.
Videos are selected based on your uploaded content, past activities, and interests. This page can help you determine what works and what doesn't. You can use this to think of new content and create compelling videos. Your aim should be to create videos that appear on the For You page as they will receive instant views and improve your engagement.
The page and you can continue to scroll it down, however, there's presently no way to rank well on it. The most you can do is create content that grabs the attention of TikTok users. We suggest that you use the '3-second formula' as users on TikTok are known to quit videos in the first three seconds if they don't like what they see.
According to reports, videos that generate engagement in the first three seconds are more likely to get shared and appear on the For You page. This rule works in combination with the batch theory that can help understand TikTok's algorithm.
Videos uploaded on the platform are first shown to a small group of people to determine how entertaining, engaging, and useful they are. Videos that receive a good response from this small group are spread to a larger audience. If you fail to win this small group, you'll fail to increase your reach.
#5 Keep an Eye on the Numbers
Let's talk about the numbers again. TikTok Analytics provides great insights and can help you understand your viewership including how users engage with your content. This information can help create your TikTok marketing strategy.
Start by understanding who watches your videos. This might come as a surprise but your audience on TikTok might differ from your audience on other platforms. Find their gender, location, and age. This information can help you understand what people want and where you should spend most of your time.
Analytics can also help you gather which of your content is popular and which content doesn't resonate with your followers. The trick is simple: create more of what works and spend less time on what doesn't. While experimenting is important, users on TikTok usually like to see the same thing.
You will be able to engage with your followers only after you understand them and their needs. Someone in the US, for example, wouldn't be intrigued by the same thing as someone sitting in a small town in Iraq.
How to Calculate TikTok Engagement Rate
It's easy to calculate the TikTok engagement rate. You will find a variety of ways to calculate TikTok engagement.
Here is the most popular formula:
[(Number of likes + Number of comments) / Number of Followers] * 100
You will need metrics including the number of likes, comments, and shares to use this formula. Fortunately, the built-in TikTok Analytics platform provides all this and more.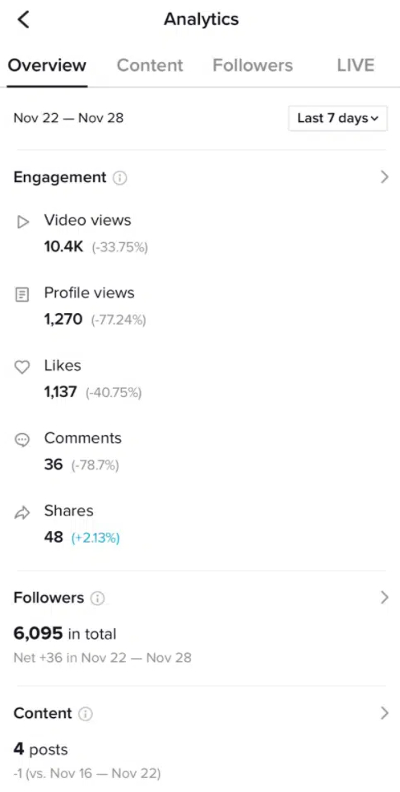 Your engagement rate will keep changing as the number of followers grows or decreases.
↪ GET INSPIRED BY MICRO-INFLUENCERS WITH HIGH ENGAGEMENT RATES
How to Improve Engagement Rate on LinkedIn
Not many people think of the engagement rate on LinkedIn despite it being one of the largest social media platforms. Most people use it to find jobs but it can also be used to build authority and make a mark in your industry.
This can be done by sharing blogs and talking about points that people are interested in. Here's how you can improve your engagement rate on LinkedIn:
#1 Offer Quality Content
LinkedIn isn't like other platforms. People don't look for attractive photos or fun videos on this social media site. They're looking for specific solutions, mainly related to job hunting, recruitment, and business management.
Here are some content ideas:
Share a story with your followers.
Start an unbiased debate.
Encourage people and share real-life case studies.
Bust a myth.
This might come as a surprise to some but text-only posts can be quite effective on LinkedIn, however, adding some relevant photos, especially infographics, can be quite effective.
Publish short articles. Remember that you don't post blogs on LinkedIn for SEO purposes, hence there's no need to create long pages. You must, however, use catchy subheadings and a neat format. Moreover, include actionable tips and real-life examples.
Your content should be designed to present you as an expert in your niche. LinkedIn is not the best platform to directly market your products or services. Adding a CTA, in the end, can be useful but don't post salesy content as it will not generate much engagement.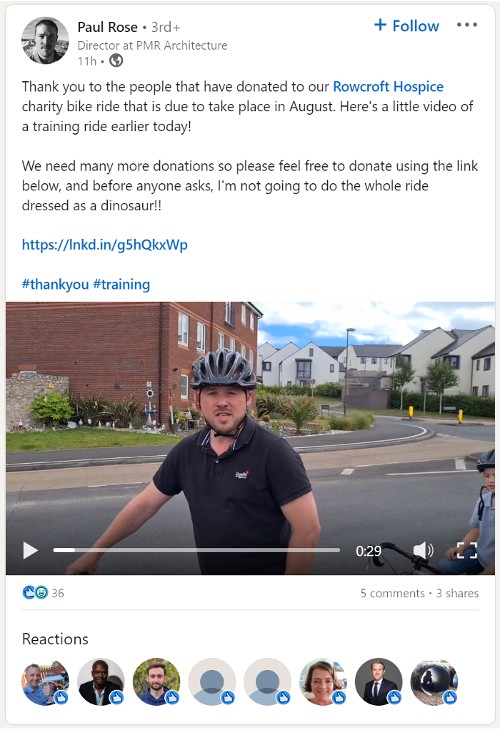 Unlike photos, videos seem to do well on LinkedIn. They need to be short and relevant. Don't link to external videos, we have found that videos uploaded directly to the platform do well.
Furthermore, use hashtags and emojis as they do quite well on LinkedIn.
#2 Build Relationships
Use LinkedIn to network with like-minded people and build relationships. This can be done by interacting with other LinkedIn users, increasing your network by following others and accepting requests from followers, and asking for recommendations.
Recommendations can prove to be quite useful as they help validate the information given on your page and allow others to know you're as qualified or talented as you claim to be. Ask your friends or professional contacts to talk about their experience of working with you and how you helped them achieve their goals. People are more likely to give recommendations when they have worked with you. A great way to push them to do so is to leave a recommendation first and ask them to do the same.
Furthermore, comment on posts you see on LinkedIn and spark a discussion. Be quick to respond to people who engage with you and regularly ask for feedback. Since LinkedIn houses business persons, it can be a great platform to ask for ideas from other experts.
#3 Be Consistent
LinkedIn loves users who are active and engaged, so make sure to be consistent. Post frequently and consider creating a posting schedule to improve engagement on LinkedIn.
You have to find the right balance as posting per day can backfire. Experts believe that posting thrice a week is enough on LinkedIn. Take the weekend off since LinkedIn doesn't have much engagement on Saturdays and Sundays.
Consider using a scheduling tool and setting up your posts to go live during peak hours. According to research, Mondays to Fridays between 8am to 2pm can be a good option.
#4 Share Who You Are
It is very important to work on your LinkedIn profile and tell people exactly who you are. You can only mention a few things in your Instagram or Facebook bio but LinkedIn allows you to do a lot more.
Users pay a lot of attention to one's educational background and work experience on Instagram so share everything related to your education, work, and certification. Consider it a detailed resume and explain everything you have achieved in your career.
For example, don't just mention that you have experience working for companies like Apple and Tesla. Share what you did for them. Talk about what you helped a company achieve. Mention specific numbers such as: helping the company reduce churn rate by 5%, or successfully introducing a new product. In addition to this, also mention your social media handles and make sure to keep all your information updated.
LinkedIn doesn't give users the option to upload many photos or create albums, so utilize what you have and put up a professional profile photo. It should be of high quality and relevant to what you do. For example, if you are a lawyer then consider posting a photo in your gear but make sure it looks professional.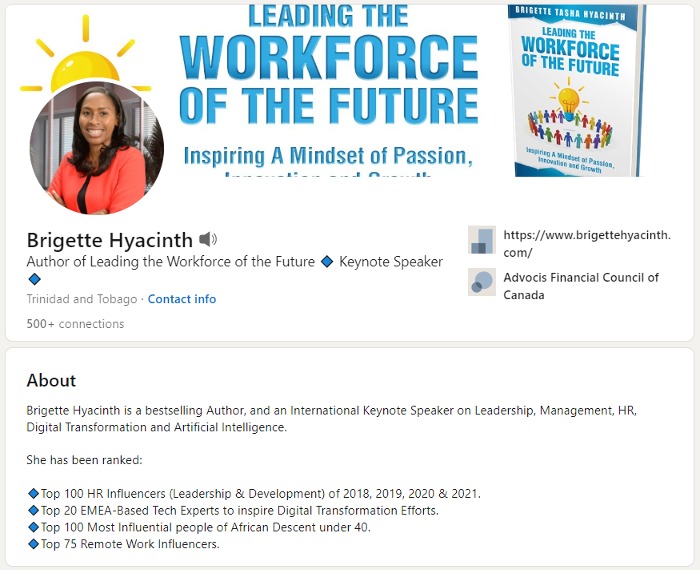 Look at the example below. Author Brigette Hyacinth makes good use of LinkedIn space and talks about her achievements and profession in simple words. Doing so will help people engage with you. Users on LinkedIn are more likely to connect or follow users who they have something in common with – it could be education, qualification, ambition, etc.
#5 Take Part in Groups
There are more than 2 million active LinkedIn groups with millions of users. You will find all kinds of groups, it's all about finding relevant groups and taking part in discussions. The average LinkedIn user is a part of seven groups. Most do so to look for jobs and find out more about the latest happenings.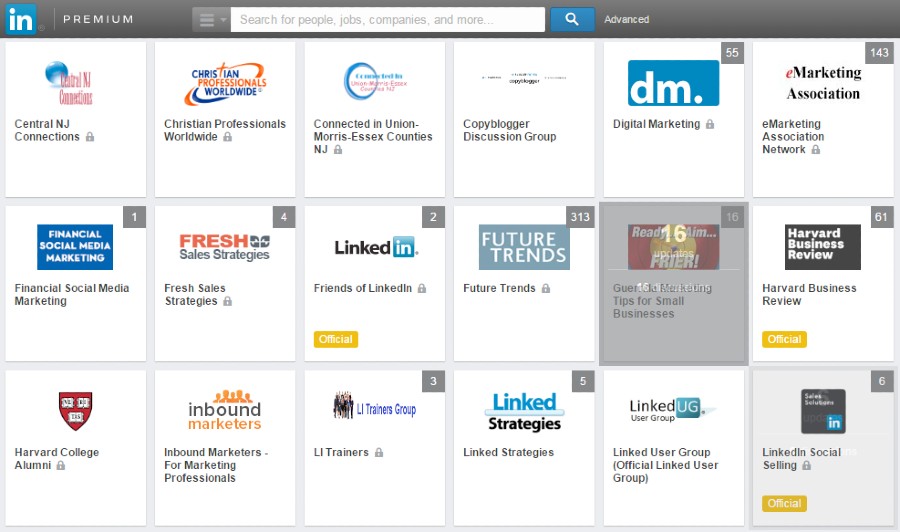 Once you get big enough, you can even create your own LinkedIn group and ask people to join it. This will prove to be a success only if you have enough followers. Also, you must give them a reason to join your group. This could include exclusive content, direct access to you, gifts, etc.
Use groups to engage with other people, foster relationships, and promote yourself. Most public groups will allow you to share your blog to establish yourself as an industry leader. End your posts with a CTA to generate engagement and get more people to follow you.
How to Calculate LinkedIn engagement rate
LinkedIn Analytics provides valuable data but it doesn't calculate the engagement rate. You will have to do it manually by using a formula that takes into consideration your reach and the total number of comments, shares, mentions, clicks, and likes. You will find this information in Analytics.
Here's the formula:
(Total number of comments, shares, mentions, clicks, and likes/ reach) x 100
How to Improve Engagement Rate on Twitter
Next comes Twitter, one of the largest platforms that are more commonly used by celebs and brands. However, influencers are also making a mark on this network now. Here's how you can improve engagement on Twitter:
#1 Retweet and Ask Others to Do the Same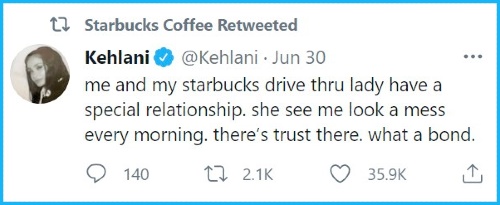 Retweeting is the same as sharing. You can encourage people to engage with your posts by retweeting what they post. Twitter shows when a post has been retweeted.
Start by retweeting posts from others. Even big names such as Kim Kardashian and Elon Musk retweet posts from followers and brands. It shows that you are active, engaged, and willing to spread the word. Once you retweet someone else's post, they may come back to your page to view what you have to offer and may even respond to what you have posted or retweeted. This will boost engagement. Similarly, ask people to retweet your posts.
You can do it by explicitly asking them to spread the word, however, a better option is to post something that's more likely to get shared. For example, share a piece of information that you know people would be interested in or offer discount codes encouraging people to retweet.
#2 Use Hashtags
It will not be wrong to call Twitter the birthplace of hashtags. Users turn to hashtags to find the latest information or happening topics and join conversations. You can also do the same. Want to talk about a specific event? Add relevant hashtags to show up when people look for that hashtag.
You can also pitch in conversations by using relevant hashtags and ask your followers to include specific or branded hashtags when they respond to you. Hashtags allow you to access a highly receptive audience that's already established and interested in what you have to offer. However, for this to work, your content must be engaging and interesting.
For example, include #Apple and other relevant hashtags when talking about Apple products. You can use #iphone #Applehacks and more. Anyone searching for Apple-related products or tips will come across your post and, if they like what you have posted, may engage with you.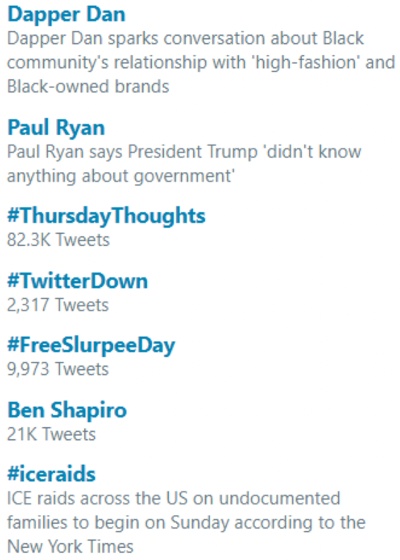 Twitter even has a trending section where you can see what people are talking about in a specific country or globally. Use this feature to find trending hashtags and use them in your post to increase engagement. This can be a great way to go viral as more people will get to see your post and may end up sharing it.
#3 Tag Others When Necessary
Just like other social media platforms, Twitter allows users to tag other Twitter users including individuals and brands. They will get a notification when you tag them and may choose to engage with your posts.
Do this only when you have a genuine reason to tag someone. You can tag brands when posting a review or complaint. You can also tag brands when you have a question regarding new products or policies. Similarly, you can tag people when you post a picture with them or have something to say to them.
A lot of people tag celebrities when talking about the latest industry happenings in hope of getting a retweet, which can boost their engagement. Also, tag people if you ever respond to them so that they know you have responded.
#4 Ask Questions
You can ask questions on Twitter in two ways: make a post and ask people to share their opinion or start a new poll.
Twitter polls are fun, interactive, and easy to create. You will be able to post polls with up to four response options. This option can be great because polls allow users to direct respondents to another page and the process only takes a second or two.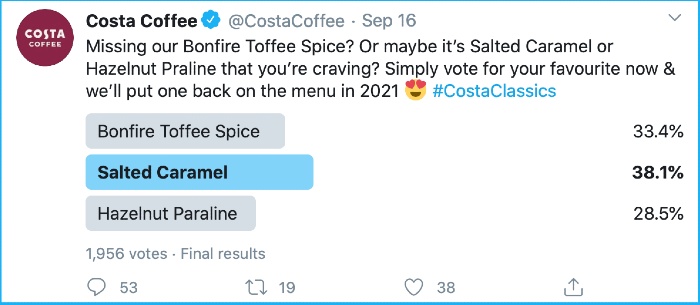 The best thing about Twitter polls is that results are available instantly. You can create polls by starting a new tweet and selecting the Add Poll option below. There are character limits, for example, a maximum of 25 characters for each poll option. Keep this in mind when creating polls. You can decide the length of a poll. It will end automatically when the date expires.
While polls are effective, they'll work only if you ask questions about things that people are interested in. Ask generic questions such as what you should talk about next or if they prefer dogs or cats. Again, polls should be relevant and not make people 'think' a lot.
Influencers can use polls to talk about the latest product launches, announce giveaways, hype new happenings, etc. Make sure to cover trending topics and time your polls cleverly. For example, talking about Christmas during the holiday season. Posting Christmas-related polls in March will not result in high engagement.
#5 Share Links
This might sound like an odd way to improve the engagement rate on Twitter but it does work well on the platform. This is because clicks count toward engagement. You can add links to your own sites or resources when you talk about a specific product or service. For example, post a blurb from your latest blog and add a link to the complete blog. This will not only help you gain more website traffic but also boost Twitter engagement.
Similarly, add sources when you talk about facts or news pieces. You can even add links to products when you review them.
How to Calculate Twitter Engagement Rate
It's easy to calculate the Twitter engagement rate.
Start by selecting the period of time that you want to analyze and apply this formula:
Twitter engagement = (engagements/impressions) x 100
Engagement refers to the time a user interacts with your posts or profile in the form of replies, follows, likes, hashtags, links, cards, embedded media, usernames, profile photos, or Tweet expansion.
You will find engagements and impressions in your profile. Access this information by visiting Twitter analytics and checking cumulative data.
How to Improve Engagement Rate on YouTube
YouTube is already the second-largest search engine out there. Not many people look at it as a social media platform but you must pay attention to this video-sharing network if you are an influencer.
Here's how to improve your engagement rate on YouTube:
#1 Create Compelling Thumbnails
Most people decide to watch or skip a video based on the thumbnail alone. This is why it is important that you spend a good amount of time on this factor. YouTube allows users to pick a scene as a thumbnail or customize the design. About 90% of the best-performing videos have a custom thumbnail.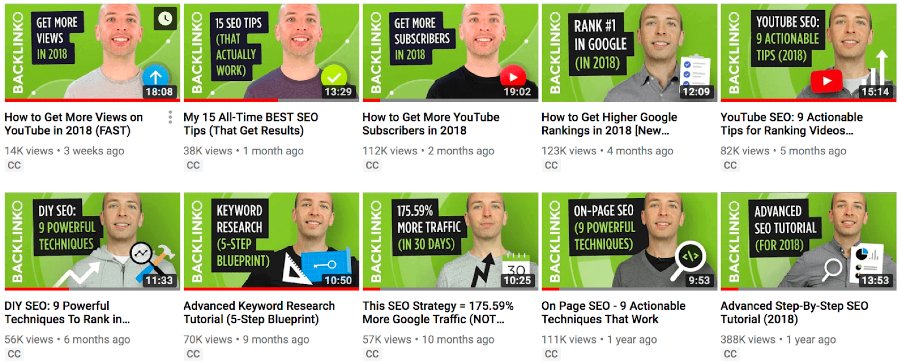 We suggest that you create a unique thumbnail with text that clearly explains what your video has to offer. Here are some more tips to remember:
The right size is 280 pixels by 720 pixels.
An aspect ratio of 16:9 works well.
Use high contrasts.
Make sure to remain consistent to give an identity to your page.
Add a mix of text and graphics.
Every click is considered engagement and you're more likely to get clicks if you have a good thumbnail, however, make sure to only choose a relevant thumbnail. It should go well with the content of your video.
#2 Write Interesting Titles and Description
This might come as a surprise to some but it is possible to optimize your videos on YouTube. According to Backlinko research, there's a direct connection between rankings and keywords on YouTube.
A nicely written title will help your video reach more people thus boosting engagement on YouTube. The title should be crisp and clearly tell what the video contains. Think from the perspective of SEO and what people search for on YouTube. It might be a good idea to position your keywords at the beginning of the title.
Next, sprinkle some keywords in the description and explain more about the video. Consider adding a number in the title. This can help boost CTR.  Also, using emotional words such as sadly, wow, or hurray can also get you more shares and clicks.
#3 Use Hashtag
Consider adding a number in the title. This can help boost CTR. Also, using emotional words can also get you more shares and clicks. According to YouTube, hashtags can improve discoverability and boost your engagement rate.
They work like keywords and can be used to find relevant content. Hashtags can be added to the title or description. All you have to do is add a #symbol before your desired keyword.
#4 Break Your Video into Chapters
YouTube now gives users the option to add chapters. This can be a great way to increase engagement. Most people are only interested in specific portions of a video and they may not always have the time to look for what they want.
Chapters help viewers reach the part that they're interested in, thus boosting YouTube engagement. Carefully name each chapter and make sure to inform viewers they can easily jump to the part they're interested in. In addition, you can also consider using the 'recommended' video option to send people to relevant videos on your page to ensure they remain on your profile.
#5 Add Captions or Subtitles
Subtitles help in a lot of ways. They attract people who cannot speak or understand the language and also help them stay focused, thus boosting engagement. This is also important because about 92% of mobile users watch videos without sound. Captions can help keep them glued and ensure they get the message. Hence, it doesn't come as a surprise that captions improve watch time by up to 25%.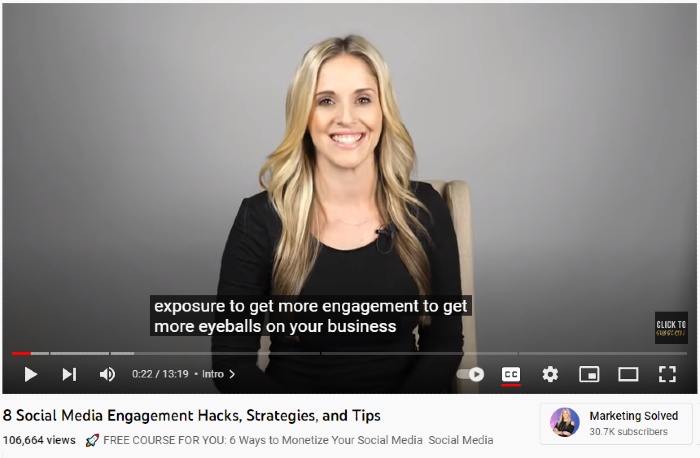 YouTube offers autogenerated captions, but that's currently only available for videos in English. You will have to manually create and add captions if your video is in a different language.
How to Calculate YouTube Engagement Rate
YouTube engagement rate can be calculated by adding up the total number of comments, dislikes, and likes for all videos and dividing the resultant number by the total number of videos. Next, divide this by the total number of subscribers. Brands, however, don't always use this technique when seeing how reliable or popular a YouTube account is.
This is because videos on YouTube don't get a lot of likes or comments. Most people only sit to watch content and do not take actions such as liking or commenting. Hence, brands usually only consider the number of views and subscribers one has, metrics that are very easy to know. They do, however, get suspicious when accounts have a large number of subscribers but very few views.
This indicates the presence of fake subscribers, which is a common problem as influencers are known to buy subscribers to get their accounts approved for the YouTube Partner Program.
How to Improve Engagement Rate on Social Media: Conclusion
This is all you need to know about improving engagement on social media. Your aim should be to post relevant and high-quality content. Come up with a mix of videos, photos, and written content, and ensure you take care of SEO by adding keyword-rich titles and descriptions. Also, pay attention to the numbers and find a strategy that works best for you.
At Afluencer, we know how important the engagement rate is. All our influencer profiles contain a section covering engagement rates. We use a variety of tools to find this number and keep it updated so that brands can have a good understanding of who they are working with.
Companies prefer to work with influencers with a good engagement rate – 5% or higher in most cases. Use these tips to boost your social media engagement rate and turn to the formulas given above to calculate your social media engagement rate. Alternatively, you can opt for easy-to-use calculators on the web. However, remember that merely having a good profile or solid engagement can never be enough, you must know how to present your skills and write a kickass influencer collaboration pitch. It's all about selling what you have to offer.