If, as a Brand, you're considering adding TikTok to your social media marketing strategy, congratulations. You, like the rest of us, have failed to ignore this increasingly popular platform. What can we say? It's a Gen Z world.

Beyond the plethora of viral dance challenges lies a strong platform that has grown to incorporate all types of content and people.
That's where we come in… you will need the said people with said content – and we've got 'em! On Afluencer, we've got a database of almost 1,000 (and counting) TikTok content creators covering a wide variety of interests.

But before we get to the juicy bit of this piece, we want to give you some insight as to why Collabbing with TikTok content creators is a great idea.
Why TikTok?
1. TikTok was the Most Downloaded App in 2021
Not only was it the most-downloaded app in 2021 with 656 million downloads, but it was also the most-downloaded app in 2019 and 2020. You don't hold the top spot for 3 years in a row for nothing.
For a little perspective, the 2nd most downloaded app in 2021 was Instagram with 545 million. TikTok had over 100 million more downloads!
2. TikTok has Over 1 Billion Active Monthly Users
…and has been downloaded over 3 billion times.

As of January 2022, TikTok had an average of 650,000 new users every day… that's the entire city of Memphis, Tennessee joining TikTok on a daily basis. Mindblowing.
With the right content, imagine the potential reach your TikTok campaign could have.
3. Among Gen Z Users, TikTok is More Popular than Instagram
If Gen Z is your target market, Collabs with TikTok content creators are a MUST! However, it is important to note that TikTok has seen an increase in popularity among other age demographics – seeing a 10% increase in users aged 35 to 54 between 2020 and 2021.
Choosing the Right TikTok Content Creators for Your Brand
While there are other ways to market your brand on TikTok – such as paid ads – you're highly likely to find more success by Colabbing with a TikTok content creator.
You need to ensure you find a content creator who is a good fit for your brand.
Do they appeal to the same niches as your target audience?
How engaged is their following?
How good are their dancing skills? 😉

Ok, that last one isn't super important, but it helps!
To kickstart your search for your perfect TikTok content creator, we have put together our selection of TikTokers to keep an eye out for.
TikTok Content Creators on Afluencer
Let's get started!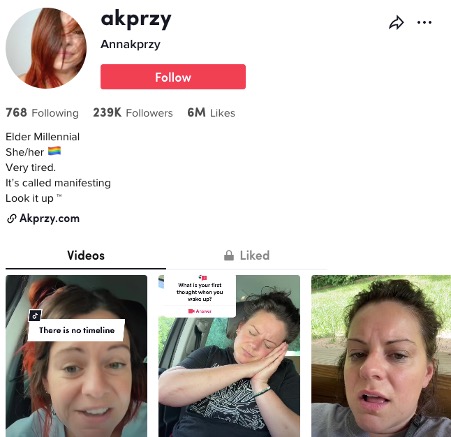 Meet Anna from Michigan, right here in the USA. This 'Elder Millenial' brings her upbeat personality to every piece of content she creates and we love it… so do all 239k of her TikTok followers.
Content
Anna is all about self-growth, personal development, mental health, doing you, and of course her signature line – "It's called manifesting, look it up."
Her positive attitude and energy draw us in from the first video and we're immediately hooked. She covers highly relatable topics and is able to deliver on otherwise sensitive issues with a dose of much-needed humor.
Anna's messages are not only relatable but supportive as well, speaking to her audience as if she were speaking to each one of them one-on-one. She also makes sure to tell share her story. We love this TikTok content creator's unique approach to connecting with her audience.
If you're a brand with a focus on mental health or any form of personal growth, Anna's the TikTok content creator you need to partner with.
---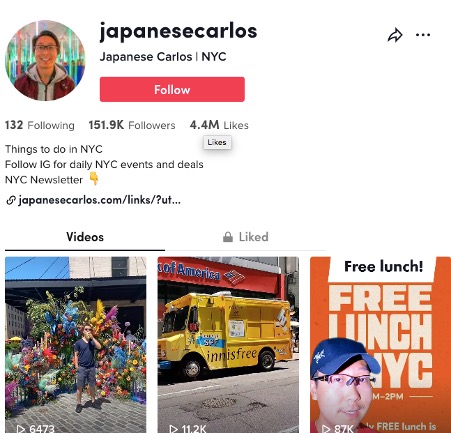 Carlos is from New York City, born and raised. He's got a strong love for his city, which shows through his choice of content… Let us take a look, shall we?
Content
This TikTok content creator's content is all-around travel. Travel in New York City, to be exact. Carlos' goal is to help New Yorkers fall in love with their city too and to help them realize that they don't need to go far for adventure – it's all right there in their backyard!
Carlos' TikTok page is full of fun things to do in and around New York. From where to get free food and flowers to premiers, events, sales, pop-ups, festivals, and so much more. What's great is that each of these activities ranges at different price points, so there is something for everyone – you just have to stay tuned!
Travel brands – Carlos is the partner you need to tap into the TikTok market.
---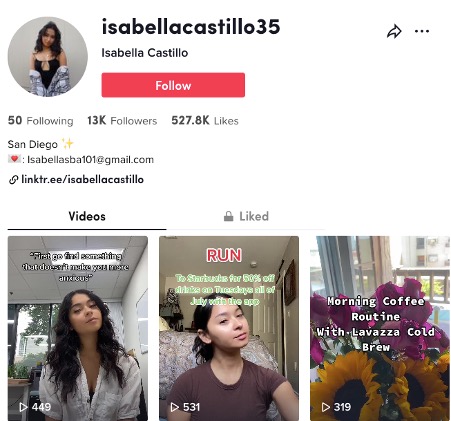 Make way for fashion and lifestyle TikTok content creator, Isabella.
Content
This coffee lover puts a hilarious spin on everyday situations, giving her bonus points in the relatability factor.
Her fashion posts are super inspiring, offering outfit suggestions from loungewear to full-on glam.
When it comes to Collabs, Isabella is no rookie; and with a marketing background, you can be sure that she's approaching any brand partnership with industry knowledge and professionalism. Plus, she's got the personality to boot! What more could you ask for?
---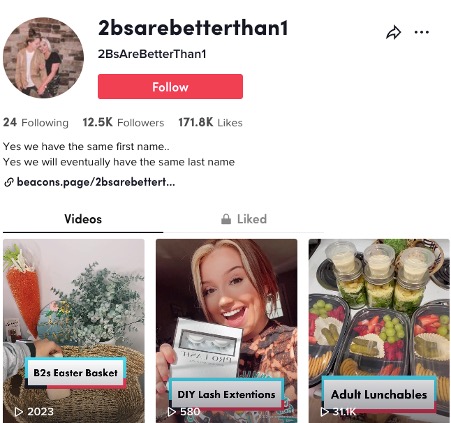 Tennessee, USA brings us Britnee and Brittany. They are a couple with the same first name (just in case that wasn't obvious already) highlighting an LGBTQ+ friendly, romantic, organized, traveling lifestyle.
Content
Here are a pair of TikTok content creators with amazing personalities and just being themselves. We gotta say, we love it.
Their focus is on lifestyle – featuring content that includes recipes, beauty, unboxings, travel, hair care, and so much more. B2 (we're pretty sure this is Britnee) tends to feature most in their content and do all the talking, but we still get the sense that this page is dedicated to the duo's lifestyle and not one or the other.
Lifestyle brands, Britnee and Brittany should definitely be on your list of top TikTok content creators to work with. Their different personalities come together perfectly to create a dynamic that's authentic and just… works.
You know what to do! Hit them up for a Collab.
---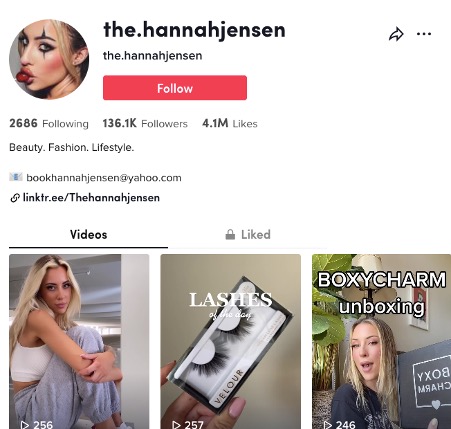 Representing California, Hannah Jensen is a beauty, fashion, and lifestyle TikTok content creator with over 136k followers. She wears many hats including mom, spokesperson, and model to name a few.
Content
While Hannah focuses on 3 categories, she really is the plug for all things beauty. She gives practical, never-before-seen tips such as cutting your fake lashes in half (it's good, trust us), and her get-ready with me's are easy to follow and fun to watch. It goes without saying that her makeup skills are truly superior.
What we also love about Hannah is her personality. It's not hidden behind the makeup – instead, it shines through (with a touch of whimsy).

Attention, beauty brands! A Collab with Hannah is exactly what you need to reach her followers on TikTok.
---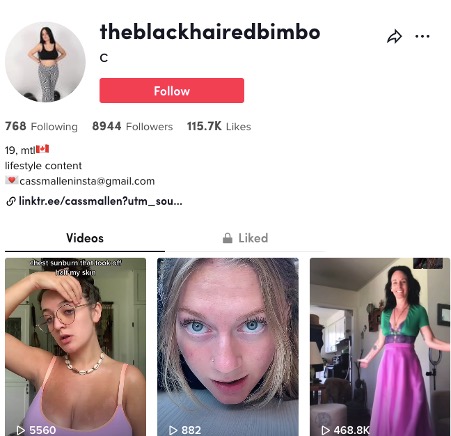 We're headed to Quebec, Canada to meet Cass. She's a lifestyle TikTok content creator with interests in fashion, travel, food, and self-care. That sounds like the perfect mix!
Content
No matter what Cass posts about, this content creator pretty much does her. Her bubbly personality always shines through and exudes confidence, especially when posting some of her awesome dance moves.
This 19-year-old would certainly appeal to customers in her generation. If that's the age demographic you're after, Collab with Cass!
---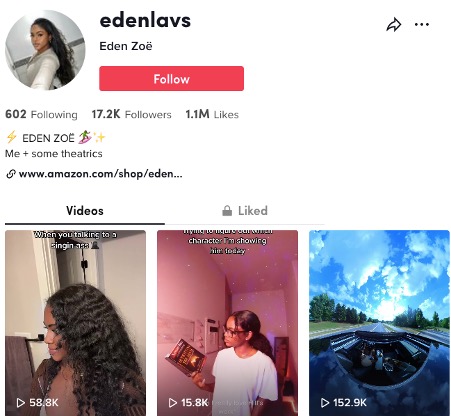 Eden is a New York City-based TikTok content creator with a background in fine arts and a desire to "create artistic visuals that have the power to move an audience."
Content
Talk about talent! Eden's artistic visuals are definitely one of a kind. She has the ability to put you in a trance while being simultaneously intrigued. There's no way to explain it, you gotta see it for yourself.
In between these artistic videos you'll find Eden posting relatable, humorous content. All-in-all, this TikTok content creator seamlessly combines everyday life with creative visuals we can honestly say we've never seen before on Afluencer.
This is just one of the benefits of joining our platform – coming across awesome content creators such as Eden!
A Collab with Eden presents so many opportunities for brands across different industries – from photography to tech and even travel. Don't miss out on an opportunity like this one.
---
What is it About TikTok Content Creators?
TikTok has a knack for bringing out creativity in its content creators (and brands). Gen Z almost demands less fakery and more authenticity – which is probably why paid ads feature less on this platform.
Our selection of TikTok content creators all has one thing in common – personalities that shine through from the get-go – keeping up with the authenticity required of the platform.
Does your brand have the personality to make it on TikTok? Find the content creator who does, with Afluencer.