From getting too lit on cocktails to cannabis and family fun; from well-placed comedy to solo travel, makeup tutorials, DIY, and everything in between, this round-up of YouTube influencers may sound pretty random. But hey, they've all got something unique to offer that may just be that "ingredient X" you're missing for the perfect influencer collab.
Here are the YouTube influencers ready to create amazing videos for your brand:
Let's get to it!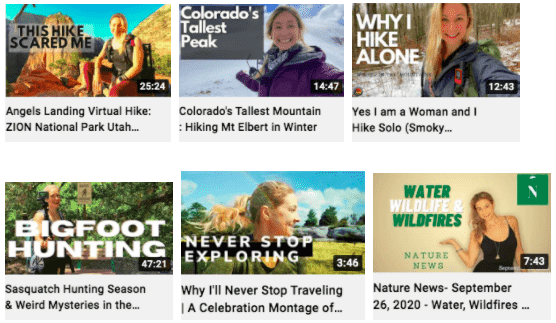 From the USA, Alice Ford is an award-winning filmmaker, blogger, and host, as well as a stunt woman, athlete, and nature lover with a passion for sustainable living.
Content
Cue Bilbo Baggins, "I'm going on an adventure!"
While the rest of us sit on our backsides, Alice has been getting out there and experiencing life. Her videos make subscribers want to get off said backsides and do something different and exciting.
She's a natural in front of the camera. Her friendly personality, the confidence she has in herself, and what she does instantly grabs your attention—creating a smooth viewing experience. While she gives tips and information about hiking, nature, and saving the planet, she also gives little tidbits of valuable life advice. Look forward to breathtaking views, seeing the world, advice on the best places to eat, and so much more.
Everything she shares is delivered in a completely authentic way. Alice Ford Adventures is the YouTube channel to watch for not only travel inspiration but as a great reminder to get out there and enjoy life.
---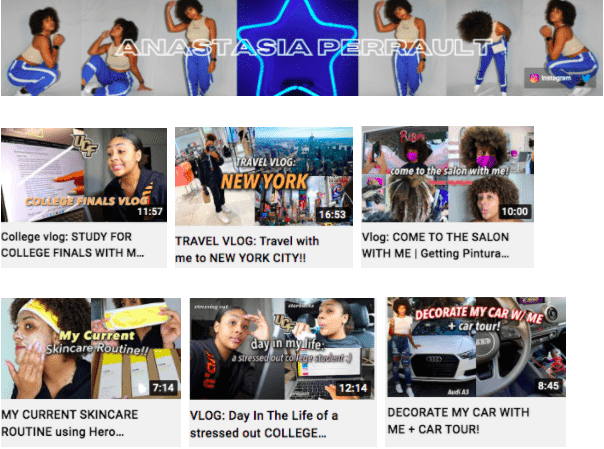 This 21-year-old YouTuber posts a variety of lifestyle content including "a day in the life", hair, travel, and so much more.
Content
Keeping it all the way real with her life as a college student, Anastasia documents her life with complete honesty and openness. Her content is relatable, especially with other young adults. She also vlogs about travel, fashion hauls, and pretty much whatever she feels like because, why not?
Relatability is the selling point here and Anastasia Perault is one of the YouTube influencers to collab with if your target market is everyday young adults doing their thing.
---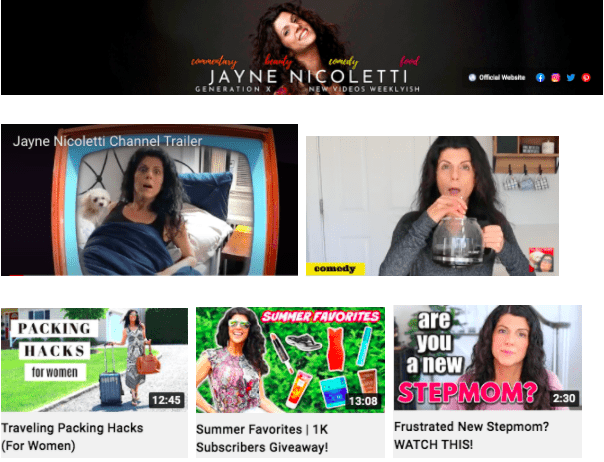 This Generation X New Yorker has a love for beauty, fashion, food, and home, and shares it all—often with her unique comedic twist.
Content
Jayne tackles all sorts of lifestyle topics. Some are a little more laid-back such as recipes or travel hacks. And other topics a little more serious such as life during and after covid—"we'll never laugh at doomsday preppers". Ha! However, no matter what she's talking about there is some well-placed humor and a positive attitude. Something we could all use.
To drive this point home, some of the comments in her videos look like this:
"Uplifting, funny, and 100% true!"
"So refreshing to see an honest review!"
"Your video is so much fun!"
---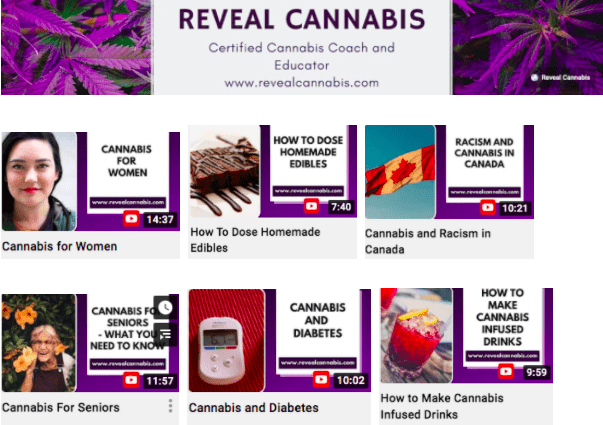 Hailing from Canada, Andrea Meharg is a certified cannabis coach and educator. This creative influencer teaches her YouTube audience how to use cannabis to make their lives better—the right way. Having struggled with depression herself, she has first-hand experience of how using CBD turned her life around for the better. Her first baggie of CBD happened to be a Christmas present—from her mom no less—who thought it might help with her depression. It did!
Content
Off the bat, her passion for teaching people how to use cannabis to live a healthier, happier life is pretty clear—not hazy (…pun intended). Between her inviting smile and personality, Andrea has a knack for presenting information in a way that's easy to understand and digest. One could say it's edible (ok, no more puns). Her YouTube videos cover everything cannabis: from more lighthearted topics such as making cannabis-infused drinks (cheers!) to more serious topics such as the link between cannabis and racism.
She has a great way of tackling the controversial world of cannabis and delivering great lessons which, at their core, could really change someone's life for the better. We're all for that.
---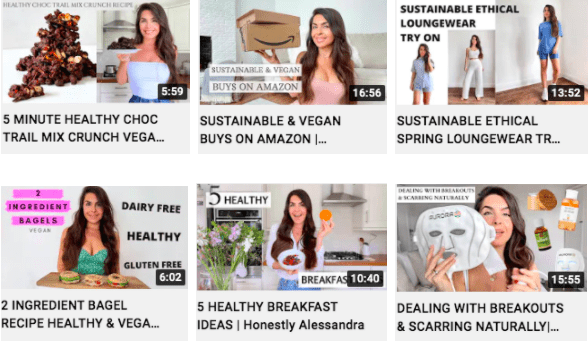 Alessandra is an Italian/Polish blogger based in London, the UK with a passion for living a healthy, plant-based, vegan, wholefood diet and lifestyle. Her YouTube channel is a safe space where all this can be "created, inspired, maintained, and celebrated".
Content
Have you ever tried to follow a recipe and then thought, "screw this, it's too complicated"? There's none of that here. All of Alessandra's recipes are super simple and easy to follow—they also very often involve a blender! She throws in some great health tips, as well as the benefits of certain foods making her content informative.
Something else to look forward to… Vegan/sustainable fashion hauls and tips for maintaining a vegan lifestyle while traveling. For realistic guidance on maintaining a healthy/ vegan lifestyle, Alessandra is honestly a great YouTube channel to help get you there.
---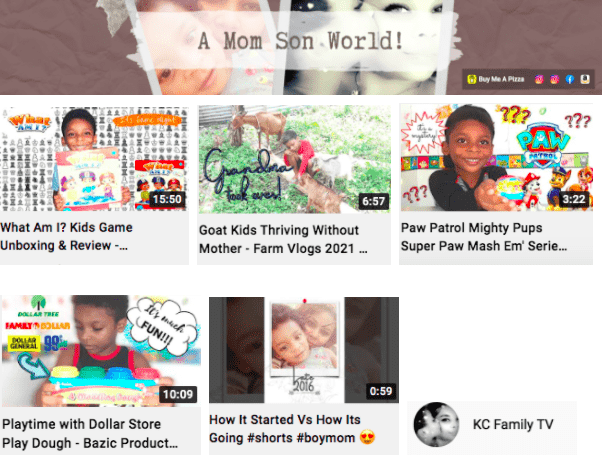 KC Family TV is all about family fun. Subscribers can look forward to activities, viral challenges, family trips, unboxings, and toy reviews.
Content
Ah, the bond between mother and son—there's nothing like it. This channel showcases pure family fun, pure joy, and pure love in the realest way.
The videos are generally 10 minutes or less and give great ideas for entertaining the family—specifically younger kids.
If you're a brand looking for family influencers on YouTube to promote your products, then KC Family TV is the perfect collab.
---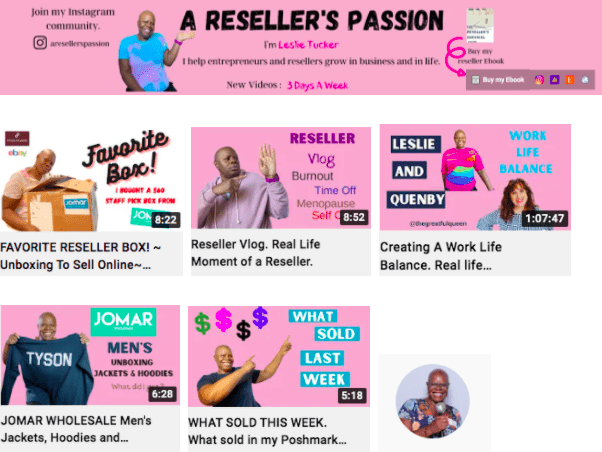 Leslie Tucker is a reselling coach and e-commerce entrepreneur. She shares conversations, tips, and the adventures of online reselling.
Content
For those trying to get your coins through online reselling, A Reseller's Passion is the go-to YouTube channel. Leslie's personality shines through in her videos. She's also not a fan of editing her videos—preferring to keep things natural and be 100% herself. Her unboxing videos aren't just hauls, they are designed to show viewers what opportunities are out there for purposes of reselling. Leslie also shares resale value, her successes, risks, and real-life updates—a great mix of information here.
She's a mom, over 50, running a successful business, sharing her experience with that—a great inspiration for older women! Secure the bag, sis.
---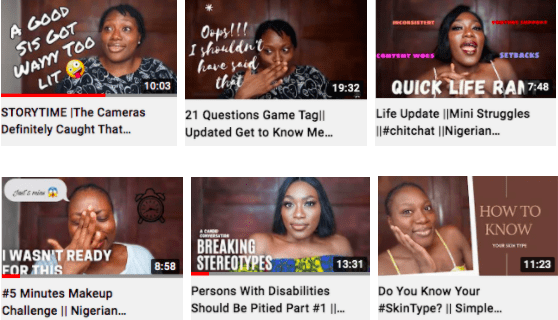 Jennifer Oyubu is from Nigeria and loves to talk about everything she enjoys – from makeup, hair, and skincare tutorials to lifestyle, chit chats, and everything in between.
Content
Straight up REAL (clap emoji) TALK (clap emoji)—or as she likes to call it, "undiluted vibes". That's what you'll find on Jennifer's YouTube channel. Getting too lit on sex on the beach cocktails (we've all been there); sharing her views on living with disabilities (FYI, she's still living her best life and we love it!); even fun challenges and life rants. Sometimes she's all-natural on camera, sometimes she's got a beat face—what's life without balance?
If you're looking for YouTube influencers who are more like a friend, Jennifer Oyubu, whose channel goes by the same name, is definitely one to watch.
---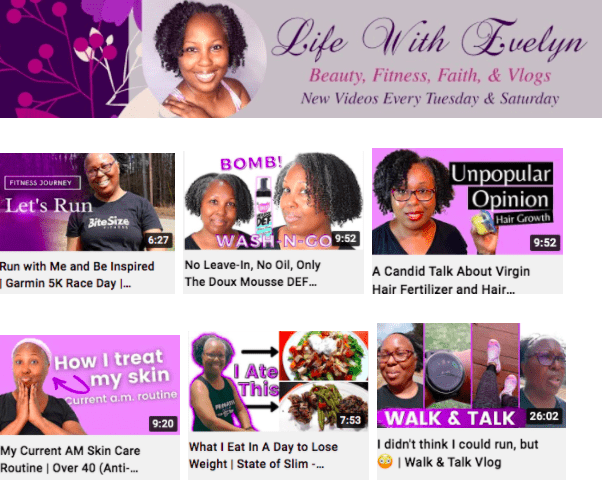 Evelyn's advice is to be the best version of yourself—mind, body, spirit, and soul. Her way of helping you do that is through beauty, fitness, faith, and vlogs.
Content
As I write this, the first video under the video tab is "Let's Run". Ha! Evelyn, not sure that's going to happen. But as I watched the video she explained why she shared it, going into the challenges of being 50 and female—mental, emotional, and physical. The message is to give things a try, keep going, and be inspired. You can do it!
This is a common thread throughout her videos. Whether she's talking about hair, sharing what she eats, or having a good ol' "let's chat". Authentic, relatable, and informative—that's Life With Evelyn. There is also lots of opportunity for a collab here as she touches on different aspects of life.
So if you're looking to collab with positive-minded YouTube influencers, you know what to do!
---
Katie Clark – @Clarks Condensed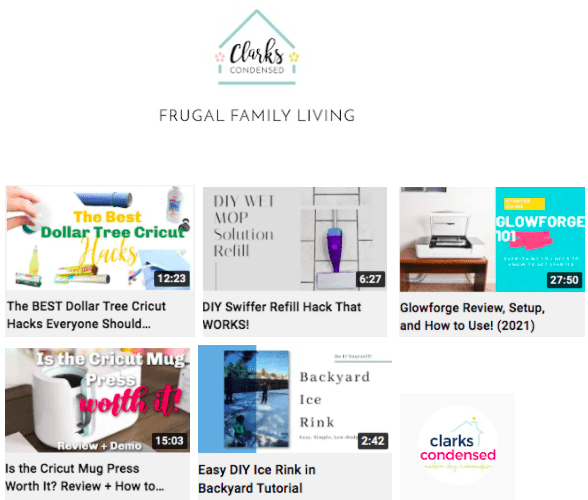 Clarks Condensed is a channel for all things family-friendly, with a focus on DIY, crafts, and home.
Content
"Frugal family living", aka saving money! Gotta love it! Here, subscribers can find product reviews and real-time "how to use" videos. Katie is passionate about DIY and it shows; sharing ideas on what to DIY, including money-making ideas like mug printing and card making. The videos on Clarks Condensed will surely leave you feeling inspired to get crafty. Or at the very least, inspired to save more money!
---
From Nigeria, Esther is a natural beauty enthusiast who, after years of being bullied, gained her confidence back and now wants to help others do the same.
Content
Esther keeps beauty SIMPLE. Here, subscribers can look forward to reviews on beauty products and tips for skin care. She's also not afraid to go DIY, using toothpaste to clear body acne (spoiler alert—it works)! She's also not shy to get into detail on how to sit when steaming your lady parts!
Part of her YouTube content includes TikTok videos with quick tidbits of beauty info—sounds like this influencer is ready to collab!
---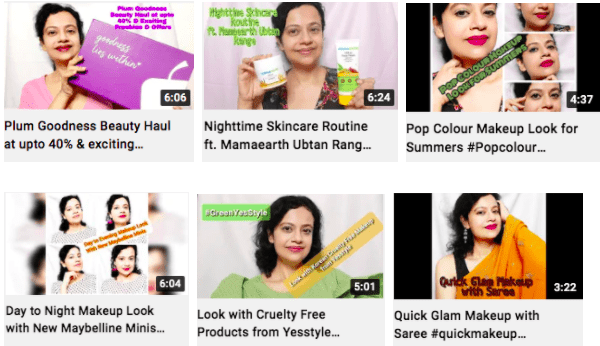 Coming to you from India, Jhilmil gives tips on all things beauty—from skincare to makeup and everything in between.
Content
Also going by the name Beauty & Beyond, Jhilmil's beauty content is in lovely little bite-sized videos; that is, her content gets straight to the point and her videos aren't long at all. This is great because ain't nobody got time for long, complicated tutorials. Her videos are in real-time so subscribers have realistic expectations of how long a make-up look is going to take you.
No complicated makeup kits, no fuss. This Mom has great beauty tips for regular women who want to look great. We're here for it.
---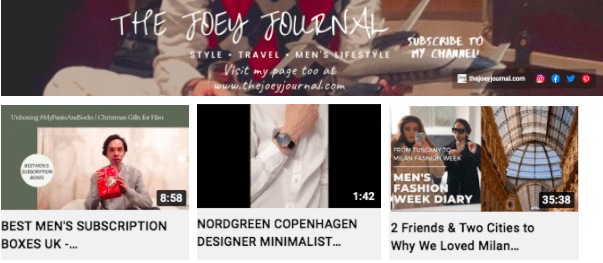 Founder of the blog The Joey Journal (which was named in the UK's top 10 Blogs for Men's Lifestyle in 2020 by VUELIO Blog Industry Awards), Joey is a men's lifestyle and travel blogger based in the UK.
Content
This one is for the guys who enjoy the finer things in life. From unboxing to travel, Joey shows viewers how to experience luxury. Sometimes it's the little things, sometimes it's designer splurges.
He's also collaborated with the UK's largest organic tea company, Pukka, to promote tea for good sleep (hey, guys need their beauty sleep too). If you're a brand looking for YouTube influencers to promote men's lifestyle products, Joey is a great match.
---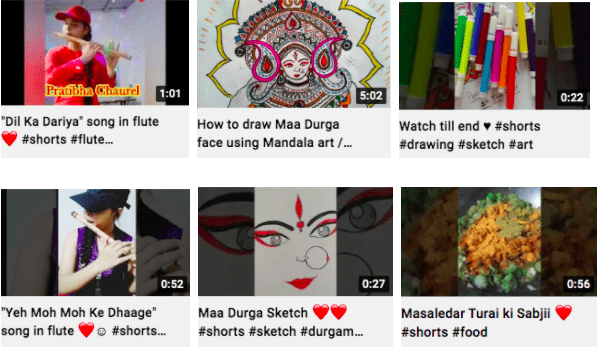 Hailing from India, Pratibha is a young artist with a love for music, poetry, and dance.
Content
Skilled at playing the flute, Pratibha believes that "feeling the music is the only way to relax the mind". Her videos are super short—like a quick feel-good pick-me-up when you need one. She posts consistently, including content such as sketch art, poetry, dance, and recipes. All this centers on her cultural heritage and makes for an inspiring watch.
How could you not want influencer talent like Pratibha on your YouTube marketing team?
---
Shagufta Khan – @Makeup by Shagufta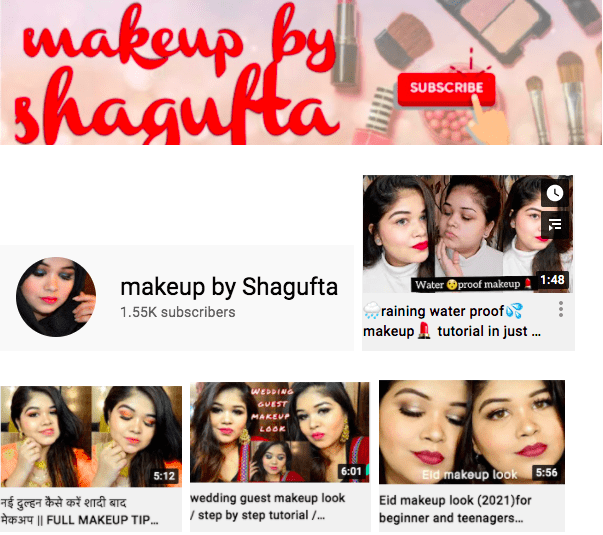 Shagufta is a certified makeup artist sharing quick and easy makeup looks that even beginners will find easy to follow.
Content
The first thing that hits you as you scroll through her videos is "wow, her makeup looks amazing… must be complicated". But guess what? It isn't! Her videos are short and sweet and don't involve 10,000 confusing makeup brushes. She also touches on hairstyle ideas, skincare products, and accessories. Her way of simplifying makeup tutorials makes subscribers more willing to give them a try without feeling like complete failures. #ifyouknowyouknow
What do we love most about these YouTube influencers? Their realness. Their relatability. Nothing superficial here, which makes for some awesome content.