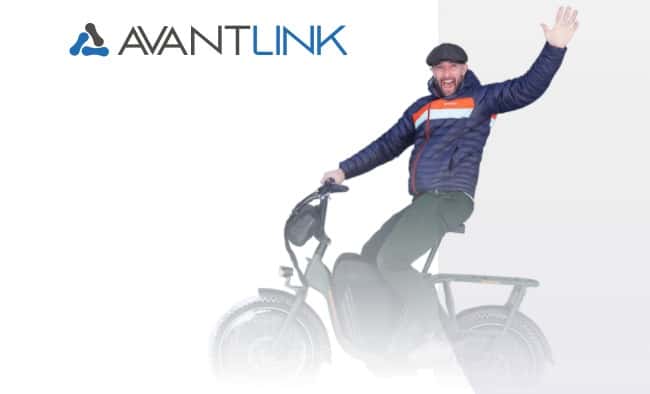 In this comprehensive AvantLink guide, you will gain insights into how AvantLink works and the various benefits associated with the program. Since there are various affiliate or influencer marketing platforms out there, it is important to read this AvantLink review to understand if it is worth a try or not.
We'll explain all about this affiliate marketing platform including AvantLink sign-in method, AvantLink programs, and Avant sign-up requirements.
Let's get started:
What is AvantLink?
AvantLink is a top cost-per-sale affiliate marketing network that allows vendors to make money through commissions. The platform features user-friendly and cutting-edge technology to help marketers and influences track their marketing campaigns.
Even more, it has partnered with some of the leading company brands such as REI, Patagonia, Backcountry.com, and more. This makes AvantLink programs reliable. Plus, AvantLink advertisers have more faith in the company since it's associated with some big names.
They help users to develop and grow a high-value affiliate marketing program. The company also has dedicated affiliate marketing programs in Canada and Australia, making it a global affiliate marketing platform.
Ranked among some of the best affiliate marketing programs, AvantLink is used by millions of merchants and affiliates in the digital marketing business. It's a fully registered company with AvantLink Park City head office catering to international clients. It is one of Utah's fastest-growing companies with over 10 years of industry experience.
How Does AvantLink Work?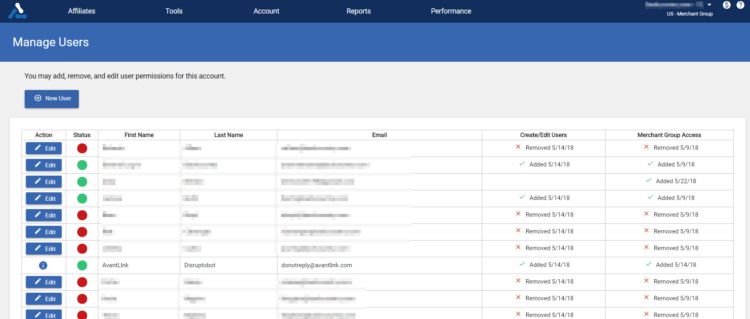 AvantLink features an interface that facilitates mutual marketing activities, where merchants can share and provide information easily. Affiliates can gain access to products and market them through a simple system.
Before becoming a member of the platform, one has to meet certain eligibility factors and requirements. When you visit the site, you will have to specify whether you are a Merchant or an Affiliate:
Merchants
Merchants have to go for AvantLink sign-up and choose the country or network in which they will operate. 
The three networks available on the platform include Canada, Australia, and the USA.
After joining a given network, you will then have to share information about your products on the system. The advertisers will then go through your products and choose the ones that are suitable for their campaigns.
You earn money whenever there's a successful sale. Merchants can choose from three packages: Basic, Advanced, and Expert. However, there's no information on cost. You can start with the basic one if you do not know much about online marketing.
Almost all kinds of businesses are accepted except for sites related to adult content, lead generation, and gambling.
Affiliates
Visit the AvantLink sign-up page and fill in the form.
Once approved, you will be able to browse through the network for suitable programs and join the ones that suit your needs.
The benefit of the program for affiliates is that they gain access to some of the world's leading merchants.
The use of precise tracking technology ensures that affiliates receive commissions for every successful sale. Other resources, such as data reporting, are also crucial to the success of the platform.
AvantLink Review: Features
Affiliate Link Encoder
This feature makes it simple to add links to the program. It's useful for affiliates who want to automate tedious tasks.
You can customize a specific automatic link encoder through different techniques.
To automatically come up with a link when you reference a particular website. For instance, anytime you reference a specific merchant`s website, the link becomes an affiliate link.
Use keywords to set it up so you can see which keywords to use and where  For instance, if you want to sell mobile phones, you can add this keyword, and every time you mention this word, it will automatically turn into an affiliate link. Also, you can customize the number of times you want to link out the given keyword to prevent spamming.
Therefore, you can place the encodes on the entire site or specific pages. Thus, with just a few minutes of work, you can have your website set with coherent affiliate links.
Custom Link Builder
This tool lets users build custom affiliate tracking links like clockwork, especially if you have several links to develop. Also, you can apply custom tracking codes to monitor each link. Furthermore, the custom link builder tool also lets you deep-link to visitors in high converting areas of the site.
Paid Ad Placement
The platform lets you enjoy the benefits of paid ad placement. Paid ads are an excellent way to earn commissions through the AvantLink platform. To be specific, the network makes it easy to retain optimal control over the denial or approval of merchant bids.
You can even choose display ads from merchants or any other ad network. This way, you get the freedom required to come up with customized ads that can target a specific consumer niche.
Furthermore, if you are an affiliate and you have ad spots on your website, the AvantLink platform provides a convenient way to incorporate it with links.
You can make use of the paid placement tool, which lets you set specific pages and websites, which you provide ad space during the marketing procedure.
Once you avail the information, merchants can be able to place bids for the best spots on your site. You even get to control the bid amount by selecting a minimum bid.
Real-Time Analytics
Whether you're a merchant or an influencer, you will have access to real-time analytics to understand exactly how you're performing. The AvantLink platform offers data that you can use to improve your marketing campaign and increase your conversion rate.
AvantLink App Market
This AvantLink review cannot be complete without the mention of this feature. Here you will find a number of apps that can help you reach a wider audience. These are mainly made for merchants but you will also find some affiliate-related apps.
The best thing is that users have the option to create their own apps as well. This may sound complicated but there are some perks since others will be able to use your tools and you will earn a 20% commission on every sale they make through the tool that you created. It's a win-win situation.
One of our favorite tools is SnapDealist. It searches through the available data and finds the cheapest product for you. Go through all the apps and find the one that you find the most helpful.
Widget Managers
The AvantLink platform offers you two types of widgets:
Product Content Widgets: These offer information and content about a specific product. On top of that, these widgets provide price comparisons between various merchants for the given product. Through this approach, you will have access to useful information for making a purchase.
The widget also lets you organize product reviews from your merchant. The product reviews are often informative pieces of content with links to a given product.
To make the most of this approach, you will even get the ability to provide similar product review entries to improve the chances of making sales.
Product Ad Widgets: These widgets make it easy to manage the products you wish to sell. You will be able to perform a number of tasks such as display products from different merchants. Besides that, you can also gain access to features that let you publish updated product content on the site. This way, you will be able to keep your clients informed at all points of the purchase with legitimate information.
Eligibility and Requirements
There are various compliance and eligibility terms associated with the AvantLink network.
If you have any issues as a merchant, you can contact compliance@avantlink.com for advice.
The compliance department reviews each account application to determine whether it meets the stipulated terms. You have to have a proper online presence and provide legitimate user details. They do accept new businesses for as long as it's registered.
Furthermore, the AvantLink site also regularly reviews each member's account for violations of terms of use.
Team members who are suspected of violating the terms will be sent for a review. The common violations include email spamming, credit card fraud, scamming, and more. Also, the platform employs the use of various third-party and internal tools to identify violations.
The application process involves the verification of the Ownership Instruction Manual, which is sent to your email. Before your profile is approved, the compliance team will have to authenticate your identity and the website.
On the other hand, it is easy to become an affiliate. Affiliates are also not permitted to own several accounts for the same site.
AvantLink FAQ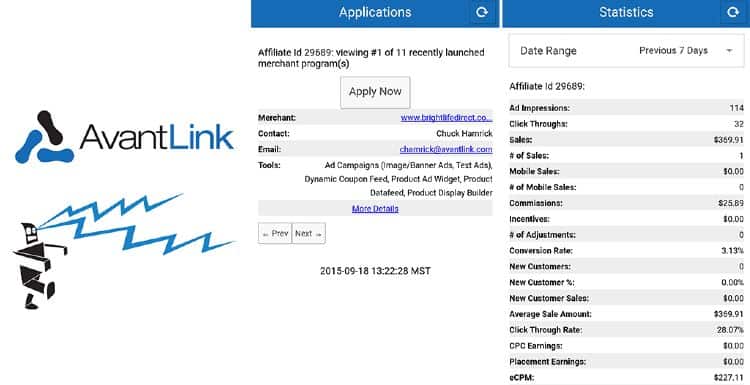 Q. When does AvantLink release payments for affiliates?
A. The platform releases all payments on the 25th of each month. You can withdraw your available balance through direct deposit but other payment methods may also be available for some users.
Q. Can I use International Bank Accounts?
No, the account must be in your country but from what we know, in some special cases, AvantLink may allow users to withdraw using an international bank account for as long as it is in the same name.
Q. Can I promote products through Twitter or Facebook?
A. Yes, you can for as long as the social media you wish to use approves your ads.
Q. Is AvantLink technology reliable and legit?
A. Yes, AvantLink is legit and the technology it uses is reliable.
Q. Do I need a website to qualify?
A. While a website is not necessary, you will need some kind of web presence, such as a social media page, to qualify.
Q. How much money can I earn from using AvantLink?
A. Well, the amount you can from using the program depends on the quality of your marketing campaign. Some AvantLink reviews show that users make only $500 per month but some also make more than $5,000.
AvantLink Review: The Good
Access to big brand companies – there are various catalog-based merchants in almost every category on the platform. Some popular names include Booking.com, Keen Footwear, and Whirlpool.
Access to useful tools – whether you want to use the API or perhaps create new apps, the platform offers access to various useful tools for your needs.
Up-to-date information and deals – AvantLink's platform is regularly updated, hence you will always have options.
Customized tracking – affiliates can come up with customized tracking codes, which they can use to evaluate the performance of ad campaigns.
AvantLink Review: The Bad
Lack of clarity: Whether you're a merchant or an influencer, it can be a bit difficult to know how much money you will make or have to spend since such information is not very clearly given out.
Poor customer support – the customer response team is slow and only available through the web.
How Is Afluencer Different?
Since both Afluencer and AvantLink are in the same niche, comparisons are inevitable. While AvantLink is a well-known name, it does have its flaws. Poor customer support can be very problematic, especially if you're someone just starting out. Plus, merchants do not know exactly how much they will have to pay to be a part of the platform. We found that different sellers may have to pay a different rate based on factors such as niche and location.
There is no such problem when it comes to Afluencer. Our staff is friendly, active, and supportive. Plus, our charges are clearly laid out. You will know how much you will pay to work with an influencer.
Afluencer lets merchants find who they want to work with. You can search our database to find top influencers who can help you carve a niche and make more sales. Plus, you will not have to pay charges such as transaction fees or network fees on each sale. There's no commission on each sale and 100% profit will go to you. You will only pay a one-time fee to be a member. Then, you will have the option to choose an influencer and negotiate a fee. This ease is not available on AvantLink or other such affiliate networks.
AvantLink Review: Overall
AvantLink can be a good option for new and old users. You can attend their weekly training session to learn more about how to use the platform. If you have gone through the AvantLink sign-up or AvantLink sign-in page, then you must have noticed that there is not much information on the site. A lack of information is a major problem AvantLink advertisers and influencers have with the platform.
However, we hope that this AvantLink review has helped you understand more about the platform.