So you want to convert to a healthier lifestyle in 2023. Well, what better way to be inspired than by following health influencers who promise to coach you all the way?!
Life-filled foods. Herbal treatment awareness. Hashimoto's health and wellness. Therapeutic yoga sessions. Smoothies that will brighten your soul. Daily mindfulness. Gut health. Plus a deliciously healthy lifestyle.
So are you ready for a dose of wellness?
These rising health coach influencers will uplift your 2023:
Coming to you with live well and feel-good vibes, these influencers are open for paid health partnership Collabs.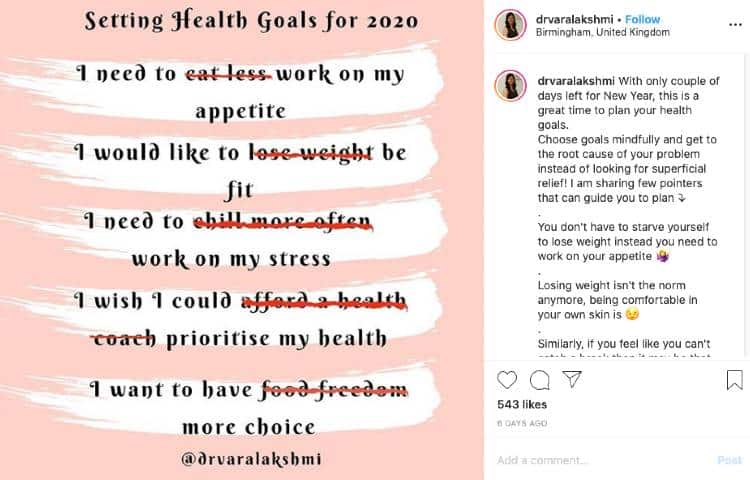 Authentic Holistic Health Coach – Varalakshmi Yanamandra
She is your health influencer that will inspire wellness in your mind, body, and soul. Varalakshmi is all about helping people with Gut Health and Wellbeing.
She is a certified Ayurvedic Practitioner, too. And just in case, if you are wondering what that is, Ayurveda which literally means Ayu – Life and Veda – Knowledge I.e. knowledge of life. Ayurveda places great emphasis on prevention and encourages the maintenance of health through close attention to balance in one's life, right thinking, diet, lifestyle, and the use of herbs. Varalakshmi shares great insight into how best one can adopt this holistic science into modern life via her Instagram account.
Her social media account appears unique from other mainstream Instagram health influencers because of her natural and holistic approach. It's not long before you get intrigued and absorbed into the authentic content she shares!
Ranging from Health Resolutions to healthy food recipes to aid in immunity to IGTVvideos to improve your Gut Health she got it all covered. Her videos are filled with everyday tips and remedies that you'll love. Some of her unique wellness insights like "why do we need to follow a seasonal diet" will inspire you to learn more.
Varalakshmi loves promoting organic products. Some of her promotional content includes organic oral health as well as supplements such as colloidal silver which she'll deliver on inspiring and educational insights as well.
If you need more of her content, visit her website where you'll find healthy vegan-inspired recipes and if you would like to improve your Gut Health. You could book an online consultation with her!
---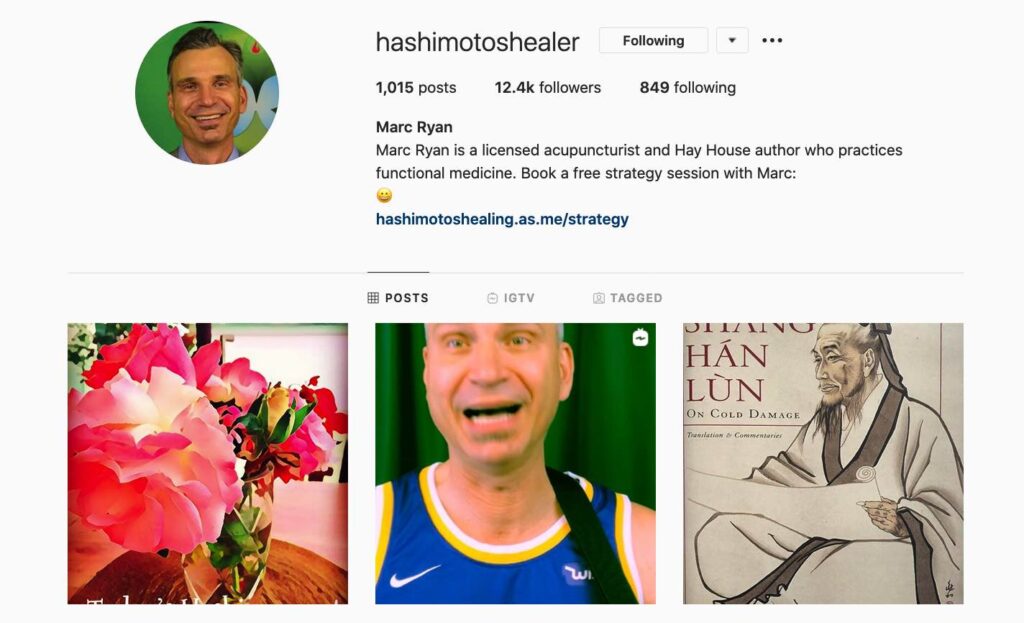 It's with mindful health coach Marc Ryan, that people with Hashimoto's or hypothyroidism can retreat to for health and wellness support.
Marc is a licensed acupuncturist and herbalist with over 18 years of experience in Chinese medicine and functional medicine.
Marc is also a Hay House author of "The Hashimoto's Healing Diet" and "How to Heal Hashimoto's".
He is completely dedicated to researching and helping people with Hashimoto's Disease and its common issues around weight gain, brain fog, and fatigue.
Why is he so passionate?
Well, Marc and his daughter have both been living with Hashimoto's – so his personal experience-inspired content couldn't be any more authentic and inspiring.
His captivating posts like "Today's Hashimoment" grip his followers with thoughtful messages like "The only thing we can control is our perception of the moment. So be sure to give yourself ample time away from social media and spend some time breathing and meditating.".
Yup, he keeps his followers uplifted post after post.
Some of Marc's previous brand collaborations include Pique Tea, Four Sigmatic, Earth Medicine Hemp, and more.
Learn more about Marc Ryan and get valuable resources through his Hashimotos Healing website.
---
Dani – @dani.in.the.raw – Health Coach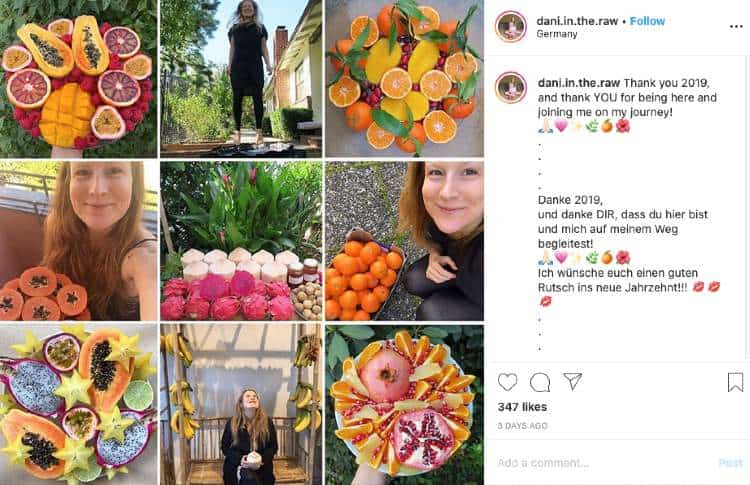 Dani is your health coach and yoga teacher from Germany that will leave you feeling brighter and uplifted after every post.
She's an influencer that's all about helping you live a life of vitality – full of love, health, and spirituality.
Her content will make you feel a whole lot of sunshine. From inspiring you to get your dose of direct sunlight to enhance the absorption and function of all nutrients to filling your life with the love for fruits.
Fruits. Fruits. And more fruits. This is what her vibrant Instagram profile is made of.
Mangos, melons, berries, peaches, papaya, strawberries and so much more. And smoothies that will brighten your entire soul.
Dani will encourage you to "bring life-filled foods in your diet" and did you know that "fruit consumed during winter months harbors the sunlight required for it to ripen"? Her content will fascinate you, post after post.
Her beautiful captions are posted in both English and German, whereas her blog is purely in German. And speaking of her blog, she shares a wealth of content on healing foods, detox help, healthy recipes, exercise, spirituality as well as living a conscious lifestyle.
Dani promotes the Medical Medium lifestyle.
---
Danielle Shugg – @themindfulblonde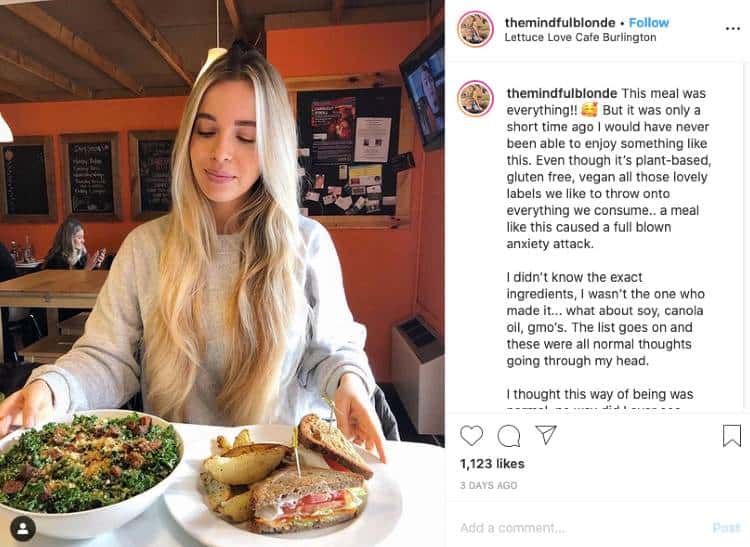 Health. Yoga. Mindfulness. And self-awareness. These are all the things that Danielle Shugg will inspire in you.
Daniella is a health coach, yoga teacher, and in the top league of Instagram influencers from Canada. And she's blonde, mindful blonde as her Instagram handle states.
All it takes is just one post for Danielle's words to touch your soul. Her captions are thoughtfully rich, but you'll read every word until the end.
Taken from her latest new year's post: "I have no real resolutions, just showing up as my best self every single day" because "every day, every moment is a chance to start over again".
Wow, right?
'Keeping it real' feels so uplifting with Danielle. Especially as she shares her experiences of food anxiety and leaves you with thoughts like "anything can become toxic when it's constantly in the presence of toxic thoughts" so "change the thoughts, change your life".
Yes, by now I'm sure you've noticed how quote-worthy her content is.
She's as real as it gets. And I don't say that casually.
All it takes is for you to see her Booking.com #ad posts about booking your dream getaway where she'll genuinely inspire you to take care of yourself and your heart. There are few influencers, health-related or not, that are able to organically promote brands so authentically.
For more about living a healthy lifestyle, discover healthy recipes, shop products as well as learn about her coaching services, check out her website.
---
Isilda – @izzy.healthandfitness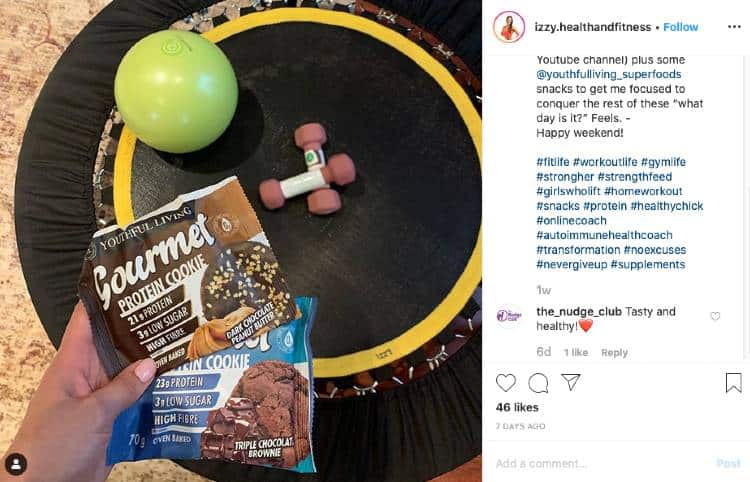 From South Africa, Isilda is your autoimmune health coach that is passionate about empowering women with good health and energy.
Having been diagnosed with the autoimmune disease herself, Isilda shares content about the condition and how to build a healthy gut. Though, I must say that you don't need to suffer from autoimmune disease to get value from her content. Gut health awareness is for everyone.
Among her many videos on Instagram, she also posts many workout-at-home videos that will keep you motivated along your health and fitness journey.
She's an ambassador of Youthful Living, a healthy snack brand – which compliments her content fairly well.
On her influential blog, she shares more detailed health-related content with some fascinating posts about her genetic testing experience.
---
Ishani Vellodi Reddy – @ishanivellodiwellness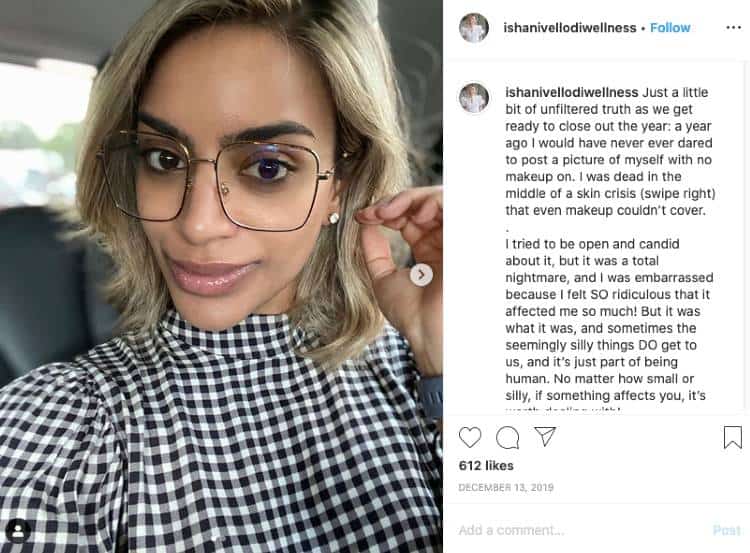 Ishani Vellodi Reddy is your wellness consultant influencer from the United Kingdom. She's also a mom and loves to travel.
Her Instagram influencer profile is a beautiful mix of health and wellness content as well as sweet posts of her beautiful family.
She certainly knows how to make a healthy lifestyle appealing with yummy recipes like her sweet potato brunch skillet or her vegan carrot cake. Yum… Yum!!
Then, you'll learn about interesting concepts from her such as "crowding out" which is all about adding in so much of what you want that there's little space left for what you don't want.
At first impression, she appears to be pretty perfect on social media, but when she drops some reality like her skin crisis, you'll admire her a little more.
Visit her website to learn more about her and dive into her blog.