There's no way around it—influencer marketing has become an integral part of every forward-thinking brand's marketing strategy. The reason: customers trust influencers' recommendations. According to Ipsos, 45% of Gen Z and Millennial adults say they have bought products or services based on recommendations from social media influencers.
As a result, businesses are beefing up their influencer marketing budgets. Data from a Kantar survey shows that 59% of marketers expect to increase investments in influencer content.
If you're curious about how much you can expect to spend on influencer marketing, how to plan the influencer marketing budget, and what factors affect influencer rates, good news: We'll help you find the answers to these questions and more.
9 Factors That Affect Influencer Rates
Most influencers don't charge a flat rate for their services because a number of factors play a role in how much they charge. Let's take a look at some of the most important factors that affect influencer pricing.
1. Social media platform
The first thing to keep in mind is that influencers usually charge a different amount based on the social media platform. Every platform has a diverse audience, so you should ask yourself what social media channel will help you reach your target audience. Influencer rates usually gravitate in the spectrum that is an unwritten benchmark depending on the social media platform. Once they decide on the baseline, influencers rely on additional factors to determine the final rate.
2. Number of followers
Influencer rates are directly proportional to the number of followers an influencer has. Having more followers allows influencers to share their message with a broader audience and thus get a better reach. As a result, brands interested in working with influencers that have a bigger reach will have to pay more to get promoted by popular influencers.
3. Engagement rates
Experienced brands that have previously worked with influencers know that having more followers doesn't necessarily mean the person has an engaged audience. That's why they are also looking at the engagement rates. Using an influencer marketing platform allows brands to compare engagement rates, and choose the influencers they want to work with to maximize their ROI. Influencers are also aware of the importance of engagement rates and the ones with the highly engaged audience usually charge more.
4. Industry
Working in a niche industry means that you have to be careful when selecting influencers for your marketing efforts. If you're promoting sports apparel and equipment, you should partner with fitness influencers because that way, you'll be able to reach a specific audience that also has similar interests as the person they follow. Rates will vary based on the number of influencers in that particular niche.
5. Frequency of posts
Creating a longer-term relationship with influencers gives brands the opportunity to negotiate the price. If you're just starting a partnership with an influencer and you ask for their rate for a single post, you can expect a higher amount compared to asking them for a long-term collaboration or multiple social media posts. Finding the right balance between the number of influencers you want to include in a campaign and the number of posts per influencer is key to getting the most value for your money.
6. Type of content
Different type of content requires a different amount of time, effort, and creativity. As a result, influencer rates can vary based on the type of content you require from them. Unlike a story, which takes less time to create and expires in 24 hours, creating a video requires more planning, time, and effort which makes it a more expensive type of content. The best way to discover what works best for your business and also fits the budget is to test different types of content and decide what's the right fit for you.
7. Number of channels/platforms
More often than not, influencers are active across multiple social media platforms. This means that when defining the details of the collaboration, you should also consider whether you want to be promoted through one or various social media platforms, which will also influence the price rate.
8. Exclusivity
In some cases, businesses want an exclusive collaboration with an influencer for a certain period of time. This usually happens for niche influencers that are approached by similar brands or celebrities in cases when the business wants to promote the influencer as a brand ambassador. In these cases, influencers sign a non-compete agreement or exclusivity clause, but they require a significantly higher amount because of the potential profit they lose by not working with other companies in the niche.
9. Usage rights
Businesses have to clearly define usage rights for the content that influencers create. In most cases, influencers have ownership of the content, meaning if you want to use the same content for different platforms, you have to negotiate the details with the influencer upfront, which may affect the final rate.
BETTER COLLABS. BIGGER BUSINESS. BADASS LIFE.
Get on the list for actionable advice every two weeks.
How Much Do Influencers Charge Per Post?
Influencer rates are not set in stone, and they vary depending on all the different factors we've mentioned so far. However, there are still some price tiers you can use as guidelines based on the type of influencer and social media platform they use.
Let's look at the average influencer earnings per post according to Influencer Marketing Hub:
Nano-influencer Rates
Creators with 1,000–10,000 followers, usually focused on a niche industry or topic. Nano-influencers have a more engaged audience because they have much closer relationships with their followers. Research shows that 39% of brands chose nano-influencers as their most likely partners. The price rates show that nano-influencer charge more for Instagram posts compared to TikTok. However, YouTube is the most expensive platform since it requires more effort to create a video.
Instagram – $10-$100 per post
TikTok – $5-$25 per post
YouTube – $20-$200 per video
Micro-influencer Rates
Creators that have 10,000–50,000 followers are considered micro-influencers. At this stage, influencers still have good connections with their audience and higher engagement rates. According to Influencer Marketing Hub, 30% of brands opt for mico-influencers. Prices per post for TikTok start at $25, which is significantly lower compared to Instagram, where prices start from $100 per post.
Instagram – $100-$500 per post
TikTok – $25-$125 per post
YouTube – $200-$1,000 per video
Mid-tier influencer Rates
Creators with 50,000–500,000 followers fall under the mid-tier influencers category. Based on the number of followers, they have higher negotiating power, so it's no surprise they can charge up to $5,000 per Instagram post and up to $10,000 per YouTube video.
Instagram – $500-$5,000 per post
TikTok – $125-$1,250 per post
YouTube – $1,000-$10,000 per video
Macro-influencer Rates
Creators with 500,000–1,000,000 followers are considered macro-influencers. Research shows that 19% of brands opt for macro-influencers as their most likely partners. The price rates vary from $1,250 – $2,500 per TikTok post and can go as high as $10,000 per Instagram post and $20,000 per YouTube video.
Instagram – $5,000 – $10,000 per post
TikTok – $1,250 – $2,500 per post
YouTube – $10,000-$20,000 per video
Mega-influencer Rates
Influencers with more than 1,000,000 followers are considered mega-influencers or celebrities. Their extreme popularity makes them expensive to work with, and usually, only leading global brands can afford to work with this type of influencer. In most cases, brands are negotiating more extended collaboration rather than one-off posting. However, prices can exceed $10,000 per Instagram post and $20,000 per YouTube video.
Instagram – $10,000+ per post
TikTok – $2,500+ per post
YouTube – $20,000+ per video
Real Rates From Real Influencers
Guidelines are helpful, but they're not always indicative of what you can expect. That's why we spoke with over forty Afluencer users to pull back the curtain on their current rates.
Here are some of the influencers we spoke to about what they focus on, and their rates for the platforms they use:
Primary platforms: Instagram, Twitter, and TikTok
Rates:
$110 for a single IG post
$50 for an IG story
$150 for an IG post + story
$150 for a single reel
Gergana Pavlova has a strong following on all three platforms (IG, Twitter & TikTok), with over 10,000 followers on Instagram alone. Her sponsorships are an eclectic mix of entrepreneurship and money topics, as well as lifestyle posts that highlight her travels and the foods she's eating.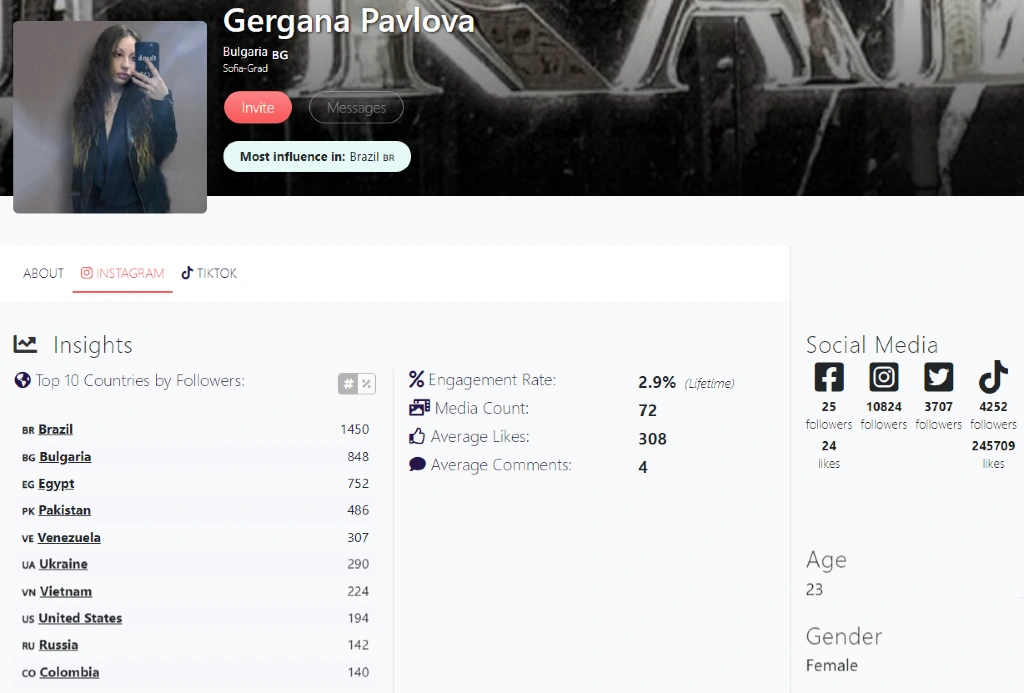 ---
Primary platform: YouTube
Rates: £100 per post on YouTube
Chronicling her travel adventures for a nano-audience on YouTube (~660 subscribers), Deborah Babalola likes to talk about her journey from Nigeria to the U.K., her experiences with her friends (including pranks), and what she's learning about cultural differences.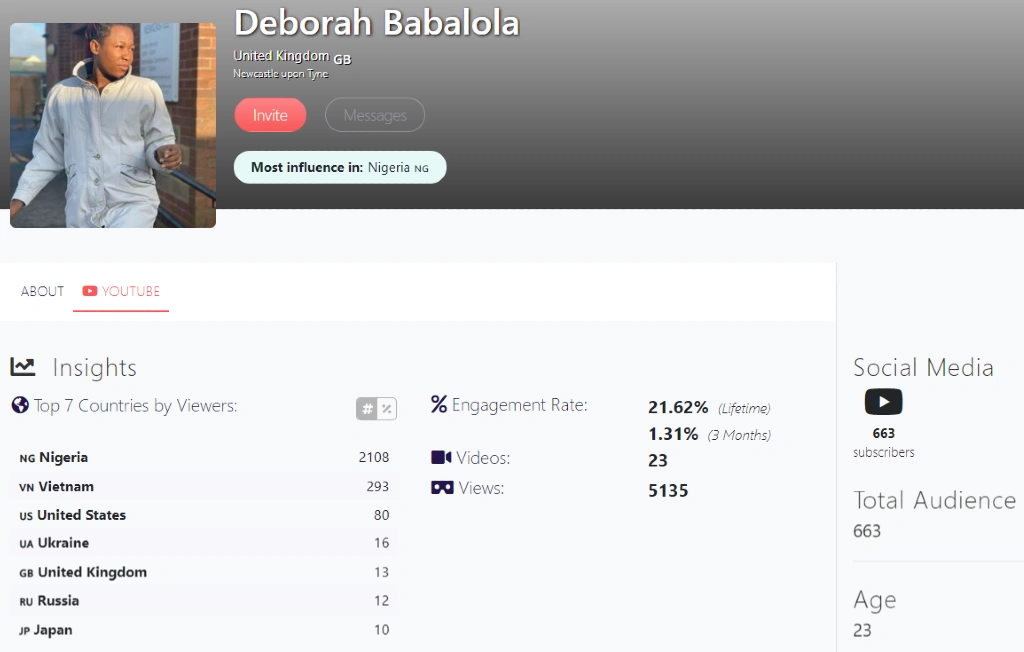 ---
Primary platforms: Instagram, TikTok, YouTube
Rates:
Instagram packages
⇨ $150 for 1 video / 3 stories
⇨ $300 for 2 videos, 1 static post, and 5 stories
⇨ $450 for 3 videos, 2 static posts, and 8 stories
It's all about the #dancejourney for Clara Ruiz, who frequently shares videos of herself dancing, even when out and about in public. Clara has a large audience on Instagram, featuring over 130,000 followers. She's also something of a full-service influencer, handling ideation, filming, and editing herself.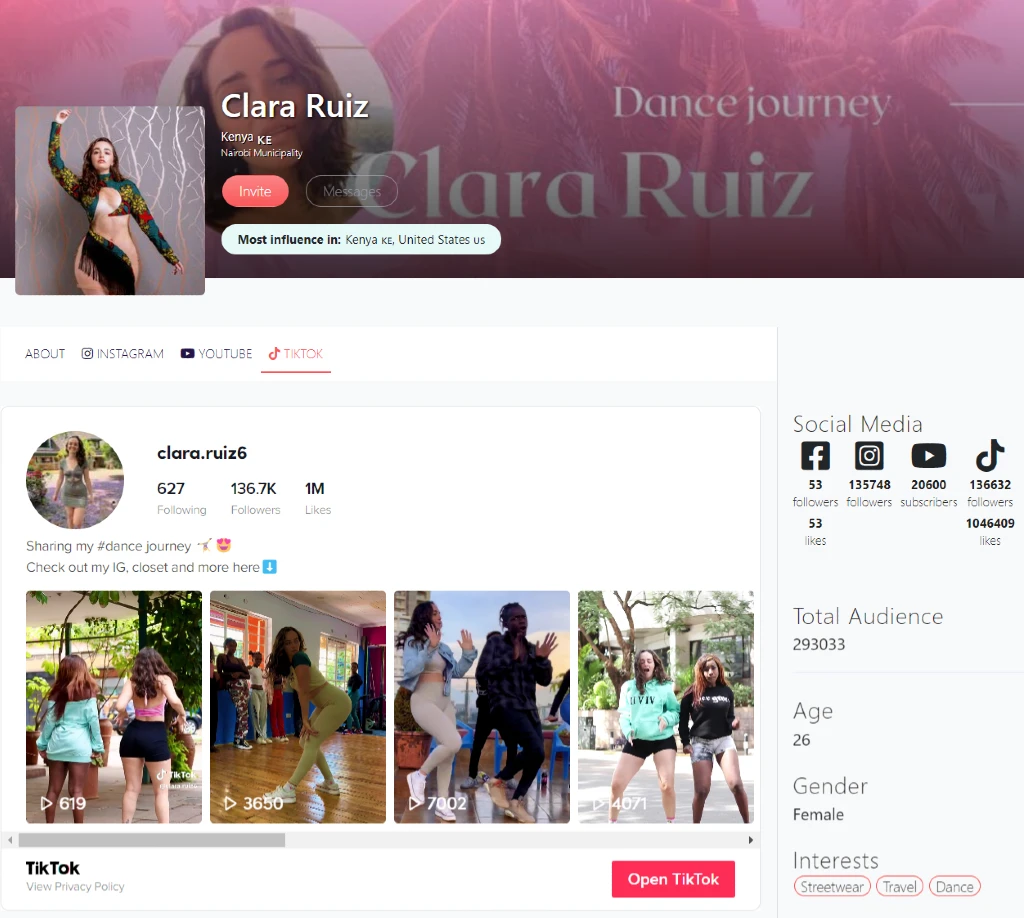 ---
Primary platform: Instagram
Rates:
140€ per post or reel + 1 story
200€ per post or reel + 3 stories
Reme has ~17,000 followers on Instagram who follow her for the latest in what she dubs "majorly trendy and girly streetwear". She's also enthusiastic about natural-looking beauty, which makes her a natural for both fashion apparel and makeup sponsorships.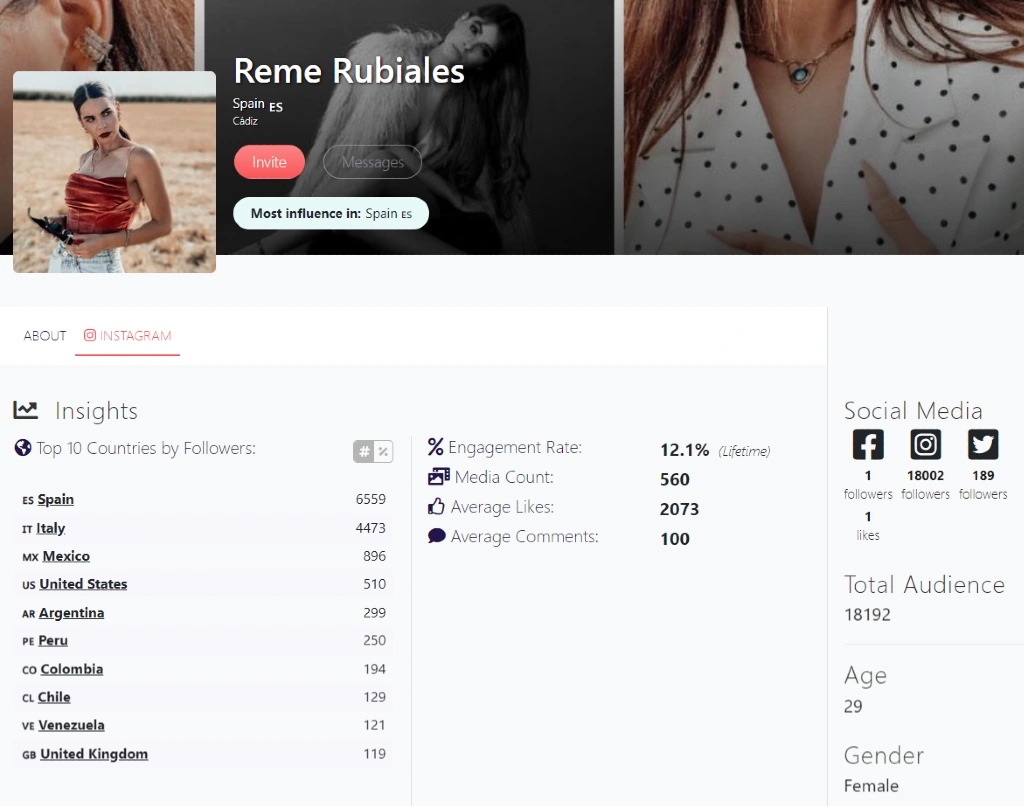 ---
Primary platform: Instagram
Rates:
$150 per story
$300 per static post
$400 per reel
An avid modern lifestyle influencer, Lucie focuses on travel and fashion—and "believes coffee with plant-based milk is a form of art". All of her content is focused on living a healthy lifestyle throughout, which gives her 11,000-follower platform plenty of different niches to appeal to.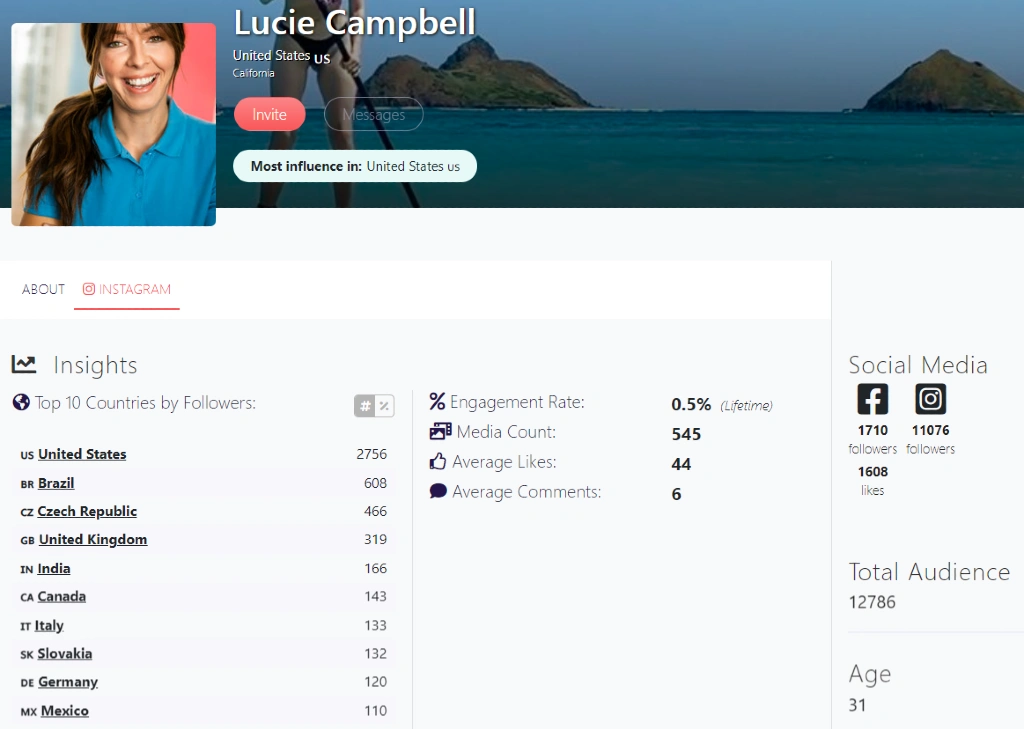 ---
Primary platform: Instagram
Rates: ~$25 per post/reel
With under 10,000 followers on Instagram, Mani Viraj is a microinfluencer focused on fashion, fitness, and travel. Reaching ~8,000 followers for just $25 per post is a good idea of what to expect on the low range of influencer marketing as Viraj builds up both an Instagram audience and a new YouTube channel.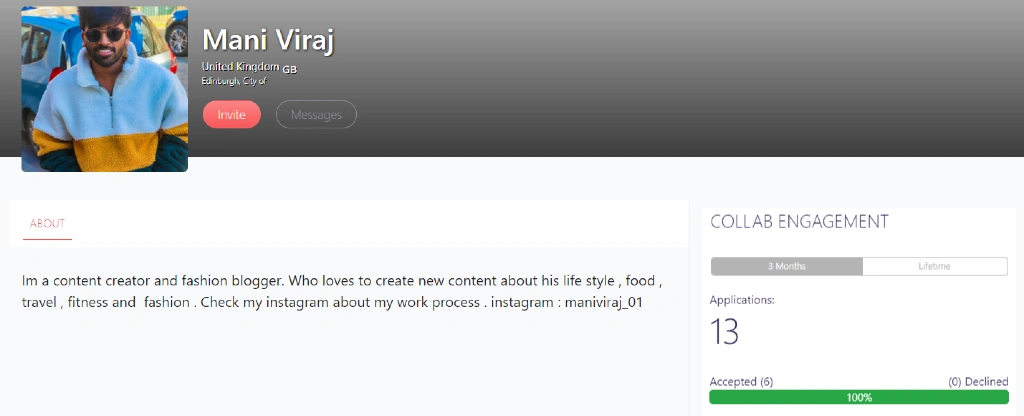 ---
Primary platforms: Instagram, YouTube, TikTok
Rates:
Instagram
⇨ $75 for photos
⇨ $50 per carousel
⇨ $150 per reel
⇨ $50 per story
TikTok
⇨ $150 for videos
⇨ up to $350 for completely original videos
A nano-influencer with her largest following on Instagram, Amanda focuses on fashion and food with an upbeat, inspirational personality—she fancies herself "your hype girl". Her Instagram reels show before/afters using curling irons, for example. This gives her followers a sneak peek at what her life is like behind the creations.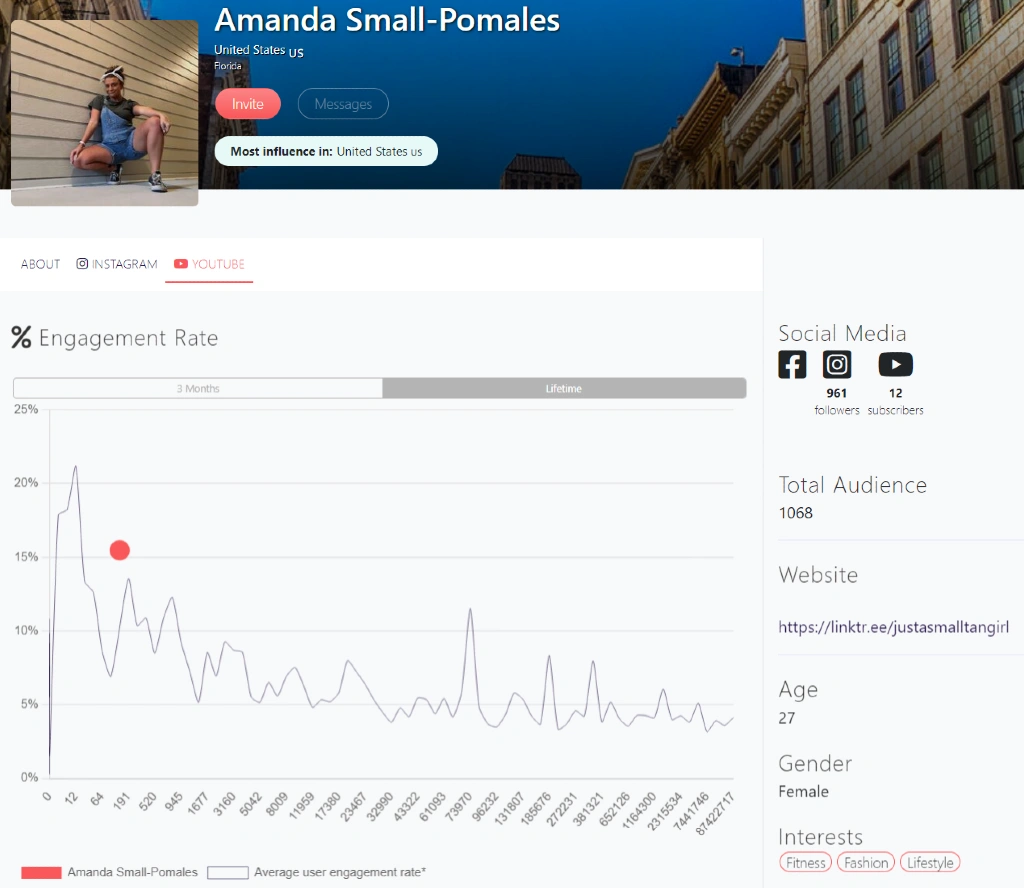 ---
Primary platforms: Instagram and TikTok
Rates:
$1,500 per reel on Instagram (includes links)
$900 per reel on TikTok
A health and wellness influencer, Nadine has earned 2.9 million likes on TikTok—and over 300,000 followers on the platform. Her content can be informative (like a recent TikTok post about foods banned in the U.S. but banned in other countries), and people regard her as a trustworthy source for all things health and wellness. Her prices reflect what you can expect to pay if you want to reach a higher follower count.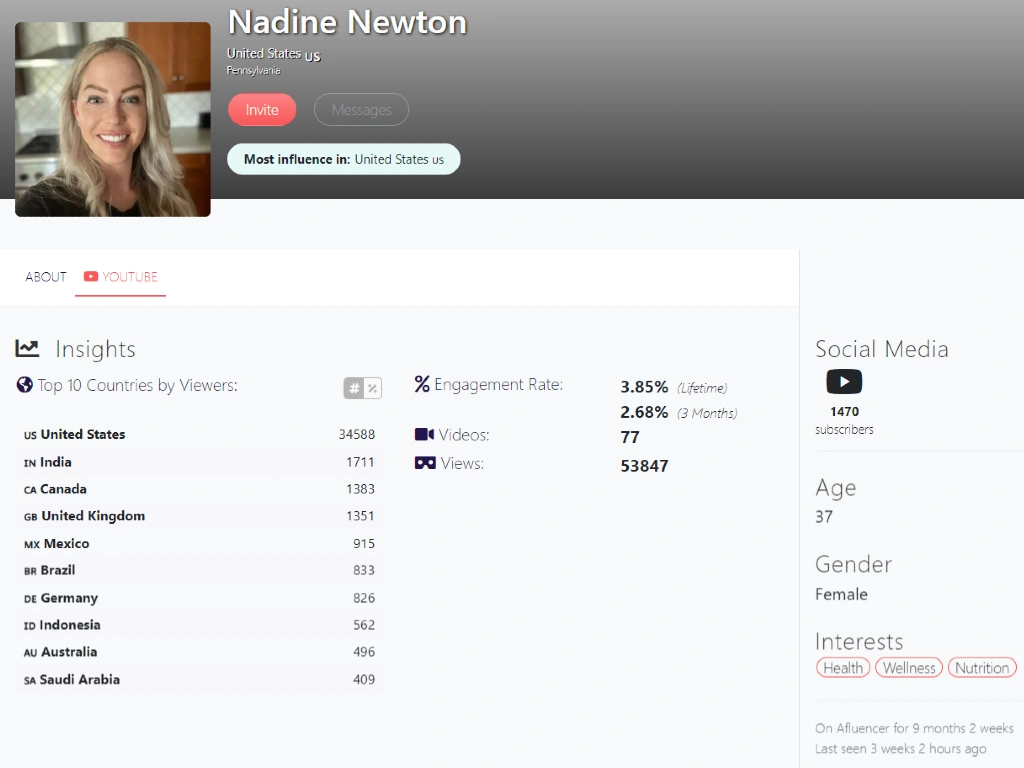 ---
Primary platforms: Instagram, TikTok
Rates: "Negotiable" (willing to work with small brands)
Skye Morrison's primary followings on Instagram and TikTok are over 18,000 and 30,000 followers, respectively. And according to Morrison, they fall across a broad age range. Characterizing herself as eccentric but determined, Morrison's emphasis is on the spiritual side of brand collaborations, including serving as a brand ambassador for a jewelry company focused on inspiring its customers.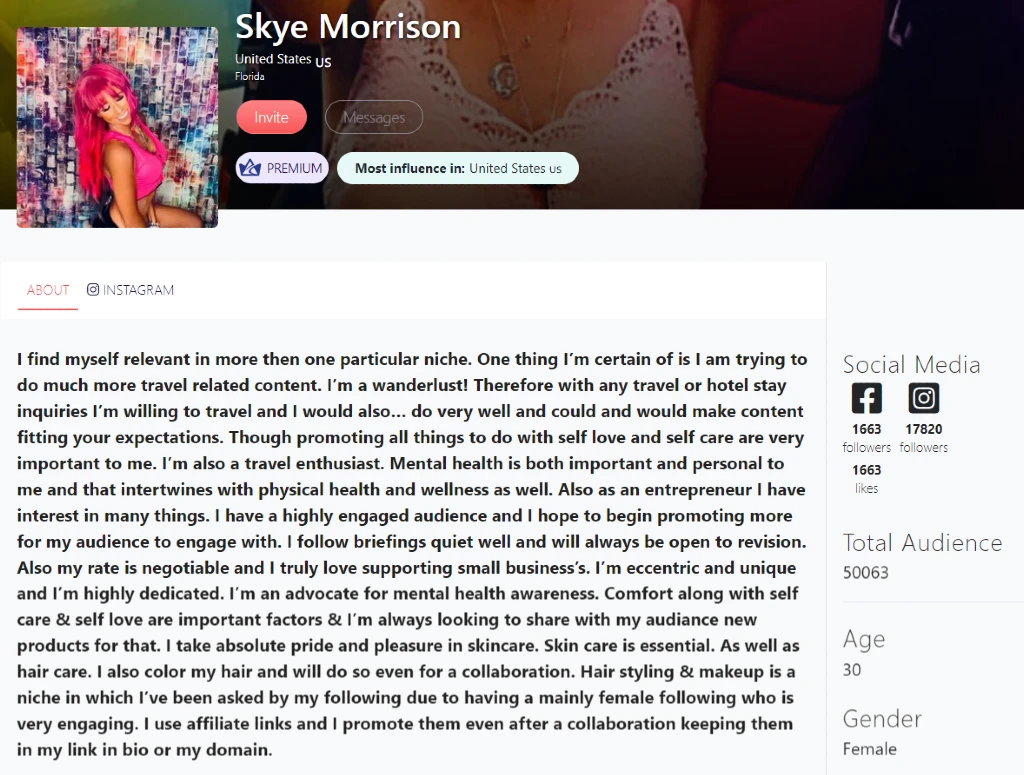 ---
How To Determine Your Influencer Marketing Budget?
Whether you've worked with influencers in the past or you're just getting started, deciding on your influencer marketing budget can be challenging.
Here's a five-step process that will help you determine the proper budget for your business:
1: Define your goals
The first step to understanding how much money you need to invest in influencer marketing is to define the goals you want to achieve. Do you want to raise brand awareness, get more followers or boost sales? Defining what success looks like for your businesses is a prerequisite for informed decision-making when setting up the influencer marketing budget.
2: Request influencer rate cards and look for patterns
Before planning your budget, it's always good to ask for rate cards from influencers you want to work with. While there are industry benchmarks you can rely on, getting influencer rate cards and looking for patterns in the price rates will help you nail your budget planning and set aside the resources you need for successful influencer marketing campaigns.
3: Use a general model as a benchmark
To estimate the annual influencer marketing budget, you need to know the price per influencer per post and multiply that by the number of posts, the number of influencers you want to include, and the number of campaigns you plan for the year. This is a simple formula that will give you a clear picture of the funds you need to plan for your influencer marketing efforts.
Annual influencer marketing budget = Price per influencer per post x number of posts per campaign x number of influencers per campaign x number of campaigns per year
The tricky part is how to calculate the rate per influencer. There are two ways to do this:
Use the general model to calculate the rate per influencer – rely on the benchmark cost per type of influencer and multiply that with the number of posts, then add additional costs such as photoshoot expenses, usage rights, exclusivity, etc.
Total rate = Benchmark cost per type of influencer x number of posts + additional factors (i.e., expenses for shoot, usage, exclusivity)
For example, the benchmark rate for an influencer with 10,000 followers for an Instagram post is $100. You should multiply that number by the number of posts you need (e.g. 5 posts) and add the additional costs (e.g., $300), and you get an $800 rate per influencer.
E.g. $100 (per 10,000 followers) x 5 posts + $300 additional costs = $800
Alternatively, estimate an influencer's base rate by calculating 4% of their following and adding the number of posts + additional factors to get your final rate.
4: Calculate influencer marketing ROI
The best way to understand the impact influencer marketing has on your business is to calculate the return on investment (ROI). Unlike in the past, where influencer marketing was perceived as a "nice to have" additional to boost brand awareness, results show that influencer marketing has a measurable impact on the bottom line.
According to Statista, 60% of marketers agree that influencer marketing has a higher ROI than traditional advertising.
To calculate the ROI of your influencer marketing efforts, you should subtract the cost of investment from the total gain on investment and divide that number by the cost of investment. Multiply the final result by 100 to get a percentage.
Influencer marketing ROI = (Total gain on investment – cost of investment) / cost of investment x 100
5: Test and optimize
When it comes to budget allocation for influencer marketing, you need to adopt the "test and learn" mindset. Using data, industry benchmarks, and influencer rate cards, you'll be well-equipped to make an informed decision. However, the best way to find what works best for your business is to test and optimize the type of influencers, social media platforms, frequency, and more.
Nano-Influencers: A Cost-Effective Way To Work With Influencers
If you want to dip your toes into influencer marketing without breaking the bank, you should consider working with nano-influencers. Just think about it: based on the pricing benchmarks, you could work with at least five nano-influencers on Instagram for the price of one mid-tier influencer.
The best part is that nano-influencers have an average engagement rate of 3.69%–over twice the engagement that macro-influencers have. Another point that tips the balance in favor of nano-influencers is the fact that, unlike macro-influencers and celebrities who usually want to be paid per post, nano-influencers are also willing to work on commission, allowing you to test affiliate marketing.
One of the main roadblocks of working with nano and micro-influencers is finding the right fit for your business. Scrolling through social media just to find nano-influencers you can work with can take too much of your time and energy. Instead, you can rely on an influencer marketing platform where you can access the profiles of thousands of influencers and filter results based on specific criteria.
Afluencer allows you to browse through the profiles of different influencers, check their engagement rate, top countries, gender and age distribution of their audience, as well as the performance of their social media posts.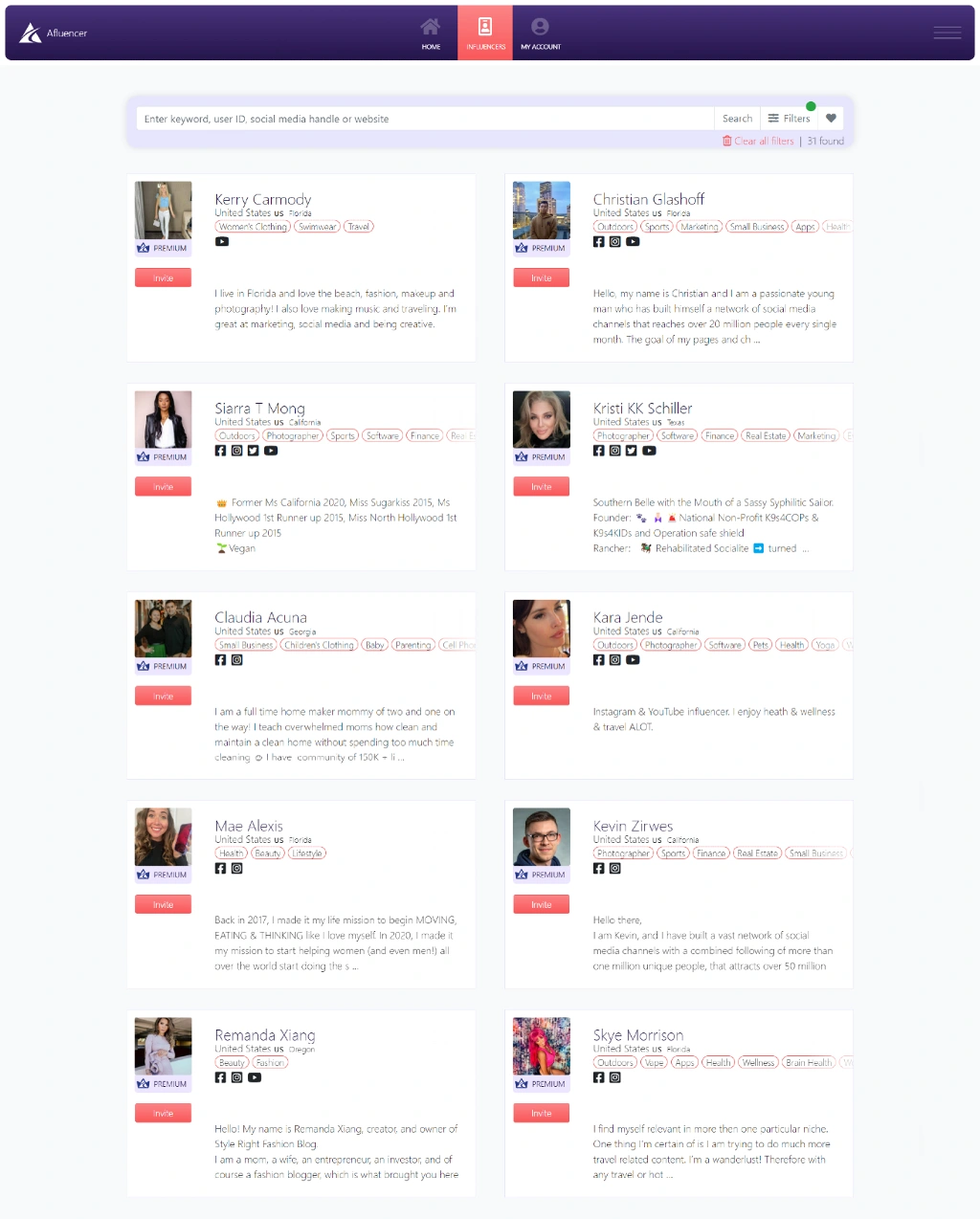 Fuel Your Business With Influencer Marketing
There you have it—everything you need to know about influencer rates and how to determine your influencer marketing budget.
The best way to approach influencer marketing is to test the waters by working with nano and micro-influencers. Once you see the ROI, you'll be able to iterate and adjust your campaigns along the way. Using an influencer marketing platform like Afluencer will help you get all the information you need to plan your influencer marketing budget.
If you want to explore the power of influencer marketing, install the Afluencer app for Shopify here.