You know what you want when you Collaborate with Influencers and Creators — brand recognition, a loyal community, and a consistent number of sales. But you're clueless about the best ways to use these partnerships to your advantage and hit a tick mark against all these goals.
With 54% of all ecommerce businesses working with Influencers, it'll take something extraordinary to make a lasting impact with your campaigns. Thankfully, you don't have to look far for creative inspiration. In this article, we've curated a list of eight proven tactics to Collaborate with Influencers and Creators to help you plan the next campaign.
5 Ways to Collaborate with Influencers
Collaborating with Influencers with a massive following can give retailers a much-needed boost in brand awareness, audience engagement, and sales. But even after finding the perfect Influencers for your brand, you're wondering: what's the best way to leverage their influence?
Below you'll find five effective ways of working with Influencers:
1. Whitelisting
Influencer whitelisting allows brands to convert Influencers' content—posts, stories, reels, and more—into paid ads running from the Influencers' accounts. Unlike mainstream advertising, brands can post these ads directly from an Influencer's profile.
Since the target audience is already invested in the Influencer's content, whitelisted ads will receive better engagement and reach. Besides, brands can also maximize the ROI by defining the audience they want to target and optimizing the content through A/B testing.
Here's the perfect example of Influencer whitelisting by Florida Crystals. Their Collaboration with Influencer Priyanka Naik went out as a paid partnership reel on her account. The organic sugar brand then pushed out this reel as a whitelisted ad to get more eyes to the post and generate more brand awareness.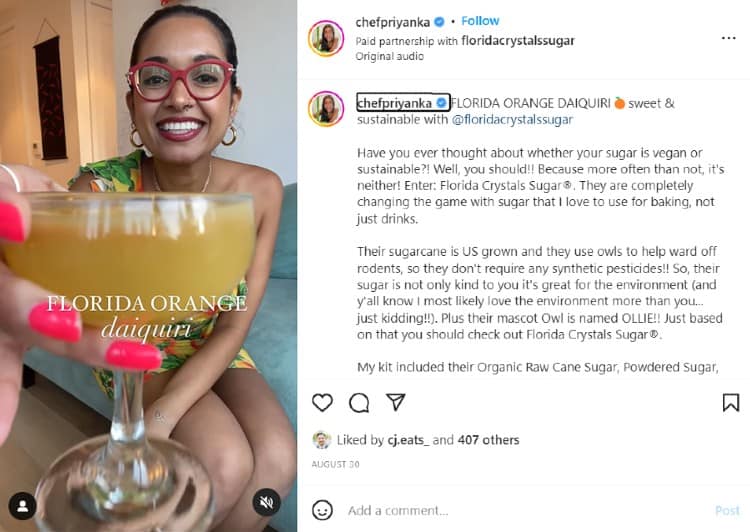 Best practices for Influencer whitelisting
Here are a few handy tips for whitelisting Influencer content and running profitable ads:
Find relevant Influencers: Choose Influencers who best represent your brand personality and vision. Use Influencer databases like Afluencer to browse a collection of Influencers from different niches and channels before picking the best fit.
Establish meaningful Influencer relationships: Trust lies at the core of Influencer whitelisting—Influencers should trust a brand enough to grant permission to run ads from their personal accounts. So, focus on nurturing a healthy relationship with your Influencers to pitch a whitelisting campaign.
Communicate expectations transparently: Give Influencers all the information they need before you run ads from their account. Clarify your expectations and workflows to ensure there are no misunderstandings once the campaign is underway.
Define a content strategy beforehand: Finalize the core messaging, content formats, and campaign goals before allowing Influencers to create content. A targeted content strategy can help you reach the right audience and get more from your campaign.
Optimize content with A/B testing: Whitelisting ads means you control how the ads look and feel. Optimize your ad content by testing and modifying the format, design, CTA placement, and other elements.
2. Product seeding
Product seeding, also known as Influencer gifting, is a form of organic Influencer marketing to build brand awareness. Brands Collaborate with Influencers and send them some products in exchange for an unpaid post, like a review or an unboxing video.
Besides amplifying your brand through positive word of mouth, product seeding also builds strong social proof. When 49% of customers trust an Influencer's recommendations over branded marketing content, this Collaboration can potentially drive your sales.
Look at Bibado's product seeding Collab with Steph, a first-time mother. They sent Steph a newly designed bib for her newborn baby and reached a group of several expecting or new mothers among her Instagram followers. This review also conveyed all the good things about the product to create interest.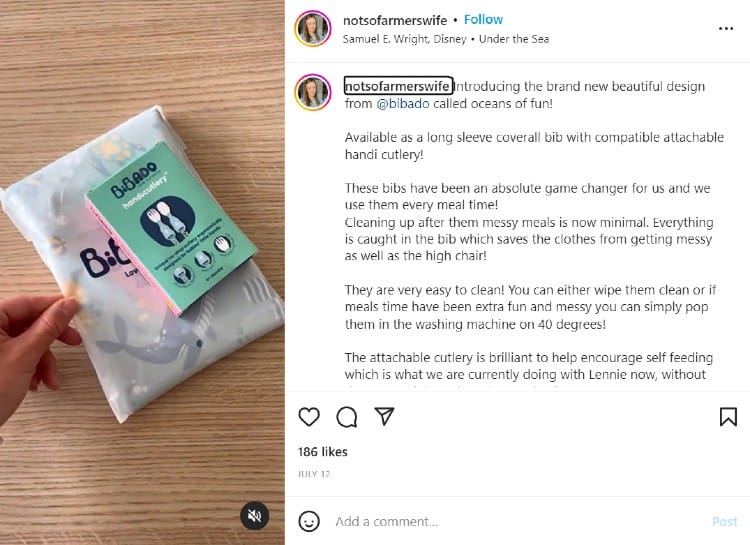 Best practices for product seeding
Here are a few handy tips for Influencer gifting to get the best results:
Choose the right Influencers: Since Influencers don't get paid to promote your products, Collaborate with Influencers who already like/love your product. Scrolling through your followers' list is a great way to find them. Once you've shortlisted a few names, pick the ones that best fit your audience.
Communicate with authenticity: Establishing an initial contact can be tricky. Influencers can straight away reject your offer if you don't communicate well. Win their trust with a friendly, crisp, personalized pitch for a Collab.
Choose the product(s) you want to give: Pick the products your chosen Influencers would actually want to use. Do some research to understand their preferences and send products they'd genuinely like.
Create personalized packaging: Designing a customized package with a personalized message is the easiest way to stand out from the other brands using the same tactic. This could also encourage Influencers to share a more positive review for you.
Promote the content on different channels: Getting a review from the Influencers is just the first step. Once the review is out, reshare and promote it on multiple channels to get the maximum value.
3. Collab product
Brands with long-term Influencer relationships often solidify their partnerships by co-creating a new product with these Influencers. Designing a new product is an excellent way for retailers to tap into an Influencer's audience for more sales. For Influencers, this means more publicity and better campaign performance.
Co-creation allows Influencers to be more closely involved in the design and development process. This also increases their commitment to the brand values, turning them into brand ambassadors with a less transactional and more meaningful partnership.
That's precisely what ba&sh's Collab with Arielle Charnas's Something Navy shows. The fashion Influencer co-created a line of accessories with the luxury fashion brand as a part of Influencer marketing. This collection went out to Arielle's 1.2 million Instagram followers, creating a stronger brand reputation for ba&sh.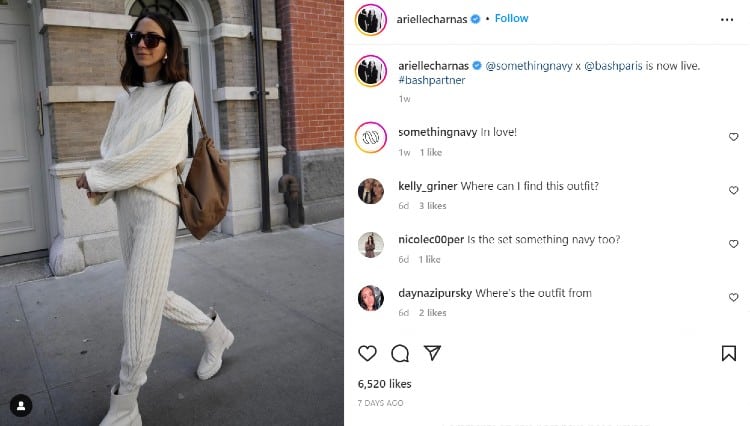 Best practices for Collab product
Here are a few handy tips to co-create products with Influencers:
Pick Influencers with industry expertise: Work with industry-leading Influencers to get the best outputs from a co-creation project. Use this opportunity to build your brand's credibility. Besides, investing your time and money into building a brand-new product can produce the expected ROI only when Influencers have a huge follower base.
Strengthen Influencer partnerships: A surefire way to win at co-creation is developing an airtight relationship with the Influencers you have chosen to Collaborate with. When involving an Influencer in the backend development process, you want to ensure they're fully committed to your brand.
Involve their audience in the creation process: You can maximize the returns from a Collab product and increase conversions post-launch by involving the Influencers' audience in the creation process. Include their inputs and ideas to create a customer-centric design.
4. Giveaways
Partnering with Influencers to host giveaways is an excellent way to create buzz around your brand, win more followers, and engage with a community of interested buyers. When done right, giveaways can enhance brand consideration and encourage more people to participate.
Influencers are also more inclined towards a giveaway since it's an easy way to earn followers and ramp up engagement. Plus, there are many ways brands can use this tactic, such as:
Co-host a giveaway with Influencers
Promote a giveaway through Influencers
Here's how Sherwin-Williams conducted a giveaway contest with Annika, a DIY decor Influencer on Instagram. The paint brand chose a niche Influencer whose followers showed interest in decor and craft, with one shared interest: paint. The giveaway rules helped both parties gain followers and allowed the brand to expand its audience on Instagram.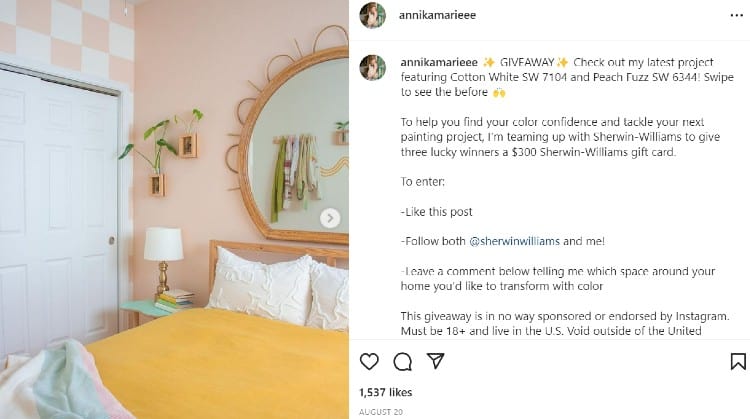 Best practices for giveaways
Here are a few handy tips for hosting giveaways with the Influencers you Collaborate with:
Give Influencers creative freedom: The success of a giveaway campaign depends on how well Influencers can run the show. Give them the creative freedom and encouragement to engage with their audience from the start and hit the targets for the campaign.
Set criteria to maximize engagement: Don't overcomplicate your giveaway with too many rules. Choose a set of doable rules to maximize engagement on the giveaway post and attract new audiences.
Promote the giveaway everywhere: Share the news about the giveaway on different channels to increase traction. Repurpose the post and publish it across social media platforms, emails, and other channels for maximum participation.
Create urgency with a countdown: Ask Influencers to run a countdown for the giveaway and create a sense of urgency to remind more people about it.
5. Create a contest
Brands can leverage an Influencer's massive following to run a contest or start a challenge nudging people to complete a task. This ultimately leads to a collection of user-generated content and social proof for the brand.
You need fresh and creative ideas to create a viral contest and make the headlines. Once these Influencer-run contests blow up, you'll have a solid community of hyper-engaged users.
Colgate's #MakeMomSmile campaign became a viral trend with over 5 billion views on TikTok, thanks to its Influencer partnerships. What started as a single video by a TikTok Influencer (also a Colgate partner) quickly went viral and had thousands of videos. This example shows how retailers can work with a few Influencers to host a contest and ace UGC marketing.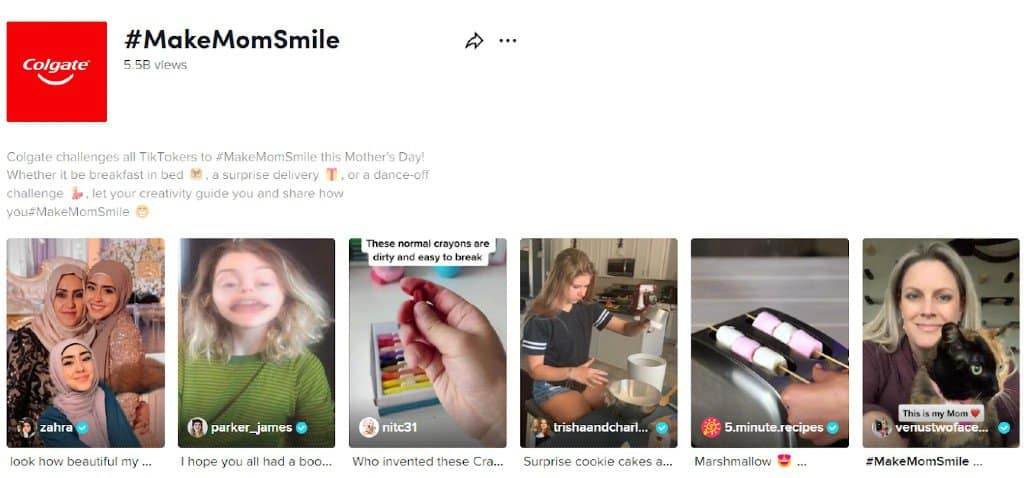 Best practices for creating a contest
Here are a few handy tips for running contests with Influencers:
Choose an on-brand hashtag: A hashtag is the best way to accumulate all your user-generated content. So, before launching the contest, think of a unique hashtag that sticks with you. Involve the Influencers you Collaborate with in the brainstorming process to pick a good one.
Pick a doable and share-worthy task: Make the contest easily achievable. You don't want to stress your audience with a complicated task. Choose an activity they can easily perform and encourage them to participate.
Define clear rules for the contest: Create a list of rules to make your contest fair to everyone. The goal isn't just to create a lot of content. You also want to reward users for their efforts in participating. So, choose a prize for the winners and finalize the rules for the contest.
3 Ways to Collaborate with Creators
Creators are those who produce content for an audience and monetize this content. They have a relatively smaller following than Influencers. But Content Creators share a deeper and more constructive relationship with their followers.
Here are three of the best ways retailers can Collaborate with Creators:
1. Whitelisting
Whitelisting works the same way for Creators as it does for Influencers. Brands can whitelist Creators' content as paid ads and bring their followers into the sales funnel. Since Creators produce more authentic content, these whitelisting ads can prove more beneficial than Influencer ads.
Here's how Beam Collaborated with various Creators to run whitelisted story ads on Instagram and Facebook. The coffee brand repurposed its stories and posts into story ads with a swipe-up CTA.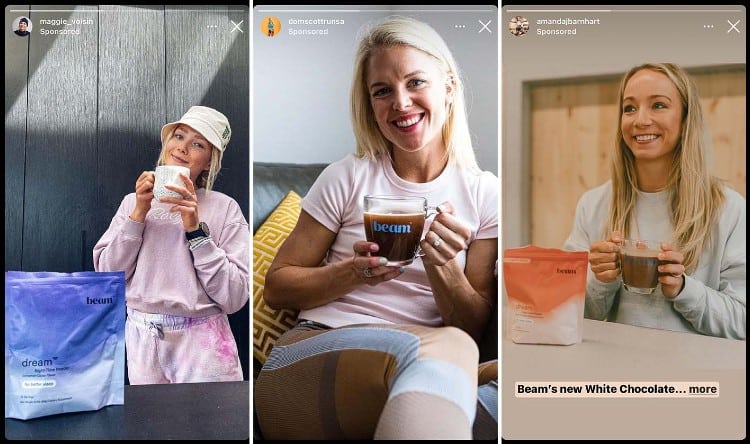 Best practices for whitelisting
Here are a few tips to whitelist Creators' content:
Select niche-based Creators: Handpick Creators that align with your brand identity. Find Creators on social media using relevant hashtags or use Creator database platforms like Afluencer to pick the right Creators. Assess their engagement rates and comments to see how well they fit your requirements.
Clearly communicate your guidelines: Let Creators know the campaign goals, timelines, requirements, and budget. Clarifying these details brings more transparency into your partnerships and minimizes the scope of misunderstandings.
Set KPIs to measure success: Choose a list of metrics for each goal to review the Creators' performance. You can track these KPIs directly from the ads manager on Facebook.
2. Branded commercials
Producing branded ads is another unique way for retailers to Collaborate with Creators. Similar to sponsored posts, these posts have a "paid partnership" or "sponsored" tag on Instagram and Facebook. Branded commercials feature Creators advertising the brand in a story, reel, or feed post format.
For instance, TokyoTreat's Collab with Luna, a Japanese gaming Creator, shows how branded commercials work. Luna created an unboxing reel with their snack box and shared it with a "paid partnership" tag. The brand also promoted this reel as a sponsored ad and gained more views.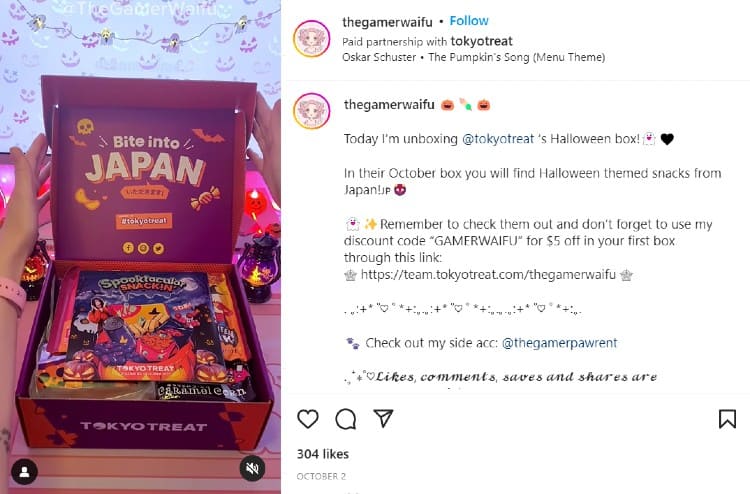 Best practices for branded commercials
Here are a few handy tips for creating branded commercials with Creators you Collaborate with:
Create value-packed content: One of the most effective ways to get the best out of branded commercials is by sharing value through the Creators' content. Create educational or entertaining content that intrigues the viewers instead of disrupting their experience.
Give Creators complete control: Creators will do their best work when they enjoy creative control over their content. Create a set of guidelines to maintain consistency in all posts. But keep the final say with the Creators and let them flex their creative muscles.
Don't be too promotional: Since these are sponsored posts randomly appearing on users' social media feeds, don't make the ads overly promotional. The more organic and helpful your posts are, the better.
3. UGC reviews
Creators with a smaller following are open to creating content like product reviews or live-action videos. This is an opportunity for retailers to double down on Creator partnerships and build solid social proof on these platforms.
For instance, Coréelle Collaborated with Alisson, a beauty content creator, to review three products. This post included an honest and extensive review of all the products, raising interest from Alisson's IG community and building more credibility for the skincare brand. Her review also covered a few downsides of the products, making the review less promotional and more realistic.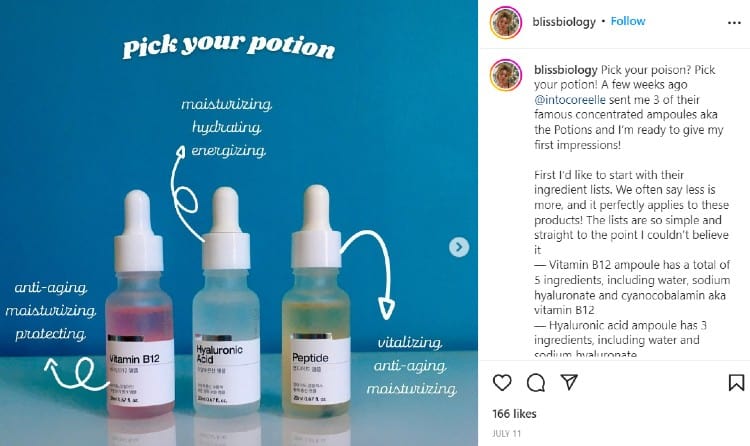 Best practices for UGC reviews
Here are a few handy tips for creating UGC reviews with Creators you Collaborate with:
Design channel-specific strategies: Targeting multiple channels is one of the excellent ways to expand your reach and earn users' trust through UGC. Do your research to identify people's preferences and create channel-specific strategies.
Run Influencer hashtag campaigns: Level up the UGC campaign with hashtags. Let Creators use these hashtags to encourage their followers to post brand-aligned content. Create a trend using these hashtags and your Creators.
Repurpose UGC content for different channels: Recreate your UGC posts into other formats for distribution across various channels. Convert all IG reels and TikToks into YouTube videos and share all posts through a newsletter.
Working with Influencers and creators made easy
Partnering with the right Influencers and creators can do wonders for ecommerce brands. Finding the right people for your brand is even easier with the Afluencer app for Shopify. Choose the best fit from a massive selection of Influencers and creators from different niches, platforms, and regions.
Once you've shortlisted your best picks, create an airtight strategy to get the best out of these partnerships. We've uncovered eight ways to work with Influencers and Creators to hit your marketing goals and multiply the ROI. Select whichever methods fit your budget and campaign ideas.
Remember to define your metrics for success beforehand to track performance and modify your strategy at any stage if necessary.