Until a few years ago, partnering with mega-celebrities was the only way brands knew how to run influencer marketing campaigns. Today, micro-influencers are ruling all social platforms, and Brand Collabs give a new meaning to influencer marketing.
With micro-influencers owning 91% of the total market share in 2021, you're losing out if you're not investing in micro-influencers.
But here's the catch: finding and hiring micro-influencers who meet your brand values and have a decent following to bring the expected ROI isn't exactly a cakewalk. You need to be crystal clear on where you're finding these influencers and how you're hiring them for your campaigns.
In this guide, we'll answer both of these questions for you. But first, let's look at five reasons you should hire micro-influencers.
Why Work with Micro-Influencers?
Micro-influencers dominate social media. 47% of all influencers are micro-influencers with an audience of 5,000-20,000 followers on their biggest social media channel, which makes it easier to find and hire micro-influencers for any campaign.
But that's not all. We've rounded up the five biggest benefits of working with micro-influencers:
1. Reach hyper-engaged audiences
Follower count ≠ engagement rate. Micro-influencers prove that high followers don't guarantee a high engagement rate. In fact, studies show that nano and micro-influencers enjoy a much higher engagement rate than mega-influencers and celebrities.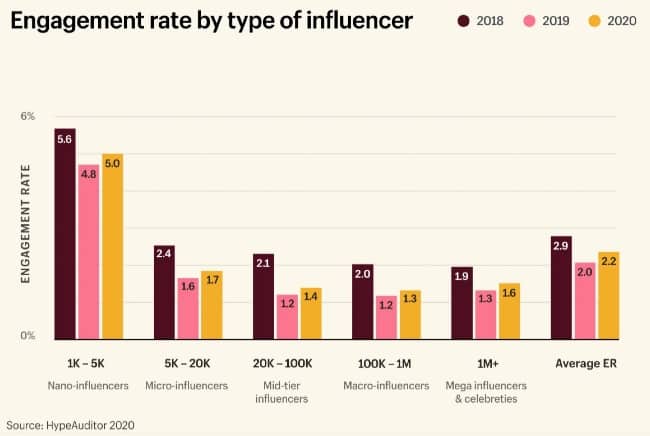 Micro-influencers achieve higher engagement because of their close-knit community of followers. Their followers are genuinely invested in their lives and willingly spend more time consuming their content.
2. Create meaningful and value-packed content
Collaborating with an A-list celebrity will likely get you a bland promotional post and stories on their feed. No creativity, no personal touch, no storytelling—like this post by Addison Rae. It feels artificial and would only bring you brand awareness from her 40 million IG followers.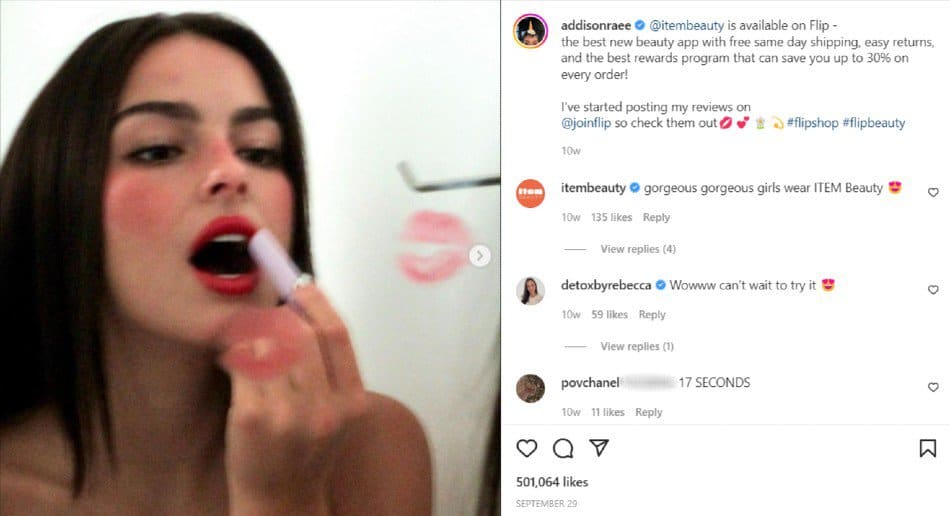 Conversely, micro-influencers focus on delivering true value to their followers. They add their personality to all the content and weave a compelling narrative into each post to resonate with their audience.
For example, Pooja Vedarathinam—a micro-influencer with 21,000 Instagram followers—created a reel for Deconstruct Skincare sharing her makeup removal routine. This reel blended perfectly well with her non-promotional reels about her skincare routine.
More importantly, she wrote a thoughtful caption describing the benefits and value props of the two products she used. It's credible, organic, and perfect for nudging people to buy.
3. Build a more authentic brand image
Let's face it: people know that influencers get big cheques to promote a brand. So, even if you can reach millions of potential buyers through an influencer partnership, your chances of winning sales are pretty slim.
But partnering with micro-influencers can turn the tables in your favor. These partnerships create more authenticity for your brand and boost brand lift to ramp up your conversions ultimately. That explains why 82% of consumers would likely buy products recommended by micro-influencers.
4. Establish a long-term relationship
Another benefit of working with micro-influencers is the ease of managing and nurturing a long-term relationship. Since most of these influencers are looking to build their portfolio and stabilize their incomes with retainer projects, you have a higher chance of making a long-term collaboration instead of transactional relationships.
Plus, micro-influencers are easier to manage and more receptive to feedback. So, you can give them equal control over the creative aspects of the campaign and build healthy partnerships.
5. Stay within your budget
What attracts most brands to micro-influencer marketing is the budget. These small-scale influencers charge significantly lower than their more famous counterparts. A campaign with micro-influencers would be lower on your pocket because they charge as little as $100 per post.
This is a win-win for smaller, up-and-coming brands since they can work with quality talent to produce outstanding ROI without overspending their budget.
5 Best Ways to Find Micro-Influencers on Instagram
When Lumene, a Finnish skincare brand, launched a new product line, they partnered with 88 local micro-influencers to spread the word about their new launch. The campaign included over 260 posts and reached 150,000+ people, creating enough buzz for the brand—all organically.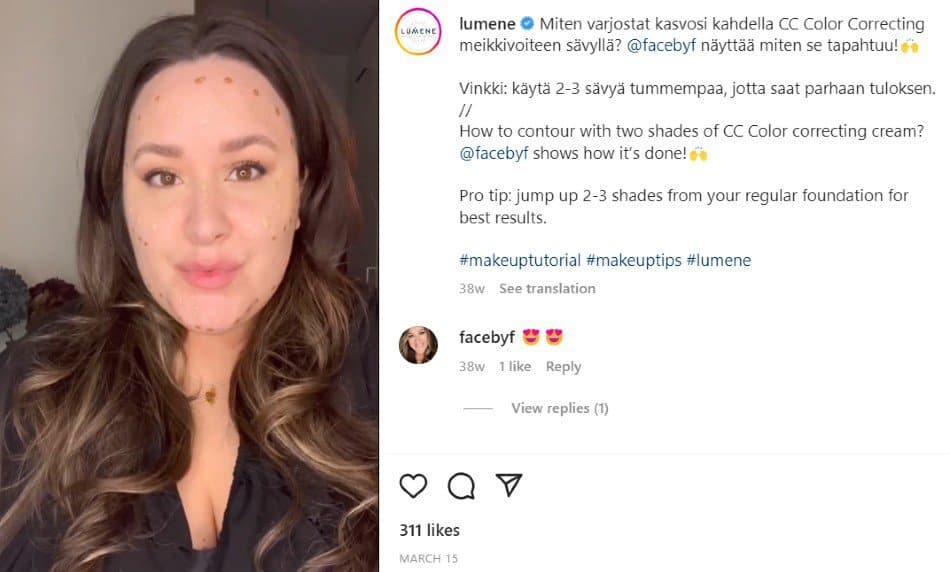 Lumene's success shows the massive potential of working with micro-influencers to build brand awareness, get more prospective customers into your sales funnel, and ultimately ramp up your sales.
Let's look at the five most popular ways of finding micro-influencers for Instagram and when each method would work for you:
1) Use an influencer database tool
One of the easiest ways to find who you're looking for is an influencer database tool like Afluencer.
Afluencer brings over 16,000 influencers from different channels to your disposal in an easily searchable dashboard. You can filter the results using Afluencer's powerful filters, like locations, Instagram insights, total audience, and collaboration preferences.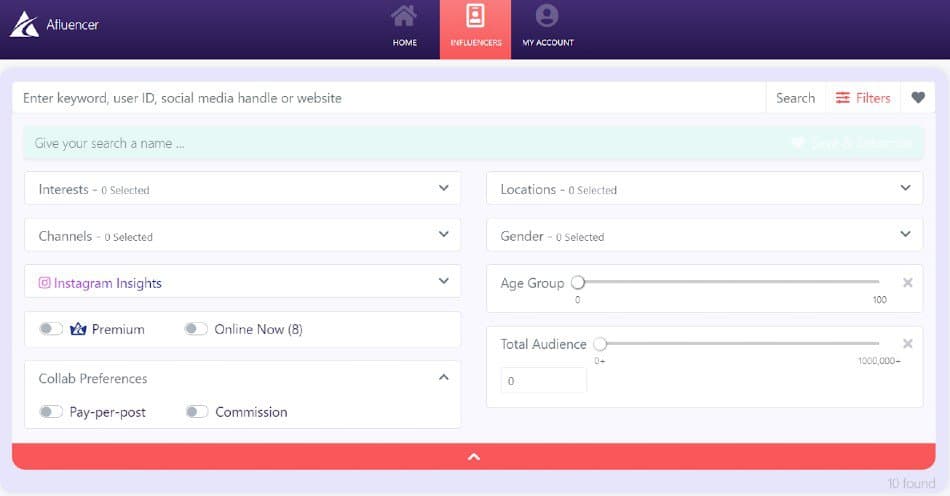 Once you've shortlisted your best options, Afluencer gives you a detailed profile for every influencer. The profile includes everything from their audience size and engagement rate to age, interests, and response rate.
You can invite them to a collaboration by clicking the Invite to Collab button and starting a conversation once they accept.
The best part? You can save your search settings to avoid putting all the filters again when you want to run a search again.
2) Search relevant keyword hashtags
Hashtags are a godsend for finding great micro-influencers. A hashtag search shows excellent results for IG users of all sizes, and it's easy to estimate their follower count by hovering your mouse over each post to see the number of likes and comments.
Remember: this process requires manual effort and can be time-consuming, mainly because you have to review all the posts individually and review every influencer's profile for shortlisting.
Here are a few steps to find brand-fit micro-influencers (before hiring them) using Instagram hashtags:
Keyword research: Create a list of keywords your potential buyers are searching for. You can do this research by using any keyword research tool or by selectively analyzing your followers' profiles to understand the hashtags they follow. Make a list of 15-30 keywords.
Review hashtags: Not every hashtag is worth exploring. Check every hashtag for the quality and quantity of posts. Hashtags with a higher volume of posts promise more traction, but hashtags with fewer posts—like brand-specific hashtags—reach a more targeted audience. You should also look at the general engagement rate for every hashtag to decide which ones you want to go for.
Choose your micro-influencers: Once you've finalized the hashtags, it's time to shortlist the micro-influencers creating good content for these keywords. Make your own database with necessary fields like follower count, engagement rate, niches, etc. This will make it easy to reach out to influencers for future campaigns.
For example, if you're an apparel brand, #travelwear is one of the hashtags you can go for. With a simple search, you'll find 3-5 potential candidates at the top of the search results.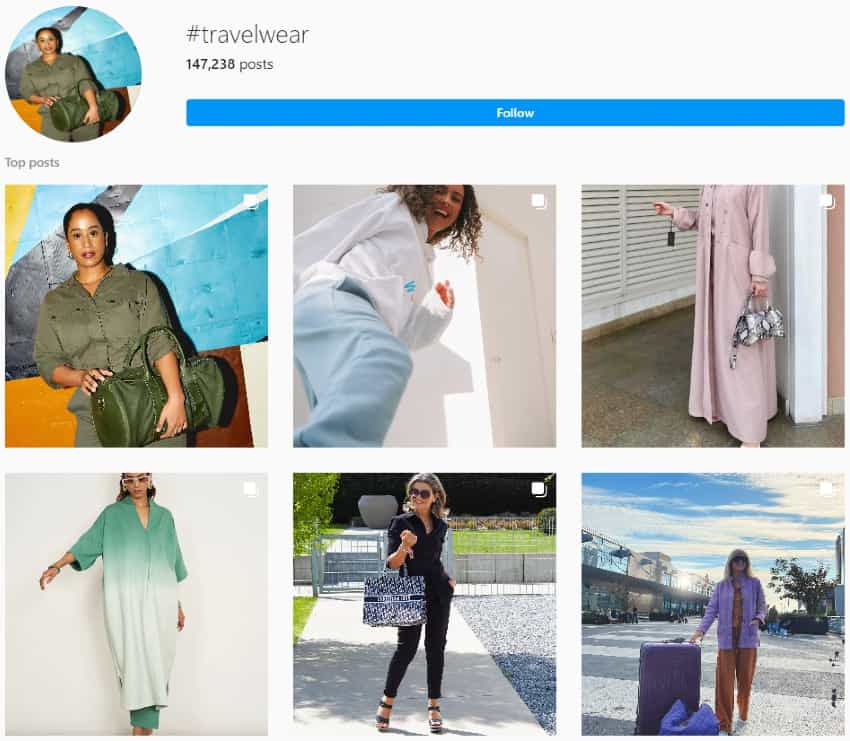 3) Go through your own followers' list
They say—your customers are your biggest ambassadors. There's truth in that saying when it comes to micro-influencer marketing. Your best influencers might be hiding in your own followers' list, and you don't even know it.
You can find quality influencers by looking for creators posting reviews, tutorials, and other types of content using your products. These creators are already your fans and have a decent audience to become brand influencers. So, monitor your brand mentions and activity to find such micro-influencers in your list.
Here's how Risa Cookware executed this by partnering with Allie Tong, a food creator. She used Risa's products and made a paid partnership post for them once they started an influencer Collab.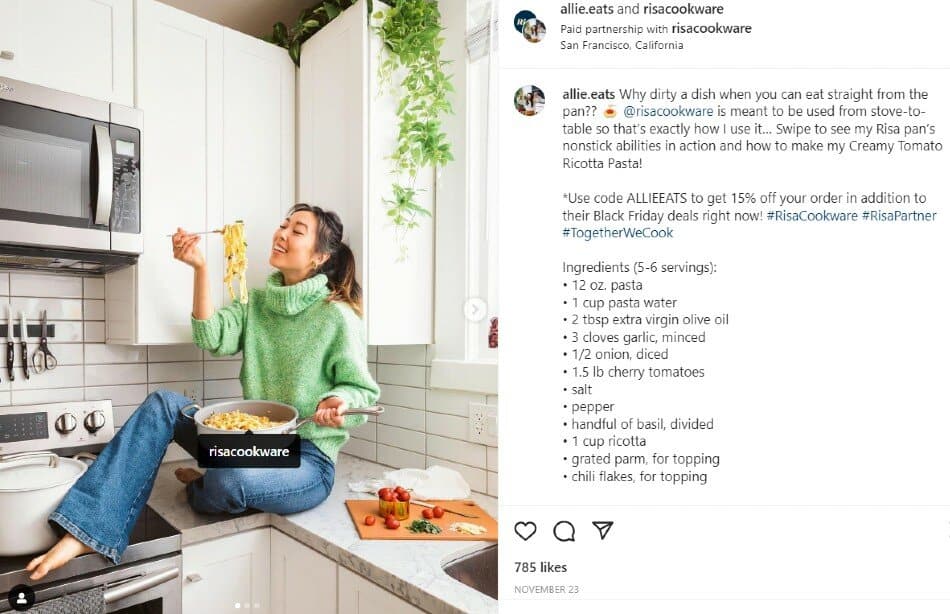 4) Check out the IG Creator Marketplace
Another great place to find and then hire your ideal micro-influencers is the Instagram Creator Marketplace. Launched in 2022, Instagram designed this marketplace to bring creators and brands closer.
The platform allows brands to filter through a massive database of creators and filter the results based on their requirements. You can also see creators interested in partnering with you. Once you've found your ideal candidates, save them in a list and reach out to them with a potential partnership proposal.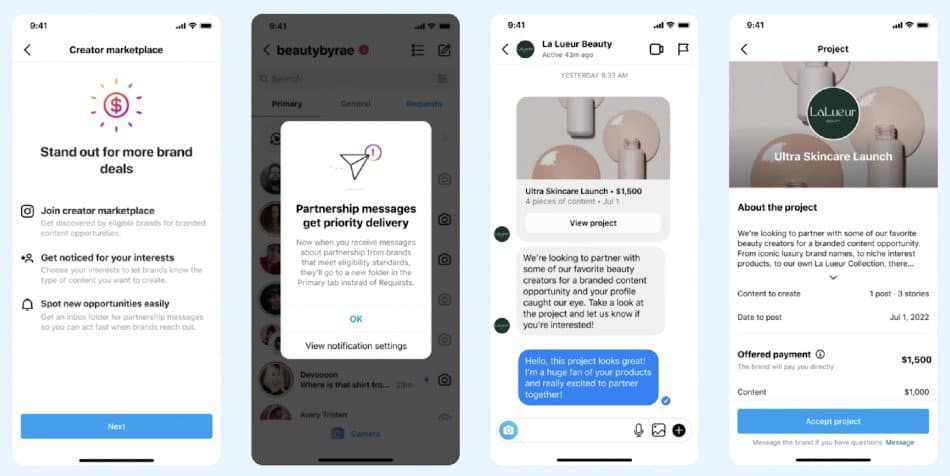 Creator marketplace also allows you to run and manage campaigns seamlessly. The platform includes a chat functionality, and you can design your campaign structure, list all desired deliverables, and outline the compensation plan.
5) Work with an influencer marketing agency
Getting support from an influencer marketing agency is the most convenient option for finding solid talent. Such an agency knows the game and its players well enough to understand your campaign and find ideal influencers at the best prices.
Besides, an influencer marketing agency will also do all the heavy lifting on your behalf to:
Draft the paperwork and do the admin work
Take care of the compensation and payments
Manage these influencer partnerships
Measure and attribute results
But the downside of working with an agency is the costs involved. You might need to spend more on this option when compared to the other options on our list.
If you choose to work with an agency, remember to check their past work, terms and agreement, team size, standard workflows, and any other detail you find important for your campaign.
How to Hire Micro-Influencers: A Step-by-Step Guide
You've done the legwork and tried each of these five options to find a pool of ideal candidates for your campaign. What next?
If there's one thing more difficult than finding micro-influencers, it's hiring them. Hiring these candidates requires a solid strategy instead of half-baked efforts. You need a plan for exactly who you're looking for and parameters for shortlisting the best fit.
We've outlined a 5-step process for hiring micro-influencers without the stress.
1. Define your campaign budget and goals
The first order of business: decide how much you're willing to spend on the campaign to achieve what. Your budget and goals will set the groundwork for your entire hiring strategy. Without these specifics, you're shooting in the dark.
So, start by defining what you want to achieve from influencer marketing at large and a specific campaign. Your goals can be:
Maximizing brand discovery
Increasing Instagram followers
Building credibility for your brand
Getting more traffic to your website
Boosting conversions or lead generation
Once you've outlined your goals, chalk out a rough campaign strategy to determine the number of creators you might need to work with. This will give you a fair idea of the budget you should set for your campaign. Break down your overall budget into per-candidate amounts—how much you can spend on a single influencer.
2. Outline your ideal micro-influencer candidate
Before going ahead with your hiring process, create a list of characteristics for your ideal candidate. This list can cover:
Use this list to define what your best candidate looks like. This is just a preliminary step to filter candidates from a large pool. The vetting process is more detailed and includes multiple parameters.
3. Shortlist and vet micro-influencers
Now that you've separated the wheat from the chaff, use this list of parameters to assess all your candidates carefully:
Content quality: This is a no-brainer. Check their content to see if it matches your quality expectations. You can set your benchmarks for quality—like using no filters—and review each candidate's profile for such benchmarks.
Niche and goals: A candidate's niche expertise plays a vital role in a Collab like this. If their expertise doesn't align with your niche, you'll end up with a failed partnership. Make this an essential parameter in your selection process to set yourself up for success in the long run.
Engagement rate: This is another filter you can use to pick good candidates from your pool. We've already established how engagement rate matters more than the follower count. So, check a candidate's engagement level to finalize them for the campaign.
Past performance: Based on your compensation structure, you can hire micro-influencers with good experience. Ask all candidates for case studies or a portfolio of their past work to make your decision easier.
Audience demographics: Besides their niche, their audience demographics can also tell you whether they're a good fit for your brand or not. Choose candidates whose audience and niche best match your target audience.
Originality and creativity: While there are no objective criteria to measure originality and creativity, you can establish criteria to assess every candidate's content. Look for the uniqueness of their ideas and how creatively they cover a topic with their spin on it. You can also see how their content aligns with your brand values.
This is the litmus test in your hiring process. Only the top candidates who get the best score here should become the face of your brand.
4. Lay down expectations and guidelines
So, you've shortlisted your best picks for the campaign and want to hire these micro-influencers.
But wait: are you forgetting something?
Before you make your hiring decision, specify your expectations for the influencers. Create a set of guidelines to educate micro-influencers about your brand values, USPs, purpose, products, and other details. Give them enough time to review these guidelines and fully understand your brand personality.
Together with these guidelines, chalk out your expectations from them regarding deliverables, workflows, communication, and other aspects of your partnership.
5. Kick-start the conversation and seal the deal
With everything in place, all that's left is connecting with these influencers and bringing them on board. But a lot of effort goes into the final step as well.
After finding them, you need to approach the micro-influencers with a compelling pitch and do some to-and-fro before finally hiring them. Be ready to answer all their questions before they agree to a partnership. Create an onboarding flow to induct all the hired creators and share a roadmap about how your collaboration will pan out.
Remember: you have to give them the confidence and support to give their best effort for your campaign.
Finding and Hiring Micro-Influencers is a Breeze
Micro-influencers have made it big in the world of marketing. Instead of chasing mega influencers with millions of followers, brands are increasingly tilting towards the small-time creators who put their heart and soul into building a solid creator business.
You can be one of those brands by using this guide to find and hire the best micro-influencers for your next campaign.
Start by trying all the methods to source quality influencer talent and choose your best option. It's a continuous process of trial and error, so remember to switch between methods depending on your campaign needs. Then create an airtight hiring process using our five-step guide, and try Afluencer to find vetted talent and manage your campaigns effortlessly.