Hemp tees. Premium timepieces. Vintage casual wear. Wooden sunglasses. Gentleman's formal accessories. Attractive streetwear. Outdoor clothing. And headbands with laughs.
You have the influence and you'll love these men's fashion brands. And so will your followers.
Guys, this one's all for you. Representing!
Whether you're fashion-forward or you're all about finding an apparel match for your lifestyle, we're dropping these Collaboration opportunities right here for you.
So here they are, Men's Fashion Brands with Collab opportunities for Influencers in 2023:
How about we add some fashion flavor to your social media?

Have you got a bold mindset with just the right amount of positive arrogance (aka that swagger x factor)? Mental Swagger is the brand for you.
They're all about pushing through adversity, making moves, standing up, and standing out!
That's where their graffiti prints with inspirational words come in. Move in silence and let your fashion do the talking. Mental Swagger's offering of hoodies and tees is certainly here to make a bold impact with both their men's and women's collections.
Influencer Program
Mental Swagger is calling all Facebook, Instagram, and TikTok influencers with 30,000 followers or more and with interests including:
men's clothing
women's clothing
streetwear
lifestyle
For this Collab, they are looking to promote their "Making Moves in Silence" tees and hoodies… encouraging future game changers to keep their plans quiet and let their success speak for itself.
Influencer perks include:
pay-per-post sponsorship
3% commission
---

Carefully chosen materials. Traditional craftsmanship. Modern designs. The result? Pure quality by Helmbrook London.
Gents, it's not just about premium leather accessories. It's a lifestyle. It's taking pride in and appreciating the history of craftsmanship put into a single product.
Helmbrook London's catalog boasts a wide variety of products, including:
wallets
cardholders
travel accessories
business and office accessories
small bags
You're sure to find the perfect gift for the gentleman in your life.
Influencer Program
Facebook and Instagram influencers based in the United States or the United Kingdom are invited to apply. You need to have a following of 10,000 or more and the majority of them need to fall into the age range of 30 – 65.
What's in it for you? A commission of 30%! Not to mention, adding a premium brand such as Helmbrook to your portfolio.
---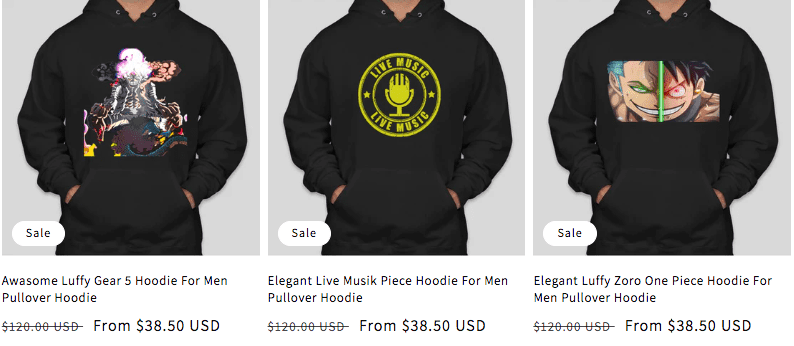 If you're looking for the best deals on menswear, you gotta check out Big Store Clothes. They've got unique men's printed tees and hoodies ready for the taking!
Influencer Program
Are you a TikTok influencer based in the USA with 2,000 followers or more? If so, a Collab with Big Store Clothes might just be the opportunity you've been looking for!
They are offering a pay-per-post sponsorship of up to $20, so if this is up your alley, apply today!
---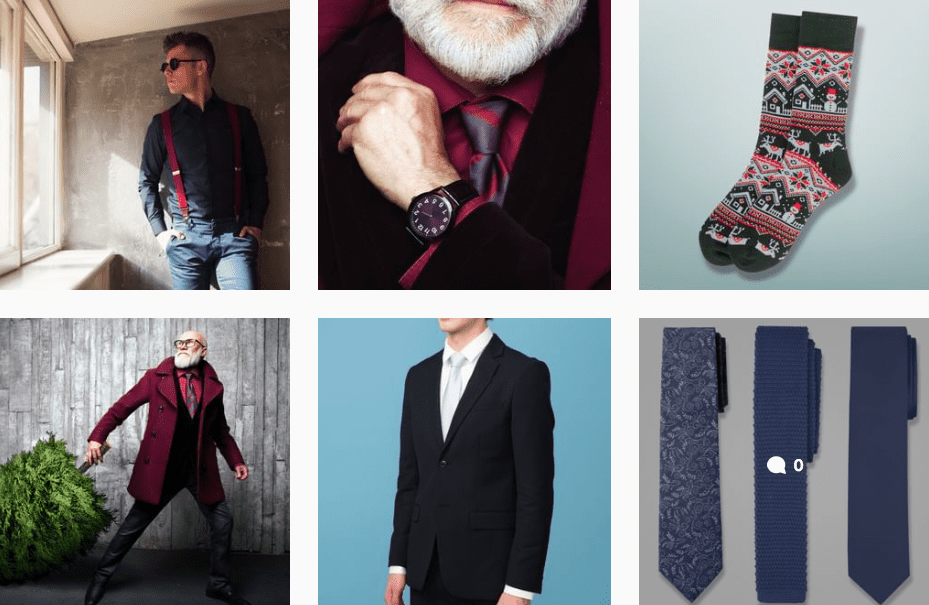 If you love everything about city life, Jacob Alexander is the brand for you. Their focus is on modern accessories inspired by urban city culture.
There is no question that men's accessories are making a comeback – bowties included. Previously seen as accessories your great-grandfather wore back in the day, they are now viewed as fun ways to dress up any outfit.
From suspenders to pocket squares, neckwear to belts, Jacob Alexander creates premium accessories to match your personality, style, and budget.
Influencer Program
Do you consider yourself fashionable, fun, and engaging? Do you have over 611 followers on Facebook, Instagram, TikTok, or YouTube? Most importantly, do you believe in what Jacob Alexander has to offer?
If you've answered yes to all of the above, this could be the Collab you've been looking for! Plus, this is another hot pay-per-post opportunity, with Jacob Alexander paying up to $500!
---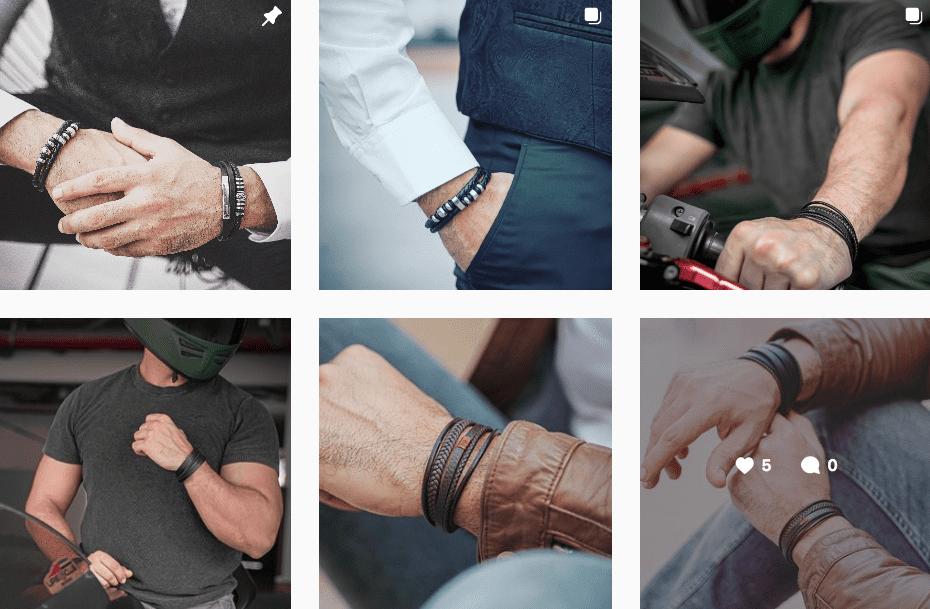 Every good outfit deserves the perfect finishing touch and it does not need to be complicated either. Hashlen's bracelets, made mostly of a combination of braided leather, a stainless steel closure, and a magnetic closure, are simple and understated yet leave a lasting impression of one's style.
Pair Hashlen's bracelets with both formal and casual attire – you really can't go wrong. Plus, their variety of designs will allow you to switch things up from outfit to outfit.
Do you know someone who would rock these? Tastefully packaged, Hashlen men's bracelets make the perfect gift, too. Plus, they're totally stackable, so get more than one to add to the collection!
Influencer Program
Influencers based in the United Arab Emirates and with an interest in men's fashion are invited to apply.
Influencer perks include:
pay-per-post sponsorship of up to $150
20% commission
---

Streetwear. Gotta love it. It's comfortable and not restrictive. It's a way of expression; allowing you to separate yourself from the crowd. Streetwear represents a unique lifestyle. A culture.
Project Wardrobe embodies all of this and more with its collection of men's streetwear. Who would want to miss out on a brand that offers all of this? A chance to be yourself? We'll take some of that, please.
Influencer Program
Sometimes, there comes a Collab opportunity that just… well… fits. This is one of those Collabs. This brand acknowledges and appreciates the value influencers bring to the table. Not only is Project Wardrobe offering a 10% commission on every item bought through the link that you post, but they are also offering personalized clothing with your name on it (yes, you read that right). Plus, they'll treat you as a member of the team.
You just need to be an Instagram, TikTok, or YouTube influencer based in the USA with 50,000 followers or more.
Don't miss out on this Collab, hit Apply!
---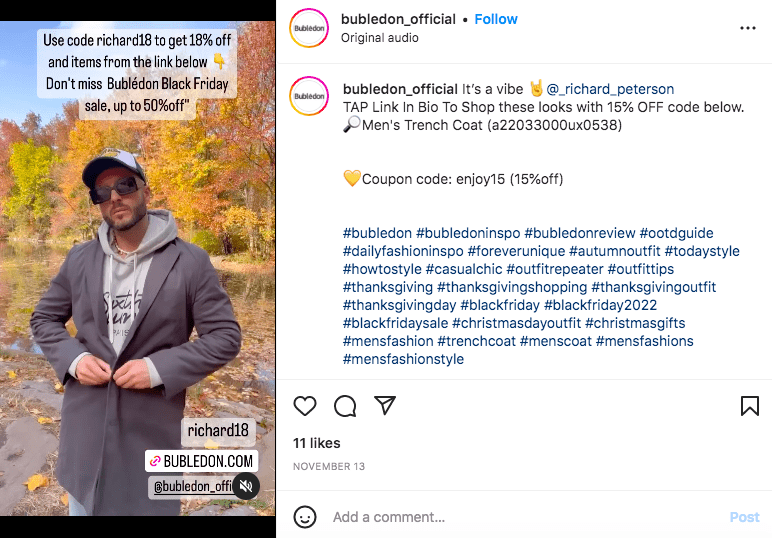 A family of brands, Bubledon was created with the desire to change the way we consume fashion. Their menswear brand, Lars Amadeus, offers a wide selection of apparel; from occasion wear to everyday wardrobe essentials.
What we love, even more so, are the unique styles Lars Amadeus has to offer. Bright colors, statement patterns, and gorgeous designs are all part and parcel of Lars Amadeus. Gentlemen, if you want to be seen, this is definitely the brand for you. Hey, you can't wear a purple sparkly blazer and expect to blend in, can you? And yes, there really is a purple sparkly blazer in their collection.
Influencer Program
For this specific program, Bubledon is looking for Instagram and YouTube influencers based in the USA, Canada, and Australia with a following of 3,000 or more. Your followers' age range should be from 23 to 59.
Influencer perks include:
a free sample
a commission rate of 15% for confirmed sales
exclusive coupons
---

Spanish for "shawty loves me", Nena Me Ama is a growing premium men's streetwear brand with an irresistible charismatic aesthetic. From diamond penguins to charming Nena Me Ama statement prints, this Atlanta-based clothing brand will no doubt turn heads when you're out on the street.
Tees, pullovers, hoodies, and bottoms for the guys. And catch a few best-selling prints in the women's collection too.
Influencer Program
Men's fashion and streetwear influencers – Nena Me Ama would like to invite you to Collab with their trendy brand.
Influencer perks include:
---

Did you know that making a single 100% cotton t-shirt can use up to 2,500 liters of water? That's the amount of water one person consumes in about 2.5 years. So what are the alternatives? Save the planet in style with hemp clothing from Herb Stitch.
Made from hemp fabric, this classic collection of sustainable tees is moisture-wicking, thermoregulating, antimicrobial, hypoallergenic, UV resistant, and four times stronger than cotton.
And the best part: Herb Stitch will plant 10 trees for every t-shirt sold.
Influencer Program
Men's clothing, outdoor, and streetwear micro-influencers in the USA with 2,500+ followers—Herb Stitch would love to collaborate.
Influencer perks include:
15% commission on sales
Free products
---

Being a relatively smaller men's fashion brand, QMARI is looking for passionate male influencers to test out their products and review them for the world to see.
Criteria
Eligible Country: USA
Age Criteria: 16-50
Social Media Platforms: Instagram, Facebook, YouTube, TikTok
Minimum Number of Followers: 1000+
Preferred Gender: Male
Based in Austin, QMARI is bringing comfort with style to the men's fashion department.
Made with premium Turkish fabric, T-shirts by QMARI are soft. Combine that with the embroidered brand logo, and you have shirts that are casual but have a neat finish.
Benefits
QMARI is willing to select influencers and offer them a pay-per-post sponsorship of up to $50.
In addition to this, influencers will also receive a 15% commission on all sales that QMARI makes via the influencer's referral link.
---
MVMT Watches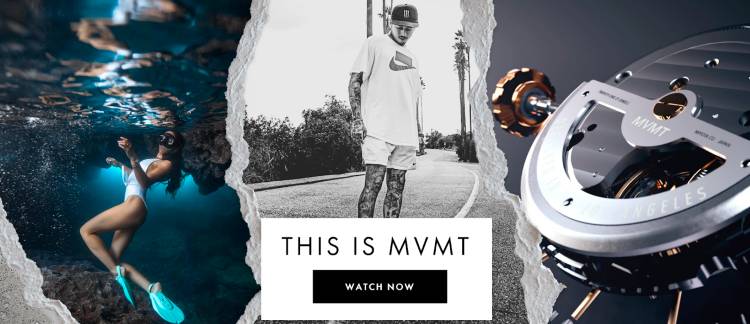 If you've spent enough time online, you've come across sleek MVMT Watches. This premium brand offers timepieces in collections you'll love at first sight. From the Chrono Gunmetal Sandstone, and Chrono White Caramel to the classic bold Atomic Gold and then there's the hot Revolver range. At this point, you're so amazed by the design and style possibilities of their range for men.
Influencer Application
If you're a social media influencer or have a blog, a men's fashion collab with MVMT Watches may be for you.
Influencers get free fashion products as well as commission opportunities.
---
Flag & Anthem

Are you a guy that loves a classic vintage aesthetic to his style? If you do, then you'll love Flag & Anthem. This classic casual wear fashion brand offers a men's collection with lovable flannel shirts, classic jeans, neat chinos, and vintage-style graphic tees for any day.
From the 3-Star Tennessee tee to the must-have Freedom Riser Trucker Hat – these items will become your fashion favs.
Influencer Application
Are you a student and have you completed your first semester with a GPA grade of 2.9 or higher?
Listen in.
Flag & Anthem is looking for college students to become their brand ambassadors.
Get merch, create sleek content and share your promo code.
What other men's fashion brands offer such an awesome collab opportunity for students?
---
Tymber Gear

Sustainable fashion just went to a whole new level with Tymber Gear. Guys, you need to hang around for this one. Because as soon as you check out their Kierra wooden sunglasses, you'll love them. Or for a vibrant pop, the Hawker wooden sunglasses will do. Did I mention that they have wood bow ties, rings, and wood cufflinks too?
From the spartan warrior wood bracelet to the sandalwood bracelet, these fashion accessories for men are pretty cool.
Influencer Application
Are you an influencer who's passionate about ethical and sustainable men's fashion?
Then this men's fashion brand collab with Tymber Gear awaits you.
Influencers are required to post one fashion blog or vlog per month as well as one social media post fortnightly.
Get complimentary merchandise, discounts, and commission opportunities.
---
Mandujour

Every social media feed needs a gentleman. And every gentleman needs Mandujour – a gentleman's fashion destination. From gorgeous lapel pins to accessorize your suit for those special occasions, beautiful bow ties, classic leather suspender belts for a timeless style to classic leather shoes any formal style can count on. The "gentleman" look doesn't get any more charming than this.
Influencer Application
Are you an influencer enthusiastic about men's fashion and are you passionate about sustainability, photography, and travel?
This men's fashion collaboration opportunity with Mandujour could be for you.
Influencers get free clothing, have their own photoshoot, get exposure as well as get invited to exclusive events.
---
Scar Tissue Clothing

Urban streetwear for men seriously does not get any more attractive than Scar Tissue Clothing. As soon as you check out their collection, you'll be wowed away too. From nude joggers, bleach splat tees, hoodies, signature muscle tanks, fitted tees, and more. Available in trendy nudes, blacks, khaki, whites, and greys.
Oh, the tropical prints caught my eye and I think would make fab social media content.
Influencer Application
If you are a lover of men's fashion and streetwear style, then you may be a great fit for this influencer collab opportunity.
Scar Tissue Clothing has a tiered reward system where influencers start earning a 10% commission on sales.
---
KÜHL Clothing
And now for the outdoor adventure-loving man. KÜHL Clothing is about to become your newest companion. Whether you're trekking off on a hike, camping out in the cold, or out by the river – you'll find all your outdoor clothing from KÜHL Clothing. Outerwear, fleece, shorts, performance, and travel wear – they have it all.
Must-haves are the Spyfire series jackets.
Influencer Application
Is the mountain culture a highlight of your lifestyle? Do you love the outdoors? Then KÜHL Clothing would love to give you the opportunity to collaborate with their fashion brand.
Let them know what outdoor activities you're active in and also if you're a member of any local groups.
There are no better brands that want a men's fashion collab and want you to enjoy the outdoors too, right?
---
Bondi Band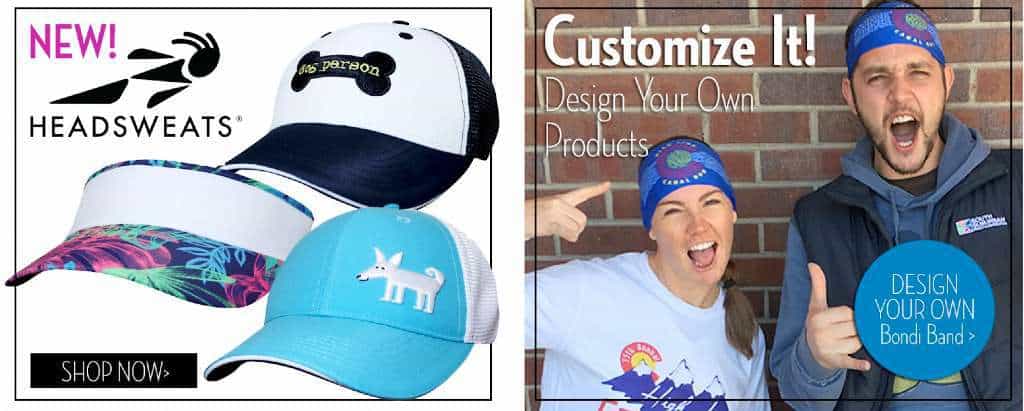 Now everyone needs that one guy that's full of laughs on their social media feed, right? Honestly, who doesn't need laughs? If you're the guy that's responsible for all the humor in your circles, then you'll love Bondi Band. The original no-slip and no-drip headband. But they come in some prints that will be sure to create chuckles. Like "this year is definitely my year – me, last year" or "making better bad decisions this year" and more.
From awesome designs to attention-grabbing prints, Bondi Band will keep your head geared up and your audience smiling.
Influencer Application
Fashion influencers, would you love to collaborate with Bondi Band and promote their awesome headwear for men and women?
Get free products to review, discounts to share, and a 10% commission on sales made through you.
Fashion influencers also have the opportunity to design their own Bondi Band. Awesome, right?