We all want a good career, hence it shouldn't come as a surprise that a large number of people look for HR influencers to know more about finding the right job, impressing your boss, and getting a raise.
In this article, we'll have a look at a few top HR influencers who can teach you a thing or two about recruitment and success.
Why Should I Follow HR Influencers?
The internet is full of HR influencers offering expert advice on topics related to recruitment. They have years of experience handling employees including interviewing them, deciding promotions, and leading teams.
Here's how they can benefit you:
Help You Find Opportunities
Following HR influencers can help you find opportunities including jobs. Most HR influencers work for big organizations and regularly post about the latest openings.
Many HR influencers on LinkedIn regularly post jobs and some might even be interested in referring you for a position if they feel you have the required skills and talent.
Give You Tips on Job Search
When it comes to the job industry, it isn't only about knowing what to do, but also about what not to do. HR influencers can provide tips on how to search for jobs, how to create a kickass resume, and how to ace interviews.
The recruitment process can be both lengthy and complicated. Applicants don't always know how to behave during interviews or tests. By following HR experts and listening to them, you might be able to learn new ways to present yourself and score your dream job.
Good for Networking
Business is all about networking. Opportunities come to people who have friends. It's quite understandable why this happens. We're more likely to work with people we know.
Following influencers is a good way to form connections with them and their connections. You can leave comments, ask questions, attend seminars, and be a part of HR-related events that they're a part of to meet like-minded people and grow your circle.
This small step is very important in career building and can help you reach places.
Allow You to Stay Positive
The aim of most HR influencers is not only to help people find jobs and grow in their careers but also to stay positive and not give up.
Job hunting can be troublesome. Failing to score a perfect job can leave people depressed and worried. They provide tips to deal with career setbacks and anxiety.
Following their tips can help you be strong and face day-to-day work challenges.
Help You Stay Updated
Follow HR influencers to stay updated about the latest recruiting trends. This is very important because the labor market is in constant rotation with new challenges. Being aware of these changes is important to ensure you grow well.
HR influencers appear to be creating new industry benchmarks and offering best practices to solve recruitment challenges.
Top 20 HR Influencers
Here's a list of attendees for today's roundup of top HR influencers:
Now let's get to know them a little better.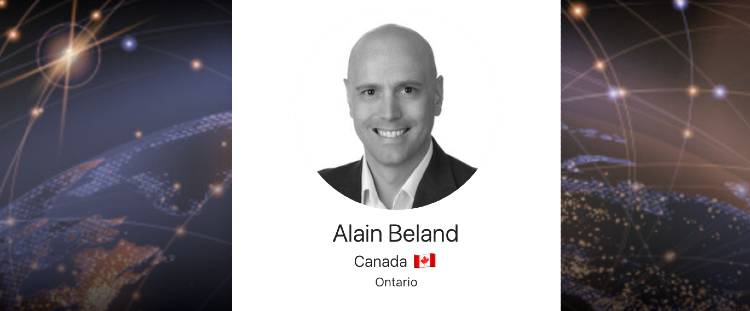 Alain wears several hats. He's a leadership and work culture strategist and mental health advocate with thousands of social media followers. While he isn't essentially an HR influencer, he's worth following due to his wealth of knowledge and experience.
The star worked for nearly two decades in law enforcement and left it in 2019 to pursue his dream. His story is highly motivational as he had to struggle through depression, burnout, and PTSD to achieve his dreams.
The difficulties that he faced in his life made him analyze his life and career choices, which made him a better and happier person. The man likes to share his experiences through social media and can be of help to people who are facing similar issues.
It is believed that about 65 percent of employees face similar problems at some point in life. Following someone who has faced similar issues can prove to be highly beneficial.
---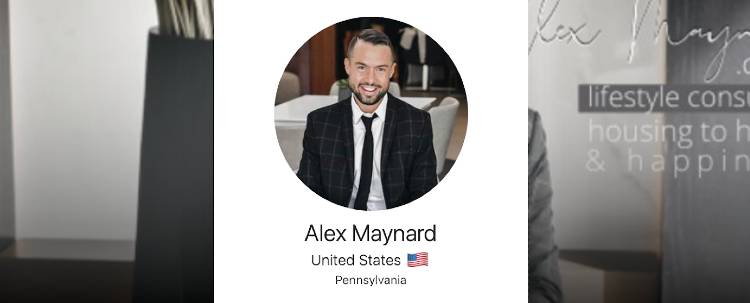 Alex is a micro-influencer with a special interest in real estate. He likes the idea of "being a resource" and enjoys sharing tips with his followers on social media.
He has an impressive engagement rate of 17.8 percent, which makes him one of the best HR influencers. However, we must mention that he doesn't identify as an HR consultant and is more interested in marketing. However, his posts can prove to be beneficial for people looking for career tips.
---

Blake is "a Boomer with a Millennial mind" who enjoys being on the web and staying connected with people from around the world.
The 59-year-old influencer has interests in podcasting, training, lifestyle, and education. She enjoys "teaching others how to leave their legacy".
She encourages her followers to use technology to become creators and take a giant leap. While her content is geared towards recruitment, she can be worth following thanks to the actionable tips she shares through her blogs and podcasts.
---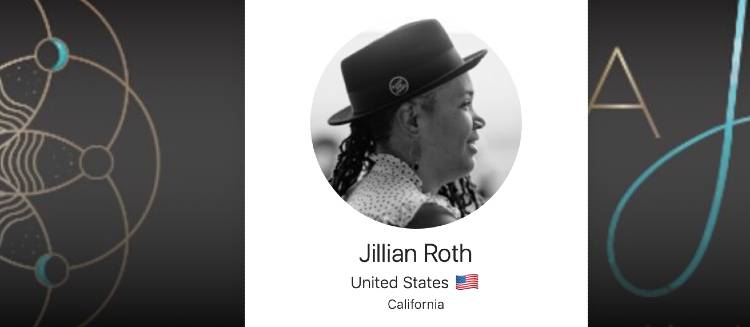 Jillian is an experienced and knowledgeable leader, thinking partner, and strategist. She uses intersectional meets and interdisciplinary approaches to work to make things fun and easier.
The HR influencer brings new ideas to the table and uses "a growth mindset and love of learning to activate a human and organizational development toolkit, diplomacy with a courageous dose of paradigm shifts while using a sense of humor and innovation to produce positive outcomes and real impact on quality and culture".
She has worked with several brands and has years of experience dealing with people. The star regularly posts tips on how to work in teams. Her data-driven approach makes her a reliable HR influencer.
---
Meghan Biro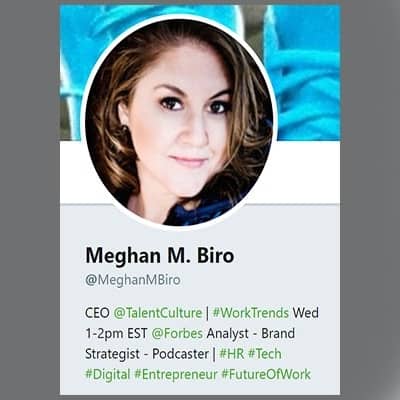 There are few HR influencers as popular as Meghan. The CEO of TalentCulture has been in the public eye for quite some time and regularly appears on online forums and radio shows.
She has been a part of several big conferences and likes to share tips with her 136K Twitter followers. Moreover, she contributes to several platforms including Forbes and Huffington Post.
She started her online career by posting small pieces and now is a regular. You will find very detailed posts on her social media. The star is very active on Twitter and has won many HR and social media-related awards.
The high star is known for being a fan of technology and encourages companies to use the latest software to make recruitment easier. She has worked with some big names like Microsoft, Google, and IBM, and is interested in both recruiting and branding.
---
David Green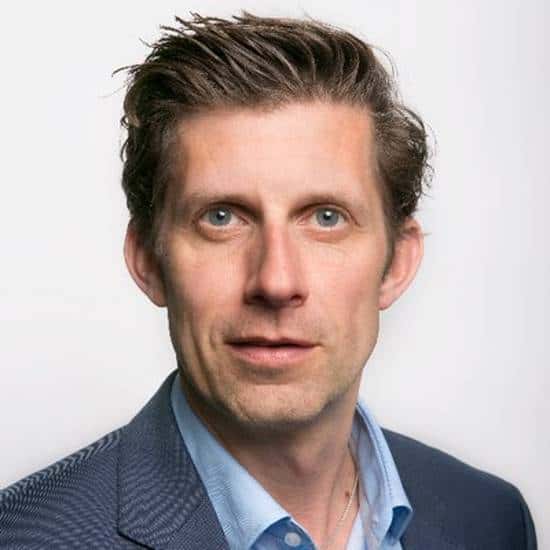 Serving as an Executive Director at Insight222 and myHRfuture.com, David works with large companies including many Fortune100 firms. He's a data-driven HR, writer, people analytics leader, speaker, and conference chair.
The star works from home and is best known for providing actionable tips to people looking to widen their horizons and find more opportunities. He posts regular updates including what's working and what's to change and can help people make the right career choices.
David got a major push when he got promoted to the position of the Global Director of People Analytics Solutions at IBM Watson Talent. He served in the position for several years and gained solid experience.
He makes regular appearances on shows and events and was the Main Stage MC at Europe's most popular and largest show in the Future of Work and Workplace Technology, UNLEASH World in 2018.
---
Steve Boese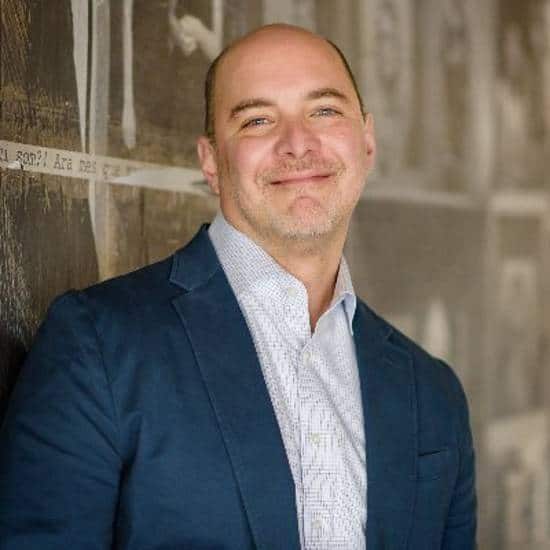 An award-winning blogger, speaker, moderator, and author, Steve is an accomplished HR influencer who is currently chairing the HR Technology Conference. Plus, he is also the President of H3 HR Advisors.
Known for being aware of the latest happenings, the man is running a weekly podcast called HR Happy Hours where he discusses the latest trends and technologies in HR including tips on how to use technology to improve your business.
With more than 20 years of experience in the field, he is one of the most popular HR influencers who first caught the attention of people for being a director of Talent Management Strategy.
The man has more than 45K Twitter followers and a huge LinkedIn following. Plus, he also manages his website where he posts a variety of content including blogs.
---
Gautam Ghosh

Gautam is an Indian HR specialist with a special interest in social tools and organization development. He worked with SHRM India for a long time before concentrating on the internet.
He's one of the few HR experts who seem more interested in their website than social media. In fact, his blog has made it to several top lists including HRWorld Top 25 HR Blogs and Career 100.
His career got a boost when he worked at Flipkart as the Director. He now mainly works as a freelancer and enjoys writing detailed articles. The Indian star has some papers under his belt and he's also a regular at national HR-tech conferences.
Those looking for a reliable Indian HR tech influencer should consider following Gautam.
---
---
Jacob Morgan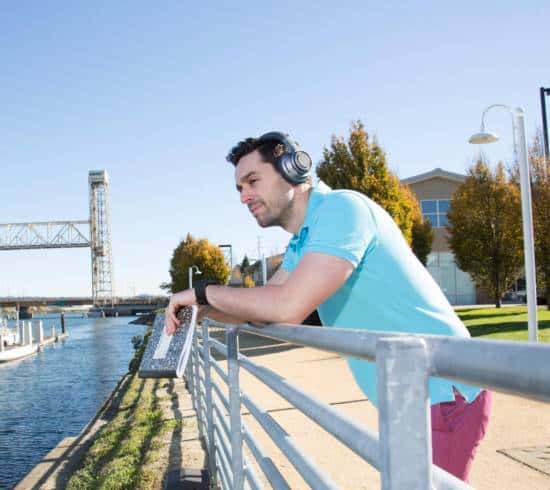 Jacob is an HR influencer available on almost all major platforms including YouTube, Instagram, LinkedIn, and Twitter. His YouTube channel appears to be growing at a fast pace with more than 14.2 subscribers. He posts twice a week; however, those who want more of his opinions can follow him on Twitter where he posts almost every day.
A best-selling author and keynote speaker, Morgan founded Future of Work University where he focuses on different areas of leadership including employee experience.
He posts curated content and great insights. Moreover, he runs a newsletter that contains a wealth of knowledge. While he mainly targets recruiters, job seekers can also benefit from his experience.
The man has contributed to several platforms including Forbes and is known to be friendly and insightful.
---
William Tincup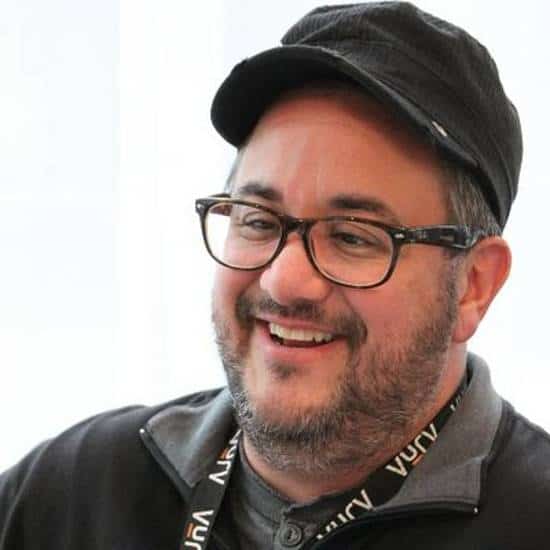 RecruitingDaily President, William Tincup, is a reliable name in the business as he has helped several recruiters find talent. While many argue that his association with RecruitingDaily is what keeps him in the news, we can't deny his cloud thanks to 259K Twitter followers who actively engage with his posts.
Tincup is not just a consultant or advisor but also a speaker, writer, investor, teacher, and storyteller with more than 200 HR articles under his belt. He has been a part of over 160 HR and recruiting conferences and is a regular on podcasts.
He's presently running a consultancy firm, Tincup & Co., while also serving on the board of advisors for several companies like Wells, Worksense, and Wedge.
---
Greg Savage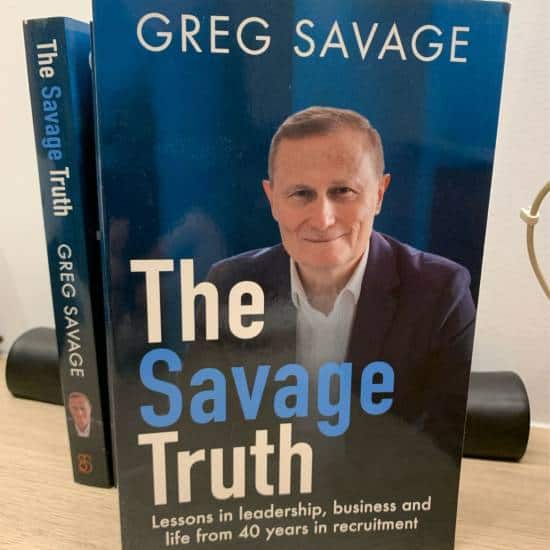 Best known for publishing the hit The Savage Truth, Greg is the Director and Founder of People2people Recruitment.
Known for being an articulate person, Greg is a speaker, leadership advisor, and recruitment expert who made it to the list of LinkedIn 'Top Voices' in 2018. He was also called the "Most Influential Recruiter in Australia" in the last six decades.
The highly decorated HR influencer has years of experience under his belt. He has founded four highly successful businesses in different industries. The man regularly attends conferences and podcasts and stays connected with his followers via social media.
---
Tim Sackett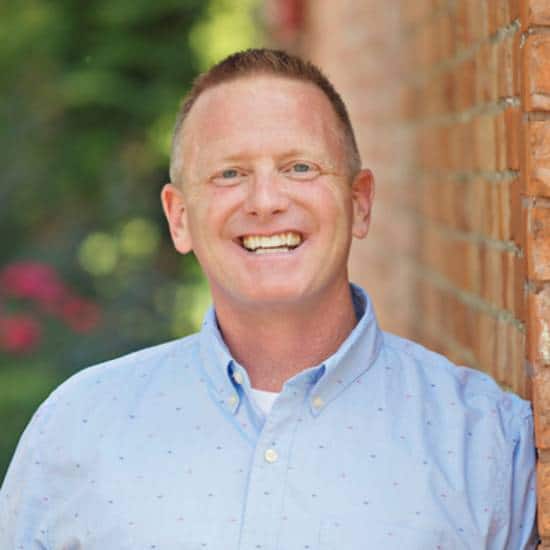 Tim started his HR career about 20 years ago and has since worked with a number of Fortune 500 companies in different niches including healthcare, technology, retail, and dining. The current president of HRU Technical Resources is very active on social media and has more than 40K Twitter followers.
He's got his own website where he shares great tips. He's known for having a great sense of humor and giving funny twists to complicated HR topics.
The president-elect for the Association of Talent Acquisition Professionals has authored several books including "The Talent Fix: A Leader's Guide to Recruiting Great Talent", one of the most popular books in this niche.
He made it to the Top 10 Global HR Influencer list by Workforce Magazine in 2018 and is followed by some very popular names.
---
Jeanne Meister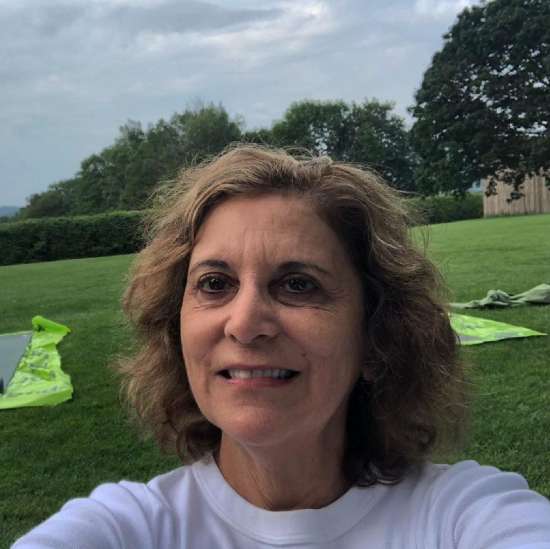 With a background in corporate learning, she is one of the best HR influencers to follow. She's working to make people more aware and founded the Future Workplace Network intending to promote discussions among leaders and executives.
The star loves talking about her experiences and has contributed to top platforms like SHRM, Forbes, Financial Times, and Harvard Business Review.
---
Lauri Ruettimann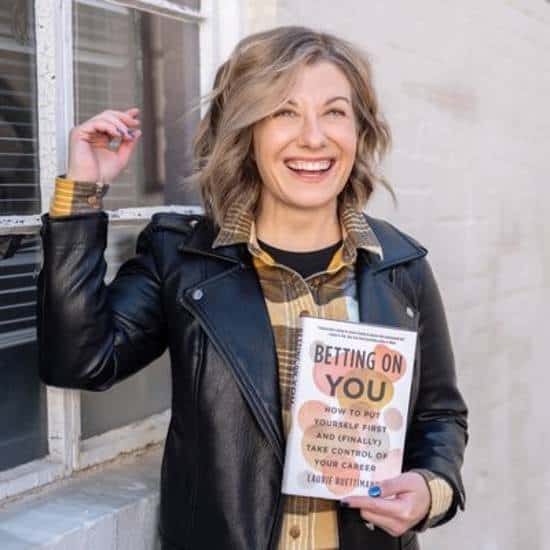 Director and Founder of GlitchPath, Laurie is a former HR leader turned entrepreneur, writer, and speaker.
She worked as an HR professional for 14 years before shifting gears and trying other things. She has written for several publications including Fast Company Inc., CIO Magazine, and Entrepreneur. Her content is very detailed with real-life examples that can be helpful for both job seekers and recruiters.
Those who want more can even tune into her podcast "Let's Fix Work". Her quotes have appeared on several websites. Moreover, she's also a published author and is among the most experienced female HR influencers out there.
---
Ben Eubanks

Ben is an author, HR analyst, podcaster, and author working as CRO at Lighthouse Research & Advisory – an HR management analysis firm.
He has years of experience training and recruiting talent. Moreover, he has also worked as a trainer and coach for both small and large organizations.
The man is very interested in social events and is the co-founder of HRevolution, an industry event that brings together talent under one roof.
He regularly posts on his LinkedIn profile and also has a podcast channel.
---
Trish McFarlane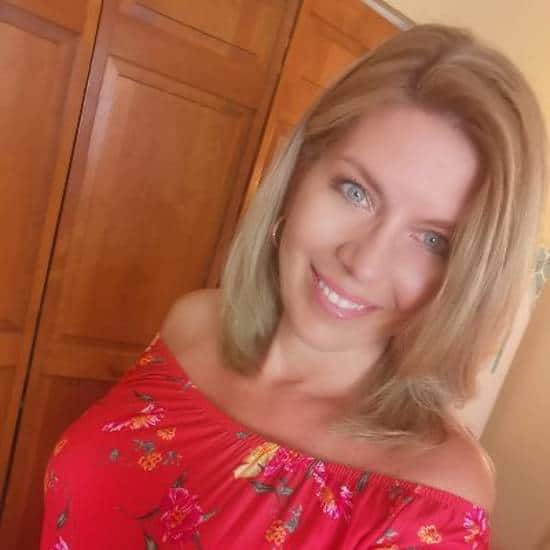 Principal Analyst and CEO at H3 HR Advisors, Trish hosts HR Happy Hour, a podcast dedicated to all things HR. The HR influencer likes to talk about changing trends and is a big supporter of women's rights. She co-founded the HRevolution Conference for this purpose and also runs the Women of HR blog.
The woman has over 20 years of HR experience in different sectors including public accounting, manufacturing, IT, PR, and healthcare.
She uses social media to keep people aware of the latest industry experience and has expertise in talent management, leadership development, social media for business, change management, and so on.
---
Steve Browne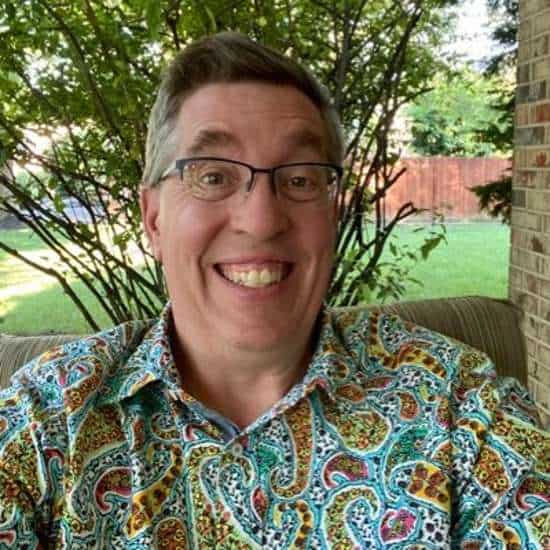 Steve brings over 30 years of industry experience to the table. He has more than 45K Twitter followers and thousands of fans who keep an eye on his LinkedIn posts where he regularly shares insights and opinions.
His expertise lies in Employee Relations, Company Culture, and Networking. The social media icon has worked in various industries, including restaurants, manufacturing, professional services, and consumer products.
Interestingly, he has always stuck to the field of HR and is currently the VP of HR for LaRosa's, a pizza chain. In addition to this, he runs his own blog and sits on SHRM's board of directors.
You will find the man at several HR events and conferences. He regularly makes appearances at HR-related podcasts and is quite active on social media.
---
Johnny C. Taylor, Jr.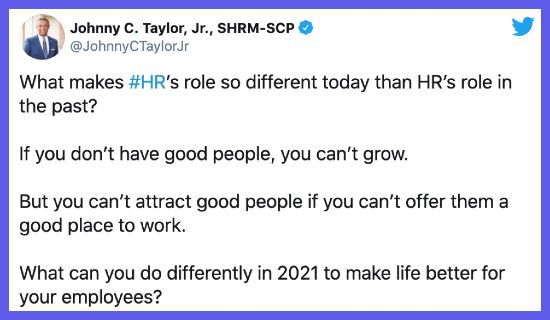 Johnny is the CEO and President of the Society for Human Resource Management (SHRM), which he joined in 2017 after holding a variety of high-level roles in HR and leadership.
The star is a member of many advisory boards and has even testified before the US Congress on several workforce issues such as paid leave and sexual harassment.
An advocate of equality, Johnny is chair of the US President's Advisory Board on Historically Black Colleges and Universities and has been a part of some major decisions.
Also an attorney by profession, Johnny writes weekly columns on USA Today called 'Ask HR' where he answers questions related to the industry.
He is "an active volunteer for education, employment, and other social causes", and uses his social media channels to provide insights and help people find new opportunities.
---
Kathleen Hogan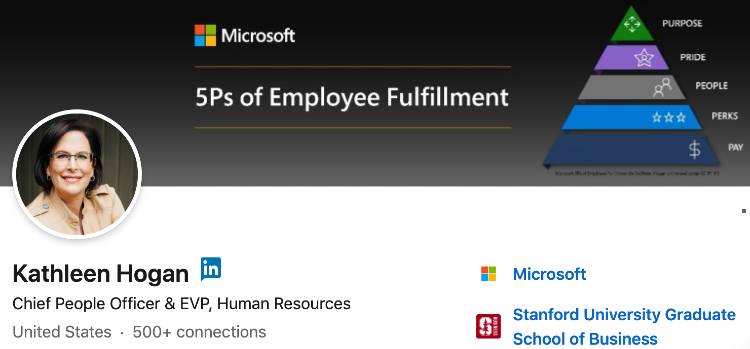 Hogan works for Microsoft as EVP of Human Resources and Chief People Officer. The star joined the firm as COO of Worldwide Sales in 2003 and has been through several promotions since.
She doesn't identify as an HR influencer; however, she has built a following on social media. The star shares monthly blogs on LinkedIn and contributes to several publications.
The woman has one big aim – to empower Microsoft's 160,000+ employees and help them and the company achieve their individual and collective goals within "a culture that attracts and inspires the world's most passionate talent".
She is working towards "a more diverse, inclusive environment where everyone can learn and thrive".
Following her can help you grow and understand how to score a job with a major company like Microsoft.
The star is a board member of the National Center for Women & Information Technology and is also known for being a breast cancer survivor. She often talks about her experiences including the difficulties she had to face in her professional life.
She has been a part of several conferences and shows including the People Talk series that featured her speaking to other HR leaders about the changing trends and industry happenings.
---
Lars Schmidt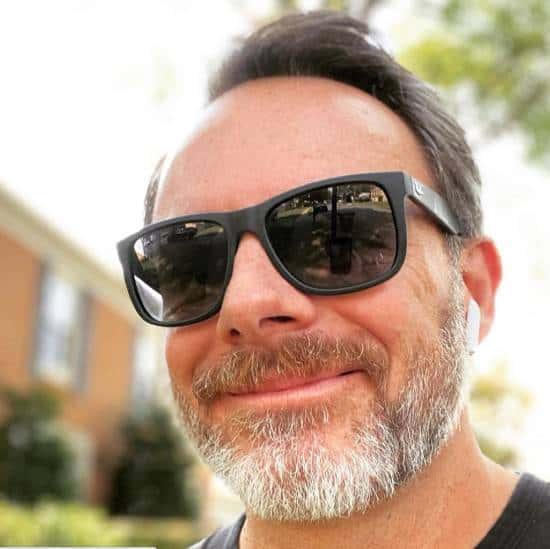 Last on the list is Lars Schmidt, a 'modern HR advocate' who is passionate about a lot of things including people practices, emergency work trends, and tech.
He likes to talk about how technology can make things easier, emphasizing the future of work. He uses social media to keep people updated about his professional life and industry happenings.
Most of his posts are dedicated to HR technology. The HR expert is also a speaker, author, and podcast host with the hit title "Redefining HR: Transforming People Teams to Drive Business Performance" under his belt.
He has more than 20 years of experience, including founding Amplify, a consulting and HR executive search firm. He's considered a big name and has made it to several HR influencer lists.
---
Top HR Influencers: Conclusion
These were some of the best HR influencers out there. They have years of experience and a wealth of knowledge that they share in the form of blogs and social media posts.
Oh! By the way… please register with Afluencer and get full access to our database of professional influencers. And you'll also get to use this filter (see below) to connect directly with HR influencers.