If you're on social media, it's highly likely that you follow a social media content creator. You've watched them grow in their career, seen some of the benefits they bring in for the companies they partner with, and thought, "this is what our brand needs."
You're definitely on the right track. In fact, according to this report, 66% of brands spent more on content creator-driven marketing campaigns and 52% expanded their creator marketing teams in 2021 compared to previous years.
So, while creators are a dime a dozen, how do you find the right social media content creator for your brand? Where do you find these mystical beings anyways? Is there a secret club where the password involves doing a viral TikTok dance while reciting Instagram's Terms and Conditions? Thankfully and *Spoiler alert* – it's not that hard.
But first… let's answer a few common questions we get regarding social media content creators.
What is a Social Media Content Creator and What Do they Do?
This is someone who creates and posts content specifically on social media channels – one channel or multiple channels. This can be on a professional level or just for fun.
The content they create and upload can take various forms from text to audio, images, and video; or a combination of any of these.
What Interests Do They Span?
Content creators cover a wide variety of interests. From the more popular ones such as fashion, beauty, health, and fitness to the more… how do we put this… niche topics such as Star Wars, cosplay, rose gardening, and everything in between. Basically, whichever niche your brand covers, there's a social media content creator for it.
Great, Where Can I Find Social Media Content Creators?
Glad you asked! You could scour various social media platforms until you find the right content creator… or… you could make life much easier and use the Afluencer platform.
Afluencer (that's us) is a platform that connects brands and social media content creators together. It's the virtual meet-up spot for influencer and content creator marketing. Once you sign up with us, you'll have access to thousands of social media content creators. Yes, it's that fast. Plus, our database of content creators continues to grow.
Our app and website are super user-friendly, allowing you to browse through our database of social media content creators with ease. The filter feature is especially useful: weed out your search by inputting a keyword, selecting particular interests, selecting a social media platform, and so much more.
If you need help, we've got top-quality customer support on standby. From our newsletters to custom emails and so much more, we make it our top priority to make sure you get all the help and info you need. We're also reachable via live chat, email, phone, and our social media channels.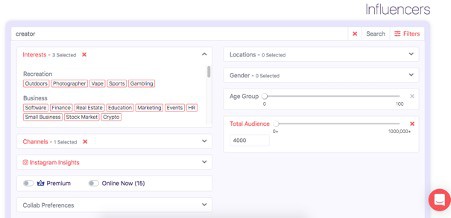 Sounds easy? That's because it is! We like to keep things as fuss- and stress-free as possible so you can find the ideal social media content creator to Collab with to promote your brand. You can find out more about setting up your Afluencer profile, benefits, and so much more in our Afluencer 101 guide for brands getting started with us.
Social Media Content Creators Whipping Up a Buzz
To get you started, we've put a short list of social media content creators together for your perusal. Let's jump in!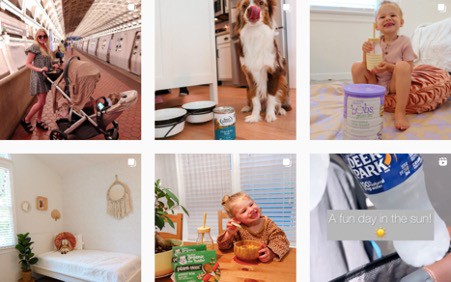 Allis, a social media content creator with a passion for fashion and lifestyle, hails from Virginia, USA. This mom of two takes pride in providing honest, in-depth content – no matter what she's posting. Talk about a social media content creator providing value.
Content
Life + style + motherhood. That's what you'll find here. Allis delivers content that is not only wholesome (she really captures that bond between a mother and her children) but also visually pleasing when it comes to aesthetics. The result? Content so good you can't help but want to hit 'Follow.'

When it comes to Collabs, Allis is a straight-up professional. No wonder she has 19k Instagram followers and counting. She's partnered with brands across various industries – from pet products to travel, baby food to fashion, and jewelry to hair care. Some big-name brands Allis has worked with include Lindt (yes, the chocolate company) and Gerber.
No matter your niche, there's probably a place for it in Allis' content. She also has a solid engagement rate of 2.7%. Allis is definitely worth adding to your Collab list.
---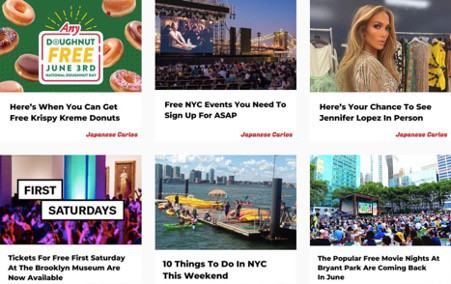 Meet Carlos, a social media content creator from New York with a passion to help other New Yorkers find adventure in their city. He's lived in New York for over 31 years – who better to advise you on where to go?
Content
Take a quick look at this Instagram page and you will very quickly realize that Carlos is the plug for entertainment options in New York. He caters to a wide variety of tastes and budgets – oftentimes posting free activities (you da man, Japanese Carlos) and activities ranging from food tastings to dance parades, movie nights, and even opportunities to see celebrities.
We love that his posts are to-the-point and give you all the info you need to know. I, for one, would never want to miss out on Carlos' posts if I were in New York City – I'd have major FOMO. Every city needs a Carlos.
And all you brands out there need to Collab with Carlos… (hey, we like the sound of that… Collabs with Carlos). If you're in the travel industry, Carlos' content would be right up your alley. Not in travel? That's ok, there are endless opportunities for brands in several industries as Carlos offers a variety of entertainment options.
His engagement rate is a steady 3.2% and it comes as no surprise that of his 13.6k Instagram followers, 12.1k are based in the United States.
You might experience some FOMO too if you snooze on a Collab with Carlos.
Did we mention that Afluencer provides the option to search for social media content creators by country? We understand that sometimes brands require location-specific content creators with an influence on certain demographics. So, if you're looking for a New York social media content creator like Carlos, our app and website can help you find the perfect one super quick and with little effort.
---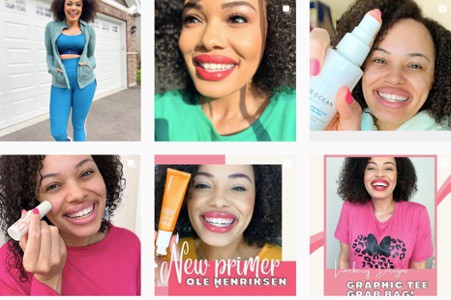 This is Jessica from Illinois, USA. Aka your new beauty bestie! Not only does she blend makeup, but she also seamlessly blends her beauty, fitness, and lifestyle content and wraps it up in a pretty bow of positive vibes.
Content
Jessica's million-dollar smile welcomes you to her page and her bright personality and informative content keep you there. You can't help but pay attention to what she's saying (and crack a few smiles yourself).
You can find her not only on Instagram but on TikTok as well for a wider variety of posts. Trust us, you're going to want to follow her on all platforms!
Her reviews are loaded with helpful info. She also posts Instagram Reels of her trying products for the first time. Her makeup looks are gorgeous and provide major inspo. Also, thanks to her many Collabs, followers can look forward to loads of discount codes! Thanks, Jessica. Who doesn't love a good deal?!
If you are a brand in the skincare, makeup, or fitness industries, Jessica is the magnet you need to pull in new customers.
You know what to do… Reach out to this social media content creator for a Collab.
---
Desperately Seeking Susan Social Media Content Creators? Choose Afluencer
A social media content creator can do wonders for your brand. And the ones we've featured here are just the tip of the iceberg. Afluencer can help you effortlessly secure the Collab that skyrockets your brand to super-stardom. Need more resources on how Afluencer can help your brand? Check out our blog where more inspo and content creator lists await!
What are you waiting for? Sign up today.