If you're on social media, it's highly likely that you follow a social media content creator. You've watched them grow in their career, seen some of the benefits they bring in for the companies they partner with, and thought, "This is what our brand needs".
You're definitely on the right track. In fact, according to this report, 66% of brands spent more on content creator-driven marketing campaigns, and 52% expanded their creator marketing teams in 2021 compared to previous years.
So, while creators are a dime a dozen, how do you find the right social media content creator for your brand? Where do you find these mystical beings anyways? Is there a secret club where the password involves doing a viral TikTok dance while reciting Instagram's Terms and Conditions? Thankfully and *Spoiler alert* – it's not that hard.
But first… let's answer a few common questions we get regarding social media content creators.
What is a Social Media Content Creator and What Do They Do?
This is someone who creates and posts content specifically on social media channels – one channel or multiple channels. This can be on a professional level or just for fun.
The content they create and upload can take various forms from text to audio, images, and video; or a combination of any of these.
What Interests Do They Span?
Content creators cover a wide variety of interests. From the more popular ones such as fashion, beauty, health, and fitness to the more… how do we put this… niche topics such as Star Wars, cosplay, rose gardening, and everything in between. Basically, whichever niche your brand covers, there's a social media content creator for it.
Great, Where Can I Find Social Media Content Creators?
Glad you asked! You could scour various social media platforms until you find the right content creator… or… you could make life much easier and use the Afluencer platform.
Afluencer (that's us) is a platform that connects brands and social media content creators together. It's the virtual meet-up spot for influencer and content creator marketing. Once you sign up with us, you'll have access to thousands of social media content creators. Yes, it's that fast. Plus, our database of content creators continues to grow.
Our app and website are super user-friendly, allowing you to browse through our database of social media content creators with ease. The filter feature is especially useful: weed out your search by inputting a keyword, selecting particular interests, selecting a social media platform, and so much more.
If you need help, we've got top-quality customer support on standby. From our newsletters to custom emails and so much more, we make it our top priority to make sure you get all the help and info you need. We're also reachable via live chat, email, phone, and our social media channels.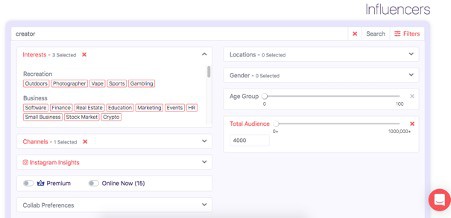 Sounds easy? That's because it is! We like to keep things as fuss- and stress-free as possible so you can find the ideal social media content creator to Collab with to promote your brand. You can find out more about setting up your Afluencer profile, benefits, and so much more in our Afluencer 101 guide for brands getting started with us.
Social Media Content Creators Whipping Up a Buzz
To get you started, we've put a list of social media content creators together for your perusal. Let's jump in!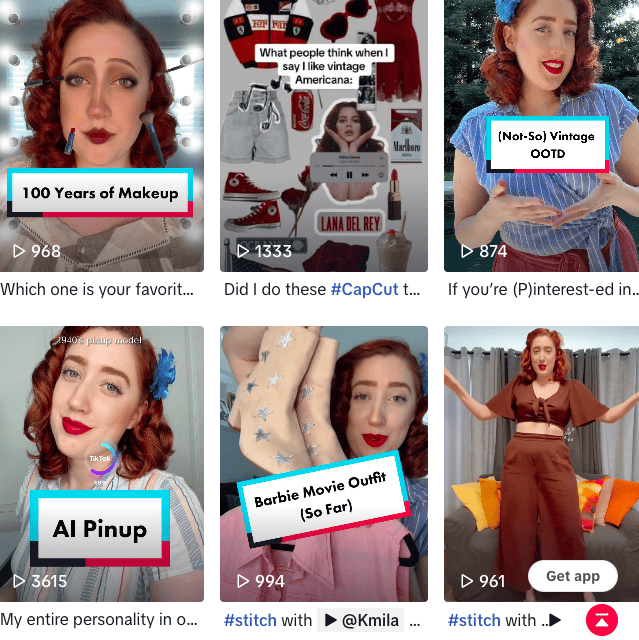 Introducing Sara Jones, your go-to social media content creator for a delightful journey into the world of vintage-inspired style. With an unwavering love for 1940s and 1950s aesthetics, Sara embodies her passion in every pixel and post. She's not just about fashion; she lives and breathes it!
Content
Sara is your friendly guide to embracing vintage charm. Her insightful tips uncover the magic of finding timeless details in clothing and share savvy thrifting secrets. But that's not all – she'll show you how to infuse a modern wardrobe with that classic flair you adore. Get ready for a treasure trove of OOTD inspirations, complete with mesmerizing vintage makeup and hair tutorials that transport you to another era.
Sara's authenticity is captivating, and her expertise opens doors to exciting Collabs in the world of both fashion and beauty. Join forces with Sara Jones, and you'll soon realize why her enchanting content is a must-follow. Your team certainly needs her unique touch to unlock a realm of endless possibilities!
---

Miranda Maheri, is a social media content creator with a love for all things fashion! With an undeniable passion for style, Miranda shines as a fashion enthusiast and shares her expertise on YouTube.
Content
Dive into her world where she spills the beans on thrifting secrets, showcases stunning hauls, and offers fantastic try-ons, making you a fashion-forward guru in no time.
Miranda's keen eye extends to clothing reviews, guiding you through the maze of shopping choices. You'll never make a fashion misstep again. Beyond the realm of fashion, Miranda's adventuresome spirit takes you on a journey of travel escapades, beauty insights, and mouthwatering cooking experiments – all conveniently found on her YouTube channel. Don't forget to follow her Instagram for exclusive discounts on handpicked items!
If you're a fashion brand looking for the perfect Collab partner, then Miranda Maheri should be your top pick. Her vibrant personality, genuine expertise, and dedicated following make her the ultimate social media content creator to elevate your brand to new heights.
---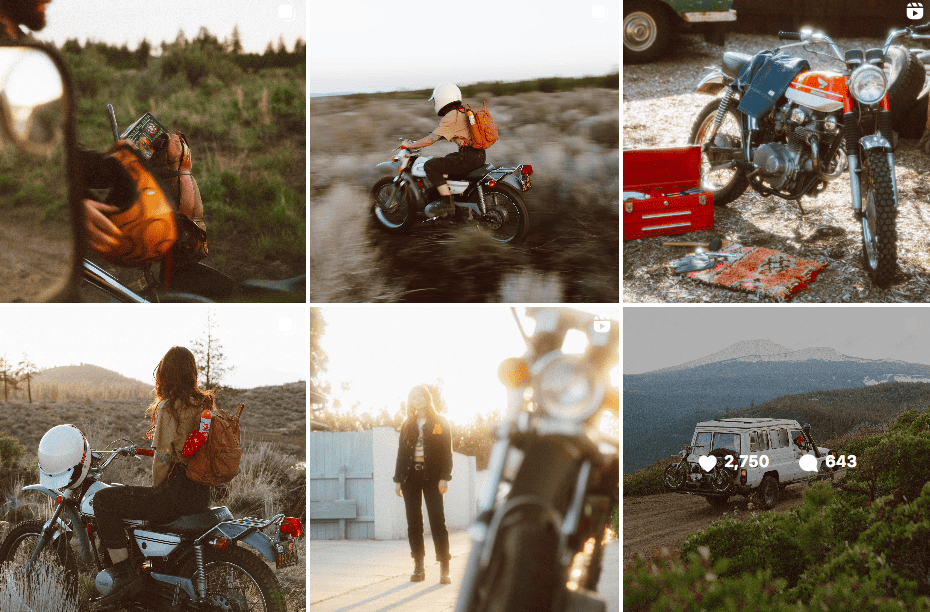 Say hello to the creative powerhouse behind a captivating world of vintage motorcycles, 4x4s, and stunning photography – Alexandra Hamilton. A true connoisseur of all things classic, Alexandra seamlessly blends her love for these rugged vehicles with her exceptional photographic talents, resulting in pure enchantment.
Content
A skilled social media content creator and passionate photographer, Alexandra's Instagram is a haven of mesmerizing visuals that transport you to a bygone era of exploration and adventure. Each post is a testament to her ability to capture the essence of vintage motorcycles and 4x4s. You won't be able to keep yourself from scrolling for more.
But Alexandra's influence doesn't stop there. On TikTok, she empowers and inspires, especially women, to embrace their fascination for motorcycles and 4x4s fearlessly. Her infectious enthusiasm and genuine passion shine through, igniting a spark of inspiration in all who come across her content.
Whether you're a motorhead, a photography enthusiast, or simply seeking a refreshing online escape, Alexandra Hamilton's content is an exhilarating ride worth embarking on. Follow her today for a dose of feel-good vibes and a dash of vintage charm.
---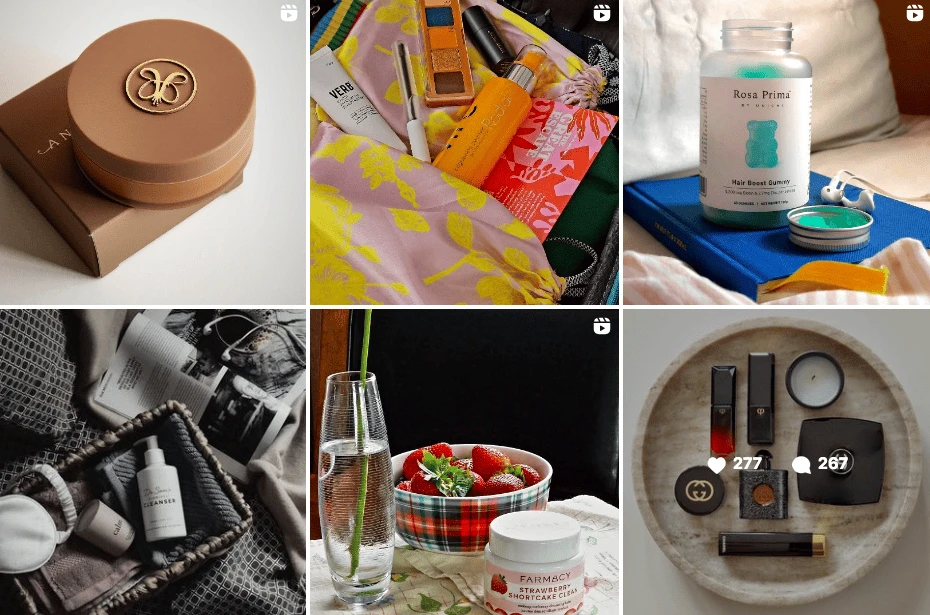 Discover a captivating world of beauty and lifestyle through the enchanting lens of Margo Kuzura's Instagram page, @margo.beauty.edit. If you're in search of a delightful blend of aesthetics and inspiration, Margo's page is your ultimate destination.
Content
Nature serves as Margo's wellspring of creativity, infusing her posts with a vibrant allure that celebrates the beauty inherent in the world around us. Sounds like the perfect muse!
Margo's page exudes the charm of a curated shop window, showcasing a tempting array of beauty products that beckon you to explore. Her detailed captions unveil the secrets of each product, inviting you to indulge in a deeper understanding of your potential favorites.
Prepare to be dazzled as Margo weaves her magic through commercial-worthy Reels, enhancing the visual appeal of the products she spotlights. With her artistry and a growing community of admirers, Margo Kuzura stands as an indispensable beauty content creator whose insights you simply can't afford to miss. Reach out and join the journey to a world of radiant beauty and inspiration.
---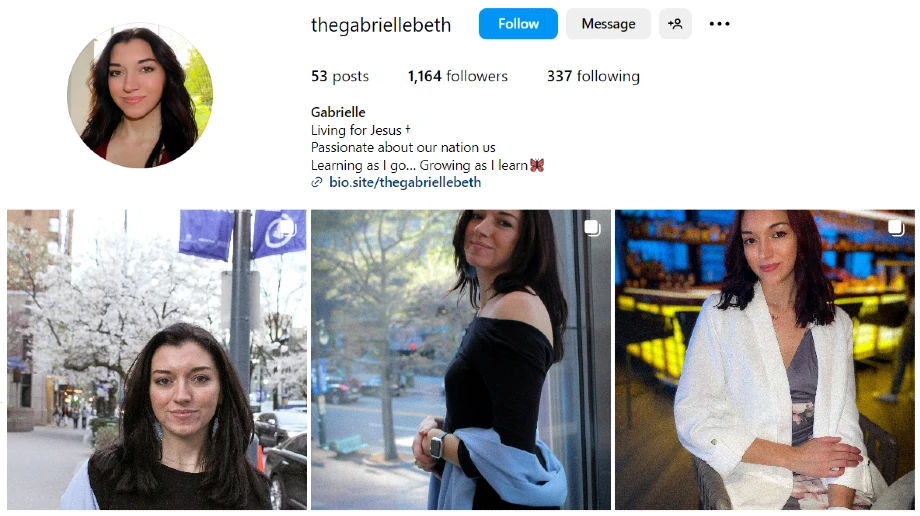 If you need a source of inspiration and positivity in the social media world, Gabrielle is the social media content creator for you!
Content
A true content connoisseur, she seamlessly blends her passions into captivating posts. With an unwavering love for health, delectable cuisine, photography, videography, skincare secrets, fashion flair, and globe-trotting adventures, Gabrielle's diverse interests weave a colorful tapestry of engaging content that keeps you hooked.
Catch her delightful escapades on TikTok and Instagram, where she shares her life's vibrant chapters. And if that wasn't enough, she also has a podcast. Gabrielle's infectious spirit radiates through every post, inspiring us to embrace ourselves fully and live life authentically.
But that's not all – her adorable feline companions frequently steal the spotlight, adding an extra dose of charm to her already captivating feed. Gabrielle's commitment to being her genuine self resonates deeply with her audience, fostering a strong connection built on authenticity.
In a world craving genuine connections, teaming up with Gabrielle for a Collab isn't just a choice – it's a necessity. Get ready to be uplifted, enlightened, and enchanted by this powerhouse of positivity!
---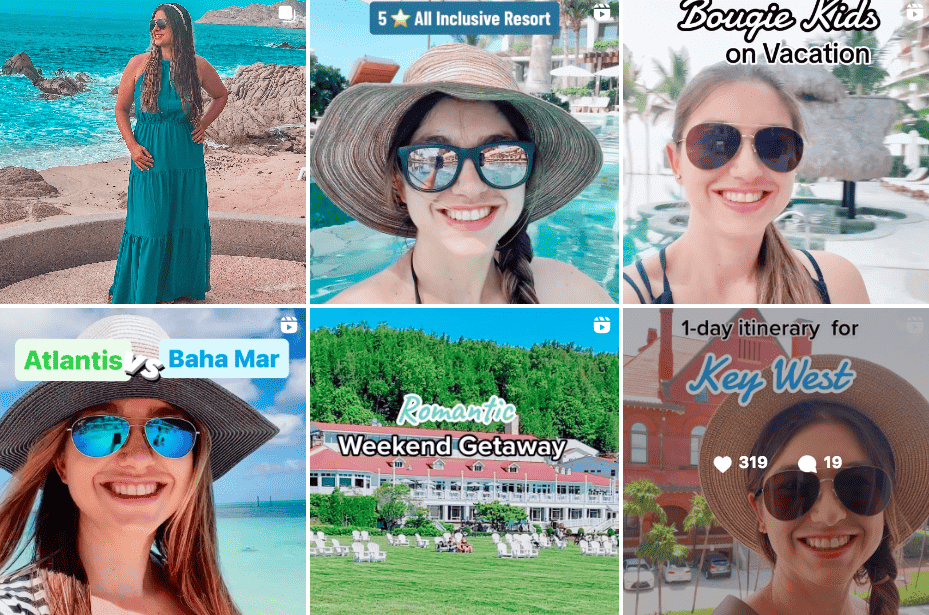 Meet Amanda Andrews, your passport to joy! Known as @travelhappyamanda on Instagram, Amanda's feed is a treasure trove for fellow travel enthusiasts.
Content
With an unmistakable passion for globe-trotting, Amanda's page is a delightful visual of breathtaking vistas, charming snapshots, and wanderlust-fueled escapades.
But that's not all! Amanda goes the extra mile to make your travel dreams come true. Her meticulously crafted itineraries take the guesswork out of trip planning – a big thank-you, Amanda, for making our lives easier! And let's not forget her insightful reviews that offer a sneak peek into what awaits you at various destinations.
Amanda's Reels? Pure travel magic! With every swipe, you'll feel like you're right there beside her, experiencing the thrill of new places. Her inspiring content ignites the desire to dust off your suitcase and embark on your own adventure.
Travel industry brands, take note! Amanda Andrews is a gem of a social media content creator who knows how to capture hearts and inspire journeys. Connect with her to infuse your brand with wanderlust and tap into the magic of exploration.
---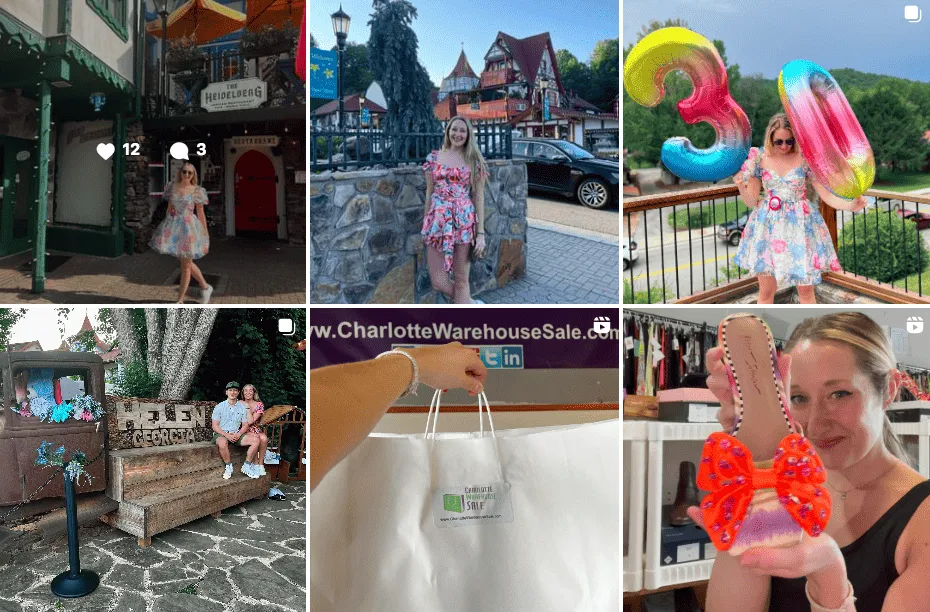 "A creative mess" who loves sharing her endeavors with the world. That's our next social media content creator – Alexis Zarycki. She is a captivating whirlwind of creativity and passion who thrives in the world of social media content creation. A true "creative mess", Alexis embraces her myriad of roles and shares her captivating endeavors with the world.
Beyond being a social media content creator, Alexis effortlessly juggles hats as a writer, speaker, adventurer, digital mastermind, teacher, model, filmmaker, dancer, entrepreneur, and all-around creative enthusiast. With her, the possibilities are endless!
Content
Alexis's authenticity shines through as she fearlessly opens up to her audience, fearlessly exploring diverse topics. Her reviews offer candid insights, providing a profound glimpse into her unique perspective on the world. Engage with Alexis on Instagram, Facebook, Twitter, and also YouTube to stay connected with her inspiring journey. Don't miss a single beat – make sure to follow her on all platforms.
For brands seeking a dynamic Collab, look no further. Alexis offers a wealth of opportunities for innovative partnerships. Reach out and join forces with this multifaceted visionary to create something truly extraordinary.
---
Can we catch up every couple of weeks?
Through our bimonthly newsletter. It'll be a more personal way for us to interact. We'll share exclusive content, send curated Influencer & Creator picks, share our latest podcast sessions and so much more!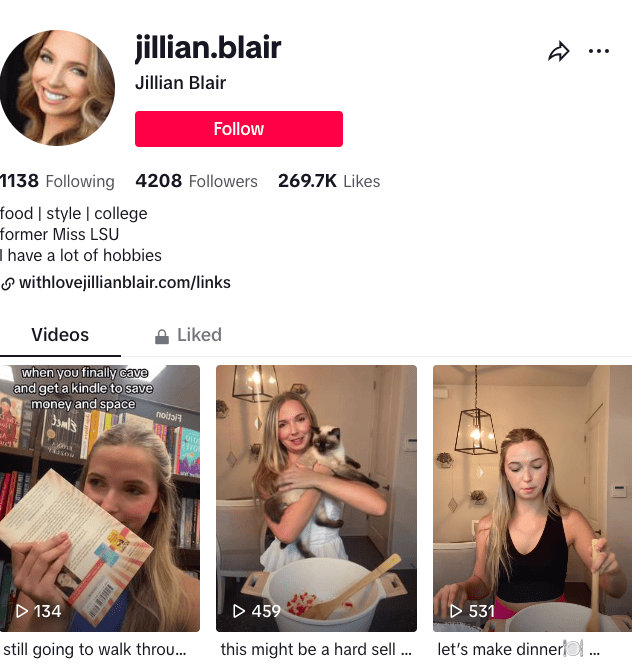 Meet Jillian Blair, your go-to social media content creator for a burst of inspiration and relatable vibes!
Content
With a myriad of hobbies under her belt, Jillian's passion shines through in every post. Whether she's whipping up delectable dishes, sharing her chicest OOTDs, or diving into lifestyle content, she exudes a refreshing casualness that feels like chatting with a close friend.
Jillian's zest for learning new skills and her innate creativity make her a standout in the content creation world. Her genuine enthusiasm is infectious, encouraging others to step out of their comfort zones and try something new. Looking to revamp your wardrobe? Jillian's outfit ideas are nothing short of adorable, setting trends and exuding confidence.
But that's not all! Tune into her fantastic "let's-cook-dinner" segments for mouthwatering meal ideas that cater to all tastes. If you're seeking to Collab with a relatable social media content creator with a heartwarming aura, then Jillian's your perfect match. Join her journey and let her sprinkle a touch of inspiration into your daily life.
---
We're going from a vintage style-loving Sara to Sarah Ensell, your ultimate source of pink fashion inspiration! As a devoted social media content creator, Sarah's world revolves around one color: pink. But not just any pink – it's all about pink fashion! If your heart skips a beat for the delightful combination of pink and style, Sarah is your go-to person.
Content
From charming pink dresses to sleek pink suits, and even vibrant pink swimsuits and accessories, Sarah's feed is a pink paradise. She doesn't stop there – she even showcases pink cars! Every shade of pink finds a place in her vibrant world.
But that's not all – Sarah's furry companions, Mini, Gigi, and Shelby, her adorable French bulldogs, steal the spotlight as they sport twinning looks that will melt your heart.
Having already nailed Collabs in the pet industry, Sarah is now poised to take her Collab game to new heights. Will your brand be the next to join forces with Sarah and tap into her incredible content creation skills? Get ready to captivate a wider audience with the irresistible charm of Sarah Ensell's pink-infused fashion journey!
---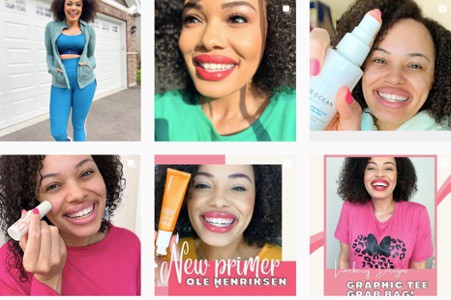 This is Jessica from Illinois, USA. Aka your new beauty bestie! Not only does she blend makeup, but she also seamlessly blends her beauty, fitness, and lifestyle content and wraps it up in a pretty bow of positive vibes.
Content
Jessica's million-dollar smile welcomes you to her page and her bright personality and informative content keep you there. You can't help but pay attention to what she's saying (and crack a few smiles yourself).
You can find her not only on Instagram but on TikTok as well for a wider variety of posts. Trust us, you're going to want to follow her on all platforms!
Her reviews are loaded with helpful info. She also posts Instagram Reels of her trying products for the first time. Her makeup looks are gorgeous and provide major inspo. Also, thanks to her many Collabs, followers can look forward to loads of discount codes! Thanks, Jessica. Who doesn't love a good deal?!
If you are a brand in the skincare, makeup, or fitness industries, then Jessica is the magnet you need to pull in new customers.
You know what to do… Reach out to this social media content creator for a Collab.
---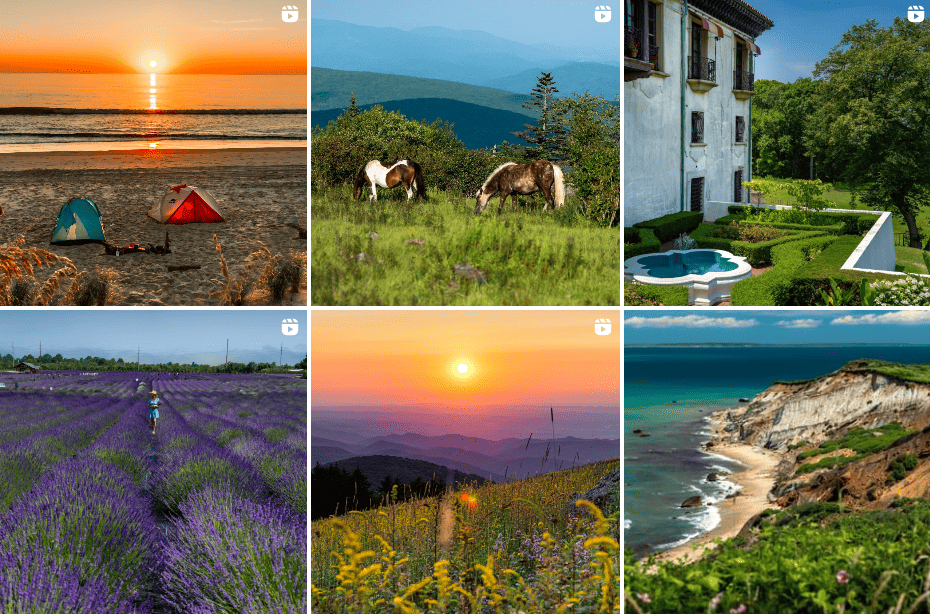 Say hello to your new must-follow travel social media content creator, Alina Zubanova! Alina is not your typical wanderluster – she thrives on discovering hidden gems and taking the road less traveled. Her passion for the outdoors is infectious, as she strives to ignite that same connection with nature in all her followers.
Content
Get ready to dive into a world of wanderlust as Alina shares her meticulously crafted travel guides and one-of-a-kind experiences. Not just that, she's your trusty reviewer of all things travel-related, from essential gear to equipment that'll fuel your adventures.
Alina's suggestions will keep your travel itch alive, with her thoughtfully pre-planned itineraries and detailed captions packed with insider tips. Whether you're a seasoned explorer or a newbie adventurer, her content caters to all, blending captivating Reels and stunning photos that will transport you to far-off lands.
For brands in the travel niche, Alina is the dream Collab partner. Her authentic voice and engaging content make her the perfect partner to bring your travel-related products to a passionate audience. So, pack your bags and get ready to explore the world with Alina Zubanova!
---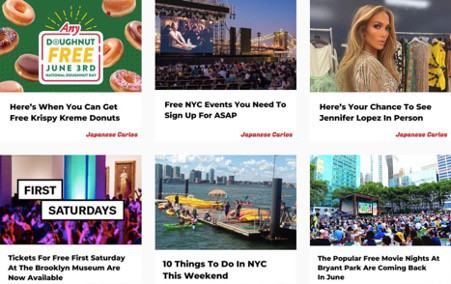 Meet Carlos, a social media content creator from New York with a passion to help other New Yorkers find adventure in their city. He's lived in New York for over 31 years – who better to advise you on where to go?
Content
Take a look at this Instagram page and you'll very quickly realize that Carlos is the plug for entertainment options in New York. He caters to a wide variety of tastes and budgets – oftentimes posting free activities (you da man, Japanese Carlos) and activities ranging from food tastings to dance parades, movie nights, and even opportunities to see celebrities.
We love that his posts are to-the-point and give you all the info you need. I, for one, would never want to miss out on Carlos' posts if I were in the Big Apple – I'd have major FOMO. Every city needs a Carlos.
And brands need to Collab with Carlos… (hey, we like the sound of that… Collabs with Carlos). If you're in the travel industry, Carlos' content would be right up your alley. Not in travel? That's ok, there are endless opportunities for brands in several industries as Carlos offers a variety of entertainment options.
His engagement rate is a steady 3.2% and it comes as no surprise that of his 13.6k Instagram followers, 12.1k are based in the United States.
You might experience some FOMO too if you snooze on a Collab with Carlos.
Did we mention that Afluencer provides the option to search for social media content creators by country? We understand that sometimes brands require location-specific content creators with an influence on certain demographics. So, if you're looking for a New York social media content creator like Carlos, our app can quickly help you find the perfect one and with little effort.
---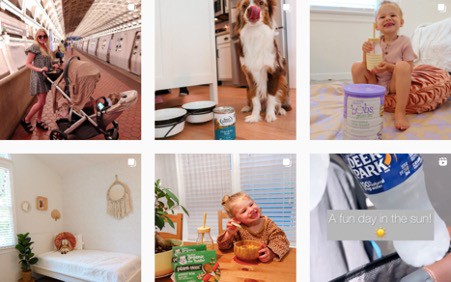 Allis, a social media content creator with a passion for fashion and lifestyle, hails from Virginia, USA. This mom of two takes pride in providing honest, in-depth content – no matter what she's posting. Talk about a social media content creator providing value.
Content
Life + style + motherhood. That's what you'll find here. Allis delivers content that is not only wholesome (she really captures that bond between a mother and her children) but also visually pleasing when it comes to aesthetics. The result? Content so good you can't help but want to hit 'Follow.'

When it comes to Collabs, Allis is a straight-up professional. No wonder she has 19k Instagram followers and counting. She's partnered with brands across various industries – from pet products to travel, baby food to fashion, and jewelry to hair care. Some big-name brands Allis has worked with include Lindt (yes, the chocolate company) and Gerber.
No matter your niche, there's probably a place for it in Allis' content. She also has a solid engagement rate of 2.7%. Allis is definitely worth adding to your Collab list.
---
Desperately Seeking Susan Social Media Content Creators? Choose Afluencer
A social media content creator can certainly do wonders for your brand. And the ones we've featured here are just the tip of the iceberg. Afluencer can help you effortlessly secure the Collab that skyrockets your brand to super-stardom. Need more resources on how Afluencer can help your brand? Check out the Afluencer blog where more inspo and content creator lists await!
What are you waiting for? Sign up today.