It's a new year, and you're excited to invest a chunk of your marketing budget in influencer campaigns. But just as you'd hit the ground running with your campaign prep, it all stops.
You need to know how to choose between micro and macro-influencers for your brand.
You're not alone in this dilemma. These two types of influencers might look similar on the surface, with a difference of only a few digits in their follower counts. But they have stark differences in working style, audience relationships, content approach, and more.
Every brand looking to partner with influencers has to juggle the question: how exactly are micro-influencers different from macro-influencers?
We answer this question (and more) and compare examples from four different industries in this guide. Let's get started.
What is a micro-influencer?
A micro-influencer has a comparatively smaller but hyper-engaged audience, with followers ranging between 10,000 and 100,000. Micro-influencers enjoy a stronger bond with their followers. Unlike macro and mega-influencers, they focus on consistently posting value-packed content to maximize engagement.
5 Benefits of working with micro-influencers
Let's look at the benefits of partnering with micro-influencers for your campaigns:
Achieve higher engagement rate: Micro-influencers prioritize their community over everything else. They're more active in responding to comments, resharing others' stories, and engaging with their followers. Since they target a pocket-sized audience, they tend to have a much higher engagement rate than other influencers.
Get access to niche communities: Bigger influencers and celebrities target a massive and diverse audience. Micro-influencers cultivate a niche audience with a shared interest in their chosen subjects. This gives brands an advantage in reaching just the right buyer personas and getting more bang for their buck with every campaign.
Work with tight budgets and save costs: Micro-influencers cost relatively much less than macro-influencers. Their prices allow brands with smaller budgets to reap the benefits of influencer campaigns and boost awareness. On average, a micro-influencer charges $500 per post. So, you can easily start small and scale gradually.
Run more authentic influencer campaigns: Another huge advantage of working with micro-influencers is the hallmark of trust they offer. They're more connected with their followers and share a strong rapport. Given this dynamic, people follow their advice and endorsements—adding a layer of authenticity to your influencer campaigns.
Josie Elysia, a micro-influencer on Afluencer, explains why micro-influencers have stronger relationships with their followers:
"We tend to have a more engaged audience than macro-influencers. We can connect with our audience on a more personal level because we can get to know more of them better. When a follower takes the time to leave a comment, acknowledging them can facilitate a deeper relationship and encourage them to continue coming back to your page."
Publish brand-aligned and helpful content: Since micro-influencers are in the early stages of their career, they're likely to invest more time, effort, and creativity into every brand collaboration. They're eager to prove their mettle and drive solid ROI for building their own case. This means they'll create tailor-made content—mixed with their usual style—to nudge their audience toward your brand.
With that, we've looked at one side of the spectrum. Let's walk to the other end and understand macro-influencers.
What is a macro-influencer?
A macro-influencer is typically a thought leader or celebrity with a social media following between 100,000 and 1 million. Macro-influencers have a strong reputation on almost every social media platform and partner with big-ticket brands. They offer a wider reach and more exposure than micro-influencers.
5 Benefits of working with macro-influencers
Let's look at the benefits of partnering with macro-influencers for your campaigns:
Build professional partnerships: Macro-influencers are either repped by dedicated managers or are experienced enough to know all the rules of the trade. In any case, they show a higher degree of professionalism in brand collaboration. This ensures you're meeting all timelines, sticking to the list of deliverables, and communicating transparently.
Ease of hiring and accessibility: Macro-influencers' popularity and reach make them easier to spot in a crowded influencer space. As an influencer marketing manager, you won't have to spend hours scouting the right fit for your campaigns. You can simply jump to platforms like Afluencer or run relevant hashtag searches on social channels to find them.
Maximize your campaign reach: It's no surprise that macro-influencers promise a stellar reach for every campaign. Here's proof: a TikTok from a macro-influencer receives 38,517 views on average. This wide-ranging reach can benefit brands looking to increase awareness or hit higher media value.
Scale your ROI with their growth: Another unique advantage of working with macro-influencers is their steady growth curve. A select few macro-influencers reach a high-growth stage where their followers multiply rapidly. This presents a great opportunity for brands to maximize their exposure at lower prices.
Draw on influencers' niche expertise: Consider a macro-influencer as a more senior professional. They've built a bigger audience to the credit of their expertise. People trust their advice and accept their recommendations. This can be a huge differentiator for brands looking to build credibility in the market.
Now, we've looked at the complete spectrum with the definitions and key benefits of both influencer types. It's time to weigh them to see how they fare against each other.
Micro vs macro influencers: How do they compare
While a micro-influencer has a smaller following of 10,000-100,000 users, a macro-influencer enjoys a much bigger influence over 100,000-1,000,000 followers. But the differences between micro vs macro-influencers go beyond their follower count.
Let's look at the finer details that set apart these two influencer tiers and understand how these differences can impact your e-commerce brand:
Expertise
Macro influencers are at the top of their game and constantly leveling up. Typically, any creator with over 100,000 followers qualifies as a macro-influencer. This means they're likely more experienced in the industry and have deeper expertise in their niche.
Most macro-influencers fall into either one of these categories:
Celebrities
Thought leaders
Full-time creators
Internet personalities
Conversely, micro-influencers are slightly above nano-influencers (with <10,000 followers). They're likely still building their expertise and scaling their careers.
However, this doesn't apply to all micro-influencers since leading industry experts can have a smaller following if they're not active on a platform or just starting.
Verdict: Macro-influencer have more expertise
Credibility
Micro-influencers build a hyper-engaged audience, sharing deeper relationships with their followers. They invest more time and effort into interacting with their audience and giving back to their community. This can be through giveaways, live sessions, story shoutouts, and more.
All these actions and efforts add up to their credibility. People trust them more than other influencers. 82% of consumers in a survey claimed that they're more likely to buy from brands that a micro-influencer recommends.
This is where macro-influencers are on the back foot. Since their audience size and engagement levels are much higher, they spend less time interacting with their followers. They also focus more on brand partnerships to maximize earnings. This eventually starts eroding their credibility.
Verdict: Micro-influencers have more credibility
Exclusivity
Micro-influencers are eager to build their portfolio and work with multiple brands. This means they might partner with a competing brand if given a chance, making them non-exclusive. They might also oppose signing a non-compete agreement since it limits their chances of increasing their income.
On the other hand, macro-influencers are more inclined to enter into exclusive brand partnerships. They can also become brand ambassadors and avoid promoting any competitor of yours. This is a big consideration for high-end brands who want to build more organic relationships with their buyers through influencers.
Verdict: Macro-influencers are more willing to become exclusive partners
Affordability
Since micro-influencers work at a lower scale with a smaller audience, they charge lower than macro-influencers. This makes them more affordable and budget-fit for brands of all sizes.
As noted earlier, micro-influencers charge a maximum average of $500 for every Instagram post and $125 for every TikTok video. This pricing can easily vary depending on the audience size and experience.
On the other hand, macro-influencers have significantly higher charges. Their prices can go as high as $2400 per TikTok and $20,000 per YouTube video. These prices mean only brands with a sizable influencer marketing budget can hire them.
Verdict: Micro-influencers are budget-friendly for all brands
Engagement
The engagement rate is one of the most critical differentiators between micro vs macro influencers. Despite their high follower counts, macro-influencers are known to have a comparatively lower engagement rate. This is primarily because inactive or bot followers incorrectly inflate their audience size.
Micro-influencers tend to have one of the best engagement rates of all. The logic is simple: they interact more openly and proactively with their followers, increasing their engagement numbers for every content they post. 
Case in point: Even a global brand like Coca-Cola partnered with micro-influencers to launch a new product in Denmark. The beverage giant worked with local, small-scale influencers to spread the word about their new drink, which earned them an engagement rate of 7.5%.
Verdict: Micro-influencers have a higher engagement rate
Content style
Since macro-influencers work at a higher level, they hire a team or agency to handle their social media presence. This team can include an account manager, a photographer, a writer, a video editor, and more roles. They work with a bigger budget and professional equipment too.
The result? Macro-influencers have better design and quality in their content.
On the contrary, most micro-influencers start small—probably with a ring light, a tripod, and a mic. Their content quality might not be the best since they work with a limited budget and setup.
However, micro-influencers can produce equally good content in terms of entertainment or educational value. They tend to follow a consistent theme and produce multiple videos in similar styles to appeal to a specific type of audience.
For example, Nathan, a small-business owner, and micro-influencer posts reels depicting a similar theme of his soap-making process.

Verdict: Both work well for different brands
Ease of hiring
Lastly, the ease of finding, vetting, and hiring influencers also separates these two types. Macro influencers are relatively more famous and easier to find on social channels. They're also more active on influencer marketplaces. Besides, brand managers can find them through referrals.
In that regard, micro-influencers are difficult to find since they don't show up in the top search results on any channel. So, you'll have to jump through some hoops to find the ideal micro-influencers. Vetting and hiring them are equally challenging next steps.
However, hiring influencers is a cakewalk on Afluencer. Browse a database of over 17,000 influencers and use advanced filters to run your searches. Shortlist your top choices and chat with them with a single click.
Micro vs macro influencers: Examples from 4 industries
Let's look at four examples of micro vs macro-influencers to clarify these differences. We've covered four popular industries here:
1. Travel
Macro-influencer: Amanda Brown
Amanda is an Atlanta-based travel influencer with over 200,000 followers on Instagram alone. Her profile is vibrant with photos and reels from her travels worldwide. She partners with e-commerce brands that sell travel-related products or services, like Merrell, an outdoor goods brand.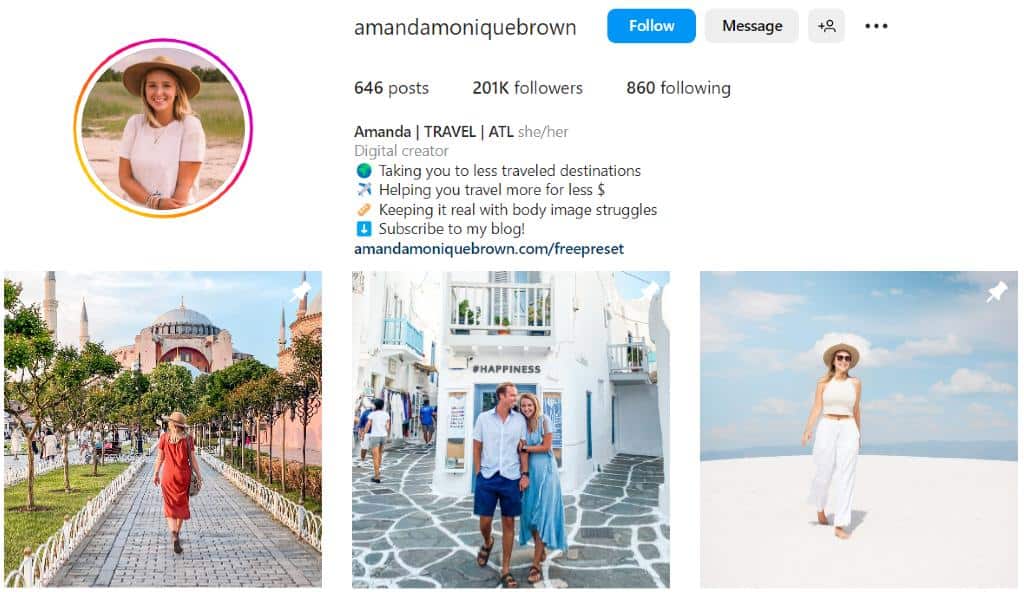 Micro-influencer: Ashley Pergande
Ashley is a Texas-based influencer and solo traveler with an active TikTok profile. She has a following of over 43,000 users, and her TikToks get a decent engagement. She has also collaborated with brands like Michael Todd Beauty.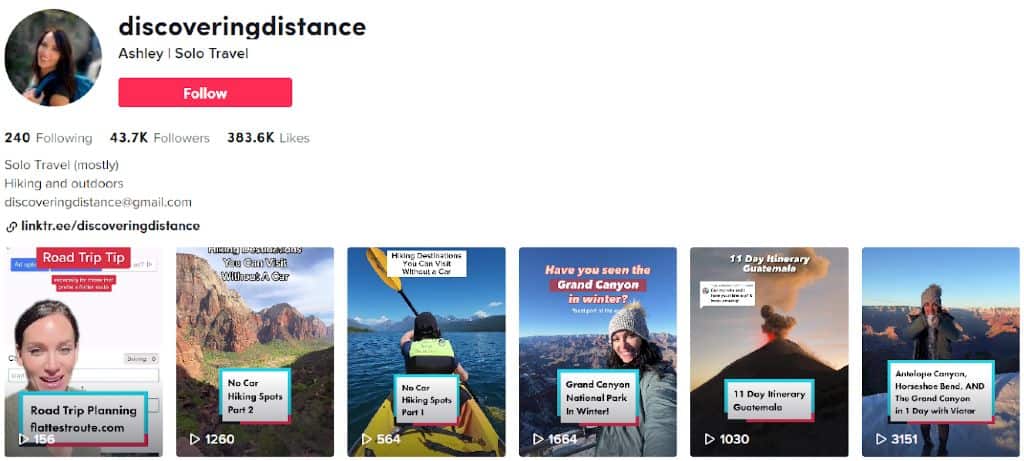 ---
2. Beauty
Macro-influencer: Alice Clapp
Alice is a Texas-based influencer with over 163k followers on Instagram. She's a beauty-cum-lifestyle influencer posting content around themes like outfit inspiration, indoor aesthetics, and travel. She's also a dentist, so an oral brand partnership would be perfect for her.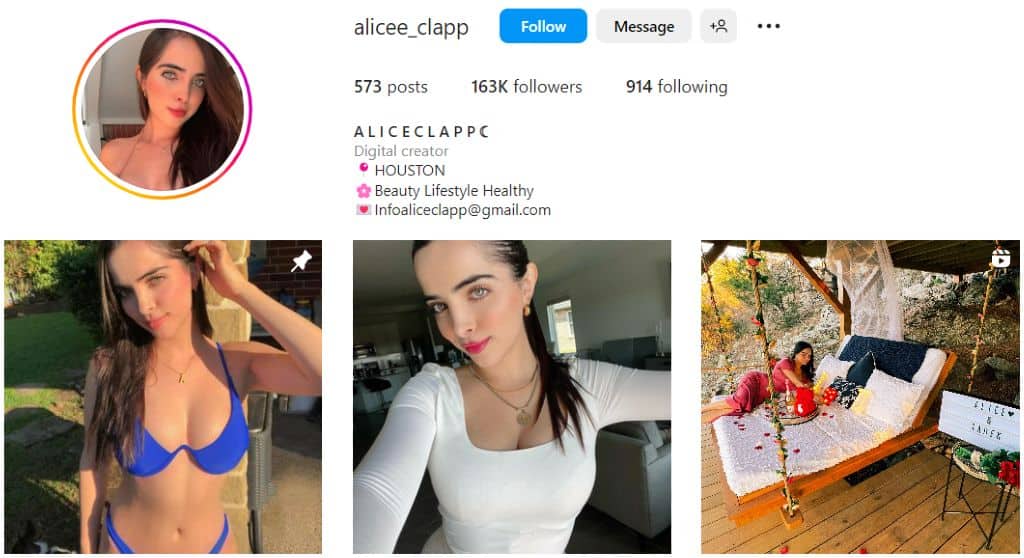 Micro-influencer: Darlene Ruiz
Darlene is a California-based mom influencer with close to 40k followers. While she posts content about her family, her primary focus is beauty content. She has collaborated with brands like Love, Beauty, and Planet and would also be a great fit for children-centric brands.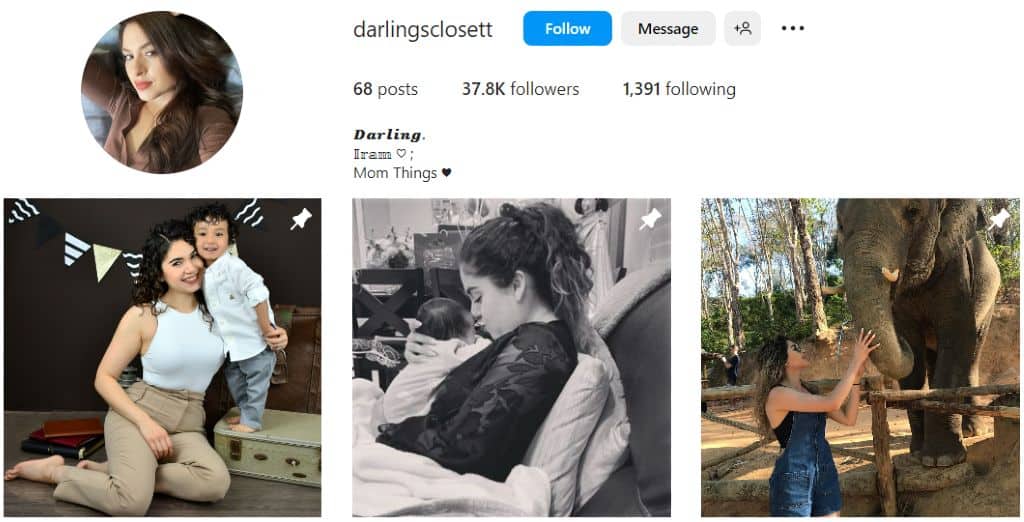 ---
3. Fashion
Macro-influencer: Barbora Ondrackova
Barbora is a Germany-based influencer with over 600k followers and influence across Europe and the United States. She creates content around her fashion choices and posts frequently about her travels and lifestyle as well. As a fashion influencer, her recent brand partnerships include big labels like NADINE MERABI and Atelier Emé.
Micro-influencer: Abeer Abbadi
Abeer is a Dubai-based fashion influencer with just over 50k followers. She runs her own architecture firm and posts actively about fashion and beauty. Her profile has a mix of content themes around these niches and a decent engagement rate.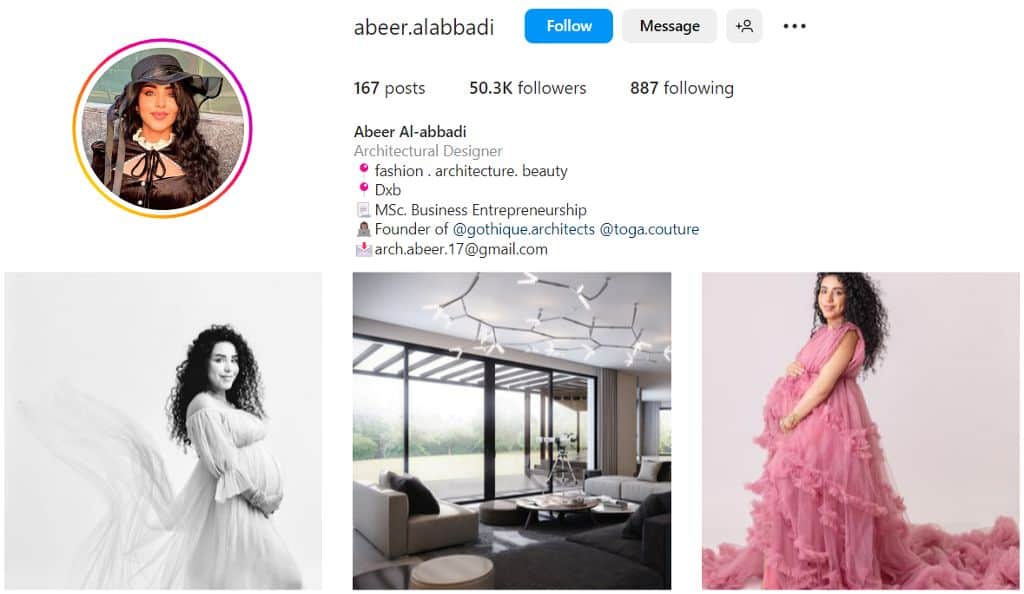 ---
4. Fitness
Macro-influencer: Kryss DeSandre
Kryss is a Utah-based fitness influencer and model. She has just above 400k followers, and her profile features her workout routines, gym content, and fitness advice. She keeps it casual with occasional selfies with her pets and snippets of the aesthetic she enjoys.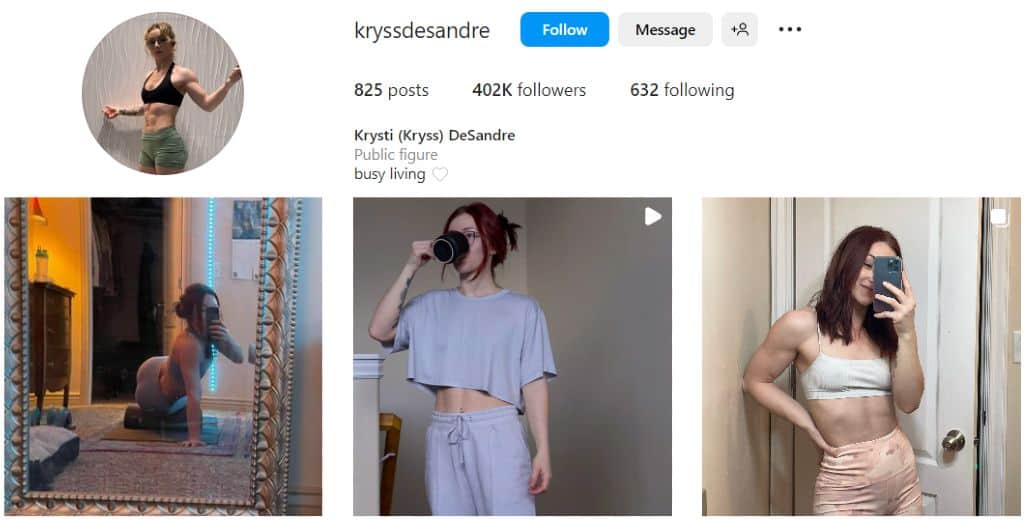 Micro-influencer: Anastacia Po
Anastacia is a Florida-based mom and fitness influencer. She advocates healthy living and shares her tips on living fit and eating healthy. Since she also has a young daughter, she'll be a great fit for brands targeting children or mothers.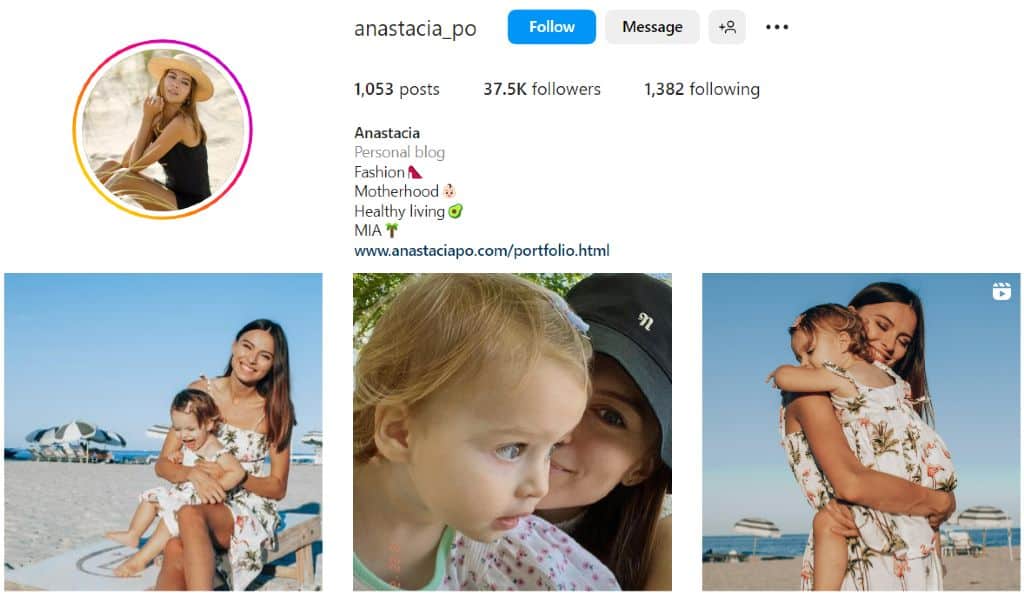 Choosing the right influencer for your brand: The final verdict
If you're new to influencer marketing, you'll inevitably face the difficult choice between micro vs macro influencers. The tricky part is, choosing one over the other is a more nuanced decision than most brand managers consider it to be.
That's why we created this exhaustive guide comparing these two types of influencers with examples from four industries.
Once you start your search for the right influencers, don't forget to install Afluencer for Shopify and find the ideal matches from our massive pool of vetted influencers.