Picture-perfect outfits, professional shots, and slim figures—an image of the typical influencer you'll find on social media today. But the truth is, influencer marketing isn't limited to these young creators.
Middle-aged influencers are only emerging on the scene, taking a seat at the table right next to these Gen Z influencers. These midlife influencers, aged between 35 and 55 years, are building their brands in the niches of their choice and partnering with relevant brands to monetize their audience.
On the flip side, brands collaborate with middle-aged influencers to resonate with buyers from a specific age group and build an inclusive community of shoppers.
If you want to become one such brand, you'll benefit from our hand-curated list of the best middle-aged influencers to work with in 2023.
Why Work with Middle-Aged Influencers
Ecommerce brands are turning to middle-aged influencers for multiple reasons—the most crucial being the vast pool of social media users from this age group. Nearly 24% of Instagram users fall within the middle-aged demographic of 35-54 years old, which spans from Millennials to Gen Xers and even the younger edge of the Baby Boomers.
These users have money to spend, making them a lucrative demographic to target. In fact, studies show that people in the middle-aged demographic currently are (and will remain) the wealthiest group of consumers through 2025.
Both these data points signal how brands can partner with middle-aged influencers to build a positive reputation and maximize visibility among their target shoppers in this age group, which can ultimately turn into sales.
Case in point: SeroVital's influencer marketing efforts show how niche brands can benefit from partnerships with middle-aged influencers. SeroVital is a beauty brand making products for aging women. As such, they frequently feature middle-aged female influencers and models on social media to represent these buyers, win their trust, and sell more with the help of influencer marketing campaigns.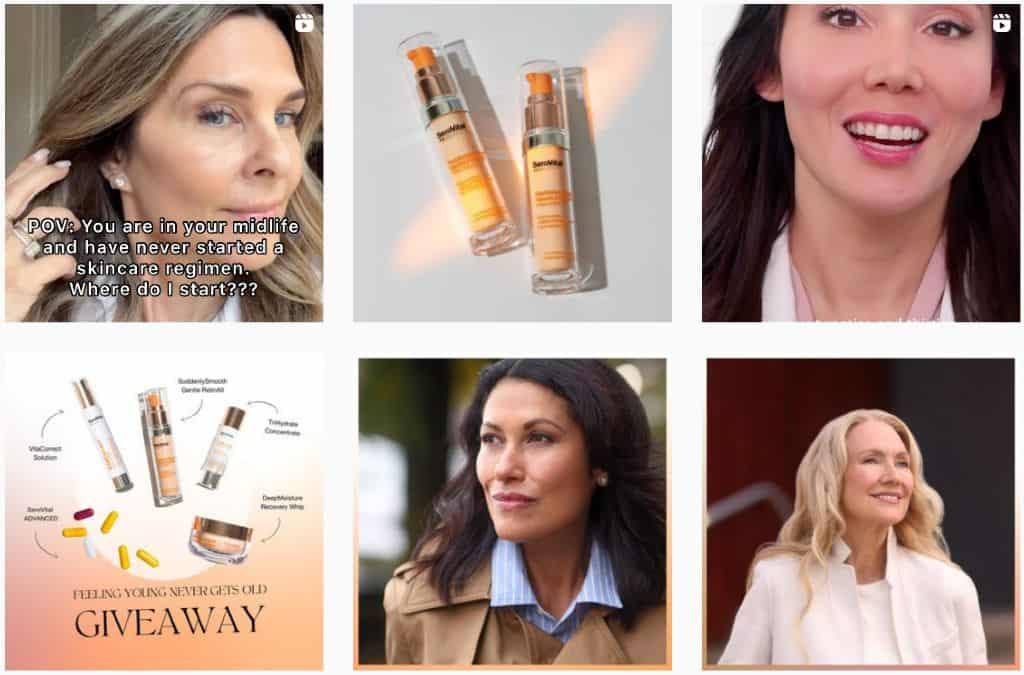 18 Best Middle-Aged Influencers to Consider in 2023
When you're ready to launch your next campaign with middle-aged influencers, look no further than our list of the best middle-aged influencers to partner with in 2023.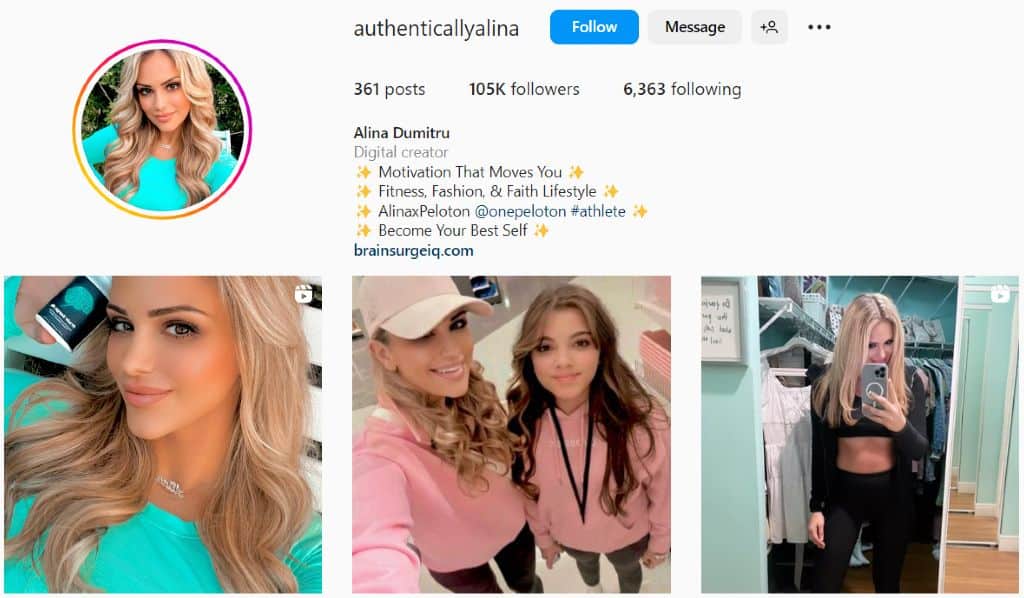 Age: 39
Followers: 116,000
If you're looking to partner with a multi-faceted middle-aged influencer, then Alina will fit the bill quite perfectly. She focuses on both beauty and fashion content and actively discusses her fitness regimen. She's an ideal match for ecommerce brands from any of these industries targeting middle-aged buyers.
While Alina is most active on Instagram with over 100K followers, she's also constantly building an impressive presence on TikTok. At 39 years old, she can quickly bring great results for campaigns aimed at middle-aged adults.
---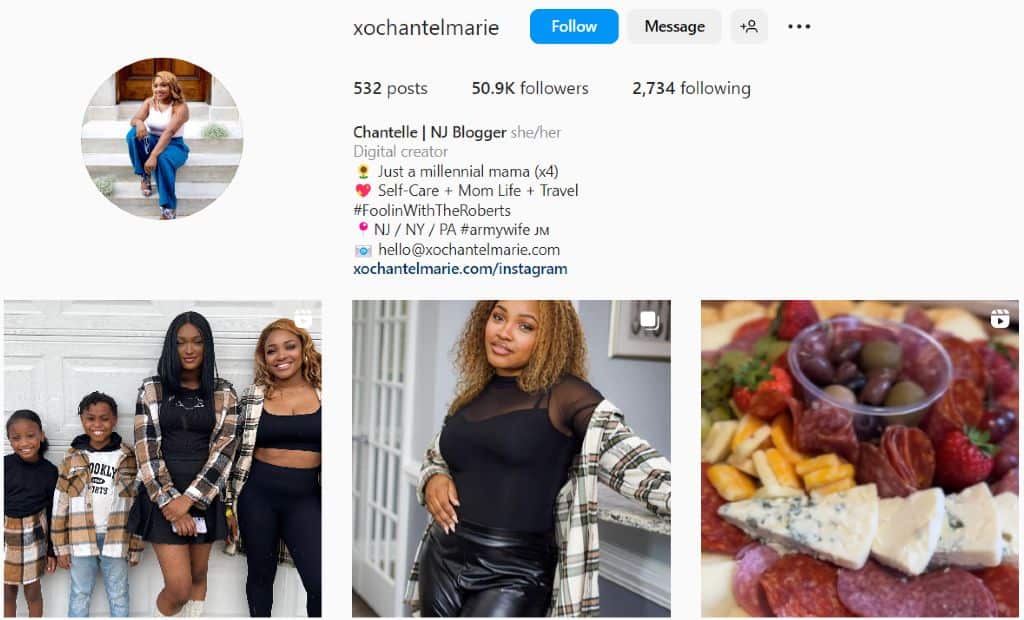 Age: 37
Followers: 80,000
A mother of four working as a brand strategist, Chantelle has a successful personal brand on Instagram and Facebook. She creates content around travel and lifestyle, focusing mainly on the theme of her life as a mother and self-care.
Chantelle partners with household-oriented brands such as Liquid IV, STEM for Bugs, and Burts Bees to target middle-aged women and mothers. You'll certainly find a great mix of content formats on her profile, including reels, carousels, and stories. Her Instagram is unfiltered and positions her as a more authentic influencer, improving her trust capital.
---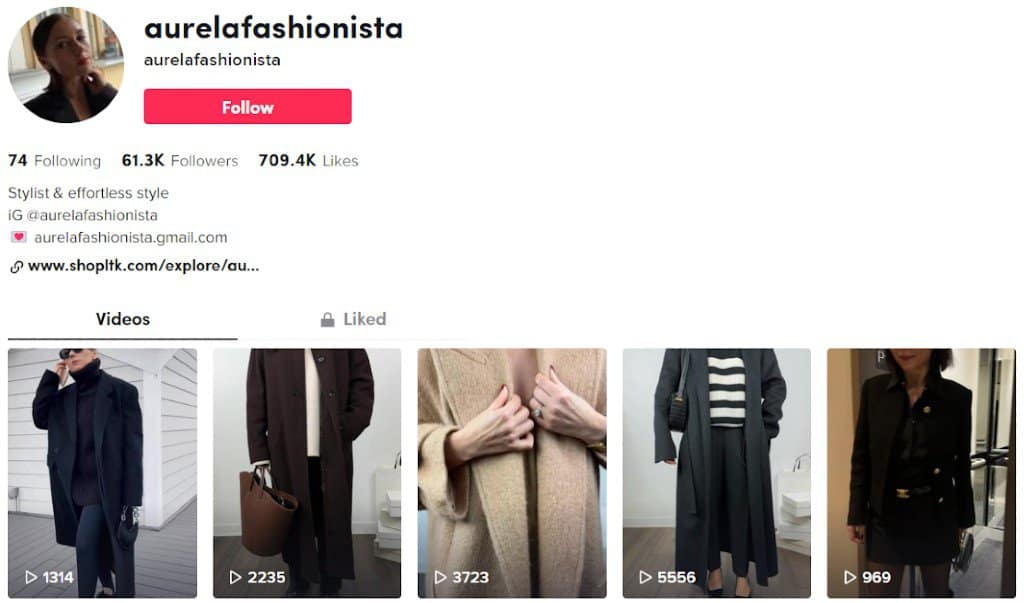 Age: 47
Followers: 61,000
Aurela is a fashion influencer with over 60,000 followers on TikTok and a promising engagement rate. Her TikToks reach 5,000 viewers on average, and she consistently posts videos of her outfits.
Her content is entirely focused on sharing fashion tips and promoting apparel brands. You can enjoy videos of her shopping hauls, reviews, and fit checks on her TikTok page. Nearing 50 and almost joining our list of influencers over 50, Aurela is certainly the perfect example of a fashion influencer for middle-aged women.
---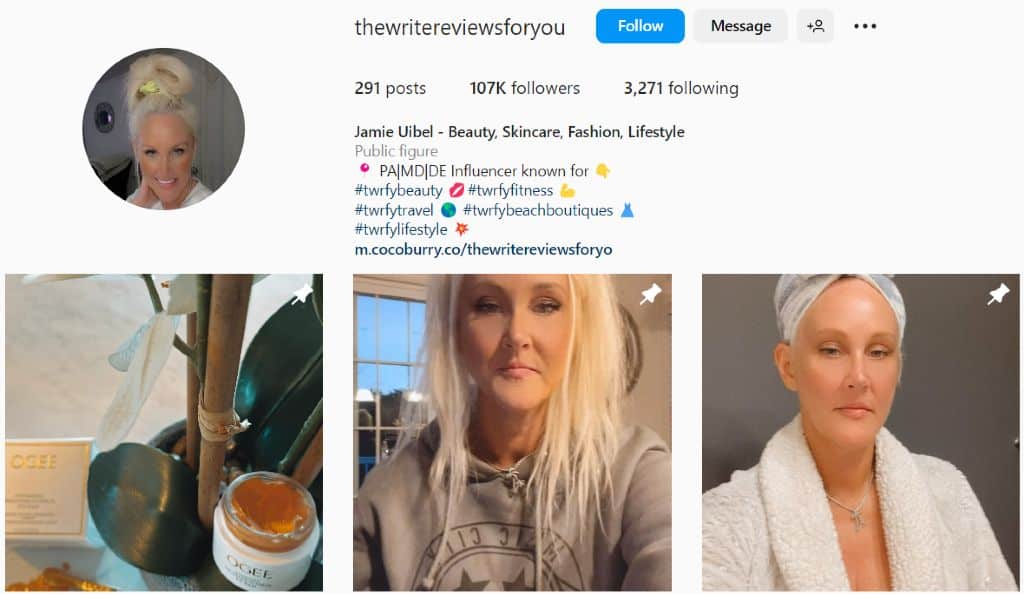 Age: 49
Followers: 130,000
Jamie is the perfect influencer for brands in the beauty and skincare space, thanks to her value-packed product reviews and tutorials. She frequently posts reels with a decent reach and excellent engagement.
Besides posting about beauty and skincare products in partnership with brands like Ogee and The Ordinary, she also dabbles in fashion reviews. While these posts aren't that frequent, she often shares details about her outfits and a few collaborations with fashion brands.
Overall, her 100K+ Instagram feed creates an exciting vibe and looks promising for brands targeting the middle-aged market.
---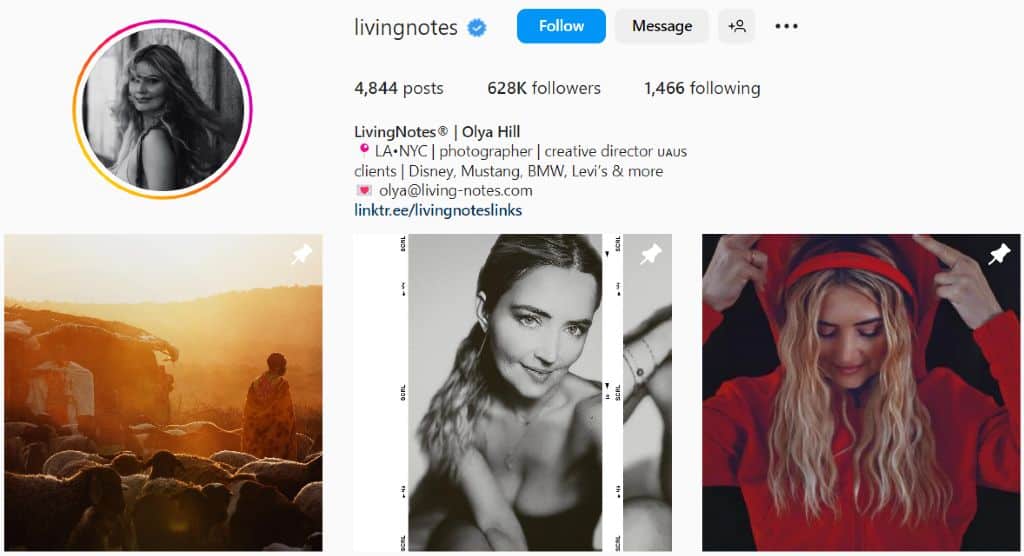 Age: 42
Followers: 631,000
A photographer based in both LA and NYC, Olya has positioned herself as a mega-influencer on Instagram with over 600,000 followers. Her Instagram feed screams talent, featuring her portraits and her photographs.
Olya's content has a great reach, with posts receiving 20,000 likes on average. Since she's a mother and has pets, she has collaborated with various brands in the lifestyle space, including Canidae Foods, ROWEN Wines, and Temu.
Hers is an artsy account with pictures creating a serious yet artistic vibe. If you want to break into the more creative user group on Instagram, then Olya is the person to reach.
---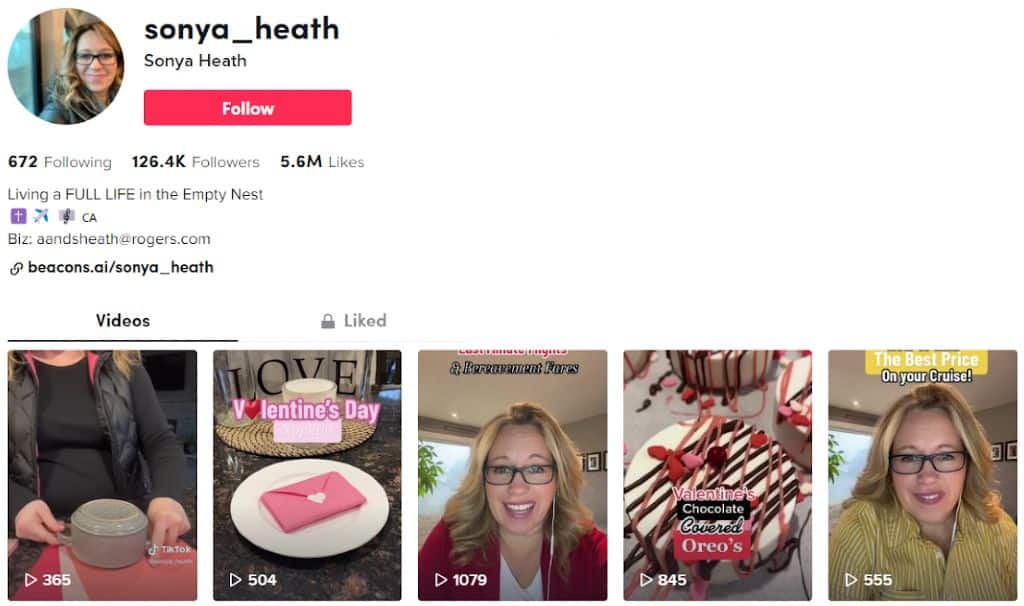 Age: 52
Followers: 139,000
Sonya is a low-carb diet advocate and travel agent. Her massively popular TikTok account has a unique combination of both healthy recipes and travel hacks. This combination also opens the doors for many ecommerce brands to partner with Sonya and find some real estate before her 139K+ followers.
While several of her TikToks have gone viral, her standard reach is around 5,000-6,000 views. She also follows a clear content strategy with great shooting and editing expertise to publish engaging and high-quality videos.
Partner with her if you're in the travel space or a food brand.
---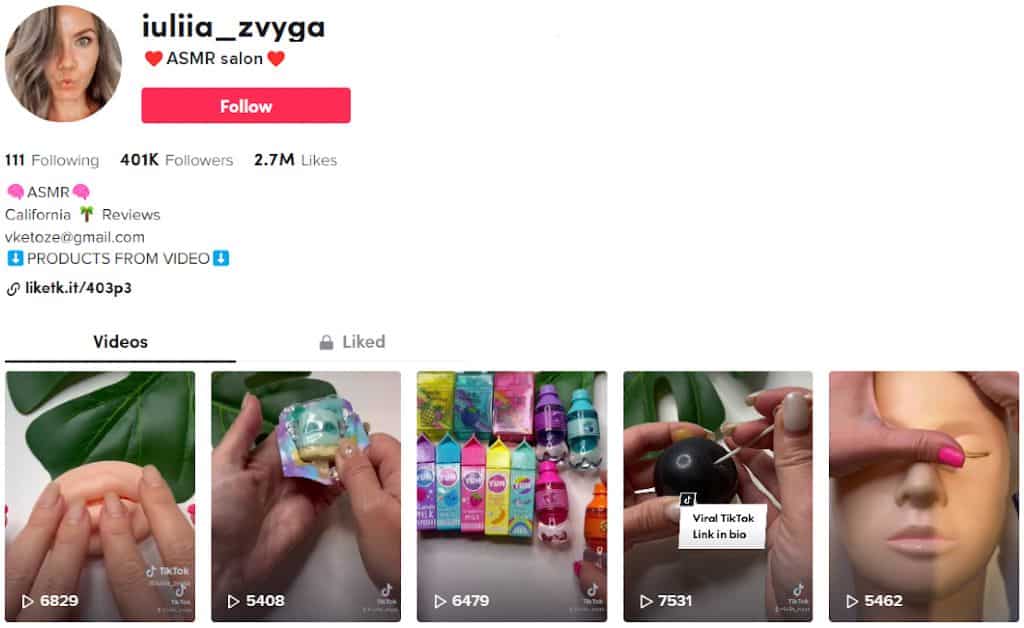 Age: 37
Followers: 400,000
Iuliia is a California-based blogger and influencer with over 400,000 followers on TikTok. She consistently posts ASMR content featuring different beauty products. Her videos enjoy a great viewership, with a minimum of 5,000 views and going as high as 80K views.
Since most of her content focuses on ASMR, beauty and skincare brands can collaborate with her to boost brand awareness. Her videos will give potential buyers a closer look at your products and entice them to try something.
Although Iuliia is in her late 30s, she has a broad audience of women from every age group because she doesn't highlight her face.
---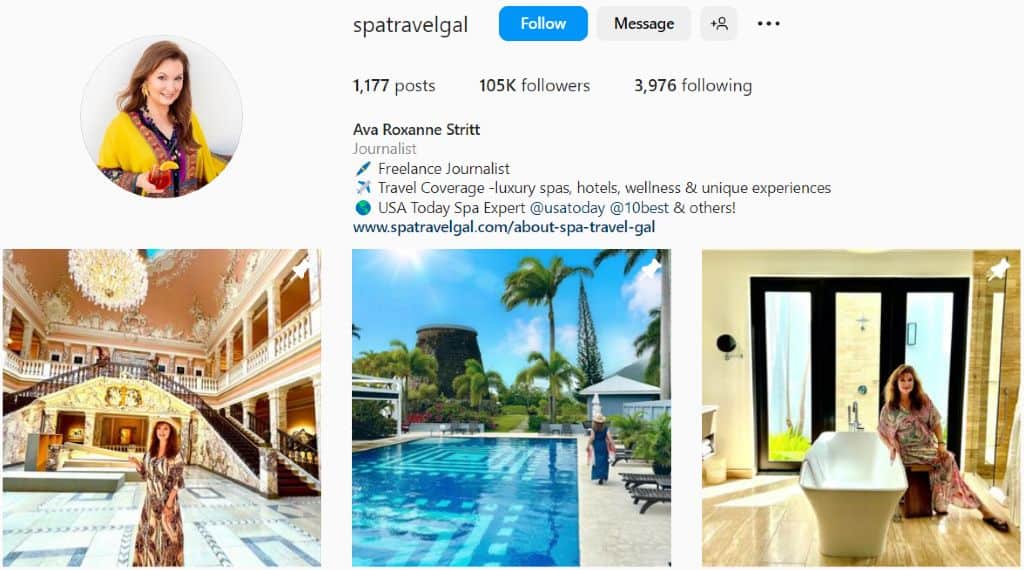 Age: 48
Followers: 142,000
Recognized as a luxury travel explorer, Ava is a freelance journalist and a mega-influencer on Instagram. Ava's work allows her to go places, helping her build a vibrant and hugely popular Instagram presence.
Besides partnering with hospitality brands, Ava actively works with lifestyle e-commerce businesses like Body Restore, UPNEEQ, and GREENIES. As a dog mom, she also partners with brands in the canine industry.
If you aim to position yourself among a more high-end audience, build a solid partnership with Ava and achieve a considerable reach.
---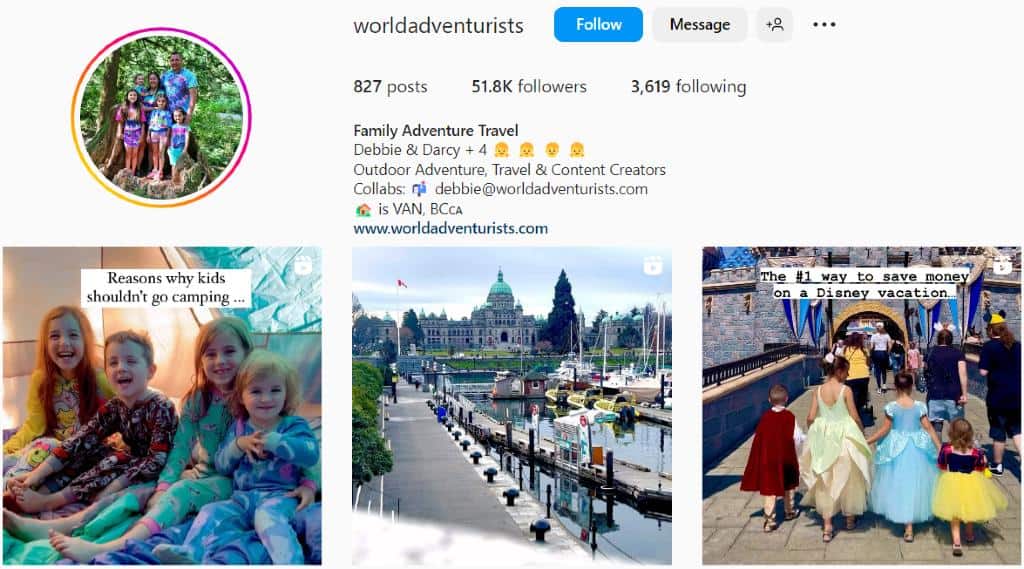 Age: 38
Followers: 54,000
Debbie is a mom influencer with a consistently growing brand on Instagram. As a mom to four young children, she actively posts about her family—creating content on their trips, festival celebrations, and routine activities. Travel and itinerary planning is her main content pillar for IG content.
Despite a lower number of followers, Debbie has an impressive engagement rate of 3.3%. Both organic and paid partnership content on her profile performs well and drives conversions.
Some of her recent Collabs have been with brands like PiACTIVE and Jase. But brands in the travel and home niches can partner with Debbie to reach a group of high-intent buyers.
---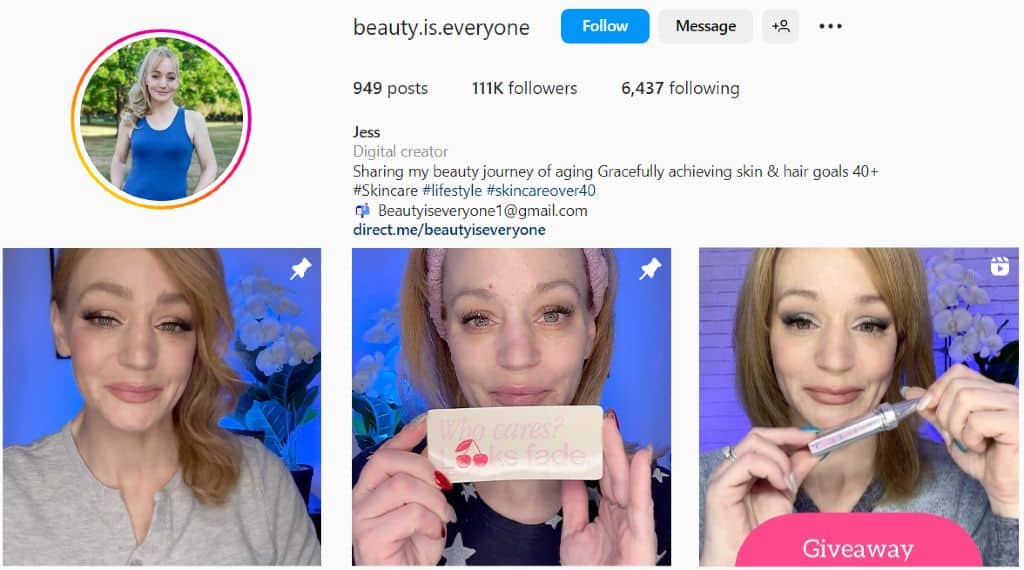 Age: 37
Followers: 116,000
Jess is a beauty influencer creating content for middle-aged women. With over 100,000 Instagram followers, she has a decent reach and gets consistent engagement on her reels.
She actively collaborates with brands to post different types of content, like tutorials, product reviews, makeup routines, and quick tips. Creating content for #skincareover40, Jess exudes confidence and radiance in all her posts.
She is certainly the ideal influencer choice for skincare and beauty brands targeting the middle-aged. But you can also approach her if you're in aligned niches like haircare, body care, or cosmetics.
---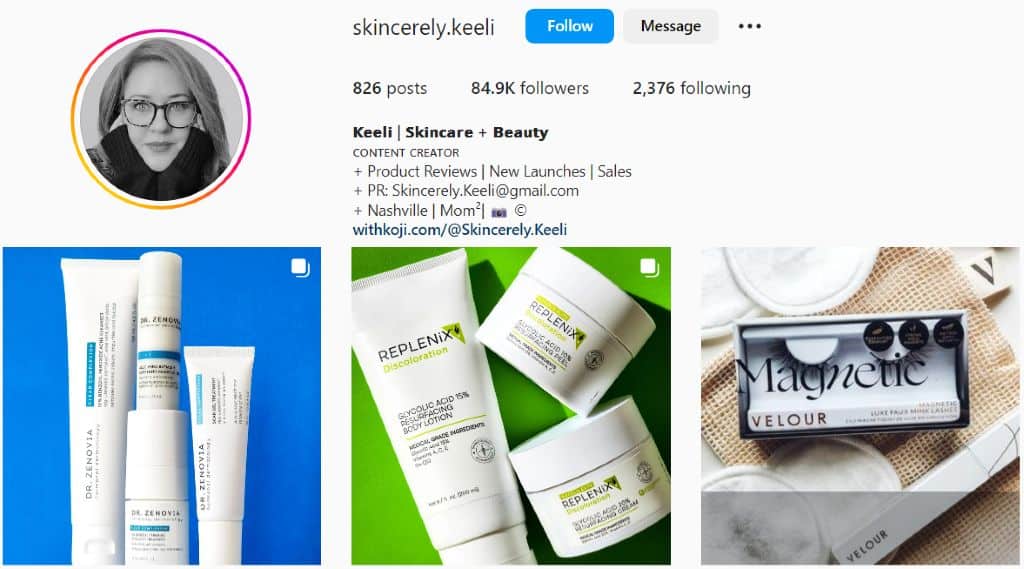 Age: 42
Followers: 84,000
Keeli is a skincare and beauty influencer with a strong following on Instagram. Her profile mainly features high-quality, professionally shot product photos. But she mixes these up with reels and carousels. You'll find her profile colorful and neat, passing all aesthetic checks.
Unlike most older influencers, Keeli doesn't spotlight her face so much. Neither does she bank on high-performing reels for engagement. Instead, she focuses on publishing thorough reviews for every product, adding more credibility to her name.
She's collaborated with various high-end brands and also a few smaller names. So, if you want to build awareness among the middle-aged group with in-depth reviews, Keeli is the perfect choice for you.
---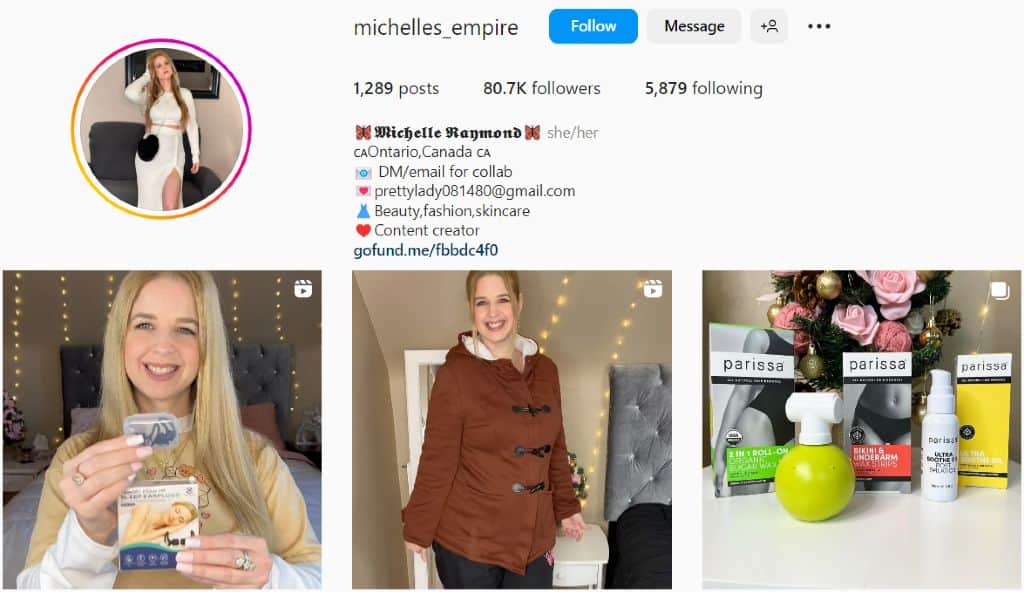 Age: 42
Followers: 88,000
A makeup artist and fashion blogger, Michelle is a Canadian influencer and content creator with a consistently growing Instagram page. She covers several niches on her profile besides makeup tutorials and reviews. You'll find some fun outfit and footwear videos because she's also positioned herself as a fashion influencer.
Her feed is a mix of reels and carousels with a decent engagement rate. On top of her affiliate partnership with Romwe, she has collaborated with several cosmetics and skincare brands such as VieBeauti, SHEGLAM, and d'Alba Global.
---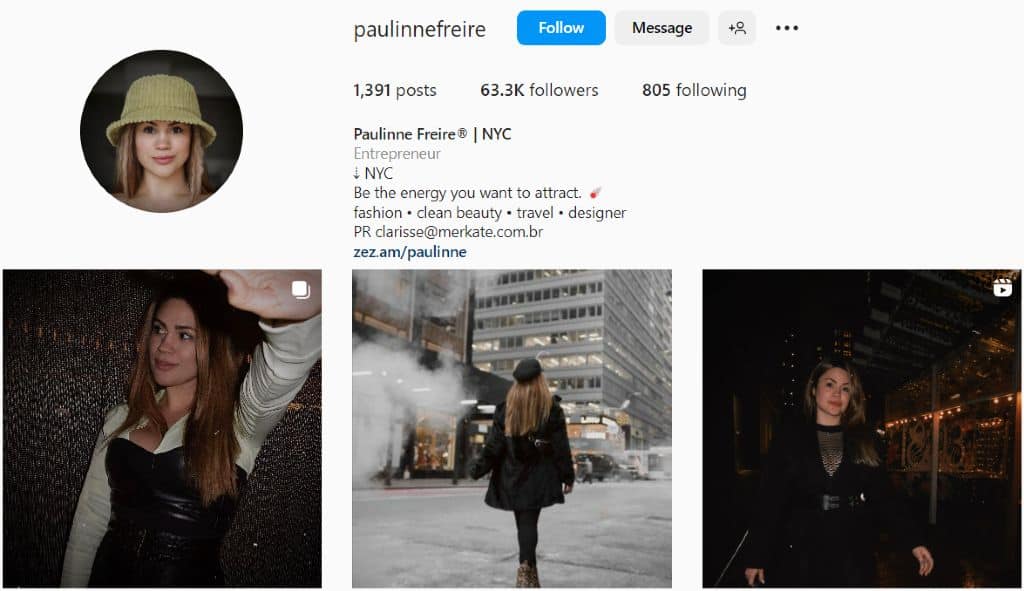 Age: 36
Followers: 70,000
Paulinne is an NYC-based fashion and travel influencer advocating for clean beauty brands. Besides running her own business, she's built a strong presence on Instagram and a swiftly growing brand on TikTok.
Her Instagram feed mostly features carousels and a few reels in the mix. It follows a darker color palette, giving her profile an artistic appeal.
Some of her recent brand partnerships have been with clean beauty brands like TrūAuraBeauty and Ina Labs. She also Collabs with lifestyle brands and will be a great fit if you are in need of an influencer to target middle-aged women from a higher-income group.
---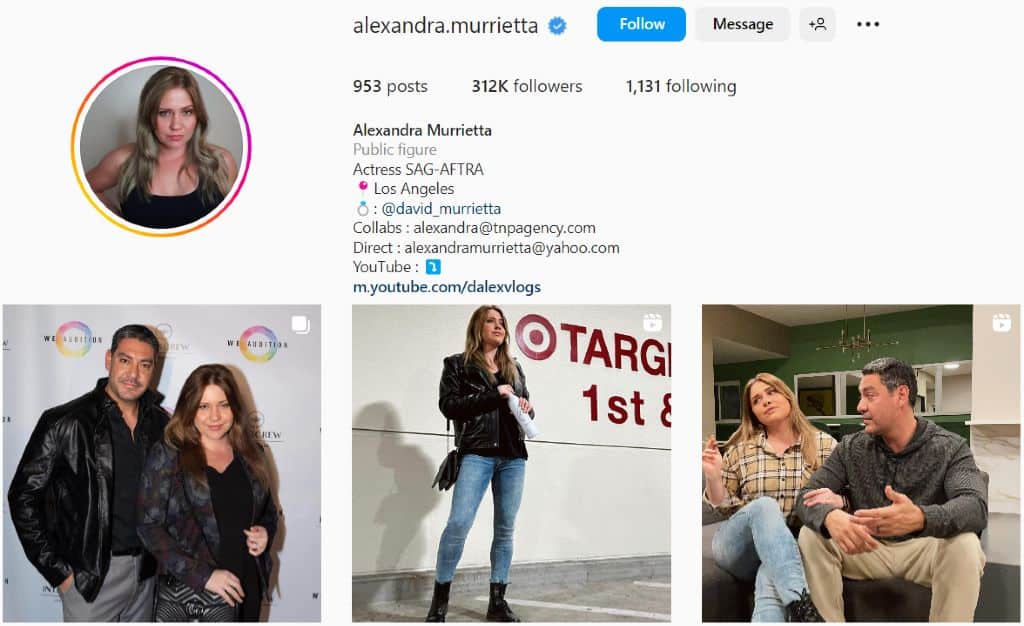 Age: 36
Followers: 321,000
Alexandra is a Los Angeles-based actress and mega-influencer with over 300,000 followers across multiple channels. As a lifestyle influencer, she mostly posts about her outfits, travel experiences, and luxury items in her closet.
With a great influence in the US, India, and Russia, Alexandra actively collaborates with high-end brands. You can drive excellent results working with her if you want to focus on high-income women in their 30s and 40s.
Her latest collaborations have been with women-centric brands such as VienneMilano and Angara Jewelry.
---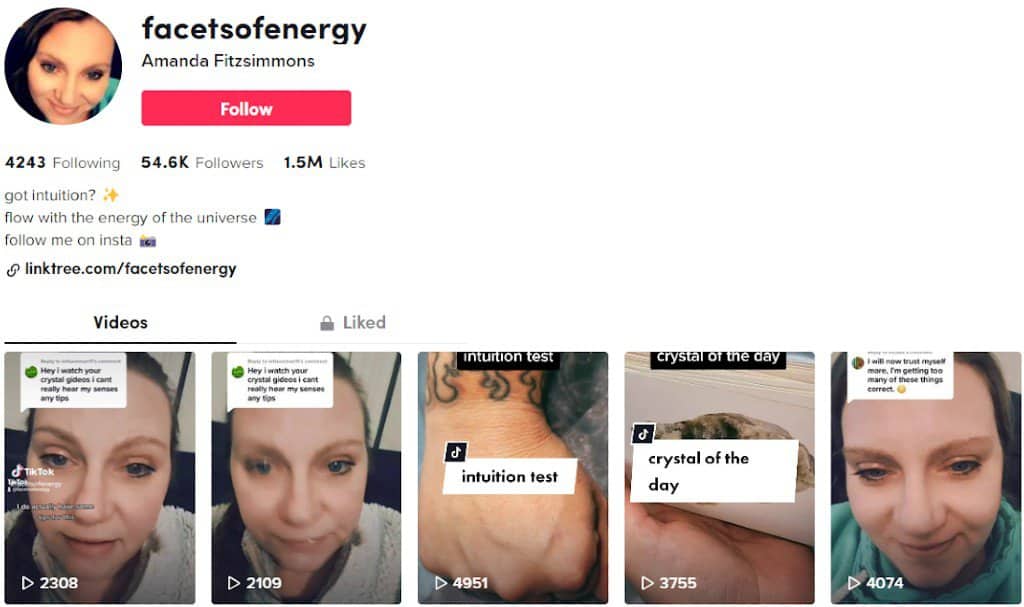 Age: 40
Followers: 55,000
Amanda is a spiritual influencer with a keen interest in crystals and self-care. She creates educational content on spirituality, meditation, and everything in between. Her feed also features some exciting crystals with a lesson on how they can impact your mind and body.
Even though she's a micro-influencer, her TikToks get decent traction and good engagement. She features in almost all her videos and has built her credibility through this.
If you want to reach people who believe in spiritual practices, then Amanda can be your top choice to unlock that gateway.
---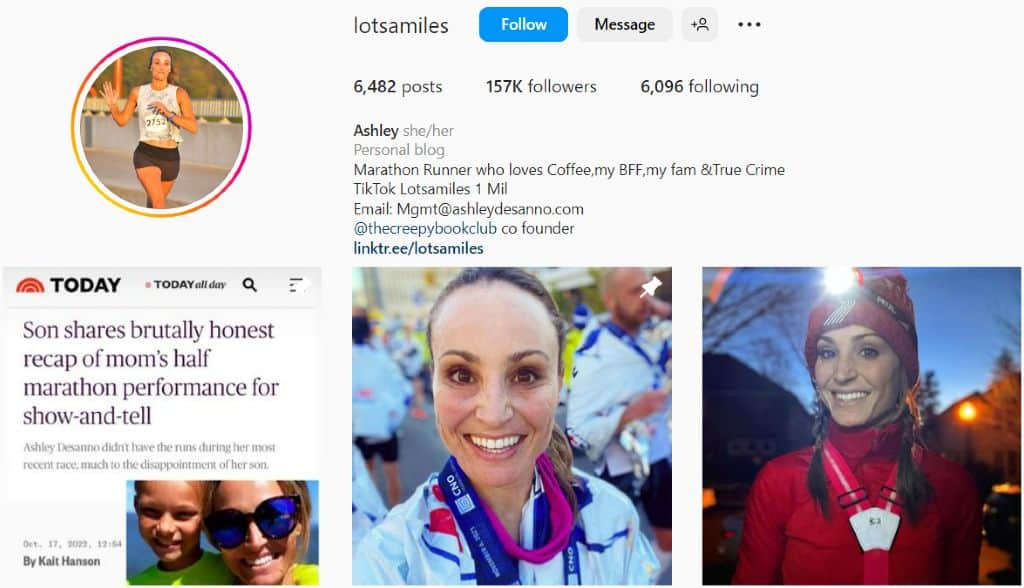 Age: 42
Followers: 152,000
Ashley is a marathon runner and a mom influencer in her early 40s. She's enthusiastic and experimental, as evident from her Instagram profile, with over 150,000 followers.
Her profile is a delightful mix of snippets from her daily life and experiences as a mother, wife, and content creator. She often posts reels sharing her kids' adventures and also writes about her personal lessons and routine.
Ashley is an excellent influencer choice if you want to sell to middle-aged women, primarily mothers, because of how raw and real her IG profile is.
---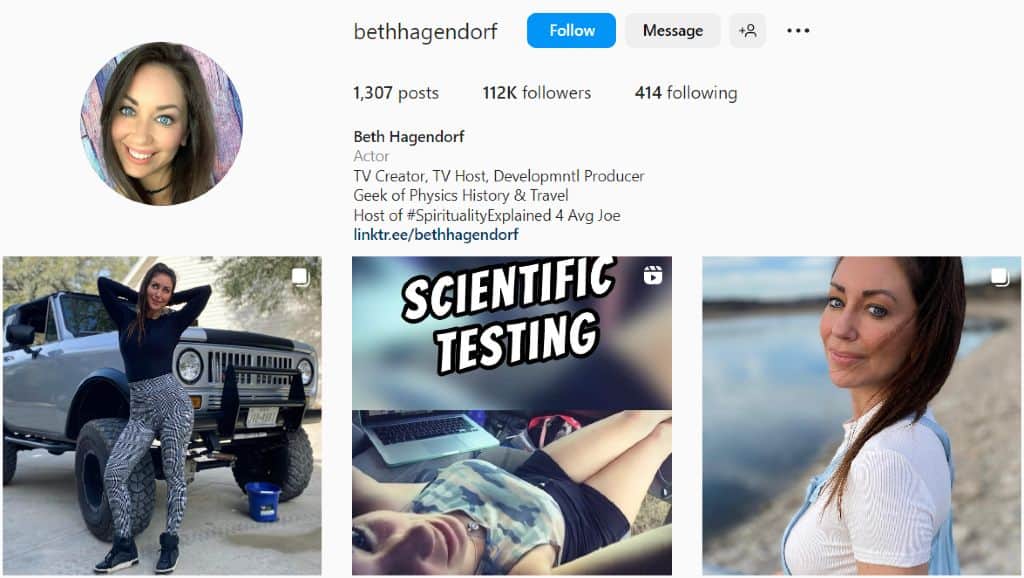 Age: 41
Followers: 115,000
Beth is a spirituality champion and travel enthusiast, actively creating content on Instagram and Facebook. She's actively growing her brand on both platforms and expanding to YouTube with a podcast series.
On Instagram, you'll find her posting about her outings, family time, spiritual learnings, and personal views. Since she's built a massive following around the subject of spirituality, brands in this niche can work with her to generate interest among her 115k followers.
---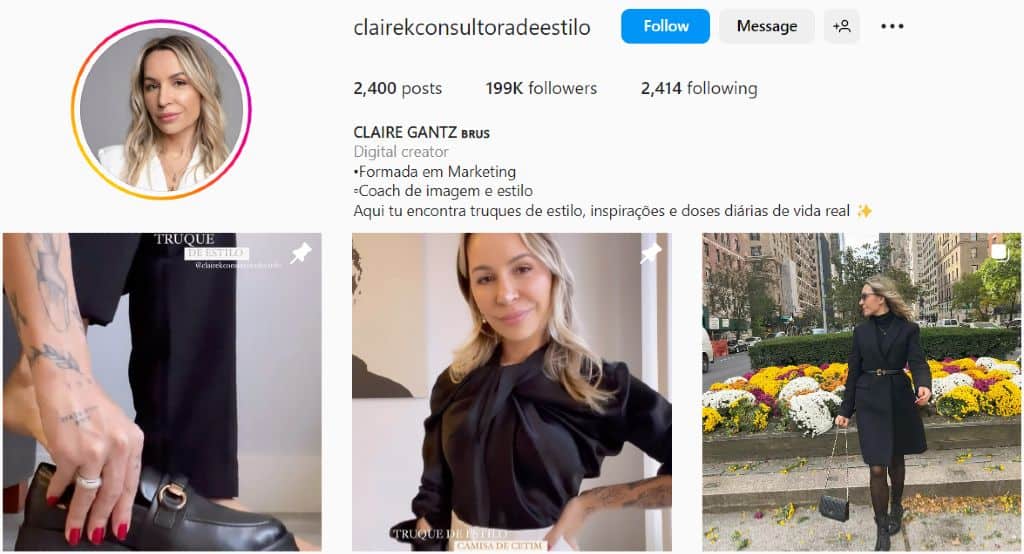 Age: 39
Followers: 277,000
Claire is a California-based mega-influencer with a Hispanic influence and peak popularity in Brazil. She shares tips and hacks related to styling, cooking, and general household chores. But her primary content pillar is fashion, and you'll enjoy many enticing reels on stylish clothing.
Her feed features almost an equal number of reels and carousels. If you're a fashion or apparel brand, a paid partnership with Claire can help unlock audiences in Brazil and the overall Latin American group.
---
Work with Middle-Aged Influencers Effortlessly with Afluencer
Not every brand can work with young and fancy influencers on social media. Your ideal influencer persona depends on your target audience and also the markets you want to break into. Middle-aged influencers offer brands an excellent opportunity to appeal to an older audience and position themselves as trustworthy.
With our hand-picked list of the top 18 middle-aged influencers, you're all set to launch your next influencer marketing campaigns for older buyers. Install the Afluencer app for your Shopify store to find, invite, and Collab with middle-aged influencers effortlessly.