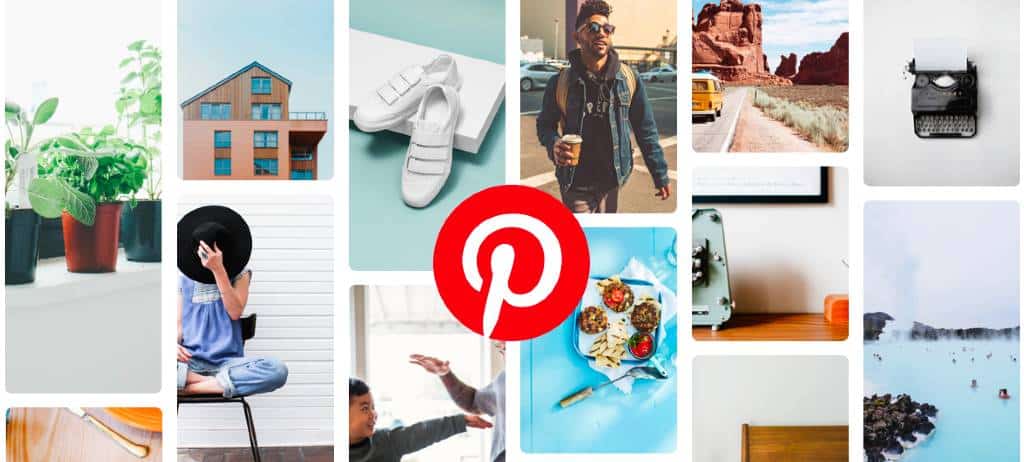 It enjoys a strong following, hence it doesn't come as a surprise that there are more than 500,000 businesses marketing on Pinterest. However, sadly, it does not appear to be on the list of best platforms for influencer marketing.
While Instagram and Facebook are good for influencer marketing, they may not be enough because a lot of people who use Pinterest are not active on other social media platforms.
Plus, it's proven to be more effective than Twitter and other platforms. Pinterest pins are 100x more spreadable than tweets. Moreover, pins are said to have a 1,6000x longer half-life than Facebook posts.
This is mainly because competition on Twitter, Facebook, and Instagram is very stiff. Despite being big, Pinterest is largely overlooked, which presents businesses with a great marketing opportunity.
More than 25% of online traffic is social. Plus, social media doesn't only help generate more traffic but it can also improve SEO, improve customer satisfaction, and make more sales.
In this article, we'll talk about the importance of partnering with Pinterest influencers and why it should be a part of your marketing mix.
Let's get started:
Why Work with Pinterest Influencers?
Here's why you should consider hiring Pinterest influencers for your marketing campaign:
Popular Among Decision Makers
There was a time when Pinterest was considered a social media platform for females, however, things have now changed and 71% of its 320 million active users are female.
It reaches 83% of women aged 25-54 in the US. This figure is very important because 80% of the buying decisions are made by this group in the country. They have a lot of power when it comes to making purchases and businesses know that.
About 85% of these women use Pinterest to plan important life moments such as birthdays. On the other hand, only 44% of Instagram users and 53% of Facebook users use these respective platforms for the same reason.
Dads Love It, Too
Only about 20% of Pinterest users are male, and most of them are dads who use the platform to plan, research, and shop for fatherhood.
About 82% of these users say they actively look for new products on Pinterest. The platform saw a 450% increase in DIY projects in 2018.
This information is very important when strategizing Pinterest marketing campaigns because dads are 1.2x more likely to look for certain products including healthy recipes. They use the search feature instead of regular scrolling and are 3x more likely to have shared boards.
Heaven for Sellers
Pinterest is a 'photo-sharing' social media channel but it offers more than just that. About 89% of Pinners (what they call Pinterest users) in the US use it to find inspiration and about 47% use the platform with the intention to buy.
This is why it is 4x more effective at generating sales than other social media channels. Pinterest now offers more ways to shop within the app. Brands can upload full catalogs and add availability and pricing info to help buyers make a purchase.
A Lot of Time for the Platform
The average Pinner spends about 14.2 minutes on the app per session. They are often highly engaging and most find it highly positive. This is different from Instagram, a platform that tends to negatively influence people.
Most users check the app multiple times a day and are appreciative of its personalization features.
Brands and Pinterest Influencers: Some Examples
Here are some real-life examples of how brands collaborate with Pinterest influencers for marketing:
How Target Expanded Expanded Its Reach
All kinds of brands are on Pinterest, including major names like Target. In fact, Target had a difficult time on Pinterest until it hired the services of influencers to increase their reach and find more followers. However, Target didn't do it the traditional way.
The company's success story is well documented. It reached out to pinners and invited them to jump the bandwagon and create products for the brand.
How ModCloth Started a Chain Reaction
There are advantages of joining hands with a leader, i.e.: an influencer. People are naturally bound to follow leaders and online giant ModCloth seems to know that quite well.
The company counted on influencers to reach a wider Pinterest audience. ModCloth started a contest and offered nice prizes to participants. The contest was a digital scavenger hunt. Users had to pin images that matched elements of a specific theme (wedding).
The contest turned out to be a huge success, and hundreds of users jumped at the opportunity to get their hands on 'free' goodies.
This resulted in a chain reaction and the brand soon received thousands of new followers and generated more business.
About 28% of businesses are already on Pinterest but very few currently use influencers to market their products and services.
How to Get Organic Traffic from Pinterest?
Pinterest is a great way to increase traffic to your site. Here's how:
Like any visual platform, this is a quick and reliable way to generate curiosity and increase engagement.
Don't Be Afraid of Adding a CTA
While Pinterest allows brands to include in-app product details, there's no harm in adding a CTA and telling people exactly what you want them to do.
Remember the Importance of Keywords
This may sound odd to some users but keywords matter on Pinterest since a large percentage of users 'search' for what they need instead of going through random feeds.
Fridays and Saturdays are the best times to make new posts on Pinterest. Sundays do not do well and weekdays usually work during 8-11 pm.
In addition to traditional pins, you can utilize Rich Pins. They provide more information about an idea to help retain and win users.
Remember That It Takes Time
Whether you have a Pinterest influencer helping with marketing or not, it's important to remember that things take time. Continue to put your best foot forward and you will eventually find good results.
Niches that Work Well on Pinterest
You will find a variety of posts on Pinterest; nonetheless, some niches do better than others. Here they are:
It's believed that about 40% of users on Pinterest plan to purchase a home or improve what they already have, hence it doesn't come as a surprise that this niche is among the top charters.
While Instagram tops the list when it comes to fashion and beauty, Pinterest isn't far behind. Makeup brands love to use Pinterest for marketing purposes. Many Pinterest influencers work in the fashion and beauty niche to help brands reach a wider audience.
Looking for travel goals? A lot of travel influencers create content on Pinterest, posting stunning images to help users find their next travel destination.
About 80% of Pinterest users are on the platform to find things to do. This is a huge niche with great potential.
You will find a lot of kids' DIY projects on the platform. Dads and mums look for such pins, which is why you will find several Pinterest influencers in this niche.
Some experts believe Pinterest to be a good option to find the latest happenings in the world of technology. Tech brands mostly take advantage of Pinterest to directly sell to consumers.
A large number of men and women follow Pinterest influencers to find reliable financial advice. So expect to find plenty of financial pins.
Pinterest might not be the number one source for food and drink news. But it still deserves to be on the list since a lot of food influencers are on Pinterest. You will find recipes, drool-worthy images, and reviews pinned on the app.
This niche appears to be doing very well on the platform. Mums, dads, and teens use Pinterest to learn more about college education, projects, essays, and other educational topics. Perfect opportunity for education brands to promote their products/services with the help of influencers.
Pinterest users may not be as health-conscious as Facebook users. Yet there are influencers working in the health and fitness niche to educate Pinterest users about the importance of staying healthy.
Whether you're interested in hiring Pinterest influencers for your marketing campaign or looking to be a Pinterest influencer, your journey starts here.