Food! It's a necessity of life, so why let this area be dull if it's something we typically encounter 3 times a day? These food influencers are anything but boring! They all have their own individual take on how they choose to nurture their body and how they share that knowledge and perspective with the world!
Mexican taco feasts. Fine shavings of culatello ham. Crispy sourdough waffles. Quinoa crumble with Nutella. Berry breakfast crumble with rich creamy yogurt.
This is certainly enough to make your food cravings go wild.
At this stage, all a foodie needs to do is eat!
But first, some inspo. From the kitchens of some of the biggest names on social media, we've handpicked these finger-licking food influencers to follow.
So go ahead and check out the pages (and tasty recipes) of these food influencers. You'll certainly find the answer to the question of "What should I cook today?" and inspiration for culinary creations!
Warning: you're about to have an insane appetite for food. So follow these delicious food influencers at your own risk!
Now you've seen a taste of who's to come, be prepared to drool through some tasty content!

Tickling your appetite and inspiring love for food all the way from Virginia, USA is food blogger Amy David—the girl behind Hangry Girl RVA.
Following her decade-long experience as a food and beverage journalist, Amy has continued her tasty passion through her irresistible food blog.
A warning to her followers, "I bake because punching people is frowned upon", says Amy. Bet you can't wait to nibble on her feed, right?
Content
Rustic and served with delicious meals from local restaurants and her kitchen, plus insta-worthy beverages from breweries and wineries, Amy's Instagram feed is full of soul and love for food. Every post is a treat you won't want to miss.
It's soul food at first sight with her spicy veg sausage, roasted potatoes, and sticky sweet and sour plums served with some broccoli and drizzled with a flavorful sauce.
And wait till we get to dessert. Perhaps an exquisite chocolate shake topped with a stack of brownies?
The fun is not over, folks. You've got to check out her new favorite drink: a whimsical whirl of a lime and raspberry sorbet soft serve margarita. Heart-eyes and "omg I need this in my life" is how her commenters are buzzing.
You can only fall in love with food even more once you indulge in her recipe blog with posts like "Coco + Hazel: The Oaxacan Milkshake" that will give you tasty inspo.
Collabs
Amy is an unforgettable food influencer that will make a great match for food, beverage, and restaurant brands looking to Collab.
---

From Malaysia and currently living in Australia, Daphne Goh is a rising gluten-free food blogger in the delicious world of Asian cuisine.
If you love Chinese, Japanese, Malaysian, Singaporean, Thai, or even Korean, Vietnamese, and Indonesian food, then Daphne will inspire your buds with healthy mouthwatering recipes.
And the best part is that her recipes are made with various dietary needs in mind—gluten-free, allergy-friendly, and lactose-free.
Content
Whether you're a huge lover of Asian food or just an occasional enthusiast, your appetite will be led into temptation as you scroll through Daphne's appealing gallery of food pictures on her Instagram profile.
From five-spice salmon lettuce wraps, Cantonese braised beef, Chinese chicken, and bitter melon stir fry, to fluffy cauliflower rice and even Malaysian dragon cookies.
A few posts later and you'll definitely be inspired to whip the pan out and get those delicious Asian ingredients sizzling away in your kitchen.
Daphne's talented influence in Asian cuisine is evident by her engaging community of growing followers that show up in comments with "OMG, I'm drooling over that".
Blog
On her Healthy Gluten Free Asian blog, Daphne shares detailed recipes that are well-organized and presented with beautiful pictures.
And oh, what a pleasure it is to see that she includes an awesome Nutritional Facts table at the end of each recipe.
Collabs
For all things food and health, Daphne is a quality micro-influencer that brands will be pleased to Collab with.
---

Adam McCabe is a very popular name not only on social media but also outside it. A professional soccer player, he plays for Georgia Revolution of the National Premier Soccer League and has several awards under his belt. However, when not on the field, he enjoys trying different meals and sharing his food journey with his growing followers through his Instagram page.
He has a very impressive engagement rate of 4.6% with almost all his followers located in the US. In addition to Instagram, he also manages a TikTok page that enjoys about 131K followers and more than 2.3 million likes.
McCabe can be a great pick for brands interested in reaching more people and promoting healthy meals. Most of his followers are engaged in staying fit and are on the lookout for delicious and nutritious foods.
---
Zaha is an Indian influencer with nearly 30K Instagram followers and an impressive engagement rate of 9.3%. Mainly popular in India, she enjoys cooking and creating fun videos.
Unlike some other food bloggers out there, Zaha prefers to share her own recipes with her growing base of fans and doesn't fill her page with outside food. You will find dozens of Indian recipes on her page, including veg and non-veg meals. She shares detailed videos and writes step-by-step instructions for her followers and appears to be very engaged.
The star can be a great fit for local brands, including sellers of kitchen appliances and spices. She has worked with a number of Indian and international brands and is open to Collab.
---

Rella is a foodie with a purpose: to help others find the best snacks and drinks. She has nearly 11K followers and an engagement rate of 6%, which is considered excellent.
She loves taking pictures and is known for presenting food in an enticing manner. Unlike some other food influencers, she doesn't flood her page with selfies. You will only find colorful and attractive images of foods she enjoys with relevant details.
Known for being professional and easy to work with, she's also extremely affordable and has worked with a number of brands, including Macy's Wine Shop and Cara Mia Restaurant.
---

Active on both Facebook and Instagram, Dana has a huge audience of nearly 25K followers. Her page is a mix of fun and food as she doesn't only concentrate on cooking but also on showcasing food in the best manner.
She presents boring foods in a clever manner and is mainly followed by parents worried about finding the right food for their young ones. The momma of five enjoys sharing her 'food' journey with her followers and can be a great pick for brands looking to promote healthy foods for the family.
Dana concentrates on foods loved by people of all ages and regularly talks about hosting family movie nights, preparing delicious desserts, and keeping your family healthy and fit.
---

Brianna Conley is the woman behind Bris's Heat, a food page with more than 125K Instagram followers and an incredible engagement rate of 11%. In addition to this, she's also on TikTok where she posts cinematic videos of foods from around the world.
Brianna works with all kinds of food brands and even offers catering services. Her wide reach makes her a perfect fit for companies looking to work with a professional chef who understands the art of cooking.
The star is available on almost all social media platforms, including YouTube where she has amassed a following of nearly 10K. She cooks all kinds of foods and is best known for introducing flavors and foods from different parts of the world.
---

Gian Luca Sgaggero is a travel blogger with a special interest in food. This Italian star enjoys an engagement rate of 4.6% and has more than 57K fans on Instagram. In addition, he seems to be very famous on Facebook where he has amassed a following of nearly 16K.
His love for travel and food makes him a great food influencer for brands that want to cater to international tourists. He maintains a travel blog where he shares his adventures, including his favorite eateries to visit. However, the star uses the Italian language and isn't very popular in English-speaking countries.
Gian Luca can certainly be a great pick for local or international brands that cater to Italians.
---

London-based food blogger Emma has years of experience in marketing and can be a great pick for brands looking for a top food blogger. Popular on both Instagram and TikTok, she has a combined following of over 45K and a decent engagement rate. The stunning diva is famous around the world and has followers from countries like the US and the UK.
She mostly talks about food, including the importance of eating healthy and even shares unique recipes with her growing fan base. Known for her good looks and easy-to-cook recipes, we feel Emma can be a great pick for brands promoting healthy foods.
---

Jasmine is a wife, a mother of two, and the face behind the Jasmine Does Keto blog where she shares recipes and tips on how to lose weight. In addition, she is active on Instagram where she has more than 10.2K followers and an engagement rate of 6.2%.
Jasmine's page is dedicated to low-carb, low-calorie foods. This makes her a perfect choice for brands looking to cater to people interested in keto and other such low-carb diets. She has worked with a number of brands such as Jackson's and Speedi and is known for having a loyal fanbase that listens to her opinions.
---

Marina is a professional food photographer and baker who runs her own blog, Everything Marina. She has nearly 14K followers and a decent engagement rate of about 4%. She wants everyone to enjoy the art of baking and is known for sharing easy recipes.
A macaron lover, she mainly shares macaron recipes and presents them in a very professional manner thanks to her photography skills. This makes her a perfect fit for brands looking to reach people with an interest in baking. The star knows how to create recipe posts featuring sponsored products without making them look too loud.
---

Alex Shebar defines himself as the 'Eater of good food, Watcher of bad movies, and Creator of events.' Unlike most food influencers out there, he doesn't focus on one aspect and loves sharing different shades of his life.
His aim is to keep a colorful Instagram page and keep people informed. Alex shares everything from photos of his dog and wife to his favorite foods. We feel this is what sets him apart – he is like your next-door neighbor. The ability to connect with regular people is the reason why he has managed to win over 55K followers on Instagram who appears highly engaged and interested in his posts.
The influencer is mainly popular in the US; however, he presently resides in the UK.
---

Wendy Tsang enjoys eating delicious meals and sharing food recipes and reviews with her 11.7K Instagram family. She enjoys everything from baking to cooking to preparing new drinks and regularly holds giveaways on the platform.
The most interesting thing about her profile is the fact that she doesn't just talk about meals but also showcases her culture, including dishes and utensils from Asia.
The influencer works with all kinds of food brands and writes interesting captions with creative hashtags. In fact, the star has created some very popular hashtags that highlight her different kitchen skills and show her ability to market products.
---

One of our favorite food bloggers, Danielle is a modern homeschooling mom of two outgoing boys with nearly 38K followers on Instagram. Her page, however, isn't just dedicated to food, it also showcases a variety of other posts that include photos of her lovely family.
Since she mainly talks about motherhood, we feel she can be a great pick for food companies looking to promote baby food and healthy and fun meals for children and mothers.
---

Jennifer Mackenchery is a dessert blogger who enjoys creating content around delicious foods. She has more than 21K Instagram followers and is famous around the world with an international fanbase.
Jennifer mainly concentrates on desserts and can be a great pick for brands interested in reaching people with a sweet tooth. The star shares all kinds of desserts, including international sweet dishes. In addition to social media, she maintains a website where she shares all her recipes with original photos.
---

Charina is a social media influencer with nearly 10K followers who enjoy her posts. She markets herself as a lifestyle influencer with a special interest in food. Her page, however, is dedicated to a variety of things, including her lovely family.
The diva can be a great pick for brands as Charina regularly shares recipes and reviews with her followers and mainly concentrates on family-friendly foods and eateries.
---

Kryss is a social media influencer and entrepreneur with an interest in fitness and food. She brings to the table a nice combination of health and food and can be a great pick for brands that cater to health-conscious consumers.
She has more than 400K Instagram followers and nearly 350K Facebook fans. Her engagement rate is very high and the diva is mainly popular in the US. She has worked with a number of brands and enjoys showing her incredible figure and gorgeous selfies.
---

Maggie is a micro food influencer who enjoys sharing photos and videos of foods from around the world. She has about 6K Instagram followers and an engagement rate of 4%. Unlike some other food influencers out there, Maggie doesn't post selfies as her feed is entirely dedicated to food.
She mainly covers local eateries and works with all kinds of food brands. However, you will also find homemade foods on the platform.
---

Kshitija Jadhav is a food and lifestyle blogger who created The Orange Plates, an Instagram food blog, in 2019, and has managed to generate a following of more than 5.4K. She posts exclusive recipes, recommendations, and cooking tips on the page and is now also concentrating on YouTube where she posts detailed vlogs that cover her life in the US.
Kshitija is popular in both the US and India and can be a great pick for brands looking to cater to Indian audiences in the US.
You will mainly find photos of delicious Indian foods on her page, in addition to her lovely family and pet dog. The star is known for giving a twist to basic nutrition and presenting them in a scrumptious manner.
---

Alyssa is a food blogger promoting a healthy, plant-based diet and lifestyle. She, however, talks about a variety of other topics too, including education, yoga, and productivity. The teenage influencer mainly targets young women and can be a great pick for food companies interested in the younger demographic.
Interestingly she doesn't only talk about food but several other things as well and is already associated with a number of brands.
---

Aliyah is a foodie who enjoys traveling and exploring different places. She enjoys trying unique foods and sharing her food and travel experiences with her 5.5K Instagram followers who appear to be very interested in what she has to offer. The diva has an impressive engagement rate of 15.5%, which is among the best in the business.
Aliyah writes detailed reviews, food guides, and tips for her followers and is a pro when it comes to photography. You will even find creative Reels on her page and some very interesting photos. The star is mainly popular in the US and caters to both men and women.
---

Janquel is the name behind Lavish Food Life, an Instagram page where she shares restaurant, entertainment, and date night recommendations in Chicago, Illinois, and beyond. The diva has a following of 12.2K on Instagram but that's not the only platform she caters to. The star is also active on TikTok where she enjoys nearly 21K followers.
Janquel's main agenda is to help couples find the best date spot: one that offers good food, an excellent ambiance, and a chance to connect and get closer. This is a unique niche and we feel that she can be a great pick for brands looking to cater to couples. Mainly popular in the US, the diva attracts both men and women and even shares tips on how to make home dates more fun and exciting.
---

Kay Tong brings something very unique to the table. Born in Hong Kong, the star recently moved to Toronto and is popular in both her home country and her new home. We feel she can be a great pick for brands that cater to ex-pats and want to reach the South East Asian market.
The stunner shares everything from her life journey to inspirational quotes to gorgeous photos in attractive outfits.
---

Donna Cantrell is a well-known influencer proving that you don't need to be young to be a social media star. She enjoys a strong following of over 10K on Instagram and 13.5K on Twitter and seems to understand the art of social media marketing.
Mainly popular among folks over 40, Donna can be a great pick for brands that cater to the 40+ demographic. This is very interesting because this generation has different requirements when it comes to food and their tastes are also unique.
The star is open to working with all kinds of food brands and is known for being professional and easy to work with.
---

Zaira is a British influencer who shares recipes from around the world. You'll find detailed videos and written instructions on her page, available in English and Spanish.
Highly active on the platform, Zaira regularly interacts with her followers and hosts giveaways. Mostly popular in Spain, the diva is a pro when it comes to clicking photos and features brands in a subtle manner.
---

Jacqui Cuartas is a foodie living on Long Island with more than 13.4K Instagram followers. She enjoys all kinds of foods and loves taking photos of her surroundings and sharing her experiences with her fans.
Jacqui's Instagram feed is very well-maintained and full of delicious foods, including burgers, desserts, and steaks. She seems to be a fan of trying new foods and inspiring people with her well-written posts.
---

Ellie Thill is a food influencer who enjoys sharing simple and easy-to-cook recipes with her 10K Instagram family. You will find several how-to articles and reviews on her Instagram page, in addition to high-quality photos. The diva seems to have mastered the art of using hashtags and enjoys a good engagement rate.
In addition to recipes, Ellie also shares wine country guides and can be a great pick for brands looking for reliable food influencers.
---

The creator of Janeth's Kitchen, Janeth Espinosa is a Miami-based foodie and recipe developer with more than 11.2K Instagram followers. Passionate about cooking, baking, and travel, the star shares detailed recipes with original photos and videos.
Mainly popular in the US, the star has worked with a variety of brands and is very good at taking photos. Janeth presents a nice variety of foods, including baked foods and desserts. Plus, Janeth uses some clever hashtags and manages to get nearly 400 likes on average.
---

Destiny Beck runs an Instagram page and has managed to score over 10.5K followers. Mainly popular in the US, the funda of this influencer is to help people find the most delicious foods and her followers appear to have full faith in her recommendations.
The blogger makes it a point to connect with her followers and stays engaged. She responds to comments and listens to what her followers have to say. This is one of the main reasons why she is one of the fastest-growing food influencers on Instagram.
---

Brooke is interested in good food, aesthetic decor, the latest fashion, and healthy living and her page is a mix of all these things. We feel the ability to connect with audiences with varied interests is one of her biggest strengths. She can help brands reach people interested in different foods and can be a good pick for companies looking for micro-influencers.
The star is mainly popular in the US and enjoys a high engagement rate. Brooke writes clever captions and uses smart hashtags.
---

Ashley Rosado is a food influencer with an interest in fitness, fashion, and travel. She has nearly 15K Instagram followers and a very high-interest rate of 15%. The influencer is popular around the world and has followers from not just the US but also the UK, Canada, India, and Australia.
We feel that she can be a great pick for brands with a voice. This plus-size model loves trying different foods and sharing her experiences with people. The diva aims to inspire plus-size women and is popular among females. Ashley talks about food, skincare, and the challenges of being a plus-size woman and is interested in working with all kinds of food brands.
---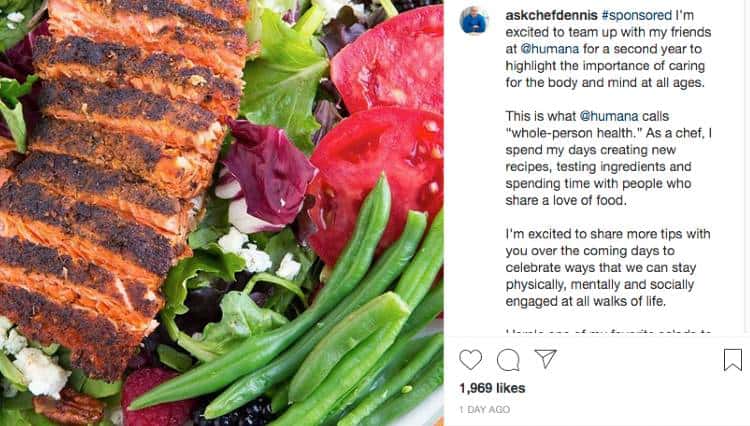 If you're truly looking for achievable cooking inspo, Dennis Littley is your go-to food blogger influencer.
In an Insta-perfect world, where food pics are crème de la crème, those nice-to-look-at appetizing displays are great for likes. However, they can be very intimidating if you dare think of trying to make them on your own.
But with Dennis, you'll feel super excited and confident to whip up his delicious recipes.
He's a well-experienced chef who always delivers easy and tasty restaurant-style recipes.
His authenticity will charm you with every single post – sending you off into your kitchen to stir up that Turkey Noodle Soup with your Thanksgiving leftovers.
And of course, he'll help you "wow your guests" with deserts like his Amethyst Cheesecake.
You'll certainly get a sense of "yes, I can make that".
If you love his Instagram profile, then you'll love his YouTube channel too. With videos like "The Best Buffalo Chicken Wing Recipe" and his latest " Chinese Sticky Chicken Wings", you'll be making these mouthwatering meals like a pro – with ease, of course.
Oh, and did I mention he has a delightful recipe blog, too?
Just reading through his content like "My Chicken and Shrimp Orzo Paella could be on your dinner table tonight" makes you feel like he's a good friend on call whenever you need help in the kitchen.
Really, you can't help but just love Dennis.
And you'll absolutely love him more when you discover his exciting travel adventures, too.
Paid Partnerships
Some of his paid partnerships include brands like Humana and Karo Syrup – Collabs that he promotes so naturally and so effortlessly.
Chef Dennis's Brand Collabs include social campaigns, video production, live cooking demos, event appearances, and more. So, he's your food blogging influencer that will make so much possible for your brand promotion campaigns.
---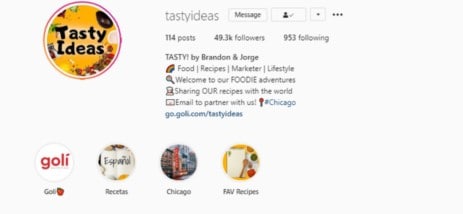 Brandon Bala, based in Chicago, brings the most beautifully saturated, high-quality, and eye-catching photos of the best food from around the world. On Instagram, the @TastyIdeas page is a great showcase of the infectious energy between food influencers, Brandon and Jorge. It is certainly evident they are living their best life, which includes sharing an essential part of their life: food.
CONTENT
The content on their Instagram is a mix of recipes, food finds, and adventures. Brandon and Jorge bring such an authentic radiance and it is hard to ignore. Their love of food and life is conveyed on their feed not only through images but language, as their content is also bilingual (in English and Spanish).
They bring content for everyone: easy no-bake recipes, delicious snacks, endless desserts, and also healthy recipes. Something special about their account is the beautifully put-together short and concise recipe videos that transcend language and culture. If you thought their feed was eye candy, then wait until you check out their food!
As far as their IGTV recipe videos are concerned, they are an extension of the beautifully crafted videos often included in their feed posts. The recipe videos are short, simple, and to the point, while managing to captivate the viewer and teach insanely appetizing step-by-step recipes to bring their creation to life in the viewers' kitchen! A personal favorite of mine was their Nutella banana bread recipe. Check out their feed and let them know which recipe you are looking forward to recreating!
COLLABS
Recent brand Collabs that TastyTreats has worked with include: Every Plate, Noodles & Company, Press, Nutpods, and Zulay.
TastyIdeas loves incorporating like-minded brands into their daily life in creative and striking ways! Food lovers and brands looking to Collab with awesome influencers make sure to follow their page and contact them!
---

Agnieszka Weiner is a health and fitness influencer. Her page exudes ethereal and whimsical energy. The color palette of her profile is akin to a beautiful painting of spring and summer colors, with glass jars of jam, and pink blossoms scattered throughout. Images of flower crowns along the seaside and meadows with hints of aqua blue and oranges highlight the beauty of her life. She lives the life of a goddess and therefore eats like one! She refuses to be bland, and she strives to make eating healthy inspiring, and beautiful. The way she blends health, beauty, food, and art is definitely worthy of a follow.
CONTENT
Agnieszka provides simple and yummy recipes, while also giving health and fitness tips. She invites you into her world and shows you how to make each of her recipes. She shows you how to make her vibrant pink Cold Beet Soup or her beautifully aesthetic Strawberry Rhubarb Crumble! The link in her Instagram bio gives you an easily accessible way to view more of the photos you see on her feed. You can also explore her full blog to discover even more of what she has to offer.
BLOG
On her blog, you can find recipes organized by category type, such as breakfasts, pasta, soups, etc. You can also find specific vegetarian, gluten-free, or vegan recipes with ease. Additionally, she provides you with some information on the places she has traveled. This gives insight into the fun of culinary adventures when traveling and is fun to learn through her experiences of other cultures.
FACEBOOK
The Tastes of Health Facebook page has over 62K likes, and it is no mystery why with her plethora of great recipes and information. For quick access to some of her recipes, go and check the notes section of her page. She also has some recipe videos that are worth checking out like "Chocolate Quinoa Cake" and "Heavy Cream Substitutes VEGAN" just to name a couple of videos, but all her videos are worth taking a look at. It is clear that Agnieszka puts effort into all of her contentions on every platform she posts on.
COLLABS
For any brands, food lovers, or health and wellness lovers looking to Collab with enthusiastic influencers like Agnieszka make sure to follow her page and contact her!
---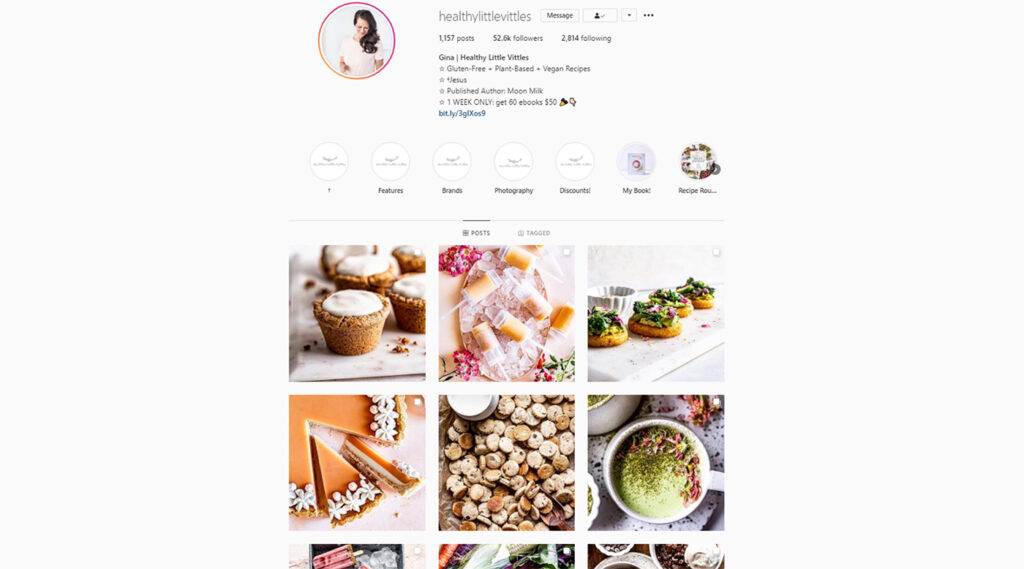 Gina specializes in all things gluten-free, plant-based, vegan recipes, low sugar, and grain-free foods. She provides the ins and outs of eating abundantly while still using simple ingredients. She is a certified health coach, inspiring food influencer, and also published author. Her Instagram displays a lovely curated feed with pastel and jewel-toned foods that are not only a work of art but will make your body look and feel just as vibrant! Her very vibrance conveyed through her feed is worth checking out and giving a follow.
CONTENT
Looking at Gina's Instagram, HealthyLittleVittles shows exactly how abundant and delicious a vegan and gluten-free diet can be. Gina is proof that healthy food can both taste and look good. Her photos alone demonstrate a lifestyle of rich and delicious food. Gina truly is an artist in the kitchen, behind the camera, and has a special talent for curating a beautiful and cohesive feed! Just looking at her page made me hungry for all the beautiful and delicious content she posts.
Her captions provide value and insight into her world as well. A favorite caption of mine was about the gratitude she has for all the delicious foods she eats. In her case, it may not have initially been a choice to stop eating gluten, as health circumstances lead her to that place in her diet. However, she chose an attitude of appreciation and gratitude looking at all of the wonders that came from her need to change her diet. You may get lost (as I did) scrolling for a while reading her captions because she really lets you into her life and provides such beauty and insight through her journey.
BLOG
Her blog is just as beautiful as her Instagram feed is. The slideshow of food presented on her blog had a vanilla bean custard tart with roasted strawberries recipe that immediately stood out. That is now on my must-try list for sure!
Make sure to check out her 5-star rated book "Moon Milk!" In her book, she has 55 plant-based recipes using a delicious bedtime treat: moon milk! She talks about healing herbs and spices that are proven to help insomnia and incorporates moon milk into each of these. Gina takes this tradition and gives it a vegan twist so that living lactose-free can aid in sleep and lovely dreams as well!
COLLABS
Gina loves to work with like-minded brands and individuals. Being in the league of top food influencers has opened Collab opps with great brands like Bob's Red Mill, ALDI, and Lily's Chocolate. Make sure to follow her page and contact her!
---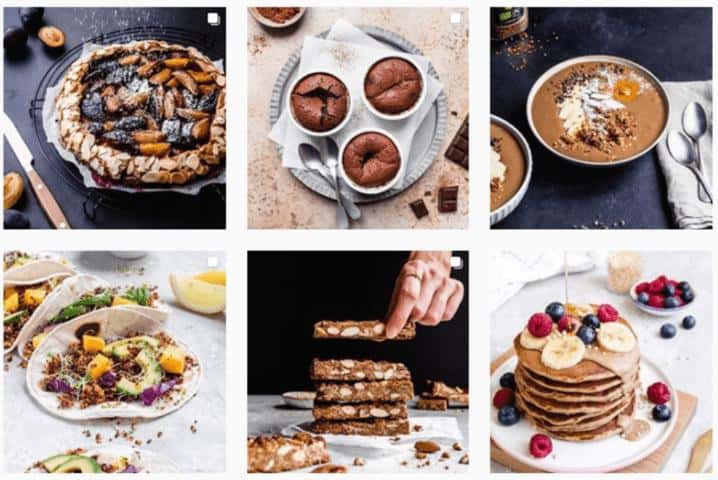 Anita is an immensely talented recipe developer and food photographer. The Instagram she runs is BreakfastNBowls, and on this account, her gifts shine through the screen! She shares ideas for healthy eating but also gives advice to other dreamers and entrepreneurs. Anita is a multi-faceted creator with a lot of great insight to offer to the world, and her Instagram is definitely worthy of a look and a follow!
CONTENT
At even a quick glance you will find something appealing for every meal on Anita's feed. Ranging from breakfast to dinner and all the delicious snacks in between. Additionally, every Monday she shares her knowledge and gives out business tips to her followers! In one of my favorite captions on her feed, she talks about the importance of self-investment. I love that you look forward to her priceless insight, and in turn, you get to know a bit more about the artist behind the camera.
Anita's goal is to help strengthen and further develop healthy eating habits for all. She focuses on making sure there is no need to compromise the pleasures or flavor of food! She always uses simple ingredients and helps give any allergy alternatives. So you can then go ahead and tackle eating healthy and delicious food with ease. Personally, a favorite piece of content on her feed of mine is her rainbow citrus plates. It is amazing how even the most simple food Anita is able to turn into art!
Anita often opens the discussion for conversation in her captions asking questions. Then she lets her followers discuss and engage in the comments. Join the conversation and check out her page!
COLLABS
The most recent Collaboration Anita had was with Nescafe. For brands looking to work with food influencers with top photography skills, make sure you check Anita out!
---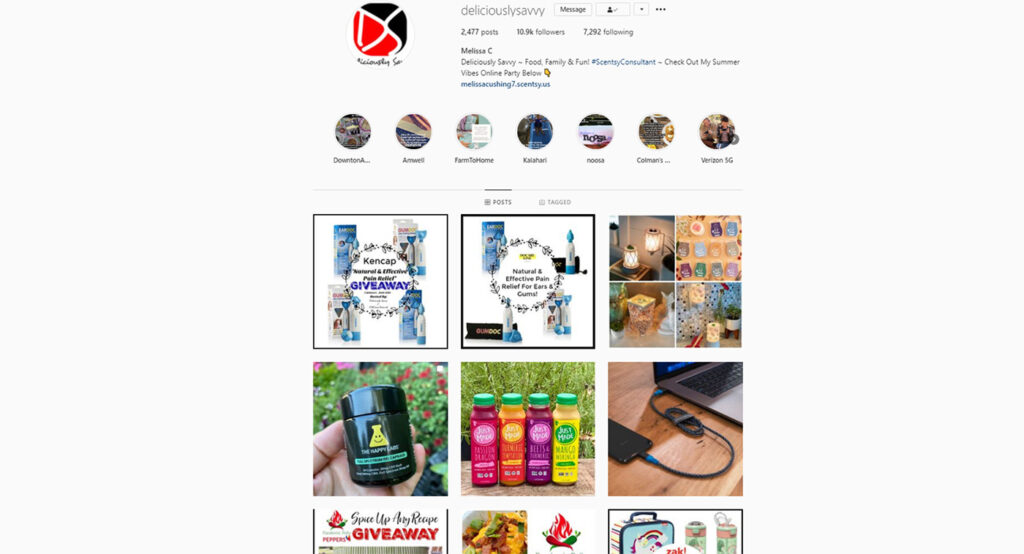 Melissa Cushing not only specializes in all things lifestyle, health, and beauty, but she fits all these individual puzzle pieces together into living a nutritious and wholesome lifestyle. Whether it is on her Instagram, Facebook, or Blog, you will never run out of information on how to better your life with the priceless health tips she provides.
CONTENT
Melissa's Instagram feed is the definition of love and life. Her content consists of nature and food that nourishes and keeps the body going. Melissa's blog incorporates a wealth of information about food, coupons, reviews and recipes and so much more. Her content is extremely diverse and helpful in all areas of life, and definitely worth following!
BLOG
You can find a back-to-school gift guide, recipes, product reviews, giveaways, and other blog posts all eloquently laid out on her Deliciously Savvy blog.
FACEBOOK
Melissa is also on Facebook, and she has over 10K likes on her page. Her Facebook is most certainly worth checking out to stay in the "Deliciously Savvy" loop.
YOUTUBE
Melissa's YouTube channel has 1.2K subscribers. On her YouTube channel feed, you can find really awesome and detailed product reviews.
COLLABS
Melissa also loves to work with brands. Here are some of the recent Collabs that have contributed to her joining the top food influencers list:
Every Plate, Noodles & Company, Press, Nutpods, Zulay.
---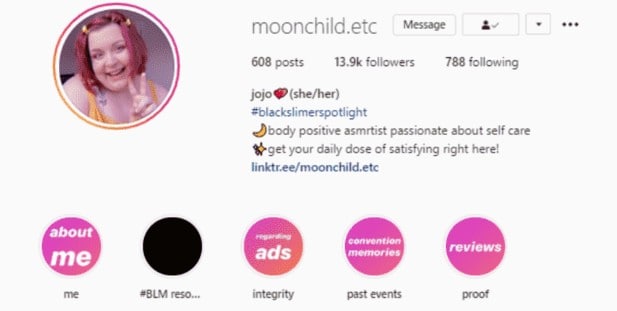 Jordan is a body positivity influencer, a fashion and beauty icon, and an ASMR content creator and she does fun snack muckbangs! You can find all of this fun content on her Instagram Moonchild.etc. Her style is instantly recognizable, as her page screams a mix between y2k glam and kawaii goddess. She is passionate about self-care and helping others improve their own lifestyle as well. You definitely should follow her for her fun and aesthetic content!
CONTENT
Jordan does ASMR content and has one of the cutest snack muckbang pages on Instagram. Try some snacks from around the world with Jordan by watching her IGTV! Her IGTV really shines with interesting and unique food content. Watch her recent "Poppin Cookin Fail" video or her "Strawberry Mochi Muckbang"! There is a ton of content to binge-watch, but those two are a great place to start.
All of Jordan's captions are just as thorough and thoughtful as her entire feed. Her page is carefully curated. You can tell everything on there is 100% authentic to her style. Once you follow her and see her pop-up on your feed, you will not have to read the username to instantly recognize the content you are consuming. Jordan's followers are extremely supportive and loyal and for great reason. She is a shining light in the community of food influencers, and is doing something different and providing valuable content with style and flair!
COLLABS
Some of Jordan's most recent Collaborations include Reposé Eye Masks, Isadora Cosmetics, and UHSM Health.
Make sure you give Jordan a follow and go ahead and invite her for a Collab as well!
---

Amanda Esmailian is a fitness influencer based in Toronto, Ontario. She has more than 9,000 followers on Instagram, where she shares high protein, lower calorie recipes with like-minded people. Her audience is mostly female — Millenials and Gen Zs.
Amanda's goal is to help others realize they can achieve their fitness goals while enjoying their favorite food by preparing it in a macro-friendly way. Her feed is colorful and packed with tasty recipes, and all of them are vegetarian.
Amanda is also active on TikTok, where she has more than 29,000 followers, where she shares recipes, tips, and challenges.
---
Jessica Hirsch – Smiley Influencer with Delicious Food Inspo

Jessica has an Instagram called CheatDayEats, where she always has a smile on her face as she shows off the delicious foods she eats. She reminds us that even cheat day foods should be enjoyed guilt-free! Jessica also runs a Lifestyle Brand and a Digital Production Company. She travels around the world and finds and shares the best foods out there. Her unique experiences are the very reason she made it to our top food influencers list! And the very reason you should be following her!
CONTENT
Jessica's page is exactly what it sounds like, "cheat day eats". It is about everything you deserve to indulge in because life is about living and enjoying. Her content ranges from posts about donuts, to fried foods, and desserts under every color of the rainbow. Jessica's page will definitely have you planning your next cheat day, but without any guilt- as it should be!
If you end up on Jessica's page hungry and unsure of what to eat, then your curiosities will be quickly answered. There is so much to enjoy on her feed, from the rainbow heart shape waffles she made in celebration of pride month to the delicious banana split pudding pie that makes you crave more.
Check out the story highlights titled "RECIPES" to find a handful of recipes, so you can feast on her creations at home! Her stories also highlight all of the different places she has traveled to around the world including Rome, Hong Kong, and Bali just to name a few.
COLLABS
For any brands or foodies looking to Collab with her account make sure to follow her page and reach out to contact her!
---
Maddie Pasquariello – Top New York Food Nutritionist & Content Creator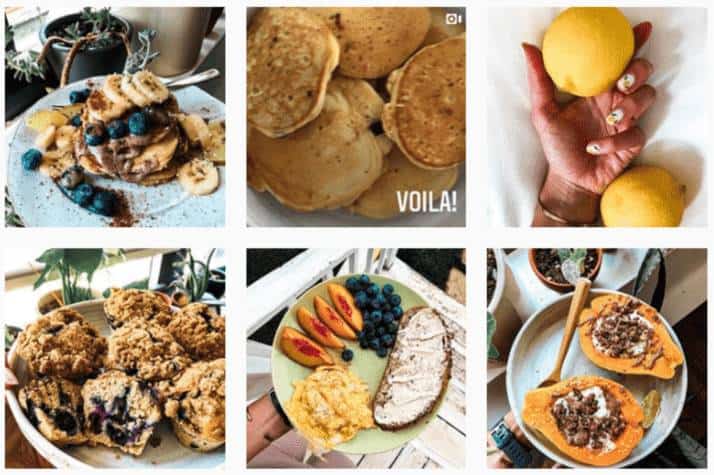 Maddie is a nutrition and health guru located in New York City. Her Instagram page is EastCoastHealth, and she currently works in public relations for small brands as well as private coaching as a nutritionist. She does all this while documenting her aesthetically pleasing meals on her Instagram page, and you should definitely check out the content and meals she showcases and give her a follow!
CONTENT
Maddie is all about health and wellness, while still providing delicious recipes. After all, she is a nutritionist, and if you need meal inspiration from someone, then a nutritionist is your best bet. Her food is appealing externally, but she also manages to work magic internally as well.
Her Instagram bio reads "I'm probably making breakfast". Scroll through her feed and stumble upon things like scrambled eggs with whole-grain toast and vegan cream cheese combined with fresh fruit, and a variety of yogurt bowls with an array of toppings. Maddie clearly puts love and care into her morning meals, and she really showcases the saying "breakfast is the most important meal of the day".
She has plenty of meal samples, including avocado toast and fruit with granola! Eating healthy can be a daunting task, but seeing Maddie do it with low-fuss recipes that anyone can make is extremely motivating. Her Instagram is essentially her food diary. We are lucky enough to get an insight into what a pro nutritionist eats. This insight is invaluable for someone looking at how to start eating properly.
The majority of her recipes are straightforward with only a couple of steps. Though she does have some more detailed recipes that I know I and many others cannot wait to try. Personally, the top recipe of hers on my list is her fudgy paleo almond butter brownies! They look absolutely delicious.
Maddie's page will stay at the forefront of my mind as I plan my weekly meals. I trust her insight and really enjoy the simplicity and balance of her diet. Plus, her feed is addictive to look at, as it all looks delicious without making me feel any guilt for craving it!
COLLABS
Some of Maddie's latest Collaborations include Vital Proteins, HungryRoot, and Daily Harvest. So for brands looking for the best food influencers who know how to promote brands, Maddie is your girl!
---
Stayhungry Staysexy – Food & Fitness Influencer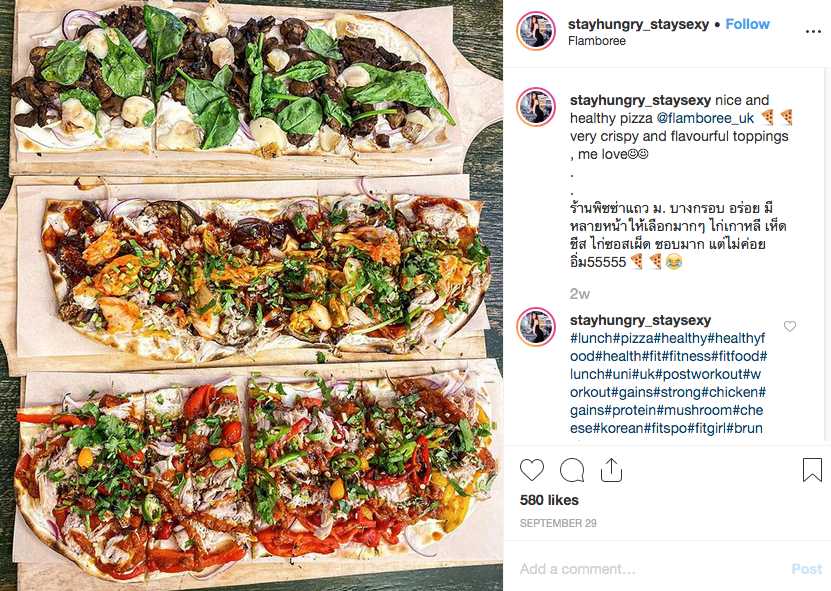 Stayhungry Staysexy is your food and fitness junkie.
She loves food so much that she maintains a committed workout routine just so she can indulge in all the calories food has to offer. Fair enough, right?
But then it gets you wondering about just how much she loves food…
Well, it doesn't look like there are any limits to food here. Her taste buds are living their best life.
Content
What more comfort could you need on a rainy day in London than a hearty bowl of Japanese food?
How about uplifting your day with a box of colorful macaron delights?
Indulge in sushi cravings whenever they strike.
Brighten up your breakfasts with simple peanut butter toast and strawberries. And a coffee break isn't a coffee break without double chocolate muffins, of course.
Oh, and if you must have donuts, you may as well have the donuts of your dreams. Or what's the point, right?
And why not have a Mexican taco feast if you can?
Yeah, this is how far Stayhungry Staysexy will go with food.
No limits, I told you. But that's ok because she has a good relationship with fitness.
Collaborations
Her love for Asian cuisine makes her a perfect candidate for Japanese food brands, which she promotes so naturally. So if she ticks all the boxes on your food influencers checklist, then go ahead and reach out to her.
---
Jo Yee – Food, Travel & Cultural Influencer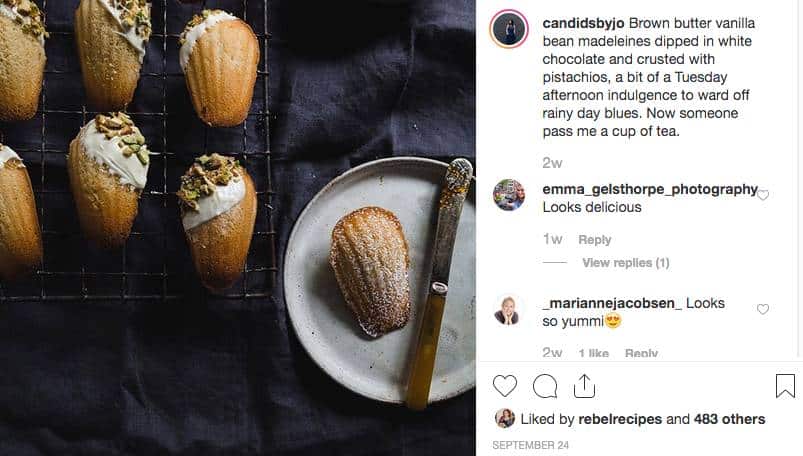 Tasteful food blogger, Jo Yee.
From Boston, now living in London, Jo is your source for all kinds of fine dining.
Content
Stuffed Polish cabbage rolls. 12-course seasonal lunch tasting. Sunday feasting. From fine shavings of culatello ham to perfect batches of gyoza and the most perfect pasta – food doesn't get any more exquisite on your social media than this.
Jo's photos and videos of her restaurant hopping and at-home cooking are enough inspo to make you explore new flavor palates.
But her signature moving still images will bring these food fantasies to life.
Did I mention that she has a pretty polished and well-articulated blog, too? From behind-the-shots to culinary retreats, these are some of the goodies for foodies on her blog.
Collaborations
Jo is a frequent restaurant diner and naturally Collabs with restaurants. So if you're looking for food influencers to hype up your restaurant menu, Jo's your gal!
---
Izy – Food & Photography Influencer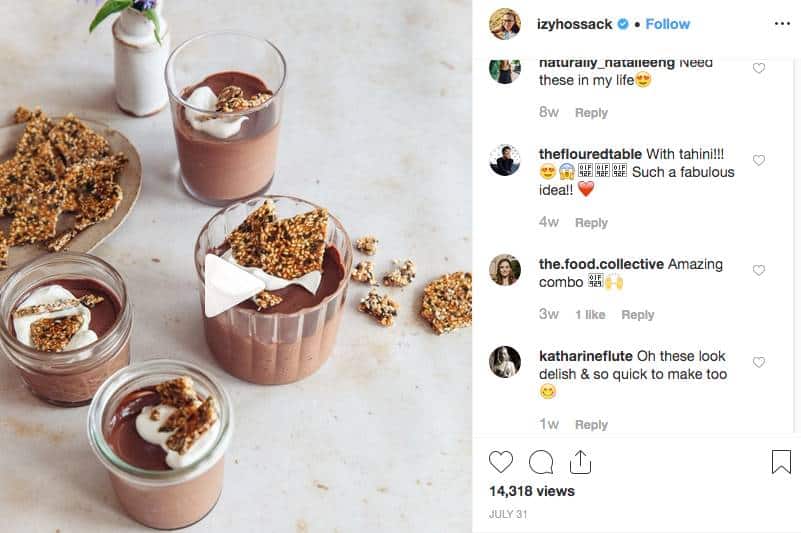 Food photographer and nutritionist with a baking passion, Izy.
There are some influencers that just hit the sweet spot with everything you love and everything that's good for you. Izy is your girl that will deliver nutritious food but she'll also satisfy your sweet tooth with baking treats.
She's also a food stylist and author of her own cookbook. What more could a food lover need from their favorite influencers, right?
Content
Rich green noodle soup for the soul. Apple cardamon Chelsea buns for extra comfort on days you need it. Sourdough brownies for the meanest cravings. Rhubarb glazed doughnuts for that extra sweet love. Pecan pie for a well-deserved treat. And the crispiest sourdough waffles for… Well, why not?
All you and your baked treat cravings need is Izy on your social media feed.
Get all her yummy recipes on her recipe blog and check out her website to shop for all her featured products.
Collaborations
Izy's latest brand Collaborations are with KitchenAid, Clarks, and OXO UK. Some of her big-name clients would make many food influencers jealous. They include the likes of Jamie Oliver, Genius Kitchen, and Buzzfeed – just to name a few.
---
Georgia McDermott – Food Influencer Collabs with Big Brands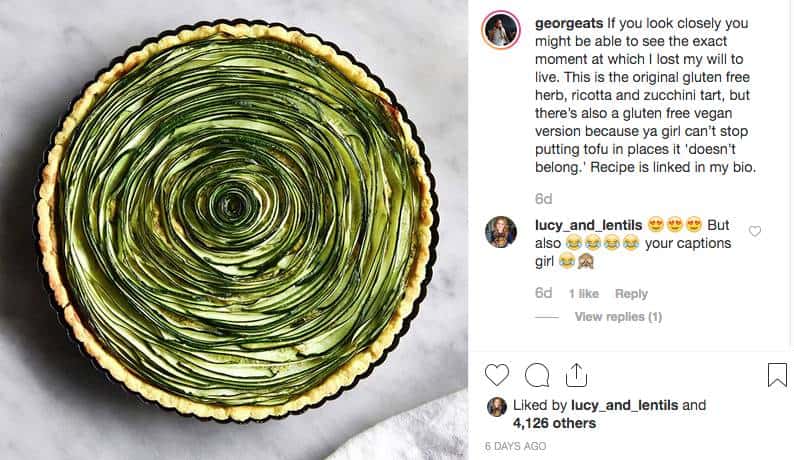 Healthy-ish food photographer and recipe developer, Georgia McDermott.
She's also the author of her own FODMAP-friendly cookbook.
Based in Melbourne, Georgia is your lovely foodie that will inspire enough food goodness in your life to give your tastebuds the time of their lives but also keep things somewhat healthy.
Content
Her content features gluten-free and dietary intolerance-friendly foods – mostly vegetarian.
Double chocolate cookies because what's chocolate without a double dose?
Ricotta and zucchini tart is the most beautiful healthy tart you've ever seen.
Hmmm. And how about roasted banana and gluten-free quinoa crumble with Nutella? Wow, right?
Need more? Maybe cheesy basil and chickpea flour waffles with buttery basil mushrooms.
Still, need more? Go check out her recipe blog for a whole lot more.
Collaborations
As you've seen with the other food influencers, Georgia has also Collaborated with some big names. These include Tourism New Zealand, PromPeru, Williams Sonoma, and Country Road – to name a few.
She also hosts food photography workshops.
---
Ashley Alexander – Simple, Wholesome Food Influencer
Simple wholesome recipe creator, Ashley Alexander.
Food that looks spectacular. Simple and easy to prepare. Wholesome. Food that is shared with others.
Isn't that what food is about?
Full of nutrition and made with natural fresh in-season ingredients. Ashley makes all this happen for you on your social media feed.
Content
Thyme, vanilla, and maple roasted strawberries on fresh ricotta. YES.
Classic rich bolognese. Simple tomato tart. So good.
Now for the ultimate breakfast treat…
Spiced berry and orange breakfast crumble. Warning. You can't unsee this. Your food fantasies will never be the same again.
Followers can indulge in Ashley's blog and even grab her free recipe e-book.
Collaborations
Being a pasta lover, Ashley has Collaborated with Barilla to promote various kinds of pasta.
---
Ana Zelić – @anasbakingchronicles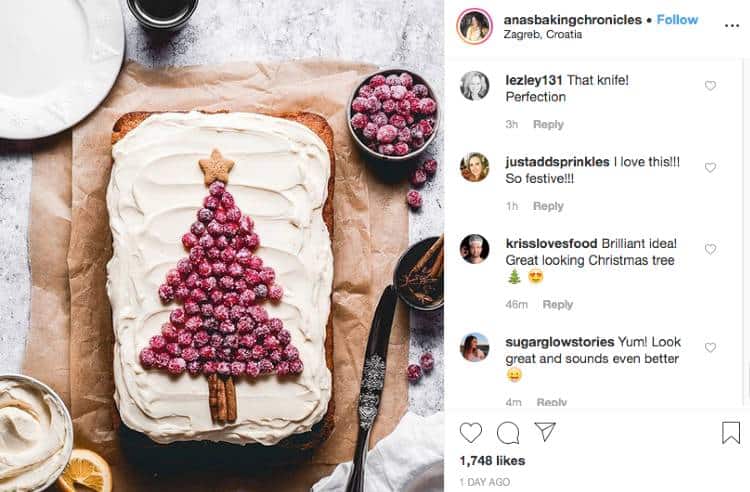 It's the wonderful baker and recipe developer, Ana Zelić, that will take you to sweet treat paradise.
Because where else will you find Pistachio Cranberry Hinzer Christmas Trees, Coconut Cranberry Cupcakes, and Pumpkin Spice Tiramisu?
And just in case you were about to dissolve away in these mouthwatering sweet fantasies, wait till you see her Apple Crumble Cheesecake. Wow and O.M.G for days.
It's really no surprise that this food blogging influencer's engagement rate is at a raving 8.74%.
She'll make your sweet cravings go crazy with her delightful mini blog-type captions to her beautiful images. Photos that can be credited to her aspiring food photography enthusiasm.
Before you know it, you've landed on her recipe blog where she'll help you create these baked treats thanks to her simple instructions. Simple enough for anyone to make.
She's also an editor of thefeedfeed.com – quite a content star, isn't she?
Ana is from Croatia, but you wouldn't have guessed. Her content certainly passes as worldwide friendly.
---
The Glam Kitchen (by Shauntay) – @theglamkitchen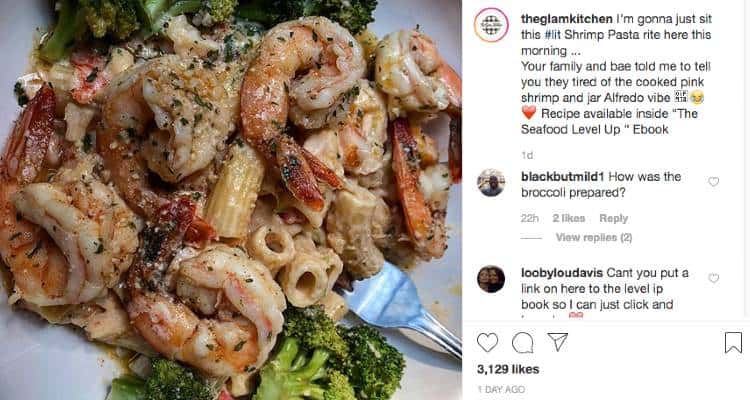 With The Glam Kitchen, Shauntay makes cooking something to look forward to.
Millennial women across the world will excite over the feasts that Shauntay creates – especially when her pasta and seafood passion gets the best of her.
From her pink shrimp pasta to her lemon pepper whole chicken and slow cooker beef short ribs – she'll get you motivated to whip up these appetizing dishes and get your taste buds bursting with flavor.
Her recipe photos get her food-crazed followers buzzing with comments like "this looks AMAZING". Indeed, a 5-star food blogging influencer deserving of all those capital letters.
And her paid partnerships with brands like Yo Quiero Brands are so irresistible. She certainly knows how to get her food-loving followers drooling all over her tasty posts.
You can explore her recipes and shop for her ebooks on her food blog.
---
Jennifer Sattley – @carlsbadcravings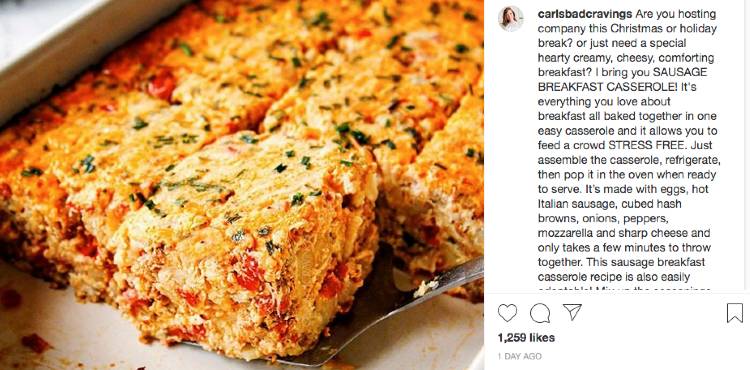 Jennifer Sattley is a passionate lover of life and food. Being a survivor of cystic fibrosis and a recipient of a kidney and lung transplant, she truly makes her passions meaningful.
And it just takes a moment for this passionate blogger/ influencer to make you fall in love with food – all things soulful and hearty.
From crispy baked egg rolls for a fun dinner, a sensational sausage breakfast casserole, a hearty one-pot chicken and rice fajita soup to her comforting poke turtle brownies infused with pecans and chocolate chips.
By the time you see her buffalo chicken dip stuffed french bread, your heart and soul and stomach will be overflowing with love for food.
Get her recipes, and meal plans, and book all on her food blog.
---
Tutti Dolci (by Laura) – @tutti_dolci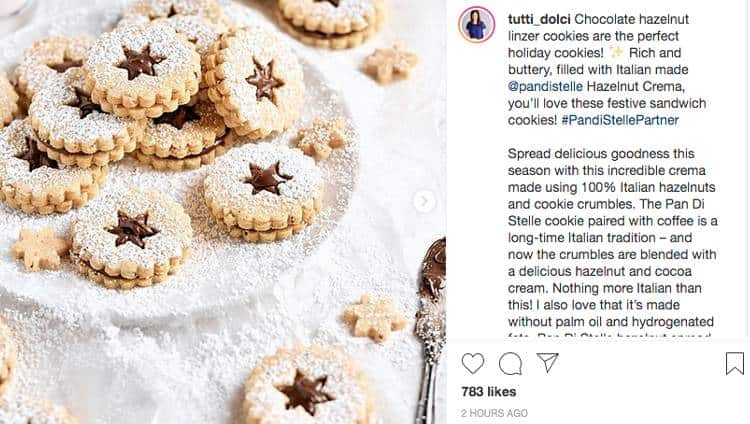 Tutti Dolci is where you'll find all things sweets and treats by Laura—an inspiring food blogger and influencer.
If chocolate, caramel, hazelnut, cheesecake, tarts, cookies, brownies, crumble, cakes and muffins mean anything to you then Laura will help make these baking dreams come true for you.
With recipes you can count on, you'll be able to make wonderful treats like her scrummy chocolate hazelnut Linzer cookies. Or her rich espresso crinkles. Or her exquisite chocolate hazelnut star bread. And so much more.
"These look like a dream", a compliment from her follower. Her treats certainly do look like a dream.
Whether you're looking for a dessert or a treat to indulge in with your tea or coffee, Tutti Dolci will inspire you to bake up a storm.
---
If you're looking for more drool-worthy food influencers, check out our Afluencer App.