The marketing world isn't the same as it was a few years ago—and neither are shoppers' expectations. Today, people don't want to be sold to. Instead, they want to see more brand personality and value-added content that nurtures healthy relationships with their favorite brands.
Enter: content creators.
Content creators are the secret sauce to making buyers love your brand, win their loyalty, and drive more repeat sales. The rise of creators prompted Shopify, the e-commerce giant, to launch its creator management app—Shopify Collabs.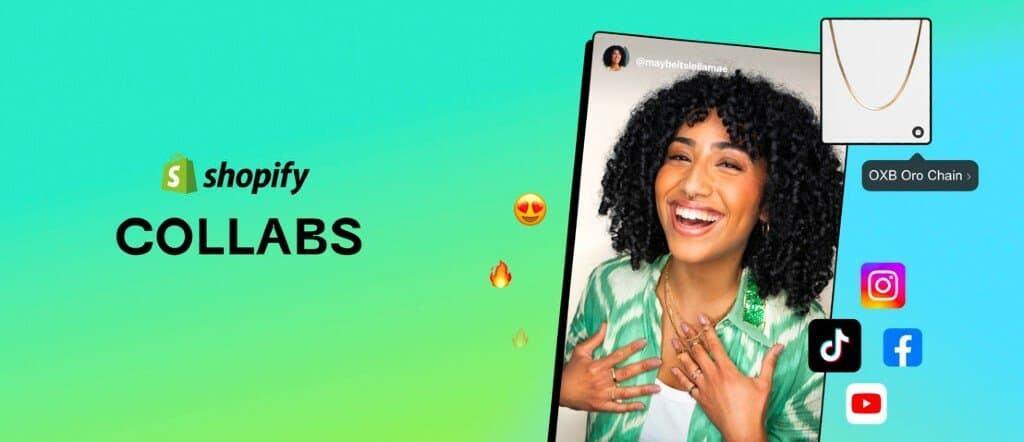 Shopify Collas brings together millions of creators and ecommerce brands on a single platform. It empowers creators to monetize their content and helps brands hire and manage creators effortlessly. But is it the best tool in the market to run creator marketing campaigns?
In this comprehensive review, we'll break down Shopify Collabs' features so you can decide for yourself.
What is Shopify Collabs?
Shopify Collabs is an app designed to connect creators with Shopify store owners to simplify influencer marketing. It's a rebranded version of an older app, Dovetale, which was a part of the Shopify ecosystem for many years.
The new platform has a massive creator marketplace. Creators can sign up for the platform and then choose from millions of brands to collaborate with the ones they like. Every creator has a comprehensive profile covering details like their follower size, engagement rate, channels, and more.
Merchants can also easily partner with niche creators and get more eyes on their brands. Collabs do a lot of heavy lifting on a merchant's behalf to find the ideal creators, manage their partnerships, and track their performance. If you think influencer marketing is too much work, the goal of Shopify Collabs is to make things simple.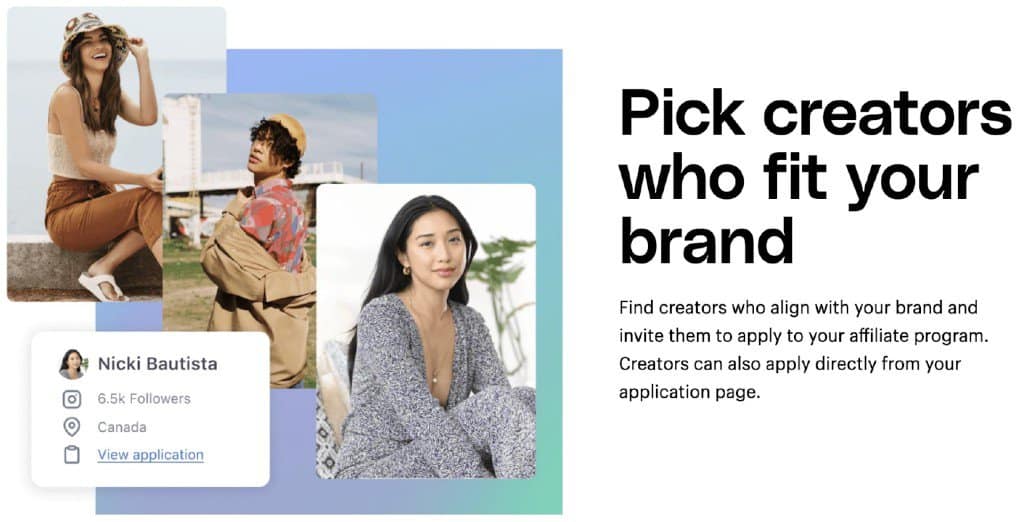 How Shopify Collabs Works
Here's how you can set up and use Shopify Collabs.
Step 1: Go to the Shopify App Store and install Shopify Collabs.
Step 2: Sign up to create an account. To do this, go to the Settings panel on your Shopify app. Click Apps and sales channels > Shopify Collabs. Then press the Open app to accept all the terms and conditions to create your account.
Step 3: Once the account is set up, merchants can customize their applications page and form. Creators can search for brands they'd like to work with and submit their applications.
What Creators Can Expect from Shopify Collabs
The creator economy is growing bigger than ever—with the market size reaching over $104 billion in 2022. But the bigger the industry grows, the more competitive it gets. This would leave small-time creators little opportunity to monetize their audience. Shopify Collabs is designed to support creators of all sizes: to help them get more visibility, win better brand partnerships, and build a solid portfolio.
Let's break down the three key benefits creators can expect from Shopify Collabs.
1. Connect and collab with over a million merchants
Shopify has 1.75 million sellers worldwide. Let that sink in. As a creator, you have 1.75 million brands to potentially partner with through Shopify Collabs.
The app encourages creators to design stellar profiles and gain more visibility. Creators become a part of Shopify Collabs' vast database, where brands can find them through filtered searches. Moreover, creators can also apply to work with brands they like.
The main goal of Shopify Collabs is to increase creators' chances of getting lucrative brand collaborations that best align with their interests. That way, a partnership is a win-win for both parties with a better ROI overall.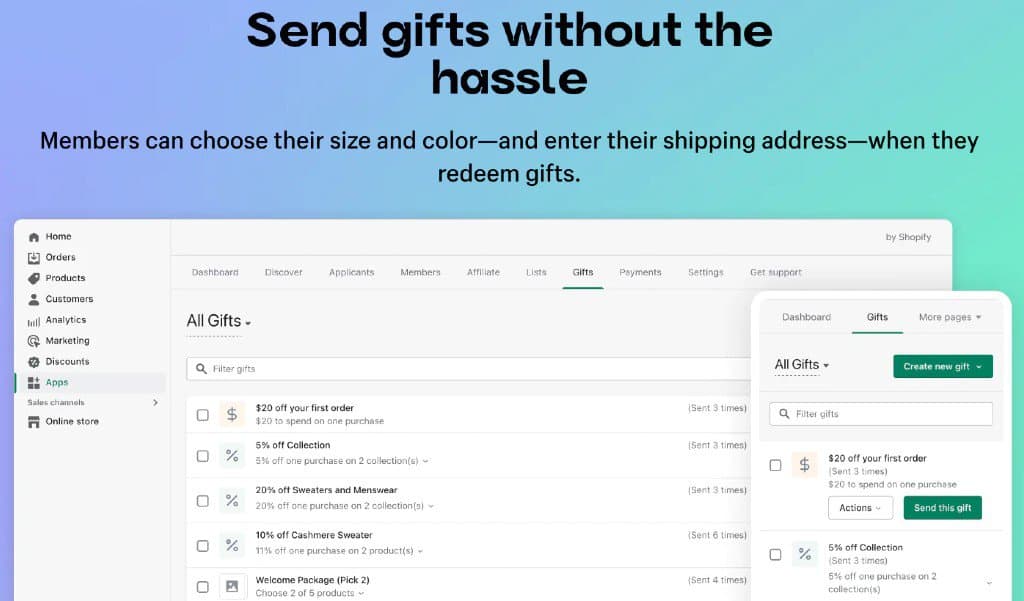 2. Product seeding and affiliate-based commissions
Product seeding is one of the best ways to work with small creators. It's an added incentive for them to go the extra mile and create inspiring content to nudge their audience toward a buying decision.
Shopify Collabs allows merchants to collaborate with influencers and creators by sending gifts, samples, and promotional items. This product seeding helps get creators more excited about the product(s) or the brand itself, often resulting in more authentic content from real users.
On top of product seeding, Shopify Collabs also allows creators to earn affiliate-based commissions. Merchants can set up their commission structure and track all sales to calculate the commission value for their creators—all within the app (more on this later).
3. Intuitive dashboard to track all earnings and data
One of the biggest benefits of Shopify Collabs is its data tracking and revenue management dashboard. Creators can focus on things they enjoy doing while the app calculates their earnings, expected payments, performance metrics, and other details.
The dashboard tracks collaborations and earnings so creators know who to follow up with for pending payments. This dashboard can organize the more messy part of being a creator: data. It stores all information, visualizes insights, and identifies gaps to improve performance.
Despite all these features, Shopify Collabs doesn't strike home for many creators. Here's why:
The unnecessary and long sign-up process
Buggy interface with multiple glitches
Heavy competition among creators
Let's see how the platform fares for merchants and what they can expect.
What Merchants Can Expect from Shopify Collabs
Shopify Collabs isn't just for creators; it also benefits ecommerce business owners. Finding brand-fit creators has always been challenging for marketers and solo store owners; there are the struggles of browsing, vetting, and shortlisting the right creators. It's an added challenge to give them the right exposure for your brand and build a healthy relationship.
With Shopify Collabs, brands can find promising creators, manage their marketing campaigns effortlessly, and stay on top of expenses. The app streamlines working with creators.
Let's look at the three key benefits merchants can expect from Shopify Collabs:
1. Discover niche creators from a large marketplace
One of the biggest highlights of Shopify Collabs is its Creator Marketplace, a massive database of creators from different niches and channels handpicked by Shopify's team. This marketplace is the jackpot for store owners that can change how they run influencer marketing campaigns.
Brands don't have to invest time and effort into finding brand-fit creators. They can set up their account, make their store discoverable, and roll out an application form for interested creators. Taylor Jo Dodson, Creative Director at Snarky Tea, highlights this benefit of Collabs.
"It's nice that people can find and apply to be an ambassador without us having to do all the heavy lifting. I will say that the Dovetale interface was easier to use before it became SC, and the swap was confusing for some of our ambassadors. Overall, I'd give it four stars."
Alternatively, they can search this database to find creators that check all the boxes for them. This searchable platform enables merchants to filter according to the target audience, follower size, channel, and other filters. So, you only need to browse through these creators' profiles, shortlist the most promising ones, and start a conversation to get cracking.
2. Easily hire and manage creator relationships
With Collabs, it's easy to find the right creators for your brand from thousands of candidates. But that's not all. Store owners can easily hire and partner with their selected creators on the platform.
Collabs generate customized insights to help brands optimize their campaigns for maximum impact. You can use these insights to create guidelines for creators and set the metrics for a new campaign. It also gives you unique links and discount codes to work with multiple creators and track their outputs.
Since Collabs is directly integrated within Shopify admin, you can easily visualize your entire sales funnel across channels—from customer database to orders and inventory.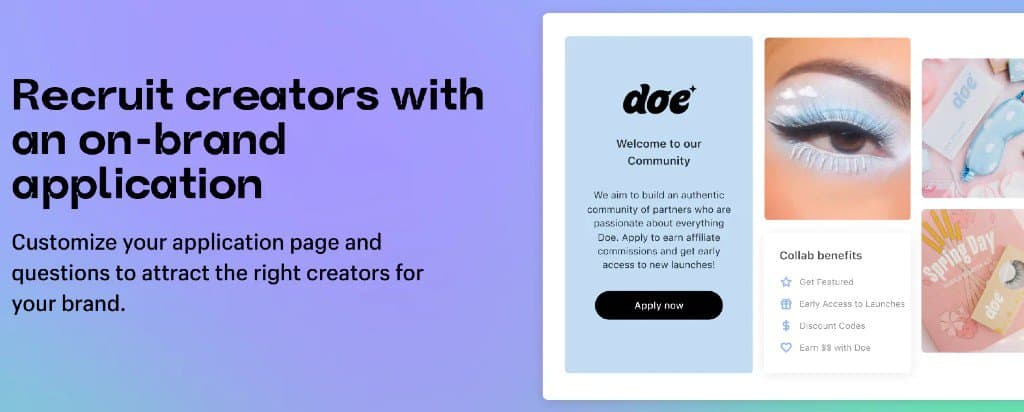 3. Win more affiliate sales and track payments
Shopify Collabs simplifies your relationship with affiliates. You can have a complete overview of your affiliates' sales, and the app will automatically calculate the commissions for every affiliate.
What's more, you can directly pay affiliates from the platform. It'll also generate analytics for every affiliate's progress so that you can reward the high-performers. This also allows you to extend your collaboration with the ones who perform well.
In essence, instead of hiring a big team dedicated to affiliate marketing, Collabs can take care of these responsibilities and make your affiliate campaigns successful. Monica Grohne, the founder of Marea says:
"The platform is easy to use and allows us to review conversions from affiliates easily and make paying them seamless. They've continued to make improvements, like having a saved welcome message. I hope they continue by adding integration with Klaviyo so we can add our affiliates to a specific list, send notifications when they make sales, etc."
Despite all these merchant-centric benefits, Shopify Collabs doesn't quite match up with other influencer management tools because:
Payments are limited to PayPal
No multi-language translation feature
Less scope for customization
So, we decided to see how Collabs stands against Afluencer to benefit merchants and creators.
Shopify Collabs vs Afluencer: Which Option is Better for You?
Shopify Collabs made all the headlines since its rebranding and launch. The platform was introduced as a new and easy way for creators to monetize their content and for brands to collaborate with creators.
But while the app offers this functionality, it doesn't bring the added convenience and perks you get from similar tools, like Afluencer. If you're weighing your decision to sign up on Collabs, read this comparison review of Shopify Collabs vs Afluencer to make an informed choice.
Ease of setup
The ease of setting up and learning the functionality of a tool determines how quickly you can get the best value out of it. A shorter learning curve means you can hit the ground running faster and implement your strategy. Here's how Shopify Collabs fares against Afluencer in terms of setup.
Shopify Collabs
Signing up for a Collabs account seems slightly complicated, even for existing users. When you land on the Collabs site, you'll find the option to install the app as a merchant or sign up as a creator. But things get tricky after this.
If you're a merchant, you have to install the app first and then tweak some settings from your Shopify account to complete the setup. If you're a creator, you have to sign up to take any action—which is one of the biggest concerns visible in the early reviews. Signing up on a new platform can be inconvenient, especially with Collabs' lengthy sign-up process. You first need to create a Shopify account and sign up as a Creator separately.
Afluencer
Afluencer has a hassle-free setup. You can visit the website and find the options to sign up or sign in. If you're a new user, sign up on the app, answer the given prompts, and you're all set to use the platform. Creators can explore the app and find potential partnerships without signing up on the platform and don't have to go through the hassle of signing up without knowing the full benefits of the platform.
Interface
A tool's interface impacts the overall user experience and creates customer stickiness. The more appealing the interface, the more users will return to the tool. Let's see which interface is better among Shopify Collabs and Afluencer.
Shopify Collabs
Collabs have a top-notch interface with an intuitive, data-packed dashboard for merchants and creators. The platform has a navigation panel on the left of the screen and multiple settings to keep users informed about their accounts.
Merchants can discover new creators from the marketplace, find affiliates, shortlist their ideal candidates, and track payments. They can also check applicants interested in working with them. On the other hand, creators track their applications, manage their ongoing partnerships, and monitor their earnings.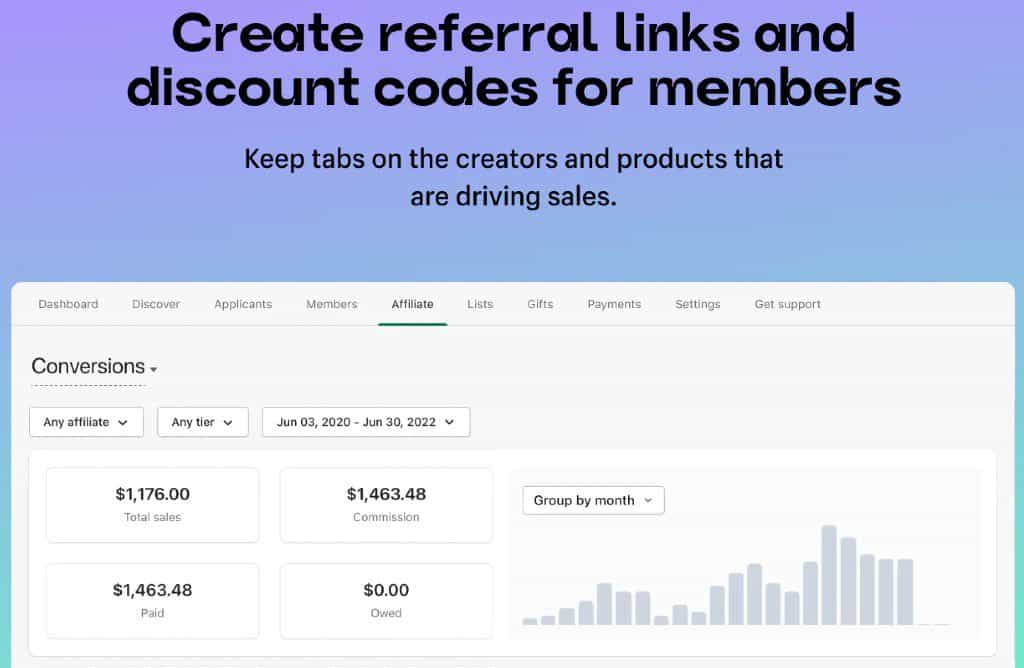 Afluencer
Afluencer has a seamless and neat interface with minimal design elements. The welcome dashboard covers all essential details about your campaigns, like applications, influencers you may like, all your brands, and saved searches from the past. You can also jump to the influencer directory to find more influencers.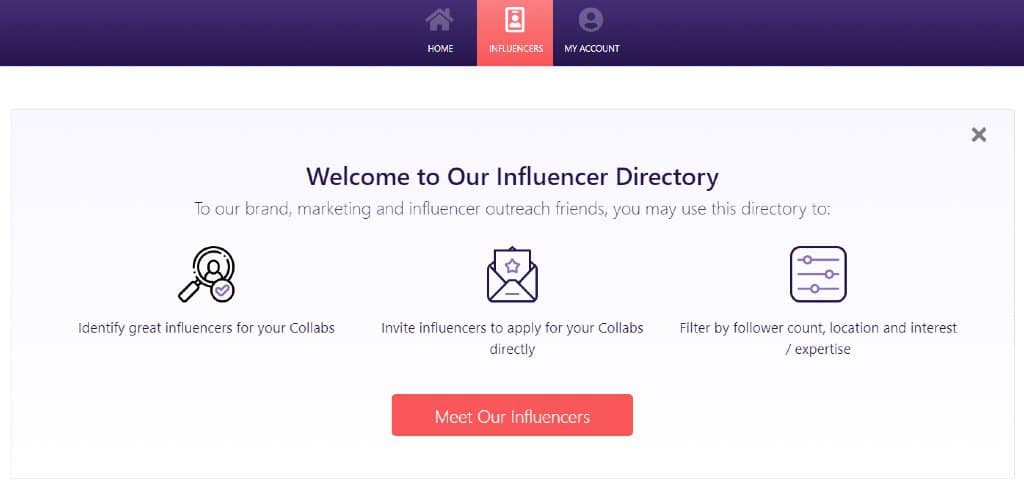 Once integrated with your Shopify account, you can track sales and inventory on the dashboard.
For creators, the app gives you constant updates about new programs and brands looking for collaborations. So, you can set up your profile and click on these programs to get started. Kendall, a content creator, shares her take on the app's user-friendly interface.
"I love that Afluencer is very user-friendly and easy to navigate. I never miss out on messages because it's always clear when I have one. Love how easy it is to find new brands to work with."
Functionality
A platform is only as good as how well it can meet users' needs, solve their pain points, and help them achieve their goals. Let's compare Collabs against Afluencer to see who comes out stronger in terms of functionality.
Shopify Collabs
Shopify Collabs promises several exciting features for merchants and creators. While we've discussed most of these features, it's worth spotlighting these:
Merchants can access a vast database of creators to reach out to brand-fit creators directly.
Creators can apply to collaborate with millions of brands available on Shopify.
All users can effectively track their performance and payments using a data-driven dashboard.
The platform still has many shortcomings, like no email customization option, multi-language feature, a complicated sign-up process, and unnecessary glitches.
Afluencer
Afluencer is a feature-rich tool packed with every essential feature brands, and creators need to collaborate. The Afluencer dashboard keeps you updated with your past and ongoing campaigns. You can also track your sales and creator performance in separate sections.
The app's huge Influencer Directory of more than 16,000 creators has powerful search filters to help you effortlessly find the most relevant niche creators.
Creators can also check collaboration programs by scrolling the homepage without signing up. Once registered on the platform, they'll get regular updates about new programs to participate in.
Chelsea, a content creator, highlights the best parts about Afluencer from a creator's perspective.
"There are campaigns for every niche and interest, and new collaborations are added frequently. I love how easy it is to use and that I'm always sent updates on new collaborations, so I do not have to guess when to sign in and what is available to me as a creator."
Another great feature is chatting with any creator and maintaining prompt communication on the same platform. You don't have to jump to another tool to talk with your creators or brand PoCs.
There's a Better Alternative to Shopify Collabs
Let's face it: Shopify may have relaunched Collabs as an exciting new way for brands to work with creators. But in reality, it still lacks a great deal to compete against tools like Afluencer.
Afluencer is a power-packed alternative to Shopify Collabs with must-have features, lucrative opportunities, and convenience for creators and brands to maximize their progress. The platform gives you deeper visibility into your performance with meaningful insights to hit the next level and improve your ROI.
Try Afluencer today and see the impact yourself.