Picture this: you've been creating content on Instagram for months—maybe years—raking up thousands of followers. But you've seen no monetary ROI for all your backbreaking effort into creating content consistently. Sounds unfair, right? Not anymore.
Gone are the days when you could only use Instagram to create content. The new and evolving Instagram allows creators to monetize their content and build a thriving community of followers with Subscriptions.
Instagram launched Subscriptions to incentivize creators to build their audience on the platform and get rewarded. Let's break down this exciting feature and see if it's right for your creator business. We'll also give you seven creative ideas to get the best out of Subscriptions and three ways brands can leverage this feature.
What are Instagram Subscriptions?
Instagram Subscriptions allow creators to create exclusive IG content they can share with their paid subscribers. This feature combines the idea of building a subscriber list and enables creators to monetize their content through a community of people willing to pay for exclusive content.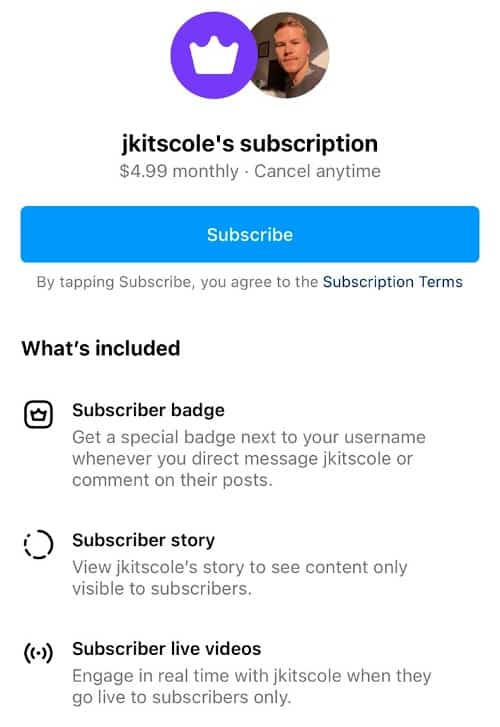 To launch a subscription…
Creators can set a monthly subscription price for their followers (more on this shortly). Anyone landing on their page can see the Subscribe button next to Follow.
But what exactly do Instagram Subscriptions include for creators and subscribers? Here are five main features that are included:
Subscriber chats: Creators can have direct conversations with their paid subscribers (up to 30 people) and connect with them on a more personal level. While Instagram has mostly focused on leveling up its content creation tools for creators, the option to chat directly with followers can maximize audience engagement.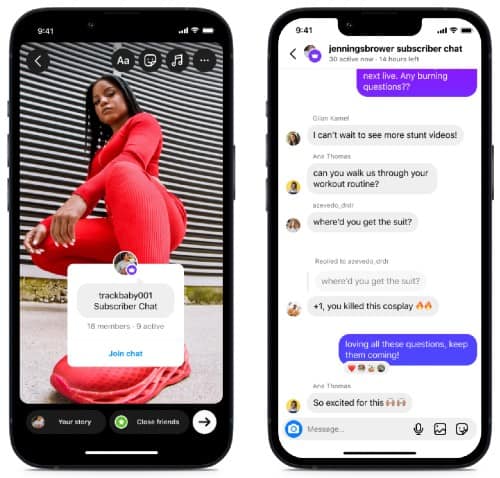 Exclusive content: Access to exclusive content is one of the biggest selling points for IG subscriptions. People want to learn from you, know the behind-the-scenes activities, or see more content from you. Create unique reels and feed posts exclusively for your subscribers and build a community that values your ideas.
Subscriber stories: Think of stories you share only with close friends but from a creator's perspective. These stories are only visible to your subscribers. So, you can share sneak peeks from your day, take a poll, or run an AMA round—it's all exclusive.
Subscription live: Besides sharing unique content, you can host special live sessions exclusively for your subscribers. These can be more close-knit sessions where you interact with your biggest fans and engage with them closely. You can also use these live sessions to conduct tutorials or community events.
Exclusive tab: All content created for your subscribers is instantly accessible on your profile in a separate tab. New and old subscribers can revisit all your exclusive content with a single click.
You can also recognize your subscribers easily with a badge. Every subscriber will have a purple icon next to their username, indicating that they've subscribed to your page.
How much does an Instagram subscription cost?
You can launch an Instagram subscription for anywhere between $0.99 to $99.99. More specifically, a subscription is available for $0.99, $1.99, $2.99, $4.99, $9.99, $19.99, $49.99, or $99.99.
When choosing the price point, be mindful of the amount your followers would be willing to invest monthly to get exclusive content from you. Do the research and chat with your followers to identify the best pricing they'd willingly spend. Remember to shape your content strategy as per your earning potential from a subscription.
How to activate your Instagram subscription
So, you've decided to start a subscription but don't know how to get things rolling. Here's a quick breakdown of how to activate your IG subscription:
Navigate to the professional dashboard on your account.
Click on Set up subscriptions and hit Next.
Choose the monthly price for your subscription and hit Next.
Click on Publish, and you're all set to create exclusive content.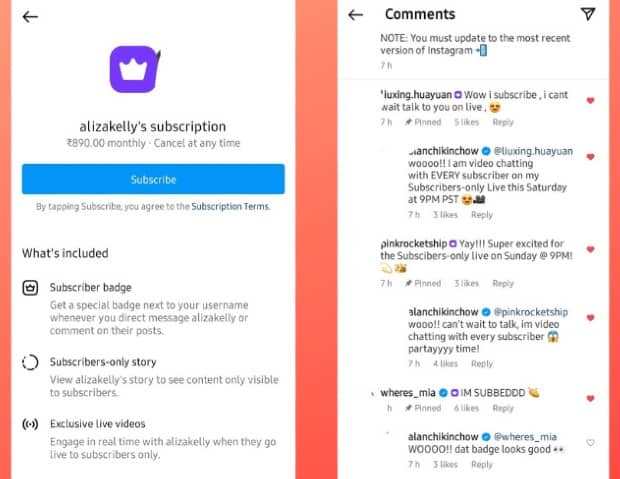 Now that you know what you can do with IG Subscriptions and how to get started, let's address the bigger question: do you need an Instagram subscription?
Is it right for you?
Instagram Subscriptions are designed to empower creators with a stable source of earning and more meaningful follower relationships. But this feature isn't suited for every creator out there. Wondering why?
An IG subscription is entirely about creating exclusive content, which means you'll spend extra time and effort on content ideation and creation. However, there's no guarantee that you'll get enough earnings to pay for this additional effort.
If you're wondering whether or not you should start a subscription offering on Instagram, here's a handy checklist to help decide if it's right for you:
Past results of followers paying for your products or resources.
Highly engaged audience interested in consuming more content.
A good attendance rate in your live sessions and high reach on your posts.
A content strategy to deliver value through exclusive content, like Q&A sessions or private lessons.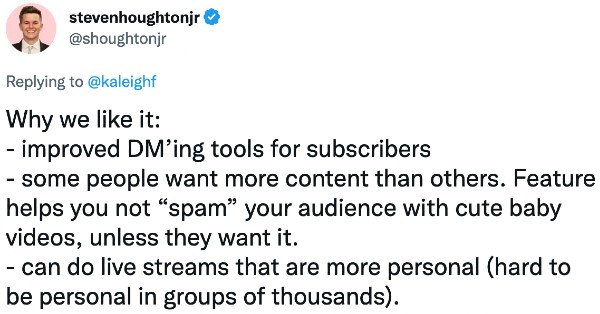 You need a solid plan to launch a subscription and achieve sustainable success from your subscriber base. Next, let's look at seven unique ideas you can use to offer unmatched value to your IG subscribers.
7 ways to create high-value content for your Subscribers
Offering subscriptions is a new way to build a community-centric brand and organically win your followers' trust. In an ideal scenario, it's a win-win for creators and subscribers because creators get steady monthly earnings, and followers get unseen content available only to them.
But the onus is on creators to make a subscription worth the subscribers' money. If you're figuring out the best ways to do that, here are seven ideas to help you create a stellar content strategy for subscriptions:
1. Special discounts or merch
Ideal for: affiliate influencers and creators selling digital products
This is a no-brainer: give your subscribers special discounts and exclusive coupons to shop from anywhere. These discounts can be for brands you're affiliated with or from your own store.
Exclusive discounts can help followers win back a part of the money they spend on your subscription fee. So, there's direct ROI for them in this case. More importantly, research concludes that exclusive discounts positively impact buying decisions—bringing more sales for you.
What's more, if you're a successful creator selling merchandise or digital products, these special coupons can drive sales for your products. Give your subscribers early access to these products with an extra few bucks off as special pricing for them, and watch your sales skyrocket.
2. Private lessons or tutorials
Ideal for: educational creators from niches like gaming, fashion, makeup, marketing, and more
One of the best ways to give subscribers immediate value is by hosting private lessons via Instagram Live. These lessons can be anything you like:
A tutorial with new makeup products.
A lesson about the latest recipe you've learned.
A session on mastering your moves in a video game.
An open discussion on a niche topic that your followers are interested in.
Put simply, a subscriber live stream is an opportunity to give your followers exclusive value that you don't give away for free.
3. Latest announcements
Ideal for: influencers and creators with a big audience
Your followers are always eager to hear more about your new projects, tips, personal stories, and such. You can share all the latest updates about your work and life with a base of subscribers, making them the first ones to know about any major events in your life.
Create buzz around such announcements by telling all your followers that something exciting is coming up. You can also mention how the subscribers will be the first to learn about this announcement. This would incentivize more followers to subscribe. You can retain these new subscribers by delivering more value with your content.
This is best suited if you have a vast audience size because you can convince more people to subscribe and give priority information to existing subscribers.
4. In-progress projects
Ideal for: all types of influencers and creators
Suppose you're a lifestyle influencer or work in app design and have a decent audience of followers interested in your tips and best practices. You can encourage these followers to subscribe to your IG channel to get more in-depth insights into all your latest projects.
So, as a home decor influencer, share your decor ideas for Halloween. Or, as a designer, share your approach to designing a new website. Give your subscribers a no-filter look into your work and ideas to inspire them.
5. Community events
Ideal for: all types of influencers and creators
Your personal brand is only as good as the community you've built around it. But building a community isn't enough. You have to constantly engage with these people to enhance your rapport and win their trust in the long run.
To do that, host community-based events with your subscribers. Start a live chat to stay in touch with your top fans or host IG live to bring your community of followers together and keep them entertained.
6. Behind the scenes
Ideal for: micro-influencers looking to build credibility and A-list influencers
Sharing behind-the-scenes activities of your work shows your followers the effort you put into your content/work. This creates trust because people know what you do and how.
For example, Flamiere & Co is a small-time creator who shares all the BTS moments of her soap-making process, like in this reel. While this is great to show anyone how much thought and time she puts into making her soaps, she can reserve some of her best secrets only for paying subscribers.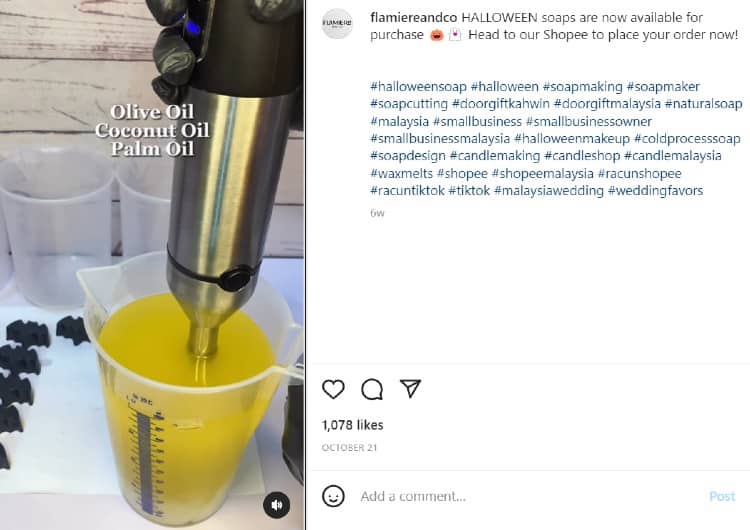 Besides micro-influencers, celebrities can also benefit massively by sharing their behind-the-scenes moments with subscribers. These are all the personal tidbits that their followers are eager to know. So, they'd likely pay the subscription fee always to be aware of what's happening with their favorite influencer.
7. Q&A sessions
Ideal for: all types of influencers and creators
Let's face it; there's no better way to engage with your followers than a good old round of Q&A. A Q&A session allows followers to get quick and direct answers about anything specific they want.
With subscriptions, you can host such a session via chat, inviting up to 30 subscribers. Or you can host a live session and answer each question subscribers send your way. Besides, you can also create stories with the AMA tag to feed your subscribers' curiosity and answer specific questions.
How brands can tap into Instagram Subscriptions
Now that you know how creators can benefit from Instagram Subscriptions, let's flip the discussion to focus on what's in it for e-commerce business owners.
Subscriptions give brands a new way to collaborate with IG creators and reach their target audience. They have a higher chance of conversions too since only the most invested followers would subscribe to a creator's channel and believe all their recommendations.
Let's cover three primary benefits that brands can enjoy with Instagram Subscriptions:
Build more meaningful, less transactional partnerships
The first and most significant impact of IG Subscriptions is the way it'll change brands' approach to creator marketing.
Creators would be wary of sharing things they don't believe in with their subscribers. So, for brands to earn a space in a creator's content strategy for subscriptions, they have to nurture more meaningful relationships over a long period and earn their trust.
Instead of a transactional partnership where a creator holds no value after the campaign, focus on establishing a healthy, ongoing collaboration with them. Involve them more in your campaign brainstorming and give them the creative freedom to decide the approach for their content. Prioritize value over transactions, and you'll find yourself in a creator's exclusive content.
Double down on exclusivity to sell more organically
One of the biggest benefits of subscriptions on Instagram is the factor of exclusivity. Giving a few followers a degree of exclusivity from the entire audience can be a powerful motivator for buying decisions. This favors brands because creators can influence their subscribers more effectively and maximize conversions.
Besides, exclusive discount codes can be another big driving force for sales. Interested customers find greater motivation to buy when they get a special deal or discount meant only for them.
Launch community-driven campaigns for subscribers
A subscription is like a creator's inner circle—only their biggest fans are a part of it. Subscribers share a much stronger relationship with the concerned creators than other followers. They're paying to see more of a creator they deeply admire.
All this indicates that they're more likely to take the creator's advice or recommendations to buy a product/service.
By tapping into this close-knit community of fans, you can lift your brand consideration and win more sales without sounding too promotional or sales-y.
Is Instagram Subscription worth it?
Subscriptions are one of the many features Instagram has rolled out to empower creators and help them monetize their content. Launching a subscription can create a source of recurring monthly revenue, bringing more stability to your creator business.
More importantly, creators have a better chance of engaging with their subscribers at a personal level and building a community of fans.
But focusing all your efforts on a single platform can be risky. You're restricting your audience and tying your entire business to that platform. Instead, diversify your content across multiple platforms and tap into IG Subscriptions only when you've built a hyper-engaged group of followers with the potential to earn directly from them.