Pinterest is one of – if not the – top visual search engines. With over 400 million active users, this platform is a goldmine of inspiration and education. As their website states, "people use Pinterest to find tomorrow's ideas". From recipes and DIY crafts to fashion advice and travel tips, photo and video content are incredibly pleasing to scroll through and helpful to bookmark for later reference. And just like other social platforms, Pinterest has followers, comments (with @ mentions), likes, and shares.
While Pinterest may not be the platform that comes immediately to mind when thinking of influencers, don't underestimate it. Many influencers and content creators use the Pinterest platform to drive traffic to their blogs, which benefits any company they're featuring on their websites. Most importantly, data shows that over 65% of people on the platform buy after seeing pins and over 70% of them use Pinterest to decide what to buy. There can be massive ROI from Pinterest, and at the very least it's worth using for lead generation.
That's why we put together a round of "pin-fluencers" (see what we did there?) to include in your marketing strategy.
Today's featured Pinterest influencers:
Their posts on family and parenting, fashion and beauty, travel, recipes, and overall wellness will inspire and enlighten you. These Pinterest influencers are setting trends, curating branded imagery, and mastering the art of beautifully presented aesthetics. Chances are, they'll help you find some new loyal customers.
Whether you're a brand looking to partner with Pinfluencers or influencers who wants to collab with trend-setting creators, the following Pinners are forces to be reckoned with and leveraged.
Now let's get to know our pin masters a little more. But before that, we'd just like to let you know that all these creators and more can be found on our Afluencer app. Registration is FREE. But we recommend that you upgrade your membership to make the most of what our app has to offer.
Now, did someone say they wanted to meet some inspiring Pinterest influencers?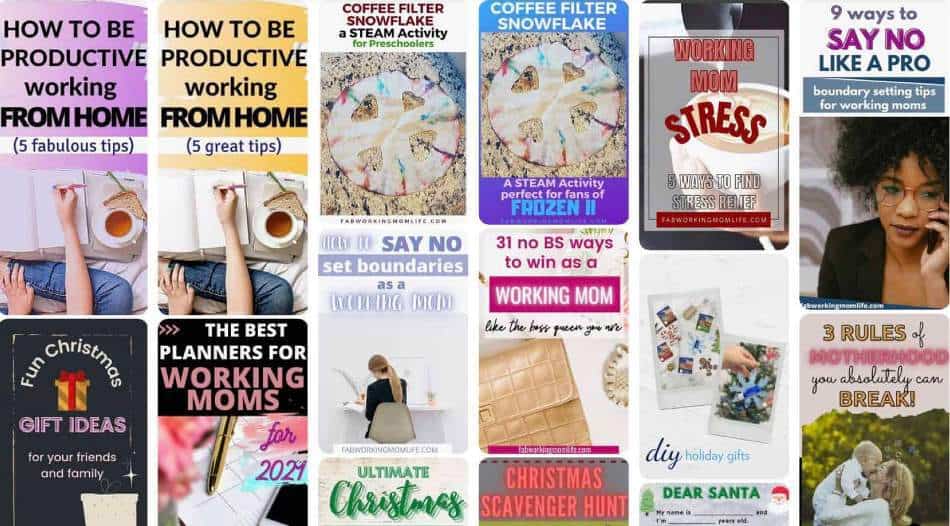 Born in Ukraine and now living in Hawaii, Julie Smeltzer helps busy working moms lessen their mental load and enjoy motherhood. As a military spouse, she is often solo parenting and has learned lots of tips. She has been using Pinterest since 2014 when she had a son, which allowed her years of organic growth. In fact, most of her blog views come from her pins.
Content
In her pins and board, Julie shares lifestyle content around motherhood, with lots of advice for working moms like herself. Her tips span across how to defeat overwhelm, reduce mental stress, be more organized, and thrive. This is something we can all benefit from, parents or not! Many of her pins come from blog posts, social media content, YouTube videos, and podcast episodes.
Julie enjoys sharing her journey as I figure out parenting while working full time while maintaining hobbies and personal identity. Her honest perspective and experiences are relatable, making her account a supportive resource.
Collabs
From sponsored pins to affiliate marketing to making boards for brands, there are many ways to collaborate with Julie. She often partners on giveaways, gift guides, email newsletters, social media crossposting, banner ads, and group boards. Julie's account is wonderful for companies that offer products around working from home, creating activities for children, inspiring confidence, developing emotional balance, and anything else that elevates the working mom experience.
It's helpful to note that a study by ComScore found that more than 80% of U.S. women ages 18-64 with children use Pinterest. This makes Pinterest accounts like Julie's incredibly valuable to brands looking to collab with influencers.
---
Originally from a small town in Kansas, Diane Coletta moved to Paris, France in 2015 to follow her dream of living in the city of lights. With a height of 4'11, Diane loves to provide fashion insights for other petite women and showcase her unique style.
Content
It's like out of a TV scene: Diane's content career began over a glass of wine in front of the fireplace while discussing future life plans with her closest friend. And now, reminiscent of the hit Netflix show Emily in Paris, Diane adores documenting her fashionable experience living abroad. Her posts cover photogenic restaurants, elegant Paris experiences, and beauty secrets. You'll find her pinning several times a day as she soaks in the stunning scenery.
Her Pinterest is like a virtual vision board for travel and outfit inspiration. She really has quite the aesthetic with stand-out images that will make anyone yearning to travel (when the world allows).
Collabs
Diane has worked with several high-end and well-known brands including Dior, Christian Louboutin, the Tourism Board of Paris, NARS, and Laura Mercier. She's a great fit for airlines and hotels, especially those that want to help pinners plan a vacation (no matter how far in the future that may be). Financial services companies could also partner with her to share budgeting tips for traveling and living abroad (especially if you're wondering how to dress like Emily in Paris on a budget).
---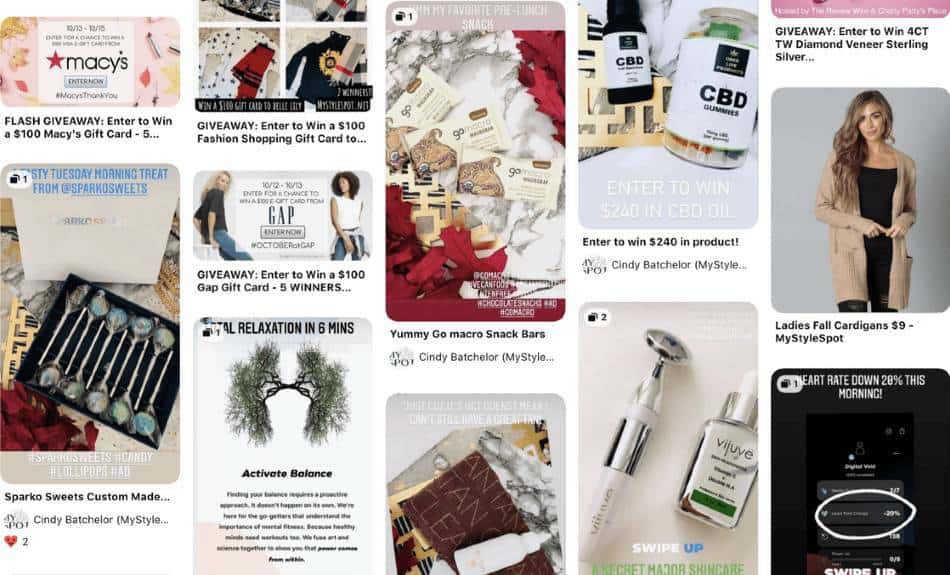 Based in Utah, Cindy Batchelor is a full-time lifestyle blogger with an MS in Psychology counseling. She creates well-written, creative posts and has uploaded over 200 enthusiastic videos to her Youtube channel. Her personal blog was named one of Huffington Post's Top 31 Up and Coming Blogs to Follow.
Content
Cindy pins about fashion, beauty, and lifestyle with a focus on personal styling. Her boards are a great place to build clothing wishlists and develop a visual identity. She also posts lots of sales and discounts to help her community find the best prices.
Collabs
Partnering with Cindy is a wise choice for lifestyle, beauty, and fashion brands. Especially after Pinterest announced a feature that uses augmented reality to let pinners "try on" the items they see in Product Pins. Businesses with a product catalog can request to try this Pinterest feature and then collaborate with influencers and creators like Cindy. Plus, according to Pinterest's best practices, pins that show someone using a product or service are much more likely to drive offline sales.
---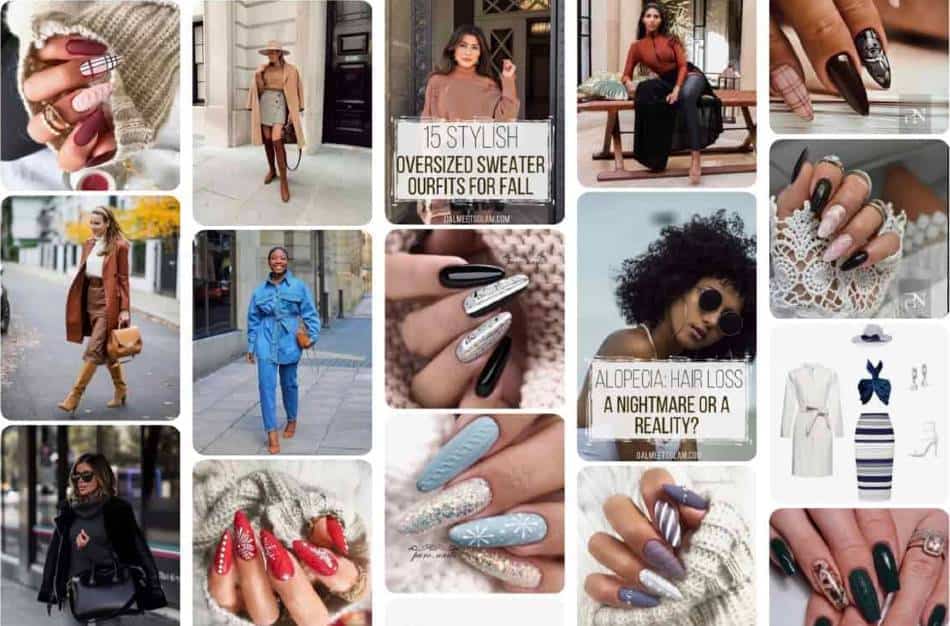 Californian Dalene Ekirapa is an enthusiastic lifestyle blogger who enjoys dressing up and being intentional about skincare and wellness. She's also passionate about recipes, travel, and adventure experiences. As a professional interior designer, she enjoys sharing home decor and gardening ideas.
Content
Dalene runs two brands: one centered around women's fashion, beauty, and lifestyle, and the other about food, travel, and home decor. Both are dedicated to providing lifestyle inspiration and motivation. Her content is beautifully curated and showcases her style, which helps users shop for looks and dream-up ideas to implement.
Collabs
The largest traffic source for Dalene's blog is Pinterest. So if you're looking for influencers to work their magic with Pinterest the way Dalene does, then connect with her today! She's a great pinner to partner with for "inspo" content, which could mean curating a shared board, sponsoring specific pins, or coordinating brand takeovers. Home good brands, skincare, fashion, and travel companies alike could collab with Dalence to help others determine who they want to be and what they want to create in their lives.
---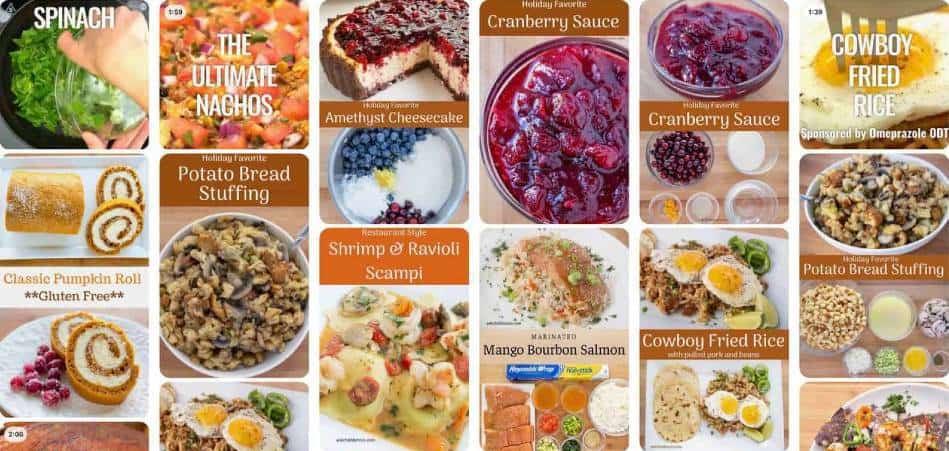 If you're truly looking for achievable cooking content, Chef Dennis Littley is your go-to foodie. Based in Florida, he aims to help others feel excited and confident about meal prep through easy and tasty restaurant-style recipes. His charming, authentic approach will help you believe that you can make anything you see on his Pinterest.
Content
Making mouthwatering meals like a pro with ease is Dennis' specialty. His loveable style spans recipes, cooking tips, and FAQs. And every once in a while he shares his travel adventures too. His content is especially timely since it can help pinners recreate restaurant experiences at home.
Collabs
Some of Dennis's previous partnerships as a Pinterest influencer include Humana and Karo Syrup. These collaborations panned out through social campaigns, video productions, live cooking demos, and event appearances. Food, beverage, appliance companies, and any brands that make it easy to excel in the kitchen could benefit from Dennis' professional and natural approach to content. He'd be especially great for partners in need of recipe development and food plating techniques.
---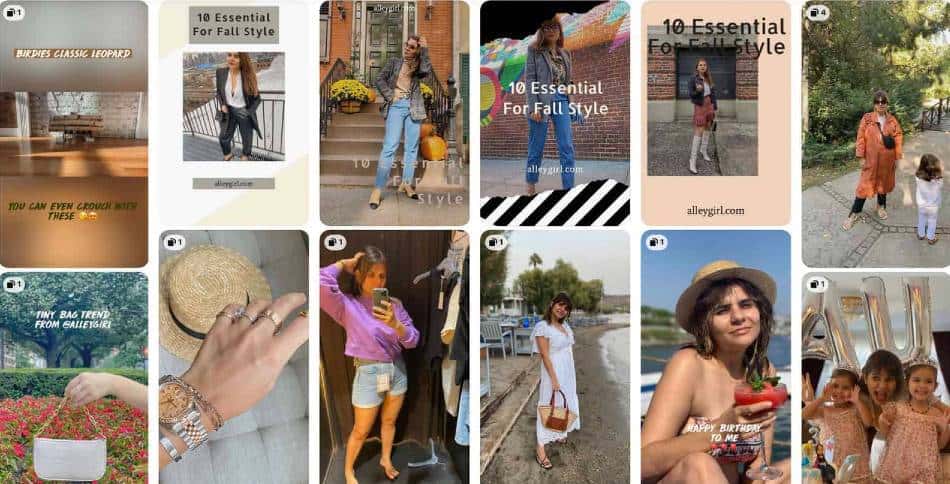 Turkey native Betul Yildiz is the founder of a New York-based fashion technology and lifestyle blog, which she began in 2014 to improve her English. Just a few years later she was featured in Elle USA's article about menswear-inspired style as one of four finalists from a pool of 550.
An equally impressive factoid about Betul is that she's been using Pinterest since it was founded. This leads to a lot of platform knowledge as it's evolved over the years. Her boards cover fashion, lifestyle, travel, and home decor. Like many of the other influencers on this list, a huge percentage of her blog's traffic derives from Pinterest.
Content
Betul pins a lot of original content, including photos she takes, graphic images she makes, and videos. She often shares content from her blog posts and social media too. Her account feels very authentic and positive, and her audience loves to see what she's wearing. As stated in her Elle feature, "fashion is a playground, and I would like to be as free as I possibly can".
Collabs
Since doing her first paid partnership in 2011, Betul has been a brand ambassador for companies like Blackberry and collaborated with brands like Rodan + Fields. She also does affiliate campaigns, which tend to do very well on her Pinterest. Companies looking for influencers who encourage their communities to take ownership of their interests and visualize their highest selves would benefit to work with Betul via her stylish recommendations.
---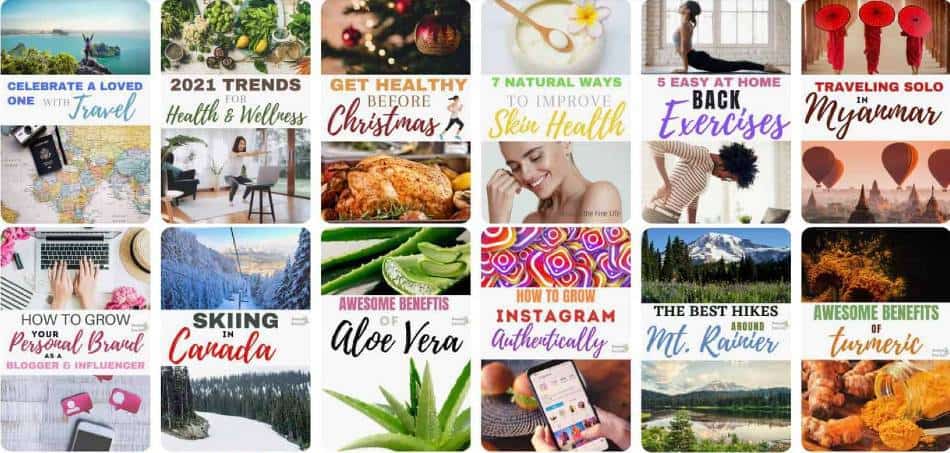 With a home base in Washington, Courtney Brady shares her journey while living overseas and traveling the world. She is passionate about inspiring others to be brave enough to create a life they love, care for the planet, and to educate themselves about holistic health. Ultimately, her inspirational account encourages people (especially women) to make the most out of life through self-acceptance and courage.
Pinterest has had a special place in Courtney's life for many years, as she enjoys searching for it herself. She spends time learning how to best utilize the platform to grow her personal brand, so she's a wealth of knowledge for partners who want to thrive there too.
Content
Courtney loves creating eye-catching travel and health-related pins that link to her blog, which started about 5 years ago when she began traveling. She also enjoys re-pinning content around mindfulness and being your highest self.
Collabs
While she's yet to complete an influencer marketing campaign exclusive to Pinterest, Courtney has done some blog collaborations that incorporated pins to drive more traffic to the post. This is a great way for brands to get more eyeballs on sponsored content. Since she's a pro at instilling knowledge and confidence in others, Courtney would be a great fit for supplements, skincare, fitness, and of course travel-related products and services.
---
Interested in a Partnership?
Want to get in touch with these talented Pinterest influencers and other creative content wizards? Then be sure to SIGN UP WITH AFLUENCER today! Get INSTANT ACCESS to our platform where you'll find thousands of influencers in different niches.